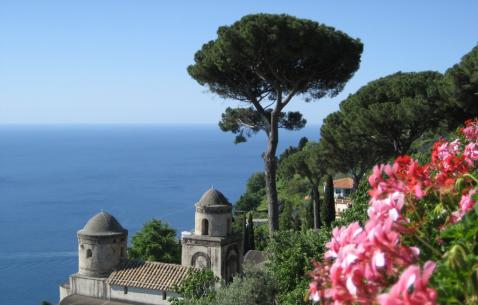 Perched atop Dragon Valley at dizzying heights, this charming town has been a source of artist's inspiration for centuries. Ravello's villas, gardens and landscapes continue to astonish tourists till date.
Once a maritime power, like neighbouring city Amalfi, Ravello enjoyed prosperous years being an important trade centre. Post war, Ravello experienced some downtime before emerging as a top tourist destination on Amalfi coast. Tourism in Ravello has been ever increasing since then. Tourism is now one of the major industries here and a source of income for many a locals here.
Mere 6 kilometres away from the beautiful city of Amalfi, a trip to Ravello is a must while visiting Amalfi Coast. Villa Cimbrone gardens, Villa Rufolo and Duomo di Ravello are some of the top attractions in Ravello. While visiting Amalfi coast, Ravello can easily be covered in a day. But if you think a day is not enough, you can choose to spend a day or two here. Ravello is rarely over crowded even in the peak season – which means that you can you can explore this beautiful town at your own pace and never to worry about rushing from one attraction to another!
While visiting Ravello, do visit some of the neighbouring cities like Amalfi, Positano, Salerno, Minori, Maiori and Atrani.