Best Time To Visit Recife
Explore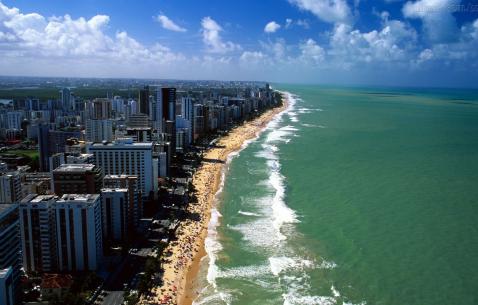 Best Time To Go To Recife
Recife's tropical and humid weather is somewhat meliorated by oceanic trade winds. The city is south of the equator, which means the seasons are flipped. There is not much seasonal variation in temperature though. There's winter, with somewhat cool nights, and then there's the rest of the year. It rains the most in July, and November is the driest month, but it still rains. Temperature breakdowns are as follows:
Summer (November – March): The hottest months, with temperatures peaking at 30.1 degrees Celsius in January, but dipping to 22 degrees Celsius regularly throughout the summer.
Winter (April – September): Temperatures in the coolest month, July, range from between 21 to 27 degrees Celsius on average.
The best time to visit Recife, if you're not in town for the Carnival, is in Winter, especially June.
Best time to go to Recife Attractions

: Tuesday to Sunday 1:00 PM - 2:00 PM
: Tuesday to Sunday 1:00 PM - 2:00 PM
: Tuesday to Sunday 1:00 PM - 2:00 PM
: Tuesday to Sunday 1:00 PM - 2:00 PM
: Tuesday to Sunday 1:00 PM - 2:00 PM
: Tuesday to Sunday 1:00 PM - 2:00 PM
: Tuesday to Sunday 1:00 PM - 2:00 PM
: Tuesday to Sunday 1:00 PM - 2:00 PM
: Tuesday to Sunday 1:00 PM - 2:00 PM
: Tuesday to Sunday 1:00 PM - 2:00 PM
: Tuesday to Sunday 1:00 PM - 2:00 PM
: Tuesday to Sunday 1:00 PM - 2:00 PM

: Everyday 11:00 AM - 9:00 PM
: Everyday 11:00 AM - 9:00 PM
: Everyday 11:00 AM - 9:00 PM
: Everyday 11:00 AM - 9:00 PM
: Everyday 11:00 AM - 9:00 PM
: Everyday 11:00 AM - 9:00 PM
: Everyday 11:00 AM - 9:00 PM
: Everyday 11:00 AM - 9:00 PM
: Everyday 11:00 AM - 9:00 PM
: Everyday 11:00 AM - 9:00 PM
: Everyday 11:00 AM - 9:00 PM
: Everyday 11:00 AM - 9:00 PM

: Everyday 11:00 AM - 11:00 PM
: Everyday 11:00 AM - 11:00 PM
: Everyday 11:00 AM - 11:00 PM
: Everyday 11:00 AM - 11:00 PM
: Everyday 11:00 AM - 11:00 PM
: Everyday 11:00 AM - 11:00 PM
: Everyday 11:00 AM - 11:00 PM
: Everyday 11:00 AM - 11:00 PM
: Everyday 11:00 AM - 11:00 PM
: Everyday 11:00 AM - 11:00 PM
: Everyday 11:00 AM - 11:00 PM
: Everyday 11:00 AM - 11:00 PM

: Everyday 11:00 AM - 7:00 PM
: Everyday 11:00 AM - 7:00 PM
: Everyday 11:00 AM - 7:00 PM
: Everyday 11:00 AM - 7:00 PM
: Everyday 11:00 AM - 7:00 PM
: Everyday 11:00 AM - 7:00 PM
: Everyday 11:00 AM - 7:00 PM
: Everyday 11:00 AM - 7:00 PM
: Everyday 11:00 AM - 7:00 PM
: Everyday 11:00 AM - 7:00 PM
: Everyday 11:00 AM - 7:00 PM
: Everyday 11:00 AM - 7:00 PM

: Monday to Friday 8:00 AM - 2:00 PM; Saturday, Sunday 10:00 AM - 2:00 PM
: Monday to Friday 8:00 AM - 2:00 PM; Saturday, Sunday 10:00 AM - 2:00 PM
: Monday to Friday 8:00 AM - 2:00 PM; Saturday, Sunday 10:00 AM - 2:00 PM
: Monday to Friday 8:00 AM - 2:00 PM; Saturday, Sunday 10:00 AM - 2:00 PM
: Monday to Friday 8:00 AM - 2:00 PM; Saturday, Sunday 10:00 AM - 2:00 PM
: Monday to Friday 8:00 AM - 2:00 PM; Saturday, Sunday 10:00 AM - 2:00 PM
: Monday to Friday 8:00 AM - 2:00 PM; Saturday, Sunday 10:00 AM - 2:00 PM
: Monday to Friday 8:00 AM - 2:00 PM; Saturday, Sunday 10:00 AM - 2:00 PM
: Monday to Friday 8:00 AM - 2:00 PM; Saturday, Sunday 10:00 AM - 2:00 PM
: Monday to Friday 8:00 AM - 2:00 PM; Saturday, Sunday 10:00 AM - 2:00 PM
: Monday to Friday 8:00 AM - 2:00 PM; Saturday, Sunday 10:00 AM - 2:00 PM
: Monday to Friday 8:00 AM - 2:00 PM; Saturday, Sunday 10:00 AM - 2:00 PM

: Monday to Saturday 9:00 AM - 8:00 PM; Sunday 9:00 AM - 8:00 PM
: Monday to Saturday 9:00 AM - 8:00 PM; Sunday 9:00 AM - 8:00 PM
: Monday to Saturday 9:00 AM - 8:00 PM; Sunday 9:00 AM - 8:00 PM
: Monday to Saturday 9:00 AM - 8:00 PM; Sunday 9:00 AM - 8:00 PM
: Monday to Saturday 9:00 AM - 8:00 PM; Sunday 9:00 AM - 8:00 PM
: Monday to Saturday 9:00 AM - 8:00 PM; Sunday 9:00 AM - 8:00 PM
: Monday to Saturday 9:00 AM - 8:00 PM; Sunday 9:00 AM - 8:00 PM
: Monday to Saturday 9:00 AM - 8:00 PM; Sunday 9:00 AM - 8:00 PM
: Monday to Saturday 9:00 AM - 8:00 PM; Sunday 9:00 AM - 8:00 PM
: Monday to Saturday 9:00 AM - 8:00 PM; Sunday 9:00 AM - 8:00 PM
: Monday to Saturday 9:00 AM - 8:00 PM; Sunday 9:00 AM - 8:00 PM
: Monday to Saturday 9:00 AM - 8:00 PM; Sunday 9:00 AM - 8:00 PM

: Monday to Friday 9:00 AM - 6:00 PM; Saturday 9:00 AM - 5:00 PM; Sunday 9:00 AM - 1:00 PM
: Monday to Friday 9:00 AM - 6:00 PM; Saturday 9:00 AM - 5:00 PM; Sunday 9:00 AM - 1:00 PM
: Monday to Friday 9:00 AM - 6:00 PM; Saturday 9:00 AM - 5:00 PM; Sunday 9:00 AM - 1:00 PM
: Monday to Friday 9:00 AM - 6:00 PM; Saturday 9:00 AM - 5:00 PM; Sunday 9:00 AM - 1:00 PM
: Monday to Friday 9:00 AM - 6:00 PM; Saturday 9:00 AM - 5:00 PM; Sunday 9:00 AM - 1:00 PM
: Monday to Friday 9:00 AM - 6:00 PM; Saturday 9:00 AM - 5:00 PM; Sunday 9:00 AM - 1:00 PM
: Monday to Friday 9:00 AM - 6:00 PM; Saturday 9:00 AM - 5:00 PM; Sunday 9:00 AM - 1:00 PM
: Monday to Friday 9:00 AM - 6:00 PM; Saturday 9:00 AM - 5:00 PM; Sunday 9:00 AM - 1:00 PM
: Monday to Friday 9:00 AM - 6:00 PM; Saturday 9:00 AM - 5:00 PM; Sunday 9:00 AM - 1:00 PM
: Monday to Friday 9:00 AM - 6:00 PM; Saturday 9:00 AM - 5:00 PM; Sunday 9:00 AM - 1:00 PM
: Monday to Friday 9:00 AM - 6:00 PM; Saturday 9:00 AM - 5:00 PM; Sunday 9:00 AM - 1:00 PM
: Monday to Friday 9:00 AM - 6:00 PM; Saturday 9:00 AM - 5:00 PM; Sunday 9:00 AM - 1:00 PM

: Tuesday to Saturday 9:00 AM - 5:00 PM; Sunday 9:00 AM - 5:00 PM
: Tuesday to Saturday 9:00 AM - 5:00 PM; Sunday 9:00 AM - 5:00 PM
: Tuesday to Saturday 9:00 AM - 5:00 PM; Sunday 9:00 AM - 5:00 PM
: Tuesday to Saturday 9:00 AM - 5:00 PM; Sunday 9:00 AM - 5:00 PM
: Tuesday to Saturday 9:00 AM - 5:00 PM; Sunday 9:00 AM - 5:00 PM
: Tuesday to Saturday 9:00 AM - 5:00 PM; Sunday 9:00 AM - 5:00 PM
: Tuesday to Saturday 9:00 AM - 5:00 PM; Sunday 9:00 AM - 5:00 PM
: Tuesday to Saturday 9:00 AM - 5:00 PM; Sunday 9:00 AM - 5:00 PM
: Tuesday to Saturday 9:00 AM - 5:00 PM; Sunday 9:00 AM - 5:00 PM
: Tuesday to Saturday 9:00 AM - 5:00 PM; Sunday 9:00 AM - 5:00 PM
: Tuesday to Saturday 9:00 AM - 5:00 PM; Sunday 9:00 AM - 5:00 PM
: Tuesday to Saturday 9:00 AM - 5:00 PM; Sunday 9:00 AM - 5:00 PM

: Everyday 2:00 PM - 4:00 PM
: Everyday 2:00 PM - 4:00 PM
: Everyday 2:00 PM - 4:00 PM
: Everyday 2:00 PM - 4:00 PM
: Everyday 2:00 PM - 4:00 PM
: Everyday 2:00 PM - 4:00 PM
: Everyday 2:00 PM - 4:00 PM
: Everyday 2:00 PM - 4:00 PM
: Everyday 2:00 PM - 4:00 PM
: Everyday 2:00 PM - 4:00 PM
: Everyday 2:00 PM - 4:00 PM
: Everyday 2:00 PM - 4:00 PM

: Tuesday to Friday 9:00 AM - 3:00 PM; Saturday, Sunday 2:00 PM - 4:00 PM
: Tuesday to Friday 9:00 AM - 3:00 PM; Saturday, Sunday 2:00 PM - 4:00 PM
: Tuesday to Friday 9:00 AM - 3:00 PM; Saturday, Sunday 2:00 PM - 4:00 PM
: Tuesday to Friday 9:00 AM - 3:00 PM; Saturday, Sunday 2:00 PM - 4:00 PM
: Tuesday to Friday 9:00 AM - 3:00 PM; Saturday, Sunday 2:00 PM - 4:00 PM
: Tuesday to Friday 9:00 AM - 3:00 PM; Saturday, Sunday 2:00 PM - 4:00 PM
: Tuesday to Friday 9:00 AM - 3:00 PM; Saturday, Sunday 2:00 PM - 4:00 PM
: Tuesday to Friday 9:00 AM - 3:00 PM; Saturday, Sunday 2:00 PM - 4:00 PM
: Tuesday to Friday 9:00 AM - 3:00 PM; Saturday, Sunday 2:00 PM - 4:00 PM
: Tuesday to Friday 9:00 AM - 3:00 PM; Saturday, Sunday 2:00 PM - 4:00 PM
: Tuesday to Friday 9:00 AM - 3:00 PM; Saturday, Sunday 2:00 PM - 4:00 PM
: Tuesday to Friday 9:00 AM - 3:00 PM; Saturday, Sunday 2:00 PM - 4:00 PM

: Everyday 11:00 AM - 5:00 PM
: Everyday 11:00 AM - 5:00 PM
: Everyday 11:00 AM - 5:00 PM
: Everyday 11:00 AM - 5:00 PM
: Everyday 11:00 AM - 5:00 PM
: Everyday 11:00 AM - 5:00 PM
: Everyday 11:00 AM - 5:00 PM
: Everyday 11:00 AM - 5:00 PM
: Everyday 11:00 AM - 5:00 PM
: Everyday 11:00 AM - 5:00 PM
: Everyday 11:00 AM - 5:00 PM
: Everyday 11:00 AM - 5:00 PM

: Everyday 11:00 AM - 5:00 PM
: Everyday 11:00 AM - 5:00 PM
: Everyday 11:00 AM - 5:00 PM
: Everyday 11:00 AM - 5:00 PM
: Everyday 11:00 AM - 5:00 PM
: Everyday 11:00 AM - 5:00 PM
: Everyday 11:00 AM - 5:00 PM
: Everyday 11:00 AM - 5:00 PM
: Everyday 11:00 AM - 5:00 PM
: Everyday 11:00 AM - 5:00 PM
: Everyday 11:00 AM - 5:00 PM
: Everyday 11:00 AM - 5:00 PM

: Tuesday to Sunday 9:00 AM - 11:00 AM; Tuesday to Sunday 9:00 AM - 11:00 AM | 1:00 PM - 4:00 PM
: Tuesday to Sunday 9:00 AM - 11:00 AM; Tuesday to Sunday 9:00 AM - 11:00 AM | 1:00 PM - 4:00 PM
: Tuesday to Sunday 9:00 AM - 11:00 AM; Tuesday to Sunday 9:00 AM - 11:00 AM | 1:00 PM - 4:00 PM
: Tuesday to Sunday 9:00 AM - 11:00 AM; Tuesday to Sunday 9:00 AM - 11:00 AM | 1:00 PM - 4:00 PM
: Tuesday to Sunday 9:00 AM - 11:00 AM; Tuesday to Sunday 9:00 AM - 11:00 AM | 1:00 PM - 4:00 PM
: Tuesday to Sunday 9:00 AM - 11:00 AM; Tuesday to Sunday 9:00 AM - 11:00 AM | 1:00 PM - 4:00 PM
: Tuesday to Sunday 9:00 AM - 11:00 AM; Tuesday to Sunday 9:00 AM - 11:00 AM | 1:00 PM - 4:00 PM
: Tuesday to Sunday 9:00 AM - 11:00 AM; Tuesday to Sunday 9:00 AM - 11:00 AM | 1:00 PM - 4:00 PM
: Tuesday to Sunday 9:00 AM - 11:00 AM; Tuesday to Sunday 9:00 AM - 11:00 AM | 1:00 PM - 4:00 PM
: Tuesday to Sunday 9:00 AM - 11:00 AM; Tuesday to Sunday 9:00 AM - 11:00 AM | 1:00 PM - 4:00 PM
: Tuesday to Sunday 9:00 AM - 11:00 AM; Tuesday to Sunday 9:00 AM - 11:00 AM | 1:00 PM - 4:00 PM
: Tuesday to Sunday 9:00 AM - 11:00 AM; Tuesday to Sunday 9:00 AM - 11:00 AM | 1:00 PM - 4:00 PM

: Tuesday to Friday 9:00 AM - 3:30 PM; Sunday 2:00 PM - 5:30 PM
: Tuesday to Friday 9:00 AM - 3:30 PM; Sunday 2:00 PM - 5:30 PM
: Tuesday to Friday 9:00 AM - 3:30 PM; Sunday 2:00 PM - 5:30 PM
: Tuesday to Friday 9:00 AM - 3:30 PM; Sunday 2:00 PM - 5:30 PM
: Tuesday to Friday 9:00 AM - 3:30 PM; Sunday 2:00 PM - 5:30 PM
: Tuesday to Friday 9:00 AM - 3:30 PM; Sunday 2:00 PM - 5:30 PM
: Tuesday to Friday 9:00 AM - 3:30 PM; Sunday 2:00 PM - 5:30 PM
: Tuesday to Friday 9:00 AM - 3:30 PM; Sunday 2:00 PM - 5:30 PM
: Tuesday to Friday 9:00 AM - 3:30 PM; Sunday 2:00 PM - 5:30 PM
: Tuesday to Friday 9:00 AM - 3:30 PM; Sunday 2:00 PM - 5:30 PM
: Tuesday to Friday 9:00 AM - 3:30 PM; Sunday 2:00 PM - 5:30 PM
: Tuesday to Friday 9:00 AM - 3:30 PM; Sunday 2:00 PM - 5:30 PM

: Everyday 8:00 AM - 5:00 PM
: Everyday 8:00 AM - 5:00 PM
: Everyday 8:00 AM - 5:00 PM
: Everyday 8:00 AM - 5:00 PM
: Everyday 8:00 AM - 5:00 PM
: Everyday 8:00 AM - 5:00 PM
: Everyday 8:00 AM - 5:00 PM
: Everyday 8:00 AM - 5:00 PM
: Everyday 8:00 AM - 5:00 PM
: Everyday 8:00 AM - 5:00 PM
: Everyday 8:00 AM - 5:00 PM
: Everyday 8:00 AM - 5:00 PM

: Friday to Sunday 3:00 PM - 5:00 PM
: Friday to Sunday 3:00 PM - 5:00 PM
: Friday to Sunday 3:00 PM - 5:00 PM
: Friday to Sunday 3:00 PM - 5:00 PM
: Friday to Sunday 3:00 PM - 5:00 PM
: Friday to Sunday 3:00 PM - 5:00 PM
: Friday to Sunday 3:00 PM - 5:00 PM
: Friday to Sunday 3:00 PM - 5:00 PM
: Friday to Sunday 3:00 PM - 5:00 PM
: Friday to Sunday 3:00 PM - 5:00 PM
: Friday to Sunday 3:00 PM - 5:00 PM
: Friday to Sunday 3:00 PM - 5:00 PM

: Tuesday to Saturday 3:00 PM - 7:00 PM; Sunday 10:00 AM - 5:00 PM
: Tuesday to Saturday 10:00 AM - 7:00 PM; Sunday 10:00 AM - 5:00 PM
: Tuesday to Saturday 10:00 AM - 7:00 PM; Sunday 10:00 AM - 5:00 PM
: Tuesday to Saturday 10:00 AM - 7:00 PM; Sunday 10:00 AM - 5:00 PM
: Tuesday to Saturday 10:00 AM - 7:00 PM; Sunday 10:00 AM - 5:00 PM
: Tuesday to Saturday 10:00 AM - 7:00 PM; Sunday 10:00 AM - 5:00 PM
: Tuesday to Saturday 10:00 AM - 7:00 PM; Sunday 10:00 AM - 5:00 PM
: Tuesday to Saturday 10:00 AM - 7:00 PM; Sunday 10:00 AM - 5:00 PM
: Tuesday to Saturday 10:00 AM - 7:00 PM; Sunday 10:00 AM - 5:00 PM
: Tuesday to Saturday 10:00 AM - 7:00 PM; Sunday 10:00 AM - 5:00 PM
: Tuesday to Saturday 10:00 AM - 7:00 PM; Sunday 10:00 AM - 5:00 PM
: Tuesday to Saturday 10:00 AM - 7:00 PM; Sunday 10:00 AM - 5:00 PM

: Everyday 5:00 AM - 9:00 PM
: Everyday 5:00 AM - 9:00 PM
: Everyday 5:00 AM - 9:00 PM
: Everyday 5:00 AM - 9:00 PM
: Everyday 5:00 AM - 9:00 PM
: Everyday 5:00 AM - 9:00 PM
: Everyday 5:00 AM - 9:00 PM
: Everyday 5:00 AM - 9:00 PM
: Everyday 5:00 AM - 9:00 PM
: Everyday 5:00 AM - 9:00 PM
: Everyday 5:00 AM - 9:00 PM
: Everyday 5:00 AM - 9:00 PM

: Everyday 2:00 PM - 5:00 PM
: Everyday 2:00 PM - 5:00 PM
: Everyday 2:00 PM - 5:00 PM
: Everyday 2:00 PM - 5:00 PM
: Everyday 2:00 PM - 5:00 PM
: Everyday 2:00 PM - 5:00 PM
: Everyday 2:00 PM - 5:00 PM
: Everyday 2:00 PM - 5:00 PM
: Everyday 2:00 PM - 5:00 PM
: Everyday 2:00 PM - 5:00 PM
: Everyday 2:00 PM - 5:00 PM
: Everyday 2:00 PM - 5:00 PM

: Monday to Friday 9:00 AM - 6:00 PM; Saturday 2:00 PM - 6:00 PM
: Monday to Friday 9:00 AM - 6:00 PM; Saturday 2:00 PM - 6:00 PM
: Monday to Friday 9:00 AM - 6:00 PM; Saturday 2:00 PM - 6:00 PM
: Monday to Friday 9:00 AM - 6:00 PM; Saturday 2:00 PM - 6:00 PM
: Monday to Friday 9:00 AM - 6:00 PM; Saturday 2:00 PM - 6:00 PM
: Monday to Friday 9:00 AM - 6:00 PM; Saturday 2:00 PM - 6:00 PM
: Monday to Friday 9:00 AM - 6:00 PM; Saturday 2:00 PM - 6:00 PM
: Monday to Friday 9:00 AM - 6:00 PM; Saturday 2:00 PM - 6:00 PM
: Monday to Friday 9:00 AM - 6:00 PM; Saturday 2:00 PM - 6:00 PM
: Monday to Friday 9:00 AM - 6:00 PM; Saturday 2:00 PM - 6:00 PM
: Monday to Friday 9:00 AM - 6:00 PM; Saturday 2:00 PM - 6:00 PM
: Monday to Friday 9:00 AM - 6:00 PM; Saturday 2:00 PM - 6:00 PM