Best Time To Visit Regensburg
Explore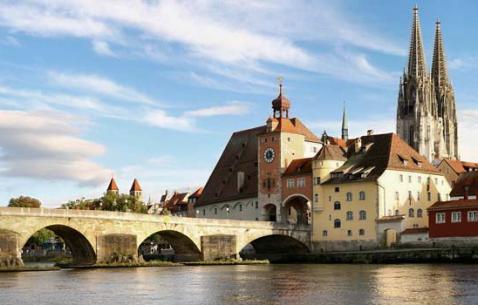 Best Time To Go To Regensburg
With a continental climate with mild and pleasant weather throughout the year, Regensburg is a year around destination. Summers around Regensburg are never hot, winters are never terribly cold. If you wish to take a walk around the city, the best time to visit is during May, June, July, August and September; this is when the temperatures are warm with plenty of sun but never too hot.
Summer: The warmest time of the year in Regensburg is July when it is 18 degree Celsius.
Winters: The late fall and early winter make up the true rainy season with periods of light but persistent rain for days or even weeks on end. Snow is not common, and winters can generally be quite mild. The temperatures seldom dip below freezing during the day light hours.
Best time to go to Regensburg Attractions

: Everyday 7:00 AM - 5:00 PM
: Everyday 7:00 AM - 5:00 PM
: Everyday 7:00 AM - 5:00 PM
: Everyday 7:00 AM - 5:00 PM
: Everyday 7:00 AM - 5:00 PM
: Everyday 7:00 AM - 5:00 PM
: Everyday 7:00 AM - 5:00 PM
: Everyday 7:00 AM - 5:00 PM
: Everyday 7:00 AM - 5:00 PM
: Everyday 7:00 AM - 5:00 PM
: Everyday 7:00 AM - 5:00 PM
: Everyday 7:00 AM - 5:00 PM

: Everyday 10:00 AM - 7:00 PM
: Everyday 10:00 AM - 7:00 PM
: Everyday 10:00 AM - 7:00 PM
: Tuesday to Saturday 10:00 AM - 5:00 PM
: Tuesday to Saturday 10:00 AM - 5:00 PM
: Tuesday to Saturday 10:00 AM - 5:00 PM
: Tuesday to Saturday 10:00 AM - 5:00 PM
: Tuesday to Saturday 10:00 AM - 5:00 PM
: Tuesday to Saturday 10:00 AM - 5:00 PM
: Tuesday to Saturday 10:00 AM - 5:00 PM
: Everyday 10:00 AM - 7:00 PM
: Everyday 10:00 AM - 7:00 PM

: Everyday 9:00 AM - 4:00 PM
: Everyday 9:00 AM - 4:00 PM
: Everyday 10:00 AM - 11:45 AM; Everyday 10:00 AM - 11:45 AM | 1:00 PM - 3:45 PM
: Everyday 9:00 AM - 4:00 PM
: Everyday 9:00 AM - 4:00 PM
: Everyday 9:00 AM - 4:00 PM
: Everyday 9:00 AM - 4:00 PM
: Everyday 9:00 AM - 4:00 PM
: Everyday 9:00 AM - 4:00 PM
: Everyday 9:00 AM - 4:00 PM
: Everyday 10:00 AM - 11:45 AM; Everyday 10:00 AM - 11:45 AM | 1:00 PM - 3:45 PM
: Everyday 9:00 AM - 4:00 PM

: Everyday 10:00 AM - 5:00 PM
: Everyday 10:00 AM - 5:00 PM
: Everyday 10:00 AM - 5:00 PM
: Everyday 10:00 AM - 5:00 PM
: Everyday 10:00 AM - 5:00 PM
: Everyday 10:00 AM - 5:00 PM
: Everyday 10:00 AM - 5:00 PM
: Everyday 10:00 AM - 5:00 PM
: Everyday 10:00 AM - 5:00 PM
: Everyday 10:00 AM - 5:00 PM
: Everyday 10:00 AM - 5:00 PM
: Everyday 10:00 AM - 5:00 PM

: Monday, Tuesday, Wednesday, Thursday, Saturday, Sunday 7:00 AM - 6:00 PM; Friday 7:00 AM - 2:00 PM
: Monday, Tuesday, Wednesday, Thursday, Saturday, Sunday 7:00 AM - 6:00 PM; Friday 7:00 AM - 2:00 PM
: Monday, Tuesday, Wednesday, Thursday, Saturday, Sunday 7:00 AM - 6:00 PM; Friday 7:00 AM - 2:00 PM
: Monday, Tuesday, Wednesday, Thursday, Saturday, Sunday 7:00 AM - 6:00 PM; Friday 7:00 AM - 2:00 PM
: Monday, Tuesday, Wednesday, Thursday, Saturday, Sunday 7:00 AM - 6:00 PM; Friday 7:00 AM - 2:00 PM
: Monday, Tuesday, Wednesday, Thursday, Saturday, Sunday 7:00 AM - 6:00 PM; Friday 7:00 AM - 2:00 PM
: Monday, Tuesday, Wednesday, Thursday, Saturday, Sunday 7:00 AM - 6:00 PM; Friday 7:00 AM - 2:00 PM
: Monday, Tuesday, Wednesday, Thursday, Saturday, Sunday 7:00 AM - 6:00 PM; Friday 7:00 AM - 2:00 PM
: Monday, Tuesday, Wednesday, Thursday, Saturday, Sunday 7:00 AM - 6:00 PM; Friday 7:00 AM - 2:00 PM
: Monday, Tuesday, Wednesday, Thursday, Saturday, Sunday 7:00 AM - 6:00 PM; Friday 7:00 AM - 2:00 PM
: Monday, Tuesday, Wednesday, Thursday, Saturday, Sunday 7:00 AM - 6:00 PM; Friday 7:00 AM - 2:00 PM
: Monday, Tuesday, Wednesday, Thursday, Saturday, Sunday 7:00 AM - 6:00 PM; Friday 7:00 AM - 2:00 PM

: Everyday 7:00 AM - 4:00 PM
: Everyday 7:00 AM - 4:00 PM
: Everyday 7:00 AM - 4:00 PM
: Everyday 7:00 AM - 4:00 PM
: Everyday 7:00 AM - 4:00 PM
: Everyday 7:00 AM - 4:00 PM
: Everyday 7:00 AM - 4:00 PM
: Everyday 7:00 AM - 4:00 PM
: Everyday 7:00 AM - 4:00 PM
: Everyday 7:00 AM - 4:00 PM
: Everyday 7:00 AM - 4:00 PM
: Everyday 7:00 AM - 4:00 PM

: Everyday 9:00 AM - 9:00 PM
: Everyday 9:00 AM - 9:00 PM
: Everyday 9:00 AM - 9:00 PM
: Everyday 9:00 AM - 9:00 PM
: Everyday 9:00 AM - 9:00 PM
: Everyday 9:00 AM - 9:00 PM
: Everyday 9:00 AM - 9:00 PM
: Everyday 9:00 AM - 9:00 PM
: Everyday 9:00 AM - 9:00 PM
: Everyday 9:00 AM - 9:00 PM
: Everyday 9:00 AM - 9:00 PM
: Everyday 9:00 AM - 9:00 PM

: Monday to Saturday 10:00 AM - 4:00 PM
: Monday to Saturday 10:00 AM - 4:00 PM
: Monday to Saturday 10:00 AM - 4:00 PM
: Monday to Saturday 10:00 AM - 4:00 PM
: Monday to Saturday 10:00 AM - 4:00 PM
: Monday to Saturday 10:00 AM - 4:00 PM
: Monday to Saturday 10:00 AM - 4:00 PM
: Monday to Saturday 10:00 AM - 4:00 PM
: Monday to Saturday 10:00 AM - 4:00 PM
: Monday to Saturday 10:00 AM - 4:00 PM
: Monday to Saturday 10:00 AM - 4:00 PM
: Monday to Saturday 10:00 AM - 4:00 PM

: Everyday 9:00 AM - 10:00 PM
: Everyday 9:00 AM - 10:00 PM
: Everyday 9:00 AM - 10:00 PM
: Everyday 9:00 AM - 10:00 PM
: Everyday 9:00 AM - 10:00 PM
: Everyday 9:00 AM - 10:00 PM
: Everyday 9:00 AM - 10:00 PM
: Everyday 9:00 AM - 10:00 PM
: Everyday 9:00 AM - 10:00 PM
: Everyday 9:00 AM - 10:00 PM
: Everyday 9:00 AM - 10:00 PM
: Everyday 9:00 AM - 10:00 PM

: Tuesday to Sunday 10:00 AM - 2:00 PM
: Tuesday to Sunday 10:00 AM - 2:00 PM
: Tuesday to Sunday 10:00 AM - 2:00 PM
: Tuesday to Sunday 10:00 AM - 2:00 PM
: Tuesday to Sunday 10:00 AM - 2:00 PM
: Tuesday to Sunday 10:00 AM - 2:00 PM
: Tuesday to Sunday 10:00 AM - 2:00 PM
: Tuesday to Sunday 10:00 AM - 2:00 PM
: Tuesday to Sunday 10:00 AM - 2:00 PM
: Tuesday to Sunday 10:00 AM - 2:00 PM
: Tuesday to Sunday 10:00 AM - 2:00 PM
: Tuesday to Sunday 10:00 AM - 2:00 PM

: Monday to Saturday 10:00 AM - 4:00 PM
: Monday to Saturday 10:00 AM - 4:00 PM
: Monday to Saturday 10:00 AM - 4:00 PM
: Monday to Saturday 10:00 AM - 4:00 PM
: Monday to Saturday 10:00 AM - 4:00 PM
: Monday to Saturday 10:00 AM - 4:00 PM
: Monday to Saturday 10:00 AM - 4:00 PM
: Monday to Saturday 10:00 AM - 4:00 PM
: Monday to Saturday 10:00 AM - 4:00 PM
: Monday to Saturday 10:00 AM - 4:00 PM
: Monday to Saturday 10:00 AM - 4:00 PM
: Monday to Saturday 10:00 AM - 4:00 PM

: Everyday 8:00 AM - 5:00 PM
: Everyday 8:00 AM - 5:00 PM
: Everyday 8:00 AM - 5:00 PM
: Everyday 8:00 AM - 5:00 PM
: Everyday 8:00 AM - 5:00 PM
: Everyday 8:00 AM - 5:00 PM
: Everyday 8:00 AM - 5:00 PM
: Everyday 8:00 AM - 5:00 PM
: Everyday 8:00 AM - 5:00 PM
: Everyday 8:00 AM - 5:00 PM
: Everyday 8:00 AM - 5:00 PM
: Everyday 8:00 AM - 5:00 PM

: Everyday 9:00 AM - 7:00 PM
: Everyday 9:00 AM - 7:00 PM
: Everyday 9:00 AM - 7:00 PM
: Everyday 9:00 AM - 7:00 PM
: Everyday 9:00 AM - 7:00 PM
: Everyday 9:00 AM - 7:00 PM
: Everyday 9:00 AM - 7:00 PM
: Everyday 9:00 AM - 7:00 PM
: Everyday 9:00 AM - 7:00 PM
: Everyday 9:00 AM - 7:00 PM
: Everyday 9:00 AM - 7:00 PM
: Everyday 9:00 AM - 7:00 PM

: Tuesday to Sunday 11:00 AM - 4:00 PM
: Tuesday to Sunday 11:00 AM - 4:00 PM
: Tuesday to Sunday 11:00 AM - 4:00 PM
: Tuesday to Sunday 11:00 AM - 4:00 PM
: Tuesday to Sunday 11:00 AM - 4:00 PM
: Tuesday to Sunday 11:00 AM - 4:00 PM
: Tuesday to Sunday 11:00 AM - 4:00 PM
: Tuesday to Sunday 11:00 AM - 4:00 PM
: Tuesday to Sunday 11:00 AM - 4:00 PM
: Tuesday to Sunday 11:00 AM - 4:00 PM
: Tuesday to Sunday 11:00 AM - 4:00 PM
: Tuesday to Sunday 11:00 AM - 4:00 PM

: Tuesday to Sunday 10:00 AM - 4:00 PM
: Tuesday to Sunday 10:00 AM - 4:00 PM
: Tuesday to Sunday 10:00 AM - 4:00 PM
: Tuesday to Sunday 10:00 AM - 4:00 PM
: Tuesday to Sunday 10:00 AM - 4:00 PM
: Tuesday to Sunday 10:00 AM - 4:00 PM
: Tuesday to Sunday 10:00 AM - 4:00 PM
: Tuesday to Sunday 10:00 AM - 4:00 PM
: Tuesday to Sunday 10:00 AM - 4:00 PM
: Tuesday to Sunday 10:00 AM - 4:00 PM
: Tuesday to Sunday 10:00 AM - 4:00 PM
: Tuesday to Sunday 10:00 AM - 4:00 PM

: Everyday 10:00 AM - 4:00 PM
: Everyday 10:00 AM - 4:00 PM
: Everyday 10:00 AM - 4:00 PM
: Everyday 10:00 AM - 4:00 PM
: Everyday 10:00 AM - 4:00 PM
: Everyday 10:00 AM - 4:00 PM
: Everyday 10:00 AM - 4:00 PM
: Everyday 10:00 AM - 4:00 PM
: Everyday 10:00 AM - 4:00 PM
: Everyday 10:00 AM - 4:00 PM
: Everyday 10:00 AM - 4:00 PM
: Everyday 10:00 AM - 4:00 PM

: Everyday 9:00 AM - 4:00 PM
: Everyday 9:00 AM - 4:00 PM
: Everyday 9:00 AM - 4:00 PM
: Everyday 9:00 AM - 4:00 PM
: Everyday 9:00 AM - 4:00 PM
: Everyday 9:00 AM - 4:00 PM
: Everyday 9:00 AM - 4:00 PM
: Everyday 9:00 AM - 4:00 PM
: Everyday 9:00 AM - 4:00 PM
: Everyday 9:00 AM - 4:00 PM
: Everyday 9:00 AM - 4:00 PM
: Everyday 9:00 AM - 4:00 PM

: Everyday 11:00 AM - 7:00 PM
: Everyday 11:00 AM - 7:00 PM
: Everyday 11:00 AM - 7:00 PM
: Everyday 11:00 AM - 7:00 PM
: Everyday 11:00 AM - 7:00 PM
: Everyday 11:00 AM - 7:00 PM
: Everyday 11:00 AM - 7:00 PM
: Everyday 11:00 AM - 7:00 PM
: Everyday 11:00 AM - 7:00 PM
: Everyday 11:00 AM - 7:00 PM
: Everyday 11:00 AM - 7:00 PM
: Everyday 11:00 AM - 7:00 PM

: Everyday 9:00 AM - 5:00 PM
: Everyday 9:00 AM - 5:00 PM
: Everyday 9:00 AM - 5:00 PM
: Everyday 9:00 AM - 5:00 PM
: Everyday 9:00 AM - 5:00 PM
: Everyday 9:00 AM - 5:00 PM
: Everyday 9:00 AM - 5:00 PM
: Everyday 9:00 AM - 5:00 PM
: Everyday 9:00 AM - 5:00 PM
: Everyday 9:00 AM - 5:00 PM
: Everyday 9:00 AM - 5:00 PM
: Everyday 9:00 AM - 5:00 PM

: Everyday 24 Hrs
: Everyday 24 Hrs
: Everyday 24 Hrs
: Everyday 24 Hrs
: Everyday 24 Hrs
: Everyday 24 Hrs
: Everyday 24 Hrs
: Everyday 24 Hrs
: Everyday 24 Hrs
: Everyday 24 Hrs
: Everyday 24 Hrs
: Everyday 24 Hrs

: Everyday 24 Hrs
: Everyday 24 Hrs
: Everyday 24 Hrs
: Everyday 24 Hrs
: Everyday 24 Hrs
: Everyday 24 Hrs
: Everyday 24 Hrs
: Everyday 24 Hrs
: Everyday 24 Hrs
: Everyday 24 Hrs
: Everyday 24 Hrs
: Everyday 24 Hrs

: Everyday 24 Hrs
: Everyday 24 Hrs
: Everyday 24 Hrs
: Everyday 24 Hrs
: Everyday 24 Hrs
: Everyday 24 Hrs
: Everyday 24 Hrs
: Everyday 24 Hrs
: Everyday 24 Hrs
: Everyday 24 Hrs
: Everyday 24 Hrs
: Everyday 24 Hrs

: Everyday 24 Hrs
: Everyday 24 Hrs
: Everyday 24 Hrs
: Everyday 24 Hrs
: Everyday 24 Hrs
: Everyday 24 Hrs
: Everyday 24 Hrs
: Everyday 24 Hrs
: Everyday 24 Hrs
: Everyday 24 Hrs
: Everyday 24 Hrs
: Everyday 24 Hrs

: Everyday 24 Hrs
: Everyday 24 Hrs
: Everyday 24 Hrs
: Everyday 24 Hrs
: Everyday 24 Hrs
: Everyday 24 Hrs
: Everyday 24 Hrs
: Everyday 24 Hrs
: Everyday 24 Hrs
: Everyday 24 Hrs
: Everyday 24 Hrs
: Everyday 24 Hrs

: Everyday 24 Hrs
: Everyday 24 Hrs
: Everyday 24 Hrs
: Everyday 24 Hrs
: Everyday 24 Hrs
: Everyday 24 Hrs
: Everyday 24 Hrs
: Everyday 24 Hrs
: Everyday 24 Hrs
: Everyday 24 Hrs
: Everyday 24 Hrs
: Everyday 24 Hrs

: Everyday 24 Hrs
: Everyday 24 Hrs
: Everyday 24 Hrs
: Everyday 24 Hrs
: Everyday 24 Hrs
: Everyday 24 Hrs
: Everyday 24 Hrs
: Everyday 24 Hrs
: Everyday 24 Hrs
: Everyday 24 Hrs
: Everyday 24 Hrs
: Everyday 24 Hrs

: Everyday 24 Hrs
: Everyday 24 Hrs
: Everyday 24 Hrs
: Everyday 24 Hrs
: Everyday 24 Hrs
: Everyday 24 Hrs
: Everyday 24 Hrs
: Everyday 24 Hrs
: Everyday 24 Hrs
: Everyday 24 Hrs
: Everyday 24 Hrs
: Everyday 24 Hrs

: Everyday 24 Hrs
: Everyday 24 Hrs
: Everyday 24 Hrs
: Everyday 24 Hrs
: Everyday 24 Hrs
: Everyday 24 Hrs
: Everyday 24 Hrs
: Everyday 24 Hrs
: Everyday 24 Hrs
: Everyday 24 Hrs
: Everyday 24 Hrs
: Everyday 24 Hrs

: Everyday 24 Hrs
: Everyday 24 Hrs
: Everyday 24 Hrs
: Everyday 24 Hrs
: Everyday 24 Hrs
: Everyday 24 Hrs
: Everyday 24 Hrs
: Everyday 24 Hrs
: Everyday 24 Hrs
: Everyday 24 Hrs
: Everyday 24 Hrs
: Everyday 24 Hrs