Everyone must have had watched Hangover, right? The movie where 3 friends who went out for a bachelor party to Las Vegas. The friends, caught at the receiving end of a mafia, got dragged around the entire city searching for one of their friend, who got separated. They find him at the roof of the hotel where they had been staying. Do you remember it? Yes, Caeser's Palace it was!
Now Las Vegas is The Haven for gamblers and gangsters alike, but before it became one, the Biggest Little City in the World was home to them. And yes, Caesar Entertainment Corporation, one of the heavyweights in the casino and hotel chains, began its modest business here. Even to this day, Reno is famous for its casinos and hotels. Have some coins jangling in your pockets? Let's pay Reno a visit! This article covers the list of best places to visit in Reno.
Here's the list of Reno points of interest and 15 best things to do in Reno:
1. Spend a leisurely day at Lake Tahoe
Let us start simple, eh? Lake Tahoe is regarded as one of the most beautiful lakes because of its location. Surrounded by lofty mountains and housing clear sparkling water, Lake Tahoe is just a 40 mile drive south to Reno. A special mention of Emerald Bay State Park should be done here, which lies on the California side of the lake. It has some of the best views.
2. Walk through the Art At Nevada Museum of Art
Located in downtown, this museum is housed in an intricately designed 4-storey building and has the distinction of being Nevada's only accredited art museum. Its permanent collection has over 2000 pieces of art. It even has a research department! It is a good place to stop by and glimpse through artworks here.
3. Enjoy A Visit At The Fleischmann Planetarium and Science Centre
This very-big-named planetarium was set up in 1963 and is associated to the University of Nevada, Reno and Extended Studies. It is as interesting on the outside as on the inside. The building is uniquely shaped in the form of a hyperbolic paraboloid. The planetarium houses a Spitz SciDome digital projector for running some awesome 3-D shows, a Science Store and a classroom for educational purposes.
4. Watch Animals at Animal Ark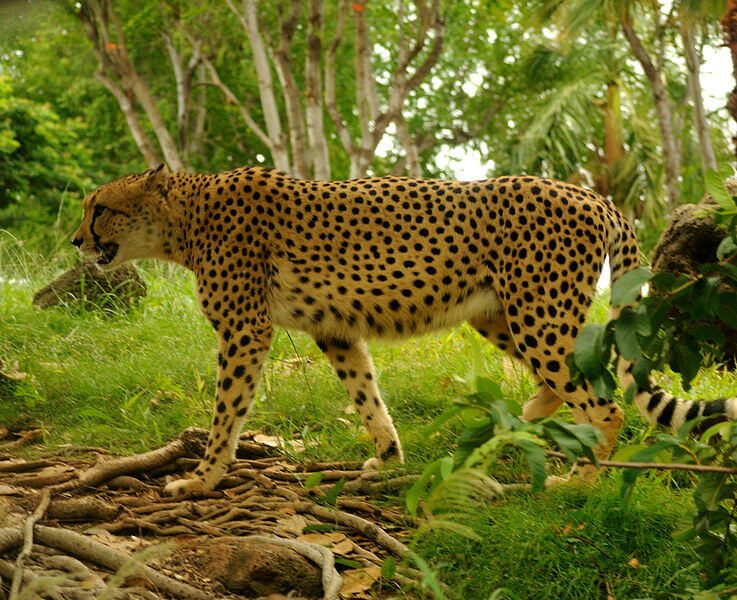 Image source: wikimedia.og
Animal Ark, in Reno, is a commendable effort to look after and preserve wildlife. The Animal Ark provides shelter to those animals who are abandoned, injured or those who could not be rehabilitated and release into the wild. The list includes bears, coyotes, cheetahs, wolves, foxes, raptors and reptiles. And the best thing is there is no captivity; it is tried to give the animals a natural environment.
5. Take Your Kids To Terry Lee Wells Nevada Discovery Museum
This 67,000 sq. ft. is a kids galore! Concepts of Science are handed down to children through games and other interactive means. Besides, there are so many activities that, as they progress, walk children through space and time. If you're with kids, be sure to take them there!
6. Know More about Cars At National Automobile Museum
The National Automobile Museum in Reno is the best place for you if you're a car history buff. Here lies a collection of over 200 vintage cars dispersed in 4 galleries. The cars date to the 19th and the 20th century and have some famous cars of some very famous celebrities such as the Cadillac Eldorado of Elvis Presley and Frank Sinatra's Ghia to name a few.
7. Visit The National Championship Air Races
If you're visiting Reno in September, you're in for a treat! 100s of pilots with their meticulously maintained aircrafts arrive at the Stead Air Force Base to compete in these prestigious air races. The races last a week. Besides these races, there are also civil and military flight demonstrations as well. A complete jackpot to hit, if there!
8. Enjoy fun-filled days at Peppermill Casino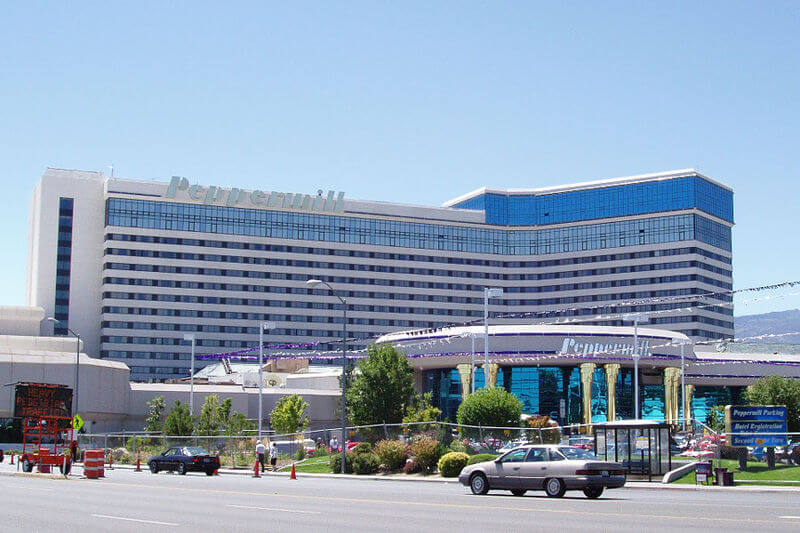 Image source: wikipedia.org
So finally, a casino. The Peppermill Casino houses a casino along with a luxe resort, state of the art dining experience, 2 nightclubs and a full-fledged spa. If you're one who believes in official ratings and reviews over other people's experiences, then let this be known that the Peppermill Casino has won some prestigious awards and is currently the #1 hotel in Reno.
9. Spend a night at Silver Legacy Resort
The Silver Legacy Resort falls nowhere short on any scale of grandeur and splendor especially when its facilities are concerned. Premium accommodations, over-the-top dining experiences and the various in-house amenities such as spas, lounges, boutiques and bars make it a one-stop hub for many. This is the reason many celebrities choose this place. Besides, it has a casino equipped with all modern paraphernalia to keep you interested.
10. Enjoy Skiing at Mt. Rose Ski Resort
Although Reno is not much of a skiing destination, 30 miles south to the city lies the Mt. Rose Ski Resort. Carved out in an area of 1200 acres in the heart of the Toyaibe National Forest, it offers some great runs and lifts to the skiers. It was opened in 1953 and has made a name for itself now.
11. Visit Café's and Galleries At Riverwalk District
The Reno Riverwalk district has become the pulsing center of the city. With events almost every day, it is a place that attract a lot of crowd. There are bars, cafes, art galleries and studios who compete with each other thus upping the game. Besides, being along the banks of river Truckee gives it a very charming appeal.
12. Have Fun At The Great Reno Balloon Race
It seems as if that September is the best time to visit Reno. Not only do you get to see the Air Races but also the Balloon Races! The Rancho San Rafael Regional Park hosts this 3-day fest where many brightly hued hot-air balloons fill the sky. The pilots race each other and the first to reach the Truckee Meadows wins! So grab your lawn chairs and head over to the park.
13. Enjoy Scrumptuous Meals At Reno Food Tour
The midtown Reno Food tour will guide you through the food and drinks for which Reno is famous. Friendly and knowledgeable guides make the tour even more awesome. You also get to learn about the history and architecture as the tour group weaves through the city.
14. Attend Culinary Classes
The Nothing to It Culinary Centre is a one-stop spot. Although it offers long courses, you can spend an evening there, follow the recipe, cook some fun along with your friends. And know what, the tastiest food in the world is the one made with love, efforts and our own hands. Thumbs up for this experience!
15. Have A Gala Time At Reno Rodeo Cattle Drive
See the rage and carnage at first-hand, as you witness a heart-thumping experience. The Reno Rodeo Cattle Drive. Good food and drink facilities along with comfortable stands make this a unique experience in itself.
Reno is a place for everyone. The rich to the normal middle class. There is something for everyone here. And the same goes for the experiences offered by Reno- from sophisticated museums and science centres to rodeo performances. Be sure to visit Reno!