Best Time To Visit Rewa
Explore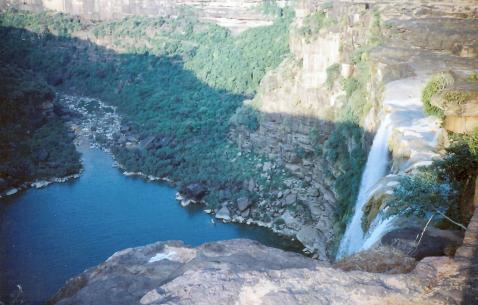 Best Time To Go To Rewa
Falling under Madhya Pradesh, Rewa remains hot during most of the time of the year. Thus, it is advised for you to visit this historical site during winters when you would be able to roam around and appreciate this beautiful historic city.
Summers(March-July): This period of the year remains dry, hot and humid. That is why, it can be termed out as an off season to visit Rewa. The temperatures sometimes rise upto as high as 45 degrees Celsius.
Monsoons(July-September): Monsoons is also a good time to visit Rewa as the rains bring the temperatures down bringing cool winds. However, do keep in mind that if it rains too much, visiting attractions can be a problem.
Winters (October-March): October to March is the best time to visit Rewa as the days remain cool as well as sunny to take a stroll around. This is the peak season to visit Rewa, so expect high hotel prices.
Best time to go to Rewa Attractions

: Everyday 8:00 AM - 3:00 PM
: Everyday 8:00 AM - 3:00 PM
: Everyday 8:00 AM - 3:00 PM
: Everyday 8:00 AM - 3:00 PM
: Everyday 8:00 AM - 3:00 PM
: Everyday 8:00 AM - 3:00 PM
: Everyday 8:00 AM - 3:00 PM
: Everyday 8:00 AM - 3:00 PM
: Everyday 8:00 AM - 3:00 PM
: Everyday 8:00 AM - 3:00 PM
: Everyday 8:00 AM - 3:00 PM
: Everyday 8:00 AM - 3:00 PM

: Everyday 9:00 AM - 4:00 PM
: Everyday 9:00 AM - 4:00 PM
: Everyday 9:00 AM - 4:00 PM
: Everyday 9:00 AM - 4:00 PM
: Everyday 9:00 AM - 4:00 PM
: Everyday 9:00 AM - 4:00 PM
: Everyday 9:00 AM - 4:00 PM
: Everyday 9:00 AM - 4:00 PM
: Everyday 9:00 AM - 4:00 PM
: Everyday 9:00 AM - 4:00 PM
: Everyday 9:00 AM - 4:00 PM
: Everyday 9:00 AM - 4:00 PM

: Everyday 8:00 AM - 4:00 PM
: Everyday 8:00 AM - 4:00 PM
: Everyday 8:00 AM - 4:00 PM
: Everyday 8:00 AM - 4:00 PM
: Everyday 8:00 AM - 4:00 PM
: Everyday 8:00 AM - 4:00 PM
: Everyday 8:00 AM - 4:00 PM
: Everyday 8:00 AM - 4:00 PM
: Everyday 8:00 AM - 4:00 PM
: Everyday 8:00 AM - 4:00 PM
: Everyday 8:00 AM - 4:00 PM
: Everyday 8:00 AM - 4:00 PM

: Sunday 10:00 AM - 5:00 PM
: Sunday 10:00 AM - 5:00 PM
: Sunday 10:00 AM - 5:00 PM
: Sunday 10:00 AM - 5:00 PM
: Sunday 10:00 AM - 5:00 PM
: Sunday 10:00 AM - 5:00 PM
: Sunday 10:00 AM - 5:00 PM
: Sunday 10:00 AM - 5:00 PM
: Sunday 10:00 AM - 5:00 PM
: Sunday 10:00 AM - 5:00 PM
: Sunday 10:00 AM - 5:00 PM
: Sunday 10:00 AM - 5:00 PM

: Everyday 8:00 AM - 4:00 PM
: Everyday 8:00 AM - 4:00 PM
: Everyday 8:00 AM - 4:00 PM
: Everyday 8:00 AM - 4:00 PM
: Everyday 8:00 AM - 4:00 PM
: Everyday 8:00 AM - 4:00 PM
: Everyday 8:00 AM - 4:00 PM
: Everyday 8:00 AM - 4:00 PM
: Everyday 8:00 AM - 4:00 PM
: Everyday 8:00 AM - 4:00 PM
: Everyday 8:00 AM - 4:00 PM
: Everyday 8:00 AM - 4:00 PM

: Everyday 10:00 AM - 3:00 PM; Everyday 10:00 AM - 3:00 PM | 5:00 PM - 7:00 PM
: Everyday 10:00 AM - 3:00 PM; Everyday 10:00 AM - 3:00 PM | 5:00 PM - 7:00 PM
: Everyday 10:00 AM - 3:00 PM; Everyday 10:00 AM - 3:00 PM | 5:00 PM - 7:00 PM
: Everyday 10:00 AM - 3:00 PM; Everyday 10:00 AM - 3:00 PM | 5:00 PM - 7:00 PM
: Everyday 10:00 AM - 3:00 PM; Everyday 10:00 AM - 3:00 PM | 5:00 PM - 7:00 PM
: Everyday 10:00 AM - 3:00 PM; Everyday 10:00 AM - 3:00 PM | 5:00 PM - 7:00 PM
: Everyday 10:00 AM - 3:00 PM; Everyday 10:00 AM - 3:00 PM | 5:00 PM - 7:00 PM
: Everyday 10:00 AM - 3:00 PM; Everyday 10:00 AM - 3:00 PM | 5:00 PM - 7:00 PM
: Everyday 10:00 AM - 3:00 PM; Everyday 10:00 AM - 3:00 PM | 5:00 PM - 7:00 PM
: Everyday 10:00 AM - 3:00 PM; Everyday 10:00 AM - 3:00 PM | 5:00 PM - 7:00 PM
: Everyday 10:00 AM - 3:00 PM; Everyday 10:00 AM - 3:00 PM | 5:00 PM - 7:00 PM
: Everyday 10:00 AM - 3:00 PM; Everyday 10:00 AM - 3:00 PM | 5:00 PM - 7:00 PM

: Everyday 8:00 AM - 5:00 PM
: Everyday 8:00 AM - 5:00 PM
: Everyday 8:00 AM - 5:00 PM
: Everyday 8:00 AM - 5:00 PM
: Everyday 8:00 AM - 5:00 PM
: Everyday 8:00 AM - 5:00 PM
: Everyday 8:00 AM - 5:00 PM
: Everyday 8:00 AM - 5:00 PM
: Everyday 8:00 AM - 5:00 PM
: Everyday 8:00 AM - 5:00 PM
: Everyday 8:00 AM - 5:00 PM
: Everyday 8:00 AM - 5:00 PM

: Everyday 9:00 AM - 4:00 PM
: Everyday 9:00 AM - 4:00 PM
: Everyday 9:00 AM - 4:00 PM
: Everyday 9:00 AM - 4:00 PM
: Everyday 9:00 AM - 4:00 PM
: Everyday 9:00 AM - 4:00 PM
: Everyday 9:00 AM - 4:00 PM
: Everyday 9:00 AM - 4:00 PM
: Everyday 9:00 AM - 4:00 PM
: Everyday 9:00 AM - 4:00 PM
: Everyday 9:00 AM - 4:00 PM
: Everyday 9:00 AM - 4:00 PM