Best Time To Visit Robina
Explore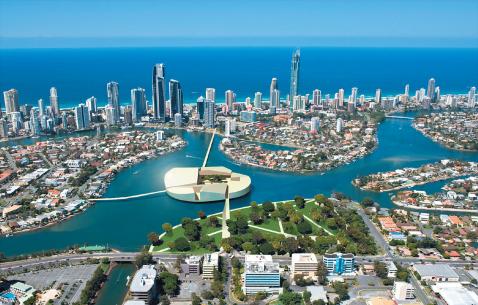 Best Time To Go To Robina
Summer season: The months of December to February experience summer season and many a times rainfall too. The average temperature around summer is minimum 20 Degrees Celsius to maximum 28 Degrees Celsius.
Summer season is the best time to visit Robina considering the climate.
Winter season: The months of June and July experience winter season. The temperatures are cooler and less rainfall, so tourist can enjoy surfing. Surfer's paradise festival is during winter season. The average temperature goes around 8 Degree Celsius.
Autumn season: The autumn months are from March to May and the average temperature is around minimum 14 Degree Celsius to maximum 26 Degree Celsius.
Spring season: Spring season is similar to autumn season with high humidity. The months of September to November are known for increasing temperatures. The temperature around spring season is minimum 15 Degrees Celsius to maximum 28 Degrees Celsius.
Best time to go to Robina Attractions

: Everyday 11:00 AM - 4:00 PM
: Everyday 11:00 AM - 4:00 PM
: Everyday 11:00 AM - 4:00 PM
: Everyday 11:00 AM - 4:00 PM
: Everyday 11:00 AM - 4:00 PM
: Everyday 11:00 AM - 4:00 PM
: Everyday 11:00 AM - 4:00 PM
: Everyday 11:00 AM - 4:00 PM
: Everyday 11:00 AM - 4:00 PM
: Everyday 11:00 AM - 4:00 PM
: Everyday 11:00 AM - 4:00 PM
: Everyday 11:00 AM - 4:00 PM

: Everyday 10:00 AM - 2:00 PM
: Everyday 10:00 AM - 2:00 PM
: Everyday 10:00 AM - 2:00 PM
: Everyday 10:00 AM - 2:00 PM
: Everyday 10:00 AM - 2:00 PM
: Everyday 10:00 AM - 2:00 PM
: Everyday 10:00 AM - 2:00 PM
: Everyday 10:00 AM - 2:00 PM
: Everyday 10:00 AM - 2:00 PM
: Everyday 10:00 AM - 2:00 PM
: Everyday 10:00 AM - 2:00 PM
: Everyday 10:00 AM - 2:00 PM

: Everyday 11:00 AM - 2:00 PM
: Everyday 11:00 AM - 2:00 PM
: Everyday 11:00 AM - 2:00 PM
: Everyday 11:00 AM - 2:00 PM
: Everyday 11:00 AM - 2:00 PM
: Everyday 11:00 AM - 2:00 PM
: Everyday 11:00 AM - 2:00 PM
: Everyday 11:00 AM - 2:00 PM
: Everyday 11:00 AM - 2:00 PM
: Everyday 11:00 AM - 2:00 PM
: Everyday 11:00 AM - 2:00 PM
: Everyday 11:00 AM - 2:00 PM

: Everyday 10:00 AM - 10:00 PM
: Everyday 10:00 AM - 10:00 PM
: Everyday 10:00 AM - 10:00 PM
: Everyday 10:00 AM - 10:00 PM
: Everyday 10:00 AM - 10:00 PM
: Everyday 10:00 AM - 10:00 PM
: Everyday 10:00 AM - 10:00 PM
: Everyday 10:00 AM - 10:00 PM
: Everyday 10:00 AM - 10:00 PM
: Everyday 10:00 AM - 10:00 PM
: Everyday 10:00 AM - 10:00 PM
: Everyday 10:00 AM - 10:00 PM

: Monday, Tuesday, Wednesday, Thursday, Sunday 9:00 AM - 10:30 PM
: Monday, Tuesday, Wednesday, Thursday, Sunday 9:00 AM - 10:30 PM
: Monday, Tuesday, Wednesday, Thursday, Sunday 9:00 AM - 10:30 PM
: Monday, Tuesday, Wednesday, Thursday, Sunday 9:00 AM - 10:30 PM
: Monday, Tuesday, Wednesday, Thursday, Sunday 9:00 AM - 10:30 PM
: Monday, Tuesday, Wednesday, Thursday, Sunday 9:00 AM - 10:30 PM
: Monday, Tuesday, Wednesday, Thursday, Sunday 9:00 AM - 10:30 PM
: Monday, Tuesday, Wednesday, Thursday, Sunday 9:00 AM - 10:30 PM
: Monday, Tuesday, Wednesday, Thursday, Sunday 9:00 AM - 10:30 PM
: Monday, Tuesday, Wednesday, Thursday, Sunday 9:00 AM - 10:30 PM
: Monday, Tuesday, Wednesday, Thursday, Sunday 9:00 AM - 10:30 PM
: Monday, Tuesday, Wednesday, Thursday, Sunday 9:00 AM - 10:30 PM

: Monday to Friday 8:30 AM - 5:00 PM; Saturday 8:30 AM - 4:30 PM
: Monday to Friday 8:30 AM - 5:00 PM; Saturday 8:30 AM - 4:30 PM
: Monday to Friday 8:30 AM - 5:00 PM; Saturday 8:30 AM - 4:30 PM
: Monday to Friday 8:30 AM - 5:00 PM; Saturday 8:30 AM - 4:30 PM
: Monday to Friday 8:30 AM - 5:00 PM; Saturday 8:30 AM - 4:30 PM
: Monday to Friday 8:30 AM - 5:00 PM; Saturday 8:30 AM - 4:30 PM
: Monday to Friday 8:30 AM - 5:00 PM; Saturday 8:30 AM - 4:30 PM
: Monday to Friday 8:30 AM - 5:00 PM; Saturday 8:30 AM - 4:30 PM
: Monday to Friday 8:30 AM - 5:00 PM; Saturday 8:30 AM - 4:30 PM
: Monday to Friday 8:30 AM - 5:00 PM; Saturday 8:30 AM - 4:30 PM
: Monday to Friday 8:30 AM - 5:00 PM; Saturday 8:30 AM - 4:30 PM
: Monday to Friday 8:30 AM - 5:00 PM; Saturday 8:30 AM - 4:30 PM