15 Best Things To Do in Rockhampton
Rockhampton contributes to being the stud capital of Australia. It has almost 3.5 million cattles. It is a vibrant city. Rockhampton features a wide assortment of attractions. It has become the prime choice of travellers in the present days who are planning a vacation. The tropical climate, impressive heritage buildings and natural offerings are considered to be some of the prominent reasons why people plan a trip to the place. The place has become the prime choice of nature lovers due to the presence of different natural attractions in the place. This write-up has a list of the 15 best things to do in Rockhampton, Australia:
1. Visiting Rockhampton Heritage Village
If you are planning a trip to Rockhampton, you should pay a visit to Rockhampton Heritage Village. This is a township museum which displays a colorful and rich history of Rockhampton district. The museum is spread in an area of 11.4 acres. It is considered to be the collection of restored machinery and vintage vehicles, the old school house, country hospital building, fire station, doll collection, cottages, homesteads, and amazing herb garden. Sunday markets are held in every two months here. The museum remains opened from 9 am during the day to 4 during the evening. This is a good place to visit with your friends in Rockhampton.
2. Visiting Capricorn Caves
Capricorn Caves stand out of the ordinary in providing a wide assortment of tours catering to everyone's needs. The Cathedral Cave is visited by a lot of people these days. Different wonderful and natural acoustics are present in Cathedral Chamber. The new fossil tour lets you travel back in time. You can find a plethora of fossils of tiny creatures and giant beasts while visiting this cave. The tour is suitable for different age brackets.
3. Seeing animals in Rockhampton Botanic Garden
Rockhampton Botanic Garden has earned a high reputation as the oldest public garden, located in Queensland. You do not need to pay any money for entering the garden. UIt is open from 6 am to 6 pm daily. It in-houses above 50 different species of native animals. Different exotic animals across the globe are present here. It is considered to be the perfect place to view animals in the natural surroundings. It provides a wide array of refreshments and meals. It also offers catering services for different special events. The garden features different options for indoor and outdoor dining.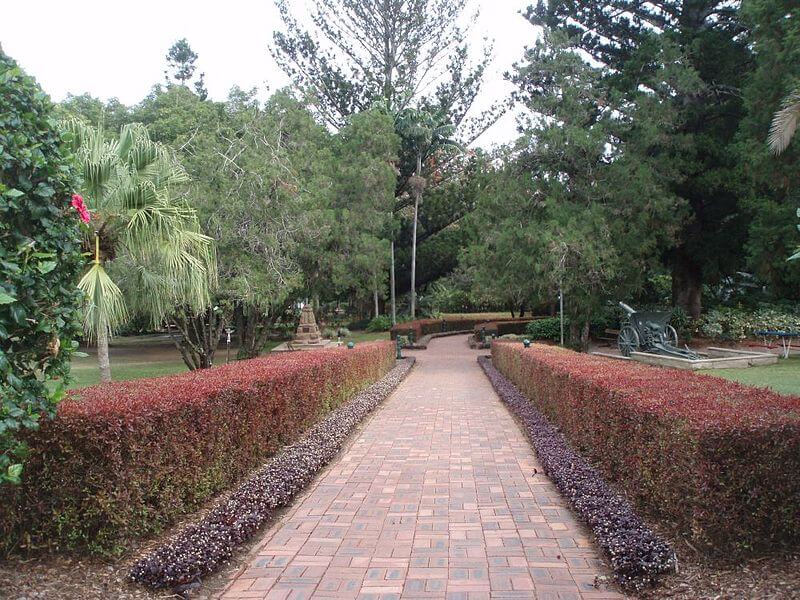 image source: wikimedia.org
4. Tour to Archer Park Rail Museum
Archer Park Rail Museum is located in Archer Parker Station. Constructed in the year of 1899, the museum features a bunch of rolling stock which is inclusive of engines, carriages, displays of the rail memorabilia. Travellers who are willing to experience the ride on a steam train that arrives at the station can plan a visit to the place. Rockhampton Region Council is the owner of Archer Park Rail Museum. Tourists can visit the place from 9am to 4 pm. The museum is opened from Monday to Friday.
5. Hiking Trail Mount Archer Rockhampton
Tourists who wish to enjoy great views can visit Mount Archer Rockhampton. As people stroll the new walkway, there will be a dramatic improvement in the views. One can procure excellent view of Rockhampton and the surroundings from here. A cafe was once present near the car parking. But it is not open any longer. This place is considered to be the ideal destination for people who are fond of hiking trailing.
6. A trip to Rockhampton Art Gallery
Established in the year of 1967, Rockhampton Art Gallery is recognized to be the in-house of a wide array of paintings of the mid-twentieth century. This Gallery is known to offer an innovative exhibition program, along with displays that are drawn from the collection of the Gallery. The place offers a wide variety of touring exhibitions from the national, university, regional and state galleries. There is a gift shop in this Art Gallery. Toddlers to elder members of the family can visit this gallery during their trip to Rockhampton.
7. Kershaw Gardens Tour
Travellers who have planned a trip to Rockhampton visit Kershaw Garden Tour. This is an amazing park and waterfall. It comprises of a big park for the kids, paved paths, river and amphitheater. The garden is well maintained owing to which people love visiting it time and again. Travelers can rejoice in the stunning waterfalls while visiting the garden. Those who love walking will enjoy the mesmerizing natural beauty of the garden. One can feel connected to nature while paying a visit to the place.
8. FLOW Visitors Centre for seeking information
Those who want to gather a plenty of information about the whole CQ area can visit the FLOW Visitors Centre. This is a wonderful place where one can take the kids. Toddlers can gain information regarding the region as well as the ecosystem from this information center. You can avail the information at absolutely free of cost. It is well known for knowledgeable and helpful staff. One can procure amazing insight into the Fitzroy Basin as well as catchment areas while visiting the place.
9. Visiting C.Q. Military and Artifacts Museum
Travellers are going to love visiting the C.Q. Military and Artifacts Museum during their visit to Rockhampton. It is recognized to be one of the must-see destinations in Rockhampton. The room is full of different portraits of the local boys that are hung of groove and old tongue timber walls that are painted in the heritage colors. Several travellers visit this museum during the trip to Rockhampton. The museum is open from 9 am to 4m.
10. Visiting the Nissan Navara Arena
Travellers can visit the Nissan Navara Arena during their trip in Rockhampton. It is very entertaining. It is considered to be an ideal place for the older generation, young families, and singles. The place has a wonderful atmosphere. You can go to the place for an exciting action-packed night. Travellers can rejoice in delicious and mouth-watering dishes during the visit to Rockhampton. Tourists can relish in tasty steak dinner while visiting the place. The staffs here are friendly.
11. Paying a visit to Pilbeam Theatre
Pilbeam Theatre is recognized to be the focal point of a wide assortment of events across the year which is inclusive of comedy, music, dance, drama, etc. The place accommodates more than 1000 people. It is considered to be an ideal venue for the conduction of theatrical productions, product launches and demonstrations, large to small conferences, intimate cabarets.
12. Hiking in Mount Etna Caves National Park
People who are fond of hiking can go to Mount Etna Caves National Park. It is a suitable place if you want to go for a drive. Capricorn Caves is recognized to be the main event of the place. People who love to stroll prefer visiting the place. The tour guides are really enthusiastic and have detailed information about the area as well as its inhabitants.
13. Zamia Walk
Travellers can go for biking and tranquil walking during the visit in Rockhampton. The surrounding is really peaceful. The place is ideal for the natural bush walk. It is much cooler than the down in the city. There are options for taking fewer drinks here. People can refer to the place for relaxing in the park. It is considered to be one of the must do things while visiting Rockhampton. Those who are tired of the hustles and bustles of life and wish to spend some quality time in the lap of nature can consider visiting this place. One can procure the ultimate peace of mind while visiting the place. The place is considered to be the number one for nature lovers.
14. Enjoying in 2nd World War Memorial Aquatic Centre
It is recognized to be an amazing aquatic center that is equipped with modern facilities. The modern infrastructure of the place is worth visiting. It is maintained beautifully and considered to be a wonderful place for the children. Swimming enthusiasts can choose the place to take part in swimming on a hot day here. The place confers aquatic facilities of superior quality. The place has an excellent pool. It is considered to be the best pool in Queensland. The pool is really clean and one can have a great time with family and friends here. The staffs here are friendly and helpful. Many people go to the place at 6:30 am for swimming. It is essentially a 50-meter pool and is really spacious. Children go to the place for learning swimming.
15. Rejoicing in Banana Beef
Rockhampton is considered to be a primary destination for foodies. A wide array of delicious food items are found owing to which people can seek delight in different types of dishes in the region. Banana Beef is one such dish which is considered to be the specialty of the place. It is grown locally in Shire of Banana. People can relish in Banana steaks in the coastal region of Yeppoon. The Banana Beef tataki dish is recognized to be one of the most well-renowned dishes here. Foodies who pay a visit to the place fall in love with the extraordinary taste of this dish.
https://www.flickr.com/photos/personalcreations/28356695581
Are you looking for a Rockhampton travel itinerary? Create an itinerary within minutes, on your own!
Top-Rated Tourist Attractions in Rockhampton, Australia
Must see places in Rockhampton ranked on popularity. Here is the complete list of best attractions in Rockhampton and point of interests to visit.
Tourist Attractions Near Rockhampton
Find Your Rockhampton Attractions on Map
Types of Things To Do in Rockhampton
Find more attractions and places to visit in Rockhampton under these things to do categories.
What To Do in Rockhampton: Day-Wise Ideas
Find what not to miss in Rockhampton! Recommended Rockhampton itineraries and vacation ideas created by travelers across the world.