Pantheon Hotel
Tours near Pantheon Hotel
Tours for Pantheon Hotel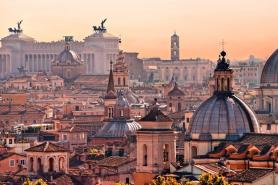 Book Now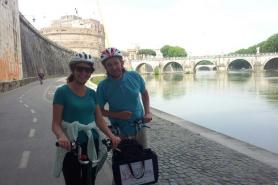 Book Now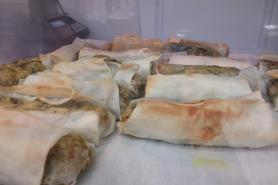 Book Now
Show More
Book Now
Book Now
Book Now
Show More
About Pantheon Hotel, Roma
The Pantheon (/ˈpænθiən/ or US /ˈpænθiɒn/; Latin: Pantheon, from Greek Πάνθειον Pantheion meaning "[temple] of every god") is a former Roman temple, now a church, in Rome, Italy, on the site of an earlier temple commissioned by Marcus Agrippa during the reign of Augustus (27 BC – 14 AD). The present building was completed by the emperor Hadrian and probably dedicated about 126 AD. He retained Agrippa's original inscription, which has confused its date of construction. The building is circular with a portico of large granite Corinthian columns (eight in the first rank and two groups of four behind) under a pediment. A rectangular vestibule links the porch to the rotunda, which is under a coffered concrete dome, with a central opening (oculus) to the sky. Almost two thousand years after it was built, the Pantheon's dome is still the world's largest unreinforced concrete dome. The height to the oculus and the diameter of the interior circle are the same, 43.3 metres (142 ft). It is one of the best-preserved of all Ancient Roman buildings, in large part because it has been in continuous use throughout its history, and since the 7th century, the Pantheon has been used as a church dedicated to "St. Mary and the Martyrs" (Latin: Santa Maria ad Martyres) but informally known as "Santa Maria Rotonda". The square in front of the Pantheon is called Piazza della Rotonda. The Pantheon is a state property, ruled by Italy's Ministry of Cultural Heritage and Activities and Tourism through the Polo Museale del Lazio; in 2013 it was visited by over 6 million people. Though the Pantheon's large circular domed cella, with a conventional temple portico front, is "unique" in Roman architecture, it was much the largest and most accessible complete classical temple front known to the Italian Renaissance, and was the standard exemplar when classical styles were revived. It has therefore been copied many times by modern architects.
Wikipedia
Overview of Pantheon Hotel
Check out detailed information of Pantheon Hotel which resides in the Roma. Pantheon Hotel is not a top-rated place in Roma.
Important attractions of the city include St. Clement Basilica, Convento Dei Frati Cappuccini and Largo Di Torre Argentina. You can also discover other things to do in Roma on TripHobo.
Most of the Roma tours skip a visit to this place, but you can create your customized plan if you wish to visit Pantheon Hotel.
More about Roma
Add accommodation and hotels in Roma that suit your budget including the most recommended ones like Hotel La Loggia, Hotel Scaldaferro and Piramidi Hotel.
Chalk out the best way to discover the city with Roma vacation packages. Check out various modes for how to reach Roma.
Book Pantheon Hotel Tickets And Tours
Share your experience - Rate Pantheon Hotel, Roma
I travelled to Rome, on my own, last September. Admittedly it took me a little while to locate the hotel when I initially got dropped off. However, the staff were incredibly friendly and helpful. My single room was perfect and of a very high standard. The location was absolutely perfect and very close to all the main attractions. I loved it there and hope to return one day. Rome had been a dream destination for many years and staying at The Pantheon Hotel helped to make my hopes become reality.

Read more

Very loud rooms to outside noise. Also staff made us switch hotels across town for one night of our 3 day stay. Do not recommend. Only positive is the central location

Friendly staff great location nice rooms 30 mins max walk to all the sites you want to see

Excellent service and great location!

Nice hotel with a very nice breakfast included, right next to the pantheon in central Rome. Would stay again.
Read all reviews