Best Time To Visit Rome
Explore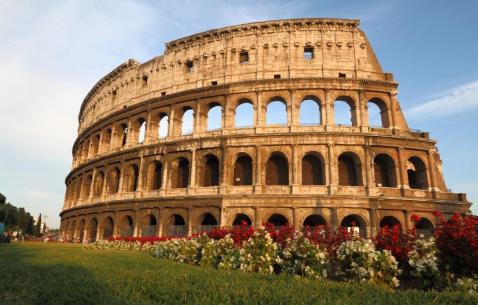 Best Time To Go To Rome
Rome enjoys a typical Mediterranean climate. The best time to visit Rome is from October to April. The days are sunny and warm with rare rain showers.
Summer (May to end of September): August is the hottest month with temperature exceeding 30 degree Celsius. The humidity reaches its peak and it can get very hot. Also, its labyrinth of ancient streets and attractions can become extremely crowded in high season. This is also the season of festivals and parties!
Autumn (October to late November): Cloudless skies, sunny days and lesser crowds, this is an ideal time to visit Rome. The average temperature is around 18 to 20 degree Celsius.
Winter (November to mid-March): Although snowfall is rare and temperatures rarely fall below 0 degree Celsius, the weather is extremely unpredictable in these months and you might need to pack warm clothing as well as an umbrella. December is a crowded month and the prices of hotels and flights shoot up. The average high temperature in January is about 12.9 °C (55.2 °F). Apart from the the month of December, this is an off season to visit Rome.
Spring (Late March and April): Ideal time to visit Rome except around the Easter Sunday when devotees flock to the Vatican City.
Look at the timings of all attractions for your Rome tours.
Best time to go to Rome Attractions

: Everyday 9:00 AM - 3:00 PM
: Everyday 9:00 AM - 3:00 PM
: Everyday 9:00 AM - 3:00 PM
: Everyday 9:00 AM - 3:00 PM
: Everyday 9:00 AM - 3:00 PM
: Everyday 9:00 AM - 3:00 PM
: Everyday 9:00 AM - 3:00 PM
: Everyday 9:00 AM - 3:00 PM
: Everyday 9:00 AM - 3:00 PM
: Everyday 9:00 AM - 3:00 PM
: Everyday 9:00 AM - 3:00 PM
: Everyday 9:00 AM - 3:00 PM

: Everyday 7:00 AM - 10:00 AM
: Everyday 7:00 AM - 10:00 AM
: Everyday 7:00 AM - 10:00 AM
: Everyday 7:00 AM - 10:00 AM
: Everyday 7:00 AM - 10:00 AM
: Everyday 7:00 AM - 10:00 AM
: Everyday 7:00 AM - 10:00 AM
: Everyday 7:00 AM - 10:00 AM
: Everyday 7:00 AM - 10:00 AM
: Everyday 7:00 AM - 10:00 AM
: Everyday 7:00 AM - 10:00 AM
: Everyday 7:00 AM - 10:00 AM

: Everyday 10:00 AM - 4:00 PM
: Everyday 10:00 AM - 4:00 PM
: Everyday 10:00 AM - 4:00 PM
: Everyday 10:00 AM - 4:00 PM
: Everyday 10:00 AM - 4:00 PM
: Everyday 10:00 AM - 4:00 PM
: Everyday 10:00 AM - 4:00 PM
: Everyday 10:00 AM - 4:00 PM
: Everyday 10:00 AM - 4:00 PM
: Everyday 10:00 AM - 4:00 PM
: Everyday 10:00 AM - 4:00 PM
: Everyday 10:00 AM - 4:00 PM

: Everyday 10:00 AM - 4:00 PM
: Everyday 10:00 AM - 4:00 PM
: Everyday 10:00 AM - 4:00 PM
: Everyday 10:00 AM - 4:00 PM
: Everyday 10:00 AM - 4:00 PM
: Everyday 10:00 AM - 4:00 PM
: Everyday 10:00 AM - 4:00 PM
: Everyday 10:00 AM - 4:00 PM
: Everyday 10:00 AM - 4:00 PM
: Everyday 10:00 AM - 4:00 PM
: Everyday 10:00 AM - 4:00 PM
: Everyday 10:00 AM - 4:00 PM

: Tuesday to Sunday 9:00 AM - 2:00 PM
: Tuesday to Sunday 9:00 AM - 2:00 PM
: Tuesday to Sunday 9:00 AM - 2:00 PM
: Tuesday to Sunday 9:00 AM - 2:00 PM
: Tuesday to Sunday 9:00 AM - 2:00 PM
: Tuesday to Sunday 9:00 AM - 2:00 PM
: Tuesday to Sunday 9:00 AM - 2:00 PM
: Tuesday to Sunday 9:00 AM - 2:00 PM
: Tuesday to Sunday 9:00 AM - 2:00 PM
: Tuesday to Sunday 9:00 AM - 2:00 PM
: Tuesday to Sunday 9:00 AM - 2:00 PM
: Tuesday to Sunday 9:00 AM - 2:00 PM

: Everyday 9:00 AM - 2:00 PM
: Everyday 9:00 AM - 2:00 PM
: Everyday 9:00 AM - 2:00 PM
: Everyday 9:00 AM - 2:00 PM
: Everyday 9:00 AM - 2:00 PM
: Everyday 9:00 AM - 2:00 PM
: Everyday 9:00 AM - 2:00 PM
: Everyday 9:00 AM - 2:00 PM
: Everyday 9:00 AM - 2:00 PM
: Everyday 9:00 AM - 2:00 PM
: Everyday 9:00 AM - 2:00 PM
: Everyday 9:00 AM - 2:00 PM

: Everyday 8:00 AM - 9:00 AM
: Everyday 8:00 AM - 9:00 AM
: Everyday 8:00 AM - 9:00 AM
: Everyday 8:00 AM - 9:00 AM
: Everyday 8:00 AM - 9:00 AM
: Everyday 8:00 AM - 9:00 AM
: Everyday 8:00 AM - 9:00 AM
: Everyday 8:00 AM - 9:00 AM
: Everyday 8:00 AM - 9:00 AM
: Everyday 8:00 AM - 9:00 AM
: Everyday 8:00 AM - 9:00 AM
: Everyday 8:00 AM - 9:00 AM

: Everyday 6:00 PM - 7:00 PM
: Everyday 6:00 PM - 7:00 PM
: Everyday 6:00 PM - 7:00 PM
: Everyday 6:00 PM - 7:00 PM
: Everyday 6:00 PM - 7:00 PM
: Everyday 6:00 PM - 7:00 PM
: Everyday 6:00 PM - 7:00 PM
: Everyday 6:00 PM - 7:00 PM
: Everyday 6:00 PM - 7:00 PM
: Everyday 6:00 PM - 7:00 PM
: Everyday 6:00 PM - 7:00 PM
: Everyday 6:00 PM - 7:00 PM

: Monday, Tuesday, Wednesday, Friday, Saturday, Sunday 10:00 AM - 7:00 PM; Monday, Tuesday, Wednesday, Friday, Saturday, Sunday 10:00 AM - 7:00 PM | 3:00 PM - 6:30 PM; Thursday 10:00 AM - 7:00 PM
: Monday, Tuesday, Wednesday, Friday, Saturday, Sunday 10:00 AM - 7:00 PM; Monday, Tuesday, Wednesday, Friday, Saturday, Sunday 10:00 AM - 7:00 PM | 3:00 PM - 6:30 PM; Thursday 10:00 AM - 7:00 PM
: Monday, Tuesday, Wednesday, Friday, Saturday, Sunday 10:00 AM - 7:00 PM; Monday, Tuesday, Wednesday, Friday, Saturday, Sunday 10:00 AM - 7:00 PM | 3:00 PM - 6:30 PM; Thursday 10:00 AM - 7:00 PM
: Monday, Tuesday, Wednesday, Friday, Saturday, Sunday 10:00 AM - 7:00 PM; Monday, Tuesday, Wednesday, Friday, Saturday, Sunday 10:00 AM - 7:00 PM | 3:00 PM - 6:30 PM; Thursday 10:00 AM - 7:00 PM
: Monday, Tuesday, Wednesday, Friday, Saturday, Sunday 10:00 AM - 7:00 PM; Monday, Tuesday, Wednesday, Friday, Saturday, Sunday 10:00 AM - 7:00 PM | 3:00 PM - 6:30 PM; Thursday 10:00 AM - 7:00 PM
: Monday, Tuesday, Wednesday, Friday, Saturday, Sunday 10:00 AM - 7:00 PM; Monday, Tuesday, Wednesday, Friday, Saturday, Sunday 10:00 AM - 7:00 PM | 3:00 PM - 6:30 PM; Thursday 10:00 AM - 7:00 PM
: Monday, Tuesday, Wednesday, Friday, Saturday, Sunday 10:00 AM - 7:00 PM; Monday, Tuesday, Wednesday, Friday, Saturday, Sunday 10:00 AM - 7:00 PM | 3:00 PM - 6:30 PM; Thursday 10:00 AM - 7:00 PM
: Monday, Tuesday, Wednesday, Friday, Saturday, Sunday 10:00 AM - 7:00 PM; Monday, Tuesday, Wednesday, Friday, Saturday, Sunday 10:00 AM - 7:00 PM | 3:00 PM - 6:30 PM; Thursday 10:00 AM - 7:00 PM
: Monday, Tuesday, Wednesday, Friday, Saturday, Sunday 10:00 AM - 7:00 PM; Monday, Tuesday, Wednesday, Friday, Saturday, Sunday 10:00 AM - 7:00 PM | 3:00 PM - 6:30 PM; Thursday 10:00 AM - 7:00 PM
: Monday, Tuesday, Wednesday, Friday, Saturday, Sunday 10:00 AM - 7:00 PM; Monday, Tuesday, Wednesday, Friday, Saturday, Sunday 10:00 AM - 7:00 PM | 3:00 PM - 6:30 PM; Thursday 10:00 AM - 7:00 PM
: Monday, Tuesday, Wednesday, Friday, Saturday, Sunday 10:00 AM - 7:00 PM; Monday, Tuesday, Wednesday, Friday, Saturday, Sunday 10:00 AM - 7:00 PM | 3:00 PM - 6:30 PM; Thursday 10:00 AM - 7:00 PM
: Monday, Tuesday, Wednesday, Friday, Saturday, Sunday 10:00 AM - 7:00 PM; Monday, Tuesday, Wednesday, Friday, Saturday, Sunday 10:00 AM - 7:00 PM | 3:00 PM - 6:30 PM; Thursday 10:00 AM - 7:00 PM

: Everyday 4:00 PM - 5:00 PM
: Everyday 4:00 PM - 5:00 PM
: Everyday 4:00 PM - 5:00 PM
: Everyday 4:00 PM - 5:00 PM
: Everyday 4:00 PM - 5:00 PM
: Everyday 4:00 PM - 5:00 PM
: Everyday 4:00 PM - 5:00 PM
: Everyday 4:00 PM - 5:00 PM
: Everyday 4:00 PM - 5:00 PM
: Everyday 4:00 PM - 5:00 PM
: Everyday 4:00 PM - 5:00 PM
: Everyday 4:00 PM - 5:00 PM

: Everyday 24 Hrs
: Everyday 24 Hrs
: Everyday 24 Hrs
: Everyday 24 Hrs
: Everyday 24 Hrs
: Everyday 24 Hrs
: Everyday 24 Hrs
: Everyday 24 Hrs
: Everyday 24 Hrs
: Everyday 24 Hrs
: Everyday 24 Hrs
: Everyday 24 Hrs

: Monday to Saturday :00 AM - 2:00 PM
: Monday to Saturday :00 AM - 2:00 PM
: Monday to Saturday :00 AM - 2:00 PM
: Monday to Saturday :00 AM - 2:00 PM
: Monday to Saturday :00 AM - 2:00 PM
: Monday to Saturday :00 AM - 2:00 PM
: Monday to Saturday :00 AM - 2:00 PM
: Monday to Saturday :00 AM - 2:00 PM
: Monday to Saturday :00 AM - 2:00 PM
: Monday to Saturday :00 AM - 2:00 PM
: Monday to Saturday :00 AM - 2:00 PM
: Monday to Saturday :00 AM - 2:00 PM

: Everyday 8:30 AM - 2:00 PM
: Everyday 8:30 AM - 2:00 PM
: Everyday 8:30 AM - 2:00 PM
: Everyday 8:30 AM - 2:00 PM
: Everyday 8:30 AM - 2:00 PM
: Everyday 8:30 AM - 2:00 PM
: Everyday 8:30 AM - 2:00 PM
: Everyday 8:30 AM - 2:00 PM
: Everyday 8:30 AM - 2:00 PM
: Everyday 8:30 AM - 2:00 PM
: Everyday 8:30 AM - 2:00 PM
: Everyday 8:30 AM - 2:00 PM

: Everyday 11:00 AM - 3:00 PM
: Everyday 11:00 AM - 3:00 PM
: Everyday 11:00 AM - 3:00 PM
: Everyday 11:00 AM - 3:00 PM
: Everyday 11:00 AM - 3:00 PM
: Everyday 11:00 AM - 3:00 PM
: Everyday 11:00 AM - 3:00 PM
: Everyday 11:00 AM - 3:00 PM
: Everyday 11:00 AM - 3:00 PM
: Everyday 11:00 AM - 3:00 PM
: Everyday 11:00 AM - 3:00 PM
: Everyday 11:00 AM - 3:00 PM

: Monday to Saturday 8:00 AM - 2:00 PM; Sunday 9:00 AM - 2:00 PM
: Monday to Saturday 8:00 AM - 2:00 PM; Sunday 9:00 AM - 2:00 PM
: Monday to Saturday 8:00 AM - 2:00 PM; Sunday 9:00 AM - 2:00 PM
: Monday to Saturday 8:00 AM - 2:00 PM; Sunday 9:00 AM - 2:00 PM
: Monday to Saturday 8:00 AM - 2:00 PM; Sunday 9:00 AM - 2:00 PM
: Monday to Saturday 8:00 AM - 2:00 PM; Sunday 9:00 AM - 2:00 PM
: Monday to Saturday 8:00 AM - 2:00 PM; Sunday 9:00 AM - 2:00 PM
: Monday to Saturday 8:00 AM - 2:00 PM; Sunday 9:00 AM - 2:00 PM
: Monday to Saturday 8:00 AM - 2:00 PM; Sunday 9:00 AM - 2:00 PM
: Monday to Saturday 8:00 AM - 2:00 PM; Sunday 9:00 AM - 2:00 PM
: Monday to Saturday 8:00 AM - 2:00 PM; Sunday 9:00 AM - 2:00 PM
: Monday to Saturday 8:00 AM - 2:00 PM; Sunday 9:00 AM - 2:00 PM

: Monday to Friday 11:00 AM - 4:00 PM; Saturday, Sunday 11:00 AM - 4:00 PM
: Monday to Friday 11:00 AM - 4:00 PM; Saturday, Sunday 11:00 AM - 4:00 PM
: Monday to Friday 11:00 AM - 4:00 PM; Saturday, Sunday 11:00 AM - 4:00 PM
: Monday to Friday 11:00 AM - 4:00 PM; Saturday, Sunday 11:00 AM - 4:00 PM
: Monday to Friday 11:00 AM - 4:00 PM; Saturday, Sunday 11:00 AM - 4:00 PM
: Monday to Friday 11:00 AM - 4:00 PM; Saturday, Sunday 11:00 AM - 4:00 PM
: Monday to Friday 11:00 AM - 4:00 PM; Saturday, Sunday 11:00 AM - 4:00 PM
: Monday to Friday 11:00 AM - 4:00 PM; Saturday, Sunday 11:00 AM - 4:00 PM
: Monday to Friday 11:00 AM - 4:00 PM; Saturday, Sunday 11:00 AM - 4:00 PM
: Monday to Friday 11:00 AM - 4:00 PM; Saturday, Sunday 11:00 AM - 4:00 PM
: Monday to Friday 11:00 AM - 4:00 PM; Saturday, Sunday 11:00 AM - 4:00 PM
: Monday to Friday 11:00 AM - 4:00 PM; Saturday, Sunday 11:00 AM - 4:00 PM

: Everyday 4:00 PM - 7:00 PM
: Everyday 4:00 PM - 7:00 PM
: Everyday 4:00 PM - 7:00 PM
: Everyday 4:00 PM - 7:00 PM
: Everyday 4:00 PM - 7:00 PM
: Everyday 4:00 PM - 7:00 PM
: Everyday 4:00 PM - 7:00 PM
: Everyday 4:00 PM - 7:00 PM
: Everyday 4:00 PM - 7:00 PM
: Everyday 4:00 PM - 7:00 PM
: Everyday 4:00 PM - 7:00 PM
: Everyday 4:00 PM - 7:00 PM

: Everyday 3:30 PM - 5:30 PM
: Everyday 3:30 PM - 5:30 PM
: Everyday 3:30 PM - 5:30 PM
: Everyday 3:30 PM - 5:30 PM
: Everyday 3:30 PM - 5:30 PM
: Everyday 3:30 PM - 5:30 PM
: Everyday 3:30 PM - 5:30 PM
: Everyday 3:30 PM - 5:30 PM
: Everyday 3:30 PM - 5:30 PM
: Everyday 3:30 PM - 5:30 PM
: Everyday 3:30 PM - 5:30 PM
: Everyday 3:30 PM - 5:30 PM

: Everyday 8:00 AM - 2:00 PM
: Everyday 8:00 AM - 2:00 PM
: Everyday 8:00 AM - 2:00 PM
: Everyday 8:00 AM - 2:00 PM
: Everyday 8:00 AM - 2:00 PM
: Everyday 8:00 AM - 2:00 PM
: Everyday 8:00 AM - 2:00 PM
: Everyday 8:00 AM - 2:00 PM
: Everyday 8:00 AM - 2:00 PM
: Everyday 8:00 AM - 2:00 PM
: Everyday 8:00 AM - 2:00 PM
: Everyday 8:00 AM - 2:00 PM

: Everyday 10:00 AM - 4:00 PM
: Everyday 10:00 AM - 4:00 PM
: Everyday 10:00 AM - 4:00 PM
: Everyday 10:00 AM - 4:00 PM
: Everyday 10:00 AM - 4:00 PM
: Everyday 10:00 AM - 4:00 PM
: Everyday 10:00 AM - 4:00 PM
: Everyday 10:00 AM - 4:00 PM
: Everyday 10:00 AM - 4:00 PM
: Everyday 10:00 AM - 4:00 PM
: Everyday 10:00 AM - 4:00 PM
: Everyday 10:00 AM - 4:00 PM

: Everyday 4:00 PM - 6:00 PM
: Everyday 4:00 PM - 6:00 PM
: Everyday 4:00 PM - 6:00 PM
: Everyday 4:00 PM - 6:00 PM
: Everyday 4:00 PM - 6:00 PM
: Everyday 4:00 PM - 6:00 PM
: Everyday 4:00 PM - 6:00 PM
: Everyday 4:00 PM - 6:00 PM
: Everyday 4:00 PM - 6:00 PM
: Everyday 4:00 PM - 6:00 PM
: Everyday 4:00 PM - 6:00 PM
: Everyday 4:00 PM - 6:00 PM

: Everyday 10:00 AM - 3:00 PM
: Everyday 10:00 AM - 3:00 PM
: Everyday 10:00 AM - 3:00 PM
: Everyday 10:00 AM - 3:00 PM
: Everyday 10:00 AM - 3:00 PM
: Everyday 10:00 AM - 3:00 PM
: Everyday 10:00 AM - 3:00 PM
: Everyday 10:00 AM - 3:00 PM
: Everyday 10:00 AM - 3:00 PM
: Everyday 10:00 AM - 3:00 PM
: Everyday 10:00 AM - 3:00 PM
: Everyday 10:00 AM - 3:00 PM

: Tuesday to Sunday 10:00 AM - 1:00 PM
: Tuesday to Sunday 10:00 AM - 1:00 PM
: Tuesday to Sunday 10:00 AM - 1:00 PM
: Tuesday to Sunday 10:00 AM - 1:00 PM
: Tuesday to Sunday 10:00 AM - 1:00 PM
: Tuesday to Sunday 10:00 AM - 1:00 PM
: Tuesday to Sunday 10:00 AM - 1:00 PM
: Tuesday to Sunday 10:00 AM - 1:00 PM
: Tuesday to Sunday 10:00 AM - 1:00 PM
: Tuesday to Sunday 10:00 AM - 1:00 PM
: Tuesday to Sunday 10:00 AM - 1:00 PM
: Tuesday to Sunday 10:00 AM - 1:00 PM

: Everyday 5:00 PM - 7:00 PM
: Everyday 5:00 PM - 7:00 PM
: Everyday 5:00 PM - 7:00 PM
: Everyday 5:00 PM - 7:00 PM
: Everyday 5:00 PM - 7:00 PM
: Everyday 5:00 PM - 7:00 PM
: Everyday 5:00 PM - 7:00 PM
: Everyday 5:00 PM - 7:00 PM
: Everyday 5:00 PM - 7:00 PM
: Everyday 5:00 PM - 7:00 PM
: Everyday 5:00 PM - 7:00 PM
: Everyday 5:00 PM - 7:00 PM

: Everyday 10:00 AM - 2:00 PM
: Everyday 10:00 AM - 2:00 PM
: Everyday 10:00 AM - 2:00 PM
: Everyday 10:00 AM - 2:00 PM
: Everyday 10:00 AM - 2:00 PM
: Everyday 10:00 AM - 2:00 PM
: Everyday 10:00 AM - 2:00 PM
: Everyday 10:00 AM - 2:00 PM
: Everyday 10:00 AM - 2:00 PM
: Everyday 10:00 AM - 2:00 PM
: Everyday 10:00 AM - 2:00 PM
: Everyday 10:00 AM - 2:00 PM

: Everyday 3:00 PM - 6:00 PM
: Everyday 3:00 PM - 6:00 PM
: Everyday 3:00 PM - 6:00 PM
: Everyday 3:00 PM - 6:00 PM
: Everyday 3:00 PM - 6:00 PM
: Everyday 3:00 PM - 6:00 PM
: Everyday 3:00 PM - 6:00 PM
: Everyday 3:00 PM - 6:00 PM
: Everyday 3:00 PM - 6:00 PM
: Everyday 3:00 PM - 6:00 PM
: Everyday 3:00 PM - 6:00 PM
: Everyday 3:00 PM - 6:00 PM

: Everyday 3:00 PM - 4:00 PM
: Everyday 3:00 PM - 4:00 PM
: Everyday 3:00 PM - 4:00 PM
: Everyday 3:00 PM - 4:00 PM
: Everyday 3:00 PM - 4:00 PM
: Everyday 3:00 PM - 4:00 PM
: Everyday 3:00 PM - 4:00 PM
: Everyday 3:00 PM - 4:00 PM
: Everyday 3:00 PM - 4:00 PM
: Everyday 3:00 PM - 4:00 PM
: Everyday 3:00 PM - 4:00 PM
: Everyday 3:00 PM - 4:00 PM

: Everyday 9:00 AM - 4:00 PM
: Everyday 9:00 AM - 4:00 PM
: Everyday 9:00 AM - 4:00 PM
: Everyday 9:00 AM - 4:00 PM
: Everyday 9:00 AM - 4:00 PM
: Everyday 9:00 AM - 4:00 PM
: Everyday 9:00 AM - 4:00 PM
: Everyday 9:00 AM - 4:00 PM
: Everyday 9:00 AM - 4:00 PM
: Everyday 9:00 AM - 4:00 PM
: Everyday 9:00 AM - 4:00 PM
: Everyday 9:00 AM - 4:00 PM

: Tuesday to Sunday 10:00 AM - 2:00 PM
: Tuesday to Sunday 10:00 AM - 2:00 PM
: Tuesday to Sunday 10:00 AM - 2:00 PM
: Tuesday to Sunday 10:00 AM - 2:00 PM
: Tuesday to Sunday 10:00 AM - 2:00 PM
: Tuesday to Sunday 10:00 AM - 2:00 PM
: Tuesday to Sunday 10:00 AM - 2:00 PM
: Tuesday to Sunday 10:00 AM - 2:00 PM
: Tuesday to Sunday 10:00 AM - 2:00 PM
: Tuesday to Sunday 10:00 AM - 2:00 PM
: Tuesday to Sunday 10:00 AM - 2:00 PM
: Tuesday to Sunday 10:00 AM - 2:00 PM

: Monday to Friday 7:30 AM - 7:00 PM; Saturday, Sunday 7:30 AM - 7:00 PM; Saturday, Sunday 7:30 AM - 7:00 PM | 3:30 PM - 7:00 PM
: Monday to Friday 7:30 AM - 7:00 PM; Saturday, Sunday 7:30 AM - 7:00 PM; Saturday, Sunday 7:30 AM - 7:00 PM | 3:30 PM - 7:00 PM
: Monday to Friday 7:30 AM - 7:00 PM; Saturday, Sunday 7:30 AM - 7:00 PM; Saturday, Sunday 7:30 AM - 7:00 PM | 3:30 PM - 7:00 PM
: Monday to Friday 7:30 AM - 7:00 PM; Saturday, Sunday 7:30 AM - 7:00 PM; Saturday, Sunday 7:30 AM - 7:00 PM | 3:30 PM - 7:00 PM
: Monday to Friday 7:30 AM - 7:00 PM; Saturday, Sunday 7:30 AM - 7:00 PM; Saturday, Sunday 7:30 AM - 7:00 PM | 3:30 PM - 7:00 PM
: Monday to Friday 7:30 AM - 7:00 PM; Saturday, Sunday 7:30 AM - 7:00 PM; Saturday, Sunday 7:30 AM - 7:00 PM | 3:30 PM - 7:00 PM
: Monday to Friday 7:30 AM - 7:00 PM; Saturday, Sunday 7:30 AM - 7:00 PM; Saturday, Sunday 7:30 AM - 7:00 PM | 3:30 PM - 7:00 PM
: Monday to Friday 7:30 AM - 7:00 PM; Saturday, Sunday 7:30 AM - 7:00 PM; Saturday, Sunday 7:30 AM - 7:00 PM | 3:30 PM - 7:00 PM
: Monday to Friday 7:30 AM - 7:00 PM; Saturday, Sunday 7:30 AM - 7:00 PM; Saturday, Sunday 7:30 AM - 7:00 PM | 3:30 PM - 7:00 PM
: Monday to Friday 7:30 AM - 7:00 PM; Saturday, Sunday 7:30 AM - 7:00 PM; Saturday, Sunday 7:30 AM - 7:00 PM | 3:30 PM - 7:00 PM
: Monday to Friday 7:30 AM - 7:00 PM; Saturday, Sunday 7:30 AM - 7:00 PM; Saturday, Sunday 7:30 AM - 7:00 PM | 3:30 PM - 7:00 PM
: Monday to Friday 7:30 AM - 7:00 PM; Saturday, Sunday 7:30 AM - 7:00 PM; Saturday, Sunday 7:30 AM - 7:00 PM | 3:30 PM - 7:00 PM