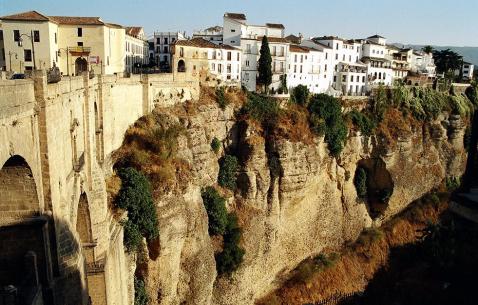 Spain and its beautiful destinations don't cease to captivate any and everyone who visit. A desire to live a good life, involving lots of passion in everything offered, Spain's sophistication casts an easy spell. A country running food, drinks, brilliant music and terrific vistas in every vibe, is ought to be an enticing delight indeed.
Perched in the province of Malaga, Ronda is a congenial melange of the characteristic European towns – cobbled streets, aisles escalating and dwindling on slopes, laced with white-walled houses with brown slanting roofs, prettied up with just the right amount of plants hung on the doors and windows, cobalt skies and of course lots of rugged mountains. Ronda particularly is an extremely hilly city, nestled over the 100-plus-meter- deep El Tajo canyon and has the Guadalevin River running through it, covered by the endemic Spanish fir. Apparently, this is where the traditional spectacle of Spain – Bullfighting was invented.
Cleaved into parts - La Ciudad, the old town south and El Mercadillo in the north, Ronda is a unique blend of adventure, amazing culinary, heritage, and beguiling festivals. With strong Arabic cultural influences this Andalusian town offers an interesting juxtapose for you to bask in. Ruins expressing the bygone era, attractions towered on the city's canyons, mosques, palaces and lots of art, getting around Ronda offers experiences to be cherished for a lifetime.
Essential travel information and Ronda tips for your visit
Time Zone: Central European Time; UTC +1/+2
Currency: Euro
Electricity and Internet: The voltage is 230 V/ 50 Hz. Internet in the form of wi-fi is available at most of the hotels, restaurants and places of interest.
Languages: Spanish is the official language of Ronda. English is understood and spoken.
Security: Dial 112 for police, ambulance and fire brigade.
Tipping: At a fine dining restaurant especially, if you are happy with the service, a tip of 7-10% is acceptable, if you are not happy, do not tip.
Get some Spanish lessons.
Rent a bike to explore adjoining areas.
The Sierra de Grazalema and Sierra de las Nieves Natural Parks lie close by from Ronda.