Best Time To Visit Rotorua
Explore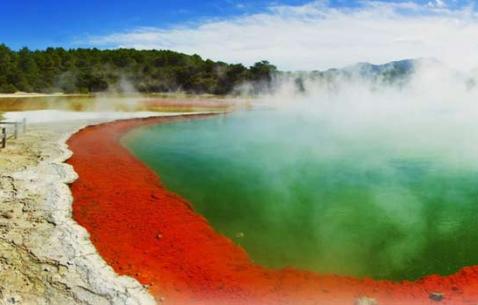 Accommodations with

See All
Best Time To Go To Rotorua
The best time to visit Rotorua is spring, which starts from September and lasts till November. That being said the city enjoys a pleasant weather and sunny, clear days the whole year round.
Temperatures do drop to single digits in winter, but thanks to hot springs and volcanic activity it rarely gets uncomfortably cold. Summers are warm with the temperature hovering around the 25 degree Celsius mark.
Explore the best travel planner for your visit to Rotorua and create a flawless plan in few simple steps!
Best time to go to Rotorua Attractions

: Everyday 8:30 AM - 5:00 PM
: Everyday 8:30 AM - 5:00 PM
: Everyday 8:30 AM - 5:00 PM
: Everyday 8:30 AM - 5:00 PM
: Everyday 8:30 AM - 5:00 PM
: Everyday 8:30 AM - 5:00 PM
: Everyday 8:30 AM - 5:00 PM
: Everyday 8:30 AM - 5:00 PM
: Everyday 8:30 AM - 5:00 PM
: Everyday 8:30 AM - 5:00 PM
: Everyday 8:30 AM - 5:00 PM
: Everyday 8:30 AM - 5:00 PM

: Everyday 10:00 AM - 5:00 PM
: Everyday 10:00 AM - 5:00 PM
: Everyday 10:00 AM - 5:00 PM
: Everyday 10:00 AM - 5:00 PM
: Everyday 10:00 AM - 5:00 PM
: Everyday 10:00 AM - 5:00 PM
: Everyday 10:00 AM - 5:00 PM
: Everyday 10:00 AM - 5:00 PM
: Everyday 10:00 AM - 5:00 PM
: Everyday 10:00 AM - 5:00 PM
: Everyday 10:00 AM - 5:00 PM
: Everyday 10:00 AM - 5:00 PM

: Everyday 9:00 AM - 11:30 PM
: Everyday 9:00 AM - 11:30 PM
: Everyday 9:00 AM - 11:30 PM
: Everyday 9:00 AM - 11:30 PM
: Everyday 9:00 AM - 11:30 PM
: Everyday 9:00 AM - 11:30 PM
: Everyday 9:00 AM - 11:30 PM
: Everyday 9:00 AM - 11:30 PM
: Everyday 9:00 AM - 11:30 PM
: Everyday 9:00 AM - 11:30 PM
: Everyday 9:00 AM - 11:30 PM
: Everyday 9:00 AM - 11:30 PM

: Everyday 8:00 AM - 6:00 PM
: Everyday 8:00 AM - 6:00 PM
: Everyday 8:00 AM - 6:00 PM
: Everyday 8:00 AM - 6:00 PM
: Everyday 8:00 AM - 6:00 PM
: Everyday 8:00 AM - 6:00 PM
: Everyday 8:00 AM - 6:00 PM
: Everyday 8:00 AM - 6:00 PM
: Everyday 8:00 AM - 6:00 PM
: Everyday 8:00 AM - 6:00 PM
: Everyday 8:00 AM - 6:00 PM
: Everyday 8:00 AM - 6:00 PM

: Everyday 24 Hrs
: Everyday 24 Hrs
: Everyday 24 Hrs
: Everyday 24 Hrs
: Everyday 24 Hrs
: Everyday 24 Hrs
: Everyday 24 Hrs
: Everyday 24 Hrs
: Everyday 24 Hrs
: Everyday 24 Hrs
: Everyday 24 Hrs
: Everyday 24 Hrs

: Everyday 9:00 AM - 5:00 PM
: Everyday 9:00 AM - 5:00 PM
: Everyday 9:00 AM - 5:00 PM
: Everyday 9:00 AM - 5:00 PM
: Everyday 9:00 AM - 5:00 PM
: Everyday 9:00 AM - 5:00 PM
: Everyday 9:00 AM - 5:00 PM
: Everyday 9:00 AM - 5:00 PM
: Everyday 9:00 AM - 5:00 PM
: Everyday 9:00 AM - 5:00 PM
: Everyday 9:00 AM - 5:00 PM
: Everyday 9:00 AM - 5:00 PM

: Everyday 8:00 AM - 11:00 PM
: Everyday 8:00 AM - 11:00 PM
: Everyday 8:00 AM - 11:00 PM
: Everyday 8:00 AM - 11:00 PM
: Everyday 8:00 AM - 11:00 PM
: Everyday 8:00 AM - 11:00 PM
: Everyday 8:00 AM - 11:00 PM
: Everyday 8:00 AM - 11:00 PM
: Everyday 8:00 AM - 11:00 PM
: Everyday 8:00 AM - 11:00 PM
: Everyday 8:00 AM - 11:00 PM
: Everyday 8:00 AM - 11:00 PM

: Everyday 11:00 AM - 5:00 PM
: Everyday 11:00 AM - 5:00 PM
: Everyday 11:00 AM - 5:00 PM
: Everyday 11:00 AM - 5:00 PM
: Everyday 11:00 AM - 5:00 PM
: Everyday 11:00 AM - 5:00 PM
: Everyday 11:00 AM - 5:00 PM
: Everyday 11:00 AM - 5:00 PM
: Everyday 11:00 AM - 5:00 PM
: Everyday 11:00 AM - 5:00 PM
: Everyday 11:00 AM - 5:00 PM
: Everyday 11:00 AM - 5:00 PM

: Everyday 8:30 AM - 3:45 PM
: Everyday 8:30 AM - 3:45 PM
: Everyday 8:30 AM - 3:45 PM
: Everyday 8:30 AM - 3:45 PM
: Everyday 8:30 AM - 3:45 PM
: Everyday 8:30 AM - 3:45 PM
: Everyday 8:30 AM - 3:45 PM
: Everyday 8:30 AM - 3:45 PM
: Everyday 8:30 AM - 3:45 PM
: Everyday 8:30 AM - 3:45 PM
: Everyday 8:30 AM - 3:45 PM
: Everyday 8:30 AM - 3:45 PM

: Everyday 8:30 AM - 5:00 PM
: Everyday 8:30 AM - 5:00 PM
: Everyday 8:30 AM - 5:00 PM
: Everyday 8:30 AM - 5:00 PM
: Everyday 8:30 AM - 5:00 PM
: Everyday 8:30 AM - 5:00 PM
: Everyday 8:30 AM - 5:00 PM
: Everyday 8:30 AM - 5:00 PM
: Everyday 8:30 AM - 5:00 PM
: Everyday 8:30 AM - 5:00 PM
: Everyday 8:30 AM - 5:00 PM
: Everyday 8:30 AM - 5:00 PM

: Everyday 2:00 PM - 5:00 PM
: Everyday 2:00 PM - 5:00 PM
: Everyday 2:00 PM - 5:00 PM
: Everyday 2:00 PM - 5:00 PM
: Everyday 2:00 PM - 5:00 PM
: Everyday 2:00 PM - 5:00 PM
: Everyday 2:00 PM - 5:00 PM
: Everyday 2:00 PM - 5:00 PM
: Everyday 2:00 PM - 5:00 PM
: Everyday 2:00 PM - 5:00 PM
: Everyday 2:00 PM - 5:00 PM
: Everyday 2:00 PM - 5:00 PM

: Everyday 8:00 AM - 4:30 PM
: Everyday 8:00 AM - 4:30 PM
: Everyday 8:00 AM - 4:30 PM
: Everyday 8:00 AM - 4:30 PM
: Everyday 8:00 AM - 4:30 PM
: Everyday 8:00 AM - 4:30 PM
: Everyday 8:00 AM - 4:30 PM
: Everyday 8:00 AM - 4:30 PM
: Everyday 8:00 AM - 4:30 PM
: Everyday 8:00 AM - 4:30 PM
: Everyday 8:00 AM - 4:30 PM
: Everyday 8:00 AM - 4:30 PM

: Everyday 8:00 AM - 4:30 PM
: Everyday 8:00 AM - 4:30 PM
: Everyday 8:00 AM - 4:30 PM
: Everyday 8:00 AM - 4:30 PM
: Everyday 8:00 AM - 4:30 PM
: Everyday 8:00 AM - 4:30 PM
: Everyday 8:00 AM - 4:30 PM
: Everyday 8:00 AM - 4:30 PM
: Everyday 8:00 AM - 4:30 PM
: Everyday 8:00 AM - 4:30 PM
: Everyday 8:00 AM - 4:30 PM
: Everyday 8:00 AM - 4:30 PM

: Everyday 9:00 AM - 4:30 PM
: Everyday 9:00 AM - 4:30 PM
: Everyday 9:00 AM - 4:30 PM
: Everyday 9:00 AM - 4:30 PM
: Everyday 9:00 AM - 4:30 PM
: Everyday 9:00 AM - 4:30 PM
: Everyday 9:00 AM - 4:30 PM
: Everyday 9:00 AM - 4:30 PM
: Everyday 9:00 AM - 4:30 PM
: Everyday 9:00 AM - 4:30 PM
: Everyday 9:00 AM - 4:30 PM
: Everyday 9:00 AM - 4:30 PM

: Everyday 8:30 AM - 5:00 PM
: Everyday 8:30 AM - 5:00 PM
: Everyday 8:30 AM - 5:00 PM
: Everyday 8:30 AM - 5:00 PM
: Everyday 8:30 AM - 5:00 PM
: Everyday 8:30 AM - 5:00 PM
: Everyday 8:30 AM - 5:00 PM
: Everyday 8:30 AM - 5:00 PM
: Everyday 8:30 AM - 5:00 PM
: Everyday 8:30 AM - 5:00 PM
: Everyday 8:30 AM - 5:00 PM
: Everyday 8:30 AM - 5:00 PM

: Everyday 24 Hrs
: Everyday 24 Hrs
: Everyday 24 Hrs
: Everyday 24 Hrs
: Everyday 24 Hrs
: Everyday 24 Hrs
: Everyday 24 Hrs
: Everyday 24 Hrs
: Everyday 24 Hrs
: Everyday 24 Hrs
: Everyday 24 Hrs
: Everyday 24 Hrs

: Everyday 9:00 AM - 6:00 PM
: Everyday 9:00 AM - 6:00 PM
: Everyday 9:00 AM - 6:00 PM
: Everyday 9:00 AM - 6:00 PM
: Everyday 9:00 AM - 6:00 PM
: Everyday 9:00 AM - 6:00 PM
: Everyday 9:00 AM - 6:00 PM
: Everyday 9:00 AM - 6:00 PM
: Everyday 9:00 AM - 6:00 PM
: Everyday 9:00 AM - 6:00 PM
: Everyday 9:00 AM - 6:00 PM
: Everyday 9:00 AM - 6:00 PM

: Everyday 24 Hrs
: Everyday 24 Hrs
: Everyday 24 Hrs
: Everyday 24 Hrs
: Everyday 24 Hrs
: Everyday 24 Hrs
: Everyday 24 Hrs
: Everyday 24 Hrs
: Everyday 24 Hrs
: Everyday 24 Hrs
: Everyday 24 Hrs
: Everyday 24 Hrs

: Everyday 24 Hrs
: Everyday 24 Hrs
: Everyday 24 Hrs
: Everyday 24 Hrs
: Everyday 24 Hrs
: Everyday 24 Hrs
: Everyday 24 Hrs
: Everyday 24 Hrs
: Everyday 24 Hrs
: Everyday 24 Hrs
: Everyday 24 Hrs
: Everyday 24 Hrs

: Everyday 9:00 AM - 3:00 PM
: Everyday 9:00 AM - 3:00 PM
: Everyday 9:00 AM - 3:00 PM
: Everyday 9:00 AM - 3:00 PM
: Everyday 9:00 AM - 3:00 PM
: Everyday 9:00 AM - 3:00 PM
: Everyday 9:00 AM - 3:00 PM
: Everyday 9:00 AM - 3:00 PM
: Everyday 9:00 AM - 3:00 PM
: Everyday 9:00 AM - 3:00 PM
: Everyday 9:00 AM - 3:00 PM
: Everyday 9:00 AM - 3:00 PM

: Everyday 8:30 AM - 6:30 PM
: Everyday 8:30 AM - 6:30 PM
: Everyday 8:30 AM - 6:30 PM
: Everyday 8:30 AM - 6:30 PM
: Everyday 8:30 AM - 6:30 PM
: Everyday 8:30 AM - 6:30 PM
: Everyday 8:30 AM - 6:30 PM
: Everyday 8:30 AM - 6:30 PM
: Everyday 8:30 AM - 6:30 PM
: Everyday 8:30 AM - 6:30 PM
: Everyday 8:30 AM - 6:30 PM
: Everyday 8:30 AM - 6:30 PM

: Everyday 9:15 AM - 2:00 PM
: Everyday 9:15 AM - 2:00 PM
: Everyday 9:15 AM - 2:00 PM
: Everyday 9:15 AM - 2:00 PM
: Everyday 9:15 AM - 2:00 PM
: Everyday 9:15 AM - 2:00 PM
: Everyday 9:15 AM - 2:00 PM
: Everyday 9:15 AM - 2:00 PM
: Everyday 9:15 AM - 2:00 PM
: Everyday 9:15 AM - 2:00 PM
: Everyday 9:15 AM - 2:00 PM
: Everyday 9:15 AM - 2:00 PM

: Everyday 24 Hrs
: Everyday 24 Hrs
: Everyday 24 Hrs
: Everyday 24 Hrs
: Everyday 24 Hrs
: Everyday 24 Hrs
: Everyday 24 Hrs
: Everyday 24 Hrs
: Everyday 24 Hrs
: Everyday 24 Hrs
: Everyday 24 Hrs
: Everyday 24 Hrs

: Everyday 7:00 AM - 6:00 PM
: Everyday 7:00 AM - 6:00 PM
: Everyday 7:00 AM - 6:00 PM
: Everyday 7:00 AM - 6:00 PM
: Everyday 7:00 AM - 6:00 PM
: Everyday 7:00 AM - 6:00 PM
: Everyday 7:00 AM - 6:00 PM
: Everyday 7:00 AM - 6:00 PM
: Everyday 7:00 AM - 6:00 PM
: Everyday 7:00 AM - 6:00 PM
: Everyday 7:00 AM - 6:00 PM
: Everyday 7:00 AM - 6:00 PM

: Everyday 8:00 AM - 6:00 PM
: Everyday 8:00 AM - 6:00 PM
: Everyday 8:00 AM - 6:00 PM
: Everyday 8:00 AM - 6:00 PM
: Everyday 8:00 AM - 6:00 PM
: Everyday 8:00 AM - 6:00 PM
: Everyday 8:00 AM - 6:00 PM
: Everyday 8:00 AM - 6:00 PM
: Everyday 8:00 AM - 6:00 PM
: Everyday 8:00 AM - 6:00 PM
: Everyday 8:00 AM - 6:00 PM
: Everyday 8:00 AM - 6:00 PM

: Everyday 10:00 AM - 6:00 PM
: Everyday 10:00 AM - 6:00 PM
: Everyday 10:00 AM - 6:00 PM
: Everyday 10:00 AM - 6:00 PM
: Everyday 10:00 AM - 6:00 PM
: Everyday 10:00 AM - 6:00 PM
: Everyday 10:00 AM - 6:00 PM
: Everyday 10:00 AM - 6:00 PM
: Everyday 10:00 AM - 6:00 PM
: Everyday 10:00 AM - 6:00 PM
: Everyday 10:00 AM - 6:00 PM
: Everyday 10:00 AM - 6:00 PM

: Everyday 6:30 PM - 9:00 PM
: Everyday 6:30 PM - 9:00 PM
: Everyday 6:30 PM - 9:00 PM
: Everyday 6:30 PM - 9:00 PM
: Everyday 6:30 PM - 9:00 PM
: Everyday 6:30 PM - 9:00 PM
: Everyday 6:30 PM - 9:00 PM
: Everyday 6:30 PM - 9:00 PM
: Everyday 6:30 PM - 9:00 PM
: Everyday 6:30 PM - 9:00 PM
: Everyday 6:30 PM - 9:00 PM
: Everyday 6:30 PM - 9:00 PM

: Everyday 8:00 AM - 6:00 PM
: Everyday 8:00 AM - 6:00 PM
: Everyday 8:00 AM - 6:00 PM
: Everyday 8:00 AM - 6:00 PM
: Everyday 8:00 AM - 6:00 PM
: Everyday 8:00 AM - 6:00 PM
: Everyday 8:00 AM - 6:00 PM
: Everyday 8:00 AM - 6:00 PM
: Everyday 8:00 AM - 6:00 PM
: Everyday 8:00 AM - 6:00 PM
: Everyday 8:00 AM - 6:00 PM
: Everyday 8:00 AM - 6:00 PM

: Everyday 24 Hrs
: Everyday 24 Hrs
: Everyday 24 Hrs
: Everyday 24 Hrs
: Everyday 24 Hrs
: Everyday 24 Hrs
: Everyday 24 Hrs
: Everyday 24 Hrs
: Everyday 24 Hrs
: Everyday 24 Hrs
: Everyday 24 Hrs
: Everyday 24 Hrs

: Everyday 24 Hrs
: Everyday 24 Hrs
: Everyday 24 Hrs
: Everyday 24 Hrs
: Everyday 24 Hrs
: Everyday 24 Hrs
: Everyday 24 Hrs
: Everyday 24 Hrs
: Everyday 24 Hrs
: Everyday 24 Hrs
: Everyday 24 Hrs
: Everyday 24 Hrs