Best Time To Visit Sacramento
Explore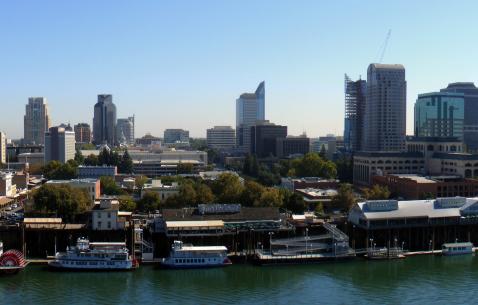 Best Time To Go To Sacramento
Sacramento has a cool-summer Mediterranean climate. The average annual temperature is usually around 16-17 degree Celsius. Though snowfall is not common in Sacramento, the months of December and January do see a lot of fog. Sacramento is known to be the sunniest location on Earth during the period of July to September.
Winter: December to March is the winter season and the weather is mildly cool but sees a lot of rainfall.
Spring: April to June is spring season when the weather is cool and clear, thus being the ideal time to host outdoor events and concerts.
Summer: From July to August the temperature rises up significantly.
Fall: From September to November the temperature starts dropping and the weather becomes cool. Water sports are a big hit during this period.
The best time to visit Sacramento would have to be either during the months of April to June or September to November. It is during the months of May and June that the city celebrates a lot of festivals, and visitors are able to enjoy all the festivities if they schedule a visit during this period. The Fall period is the best time to enjoy water sports in Sacramento.
Best time to go to Sacramento Attractions

: Everyday 10:00 AM - 3:00 PM
: Everyday 10:00 AM - 3:00 PM
: Everyday 10:00 AM - 3:00 PM
: Everyday 10:00 AM - 3:00 PM
: Everyday 10:00 AM - 3:00 PM
: Everyday 10:00 AM - 3:00 PM
: Everyday 10:00 AM - 3:00 PM
: Everyday 10:00 AM - 3:00 PM
: Everyday 10:00 AM - 3:00 PM
: Everyday 10:00 AM - 3:00 PM
: Everyday 10:00 AM - 3:00 PM
: Everyday 10:00 AM - 3:00 PM

: Everyday 10:00 AM - 5:00 PM
: Everyday 10:00 AM - 5:00 PM
: Everyday 10:00 AM - 5:00 PM
: Everyday 10:00 AM - 5:00 PM
: Everyday 10:00 AM - 5:00 PM
: Everyday 10:00 AM - 5:00 PM
: Everyday 10:00 AM - 5:00 PM
: Everyday 10:00 AM - 5:00 PM
: Everyday 10:00 AM - 5:00 PM
: Everyday 10:00 AM - 5:00 PM
: Everyday 10:00 AM - 5:00 PM
: Everyday 10:00 AM - 5:00 PM

: Monday to Friday 8:00 AM - 2:00 PM; Saturday, Sunday 10:00 AM - 4:00 PM
: Monday to Friday 8:00 AM - 2:00 PM; Saturday, Sunday 10:00 AM - 4:00 PM
: Monday to Friday 8:00 AM - 2:00 PM; Saturday, Sunday 10:00 AM - 4:00 PM
: Monday to Friday 8:00 AM - 2:00 PM; Saturday, Sunday 10:00 AM - 4:00 PM
: Monday to Friday 8:00 AM - 2:00 PM; Saturday, Sunday 10:00 AM - 4:00 PM
: Monday to Friday 8:00 AM - 2:00 PM; Saturday, Sunday 10:00 AM - 4:00 PM
: Monday to Friday 8:00 AM - 2:00 PM; Saturday, Sunday 10:00 AM - 4:00 PM
: Monday to Friday 8:00 AM - 2:00 PM; Saturday, Sunday 10:00 AM - 4:00 PM
: Monday to Friday 8:00 AM - 2:00 PM; Saturday, Sunday 10:00 AM - 4:00 PM
: Monday to Friday 8:00 AM - 2:00 PM; Saturday, Sunday 10:00 AM - 4:00 PM
: Monday to Friday 8:00 AM - 2:00 PM; Saturday, Sunday 10:00 AM - 4:00 PM
: Monday to Friday 8:00 AM - 2:00 PM; Saturday, Sunday 10:00 AM - 4:00 PM

: Tuesday to Sunday 10:00 AM - 2:00 PM
: Tuesday to Sunday 10:00 AM - 2:00 PM
: Tuesday to Sunday 10:00 AM - 2:00 PM
: Tuesday to Sunday 10:00 AM - 2:00 PM
: Tuesday to Sunday 10:00 AM - 2:00 PM
: Tuesday to Sunday 10:00 AM - 2:00 PM
: Tuesday to Sunday 10:00 AM - 2:00 PM
: Tuesday to Sunday 10:00 AM - 2:00 PM
: Tuesday to Sunday 10:00 AM - 2:00 PM
: Tuesday to Sunday 10:00 AM - 2:00 PM
: Tuesday to Sunday 10:00 AM - 2:00 PM
: Tuesday to Sunday 10:00 AM - 2:00 PM

: Everyday 11:00 AM - 3:00 PM
: Everyday 9:00 AM - 2:00 PM
: Everyday 9:00 AM - 2:00 PM
: Everyday 9:00 AM - 2:00 PM
: Everyday 9:00 AM - 2:00 PM
: Everyday 9:00 AM - 2:00 PM
: Everyday 9:00 AM - 2:00 PM
: Everyday 9:00 AM - 2:00 PM
: Everyday 9:00 AM - 2:00 PM
: Everyday 9:00 AM - 2:00 PM
: Everyday 11:00 AM - 3:00 PM
: Everyday 11:00 AM - 3:00 PM

: Everyday 8:00 AM - 4:00 PM
: Everyday 8:00 AM - 4:00 PM
: Everyday 8:00 AM - 4:00 PM
: Everyday 8:00 AM - 4:00 PM
: Everyday 8:00 AM - 4:00 PM
: Everyday 8:00 AM - 4:00 PM
: Everyday 8:00 AM - 4:00 PM
: Everyday 8:00 AM - 4:00 PM
: Everyday 8:00 AM - 4:00 PM
: Everyday 8:00 AM - 4:00 PM
: Everyday 8:00 AM - 4:00 PM
: Everyday 8:00 AM - 4:00 PM

: Everyday 10:00 AM - 2:00 PM
: Everyday 10:00 AM - 2:00 PM
: Everyday 10:00 AM - 2:00 PM
: Everyday 10:00 AM - 2:00 PM
: Everyday 10:00 AM - 2:00 PM
: Everyday 10:00 AM - 2:00 PM
: Everyday 10:00 AM - 2:00 PM
: Everyday 10:00 AM - 2:00 PM
: Everyday 10:00 AM - 2:00 PM
: Everyday 10:00 AM - 2:00 PM
: Everyday 10:00 AM - 2:00 PM
: Everyday 10:00 AM - 2:00 PM

: Monday, Wednesday, Thursday, Friday, Saturday, Sunday 10:00 AM - 2:00 PM
: Monday, Wednesday, Thursday, Friday, Saturday, Sunday 10:00 AM - 2:00 PM
: Monday, Wednesday, Thursday, Friday, Saturday, Sunday 10:00 AM - 2:00 PM
: Monday, Wednesday, Thursday, Friday, Saturday, Sunday 10:00 AM - 2:00 PM
: Monday, Wednesday, Thursday, Friday, Saturday, Sunday 10:00 AM - 2:00 PM
: Monday, Wednesday, Thursday, Friday, Saturday, Sunday 10:00 AM - 2:00 PM
: Monday, Wednesday, Thursday, Friday, Saturday, Sunday 10:00 AM - 2:00 PM
: Monday, Wednesday, Thursday, Friday, Saturday, Sunday 10:00 AM - 2:00 PM
: Monday, Wednesday, Thursday, Friday, Saturday, Sunday 10:00 AM - 2:00 PM
: Monday, Wednesday, Thursday, Friday, Saturday, Sunday 10:00 AM - 2:00 PM
: Monday, Wednesday, Thursday, Friday, Saturday, Sunday 10:00 AM - 2:00 PM
: Monday, Wednesday, Thursday, Friday, Saturday, Sunday 10:00 AM - 2:00 PM

: Thursday to Sunday 11:00 AM - 3:00 PM
: Thursday to Sunday 11:00 AM - 3:00 PM
: Everyday 9:00 AM - 1:00 PM
: Everyday 9:00 AM - 1:00 PM
: Everyday 9:00 AM - 1:00 PM
: Everyday 9:00 AM - 1:00 PM
: Everyday 9:00 AM - 1:00 PM
: Everyday 9:00 AM - 1:00 PM
: Everyday 9:00 AM - 1:00 PM
: Everyday 9:00 AM - 1:00 PM
: Thursday to Sunday 11:00 AM - 3:00 PM
: Thursday to Sunday 11:00 AM - 3:00 PM

: Monday, Tuesday, Wednesday, Thursday, Saturday, Sunday 11:00 AM - 5:00 PM; Friday 11:00 AM - 3:00 PM
: Monday, Tuesday, Wednesday, Thursday, Saturday, Sunday 11:00 AM - 5:00 PM; Friday 11:00 AM - 3:00 PM
: Monday, Tuesday, Wednesday, Thursday, Saturday, Sunday 11:00 AM - 5:00 PM; Friday 11:00 AM - 3:00 PM
: Monday, Tuesday, Wednesday, Thursday, Saturday, Sunday 11:00 AM - 5:00 PM; Friday 11:00 AM - 3:00 PM
: Monday, Tuesday, Wednesday, Thursday, Saturday, Sunday 11:00 AM - 5:00 PM; Friday 11:00 AM - 3:00 PM
: Monday, Tuesday, Wednesday, Thursday, Saturday, Sunday 11:00 AM - 5:00 PM; Friday 11:00 AM - 3:00 PM
: Monday, Tuesday, Wednesday, Thursday, Saturday, Sunday 11:00 AM - 5:00 PM; Friday 11:00 AM - 3:00 PM
: Monday, Tuesday, Wednesday, Thursday, Saturday, Sunday 11:00 AM - 5:00 PM; Friday 11:00 AM - 3:00 PM
: Monday, Tuesday, Wednesday, Thursday, Saturday, Sunday 11:00 AM - 5:00 PM; Friday 11:00 AM - 3:00 PM
: Monday, Tuesday, Wednesday, Thursday, Saturday, Sunday 11:00 AM - 5:00 PM; Friday 11:00 AM - 3:00 PM
: Monday, Tuesday, Wednesday, Thursday, Saturday, Sunday 11:00 AM - 5:00 PM; Friday 11:00 AM - 3:00 PM
: Monday, Tuesday, Wednesday, Thursday, Saturday, Sunday 11:00 AM - 5:00 PM; Friday 11:00 AM - 3:00 PM

: Everyday 10:00 AM - 3:00 PM
: Everyday 10:00 AM - 3:00 PM
: Everyday 10:00 AM - 3:00 PM
: Everyday 10:00 AM - 3:00 PM
: Everyday 10:00 AM - 3:00 PM
: Everyday 10:00 AM - 3:00 PM
: Everyday 10:00 AM - 3:00 PM
: Everyday 10:00 AM - 3:00 PM
: Everyday 10:00 AM - 3:00 PM
: Everyday 10:00 AM - 3:00 PM
: Everyday 10:00 AM - 3:00 PM
: Everyday 10:00 AM - 3:00 PM

: Everyday 8:00 AM - 4:00 PM
: Everyday 8:00 AM - 4:00 PM
: Everyday 8:00 AM - 4:00 PM
: Everyday 8:00 AM - 4:00 PM
: Everyday 8:00 AM - 4:00 PM
: Everyday 8:00 AM - 4:00 PM
: Everyday 8:00 AM - 4:00 PM
: Everyday 8:00 AM - 4:00 PM
: Everyday 8:00 AM - 4:00 PM
: Everyday 8:00 AM - 4:00 PM
: Everyday 8:00 AM - 4:00 PM
: Everyday 8:00 AM - 4:00 PM

: Everyday 8:00 AM - 5:00 PM
: Everyday 8:00 AM - 5:00 PM
: Everyday 8:00 AM - 5:00 PM
: Everyday 8:00 AM - 5:00 PM
: Everyday 8:00 AM - 5:00 PM
: Everyday 8:00 AM - 5:00 PM
: Everyday 8:00 AM - 5:00 PM
: Everyday 8:00 AM - 5:00 PM
: Everyday 8:00 AM - 5:00 PM
: Everyday 8:00 AM - 5:00 PM
: Everyday 8:00 AM - 5:00 PM
: Everyday 8:00 AM - 5:00 PM

: Everyday 8:00 AM - 5:00 PM
: Everyday 8:00 AM - 5:00 PM
: Everyday 8:00 AM - 5:00 PM
: Everyday 8:00 AM - 5:00 PM
: Everyday 8:00 AM - 5:00 PM
: Everyday 8:00 AM - 5:00 PM
: Everyday 8:00 AM - 5:00 PM
: Everyday 8:00 AM - 5:00 PM
: Everyday 8:00 AM - 5:00 PM
: Everyday 8:00 AM - 5:00 PM
: Everyday 8:00 AM - 5:00 PM
: Everyday 8:00 AM - 5:00 PM

: Everyday 10:00 AM - 5:00 PM
: Everyday 10:00 AM - 5:00 PM
: Everyday 10:00 AM - 5:00 PM
: Everyday 10:00 AM - 5:00 PM
: Everyday 10:00 AM - 5:00 PM
: Everyday 10:00 AM - 5:00 PM
: Everyday 10:00 AM - 5:00 PM
: Everyday 10:00 AM - 5:00 PM
: Everyday 10:00 AM - 5:00 PM
: Everyday 10:00 AM - 5:00 PM
: Everyday 10:00 AM - 5:00 PM
: Everyday 10:00 AM - 5:00 PM

: Everyday 11:00 AM - 6:00 PM
: Everyday 11:00 AM - 6:00 PM
: Everyday 11:00 AM - 6:00 PM
: Everyday 11:00 AM - 6:00 PM
: Everyday 11:00 AM - 6:00 PM
: Everyday 11:00 AM - 6:00 PM
: Everyday 11:00 AM - 6:00 PM
: Everyday 11:00 AM - 6:00 PM
: Everyday 11:00 AM - 6:00 PM
: Everyday 11:00 AM - 6:00 PM
: Everyday 11:00 AM - 6:00 PM
: Everyday 11:00 AM - 6:00 PM

: Everyday 11:00 AM - 4:00 PM
: Everyday 11:00 AM - 4:00 PM
: Everyday 11:00 AM - 4:00 PM
: Everyday 11:00 AM - 4:00 PM
: Everyday 11:00 AM - 4:00 PM
: Everyday 11:00 AM - 4:00 PM
: Everyday 11:00 AM - 4:00 PM
: Everyday 11:00 AM - 4:00 PM
: Everyday 11:00 AM - 4:00 PM
: Everyday 11:00 AM - 4:00 PM
: Everyday 11:00 AM - 4:00 PM
: Everyday 11:00 AM - 4:00 PM

: Everyday 10:00 AM - 4:00 PM
: Everyday 10:00 AM - 4:00 PM
: Everyday 10:00 AM - 4:00 PM
: Everyday 10:00 AM - 4:00 PM
: Everyday 10:00 AM - 4:00 PM
: Everyday 10:00 AM - 4:00 PM
: Everyday 10:00 AM - 4:00 PM
: Everyday 10:00 AM - 4:00 PM
: Everyday 10:00 AM - 4:00 PM
: Everyday 10:00 AM - 4:00 PM
: Everyday 10:00 AM - 4:00 PM
: Everyday 10:00 AM - 4:00 PM

: Saturday, Sunday 11:00 AM - 3:00 PM
: Friday to Sunday 11:00 AM - 3:00 PM
: Everyday 11:00 AM - 3:00 PM
: Everyday 11:00 AM - 3:00 PM
: Everyday 11:00 AM - 3:00 PM
: Everyday 11:00 AM - 3:00 PM
: Everyday 11:00 AM - 3:00 PM
: Wednesday to Sunday 11:00 AM - 3:00 PM
: Wednesday to Sunday 11:00 AM - 3:00 PM
: Friday to Sunday 11:00 AM - 3:00 PM
:

: Everyday 11:00 AM - 5:00 PM
: Everyday 11:00 AM - 5:00 PM
: Everyday 11:00 AM - 5:00 PM
: Everyday 11:00 AM - 5:00 PM
: Everyday 11:00 AM - 5:00 PM
: Everyday 11:00 AM - 5:00 PM
: Everyday 11:00 AM - 5:00 PM
: Everyday 11:00 AM - 5:00 PM
: Everyday 11:00 AM - 5:00 PM
: Everyday 11:00 AM - 5:00 PM
: Everyday 11:00 AM - 5:00 PM
: Everyday 11:00 AM - 5:00 PM

: Everyday 9:00 AM - 4:00 PM
: Everyday 9:00 AM - 4:00 PM
: Everyday 9:00 AM - 4:00 PM
: Everyday 9:00 AM - 4:00 PM
: Everyday 9:00 AM - 4:00 PM
: Everyday 9:00 AM - 4:00 PM
: Everyday 9:00 AM - 4:00 PM
: Everyday 9:00 AM - 4:00 PM
: Everyday 9:00 AM - 4:00 PM
: Everyday 9:00 AM - 4:00 PM
: Everyday 9:00 AM - 4:00 PM
: Everyday 9:00 AM - 4:00 PM

: Monday to Saturday 10:00 AM - 3:00 PM; Sunday 10:00 AM - 3:00 PM
: Monday to Saturday 10:00 AM - 3:00 PM; Sunday 10:00 AM - 3:00 PM
: Monday to Saturday 10:00 AM - 3:00 PM; Sunday 10:00 AM - 3:00 PM
: Monday to Saturday 10:00 AM - 3:00 PM; Sunday 10:00 AM - 3:00 PM
: Monday to Saturday 10:00 AM - 3:00 PM; Sunday 10:00 AM - 3:00 PM
: Monday to Saturday 10:00 AM - 3:00 PM; Sunday 10:00 AM - 3:00 PM
: Monday to Saturday 10:00 AM - 3:00 PM; Sunday 10:00 AM - 3:00 PM
: Monday to Saturday 10:00 AM - 3:00 PM; Sunday 10:00 AM - 3:00 PM
: Monday to Saturday 10:00 AM - 3:00 PM; Sunday 10:00 AM - 3:00 PM
: Monday to Saturday 10:00 AM - 3:00 PM; Sunday 10:00 AM - 3:00 PM
: Monday to Saturday 10:00 AM - 3:00 PM; Sunday 10:00 AM - 3:00 PM
: Monday to Saturday 10:00 AM - 3:00 PM; Sunday 10:00 AM - 3:00 PM

: Tuesday to Sunday 10:00 AM - 3:00 PM
: Tuesday to Sunday 10:00 AM - 3:00 PM
: Tuesday to Sunday 10:00 AM - 3:00 PM
: Tuesday to Sunday 10:00 AM - 3:00 PM
: Tuesday to Sunday 10:00 AM - 3:00 PM
: Tuesday to Sunday 10:00 AM - 3:00 PM
: Tuesday to Sunday 10:00 AM - 3:00 PM
: Tuesday to Sunday 10:00 AM - 3:00 PM
: Tuesday to Sunday 10:00 AM - 3:00 PM
: Tuesday to Sunday 10:00 AM - 3:00 PM
: Tuesday to Sunday 10:00 AM - 3:00 PM
: Tuesday to Sunday 10:00 AM - 3:00 PM

: Everyday 10:00 AM - 2:00 PM
: Everyday 10:00 AM - 2:00 PM
: Everyday 10:00 AM - 2:00 PM
: Everyday 10:00 AM - 2:00 PM
: Everyday 10:00 AM - 2:00 PM
: Everyday 10:00 AM - 2:00 PM
: Everyday 10:00 AM - 2:00 PM
: Everyday 10:00 AM - 2:00 PM
: Everyday 10:00 AM - 2:00 PM
: Everyday 10:00 AM - 2:00 PM
: Everyday 10:00 AM - 2:00 PM
: Everyday 10:00 AM - 2:00 PM