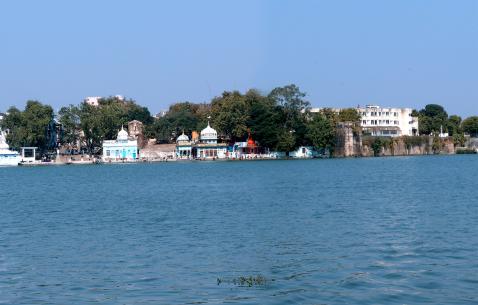 Situated very close to the city of Bhopal, Sagar has its own charm. One of the best places to visit in Madhya Pradesh, Sagar is like an expensive gem in the necklace on Vindhya Range. Literally translated "Sagar" means Sea and in a way it is a sea of culture and history. The name Sagar has come in use very recently. In the ancient times it was known as Saugar, which means a house of 100. The name was given because of the number of small forts that Sagar housed. It is also one of the leading educational hubs of the center of the country. Known for its Dr Hari Singh Gour University, Sagar welcomes thousands of students every year to get lost in its sea of knowledge and intriguing history.
We can trace back the history of Sagar from 1022 A.D. One of the many interesting facts about this city is that in the recent history, the region of Suktimati was a part of Sagar. Suktimati was prominent because it was the capital of the ancient Indian Kingdom- Chedi. Sagar has seen a change of rulers ever since the beginning. First, it shuffled between many ancient rulers and then even became a part of the Maratha province and then was taken over by the British for a considerable duration. Today it stands with its head held high, with history in its ruined forts, with culture flowing through the LakhaBanjaralake and with charm breathing through its little villages. The present day Sagar Town was founded by Uden Shah in 1660 A.D and has held to its old world charm till date. With little shops offering you local food and a locale full of places to explore, Sagar is one of the hidden gems under the wide blanket of Madhya Pradesh Tourism.
Essential travel information and Sagar tips for your visit
General Info:
Time Zone: UTC + 5.30 hours
Currency: INR (Indian National Rupee)
Languages: Hindi is the main language spoken in Sagar. Most people will know basic English. You will also find native speakers of Gujarati, Urdu and Marathi here.
Security: Police- 100, Ambulance – 108, Fire Brigade- 101, Women's Helpline- 109
Off-beaten Path: Spend a day at the Ashram here or analyze the paintings at the Abchand Forest reserve.
Electricity and Internet:
Voltage is 240 Volts with a 50 Hz frequency.
High speed internet is available at most hotels. 4G mobile internet has just been launched in India.
Tipping:
Tipping is applicable as per your wish. A ten rupee note for services would suffice.
When travelling by Rickshaws, you can round up the bill.
A small tip at local eateries will be appreciated and even for helpers at the hotel. Keep a lot of notes of 10/- to tip people.
Tourist Traps:
Do not go alone with anybody to buy anything.
Women should avoid getting out post dark alone.
Be dressed a little conservatively as the city is not very modern.
Customs:
Temples are considered a holy place and you will need to remove footwear before entering.
Dress conservatively or at least modestly.
Greeting people with a small 'Namaste' will be appropriate. Addressing an old aunty as "Mausi", and men Bhaiya would take you a long way. Smiling would also get you a great service in return.
Sagar Trip Planner
Plan your customized day by day trip plan for Sagar. Choose from various experinces categories as adventure, romantic and family and kids friendly for your trip using using Sagar trip planner.