Best Time To Visit Saint Petersburg
Explore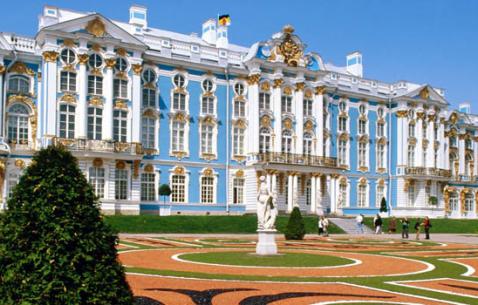 Accommodations with

See All
Best Time To Go To Saint Petersburg
Due to its geographic position on the Baltic Sea, Saint Petersburg has a humid continental climate of the cool summer subtype. Influenced by the Baltic Sea cyclones, summers in the city are usually quite short, cool and humid, while winters are long and cold, with an average winter temperature of -27 degrees Celsius. St. Petersburg is covered with snow for more than 120 days in a year.
Although the city and its Neva River are extremely beautiful even under the white cover, the best time to travel without needing full winter gear would be from May to September.
Explore the best travel planner for your visit to Saint Petersburg and create a flawless plan in few simple steps!
Best time to go to Saint Petersburg Attractions

: Everyday 24 Hrs
: Everyday 24 Hrs
: Everyday 24 Hrs
: Everyday 24 Hrs
: Everyday 24 Hrs
: Everyday 24 Hrs
: Everyday 24 Hrs
: Everyday 24 Hrs
: Everyday 24 Hrs
: Everyday 24 Hrs
: Everyday 24 Hrs
: Everyday 24 Hrs

: Everyday 11:00 AM - 5:00 PM
: Everyday 11:00 AM - 5:00 PM
: Everyday 11:00 AM - 5:00 PM
: Everyday 11:00 AM - 5:00 PM
: Everyday 11:00 AM - 5:00 PM
: Everyday 11:00 AM - 5:00 PM
: Everyday 11:00 AM - 5:00 PM
: Everyday 11:00 AM - 5:00 PM
: Everyday 11:00 AM - 5:00 PM
: Everyday 11:00 AM - 5:00 PM
: Everyday 11:00 AM - 5:00 PM
: Everyday 11:00 AM - 5:00 PM

: Tuesday to Sunday 10:30 AM - 6:00 PM
: Tuesday to Sunday 10:30 AM - 6:00 PM
: Tuesday to Sunday 10:30 AM - 6:00 PM
: Tuesday to Sunday 10:30 AM - 6:00 PM
: Tuesday to Sunday 10:30 AM - 6:00 PM
: Tuesday to Sunday 10:30 AM - 6:00 PM
: Tuesday to Sunday 10:30 AM - 6:00 PM
: Tuesday to Sunday 10:30 AM - 6:00 PM
: Tuesday to Sunday 10:30 AM - 6:00 PM
: Tuesday to Sunday 10:30 AM - 6:00 PM
: Tuesday to Sunday 10:30 AM - 6:00 PM
: Tuesday to Sunday 10:30 AM - 6:00 PM

: Everyday 11:00 AM - 3:00 PM
: Everyday 11:00 AM - 3:00 PM
: Everyday 11:00 AM - 3:00 PM
: Everyday 11:00 AM - 3:00 PM
: Everyday 11:00 AM - 3:00 PM
: Everyday 11:00 AM - 3:00 PM
: Everyday 11:00 AM - 3:00 PM
: Everyday 11:00 AM - 3:00 PM
: Everyday 11:00 AM - 3:00 PM
: Everyday 11:00 AM - 3:00 PM
: Everyday 11:00 AM - 3:00 PM
: Everyday 11:00 AM - 3:00 PM

: Everyday 11:00 AM - 4:00 PM
: Everyday 11:00 AM - 4:00 PM
: Everyday 11:00 AM - 4:00 PM
: Everyday 11:00 AM - 4:00 PM
: Everyday 11:00 AM - 4:00 PM
: Everyday 11:00 AM - 4:00 PM
: Everyday 11:00 AM - 4:00 PM
: Everyday 11:00 AM - 4:00 PM
: Everyday 11:00 AM - 4:00 PM
: Everyday 11:00 AM - 4:00 PM
: Everyday 11:00 AM - 4:00 PM
: Everyday 11:00 AM - 4:00 PM

: Everyday 11:00 AM - 4:00 PM
: Everyday 11:00 AM - 4:00 PM
: Everyday 11:00 AM - 4:00 PM
: Everyday 11:00 AM - 4:00 PM
: Everyday 11:00 AM - 4:00 PM
: Everyday 11:00 AM - 4:00 PM
: Everyday 11:00 AM - 4:00 PM
: Everyday 11:00 AM - 4:00 PM
: Everyday 11:00 AM - 4:00 PM
: Everyday 11:00 AM - 4:00 PM
: Everyday 11:00 AM - 4:00 PM
: Everyday 11:00 AM - 4:00 PM

: Everyday 10:00 AM - 4:00 PM
: Everyday 10:00 AM - 4:00 PM
: Everyday 10:00 AM - 4:00 PM
: Everyday 10:00 AM - 4:00 PM
: Everyday 10:00 AM - 4:00 PM
: Everyday 10:00 AM - 4:00 PM
: Everyday 10:00 AM - 4:00 PM
: Everyday 10:00 AM - 4:00 PM
: Everyday 10:00 AM - 4:00 PM
: Everyday 10:00 AM - 4:00 PM
: Everyday 10:00 AM - 4:00 PM
: Everyday 10:00 AM - 4:00 PM

: Everyday 10:00 AM - 4:00 PM
: Everyday 10:00 AM - 4:00 PM
: Everyday 10:00 AM - 4:00 PM
: Everyday 10:00 AM - 4:00 PM
: Everyday 10:00 AM - 4:00 PM
: Everyday 10:00 AM - 4:00 PM
: Everyday 10:00 AM - 4:00 PM
: Everyday 10:00 AM - 4:00 PM
: Everyday 10:00 AM - 4:00 PM
: Everyday 10:00 AM - 4:00 PM
: Everyday 10:00 AM - 4:00 PM
: Everyday 10:00 AM - 4:00 PM

: Everyday 24 Hrs
: Everyday 24 Hrs
: Everyday 24 Hrs
: Everyday 24 Hrs
: Everyday 24 Hrs
: Everyday 24 Hrs
: Everyday 24 Hrs
: Everyday 24 Hrs
: Everyday 24 Hrs
: Everyday 24 Hrs
: Everyday 24 Hrs
: Everyday 24 Hrs

: Everyday 4:00 PM - 7:00 PM
: Everyday 4:00 PM - 7:00 PM
: Everyday 4:00 PM - 7:00 PM
: Everyday 4:00 PM - 7:00 PM
: Everyday 4:00 PM - 7:00 PM
: Everyday 4:00 PM - 7:00 PM
: Everyday 4:00 PM - 7:00 PM
: Everyday 4:00 PM - 7:00 PM
: Everyday 4:00 PM - 7:00 PM
: Everyday 4:00 PM - 7:00 PM
: Everyday 4:00 PM - 7:00 PM
: Everyday 4:00 PM - 7:00 PM

: Everyday 3:00 PM - 5:00 PM
: Everyday 3:00 PM - 5:00 PM
: Everyday 3:00 PM - 5:00 PM
: Everyday 3:00 PM - 5:00 PM
: Everyday 3:00 PM - 5:00 PM
: Everyday 3:00 PM - 5:00 PM
: Everyday 3:00 PM - 5:00 PM
: Everyday 3:00 PM - 5:00 PM
: Everyday 3:00 PM - 5:00 PM
: Everyday 3:00 PM - 5:00 PM
: Everyday 3:00 PM - 5:00 PM
: Everyday 3:00 PM - 5:00 PM

: Everyday 4:00 PM - 8:00 PM
: Everyday 4:00 PM - 8:00 PM
: Everyday 4:00 PM - 8:00 PM
: Everyday 4:00 PM - 8:00 PM
: Everyday 4:00 PM - 8:00 PM
: Everyday 4:00 PM - 8:00 PM
: Everyday 4:00 PM - 8:00 PM
: Everyday 4:00 PM - 8:00 PM
: Everyday 4:00 PM - 8:00 PM
: Everyday 4:00 PM - 8:00 PM
: Everyday 4:00 PM - 8:00 PM
: Everyday 4:00 PM - 8:00 PM

: Everyday 8:00 PM - 11:00 PM
: Everyday 8:00 PM - 11:00 PM
: Everyday 8:00 PM - 11:00 PM
: Everyday 8:00 PM - 11:00 PM
: Everyday 8:00 PM - 11:00 PM
: Everyday 8:00 PM - 11:00 PM
: Everyday 8:00 PM - 11:00 PM
: Everyday 8:00 PM - 11:00 PM
: Everyday 8:00 PM - 11:00 PM
: Everyday 8:00 PM - 11:00 PM
: Everyday 8:00 PM - 11:00 PM
: Everyday 8:00 PM - 11:00 PM

: Everyday 8:00 PM - 3:00 PM
: Everyday 8:00 PM - 3:00 PM
: Everyday 8:00 PM - 3:00 PM
: Everyday 8:00 PM - 3:00 PM
: Everyday 8:00 PM - 3:00 PM
: Everyday 8:00 PM - 3:00 PM
: Everyday 8:00 PM - 3:00 PM
: Everyday 8:00 PM - 3:00 PM
: Everyday 8:00 PM - 3:00 PM
: Everyday 8:00 PM - 3:00 PM
: Everyday 8:00 PM - 3:00 PM
: Everyday 8:00 PM - 3:00 PM

: Everyday 11:00 AM - 2:00 PM
: Everyday 11:00 AM - 2:00 PM
: Everyday 11:00 AM - 2:00 PM
: Everyday 11:00 AM - 2:00 PM
: Everyday 11:00 AM - 2:00 PM
: Everyday 11:00 AM - 2:00 PM
: Everyday 11:00 AM - 2:00 PM
: Everyday 11:00 AM - 2:00 PM
: Everyday 11:00 AM - 2:00 PM
: Everyday 11:00 AM - 2:00 PM
: Everyday 11:00 AM - 2:00 PM
: Everyday 11:00 AM - 2:00 PM

: Monday, Wednesday, Thursday, Friday, Saturday, Sunday 10:30 AM - 4:45 PM
: Monday, Wednesday, Thursday, Friday, Saturday, Sunday 10:30 AM - 4:45 PM
: Monday, Wednesday, Thursday, Friday, Saturday, Sunday 10:30 AM - 4:45 PM
: Monday, Wednesday, Thursday, Friday, Saturday, Sunday 10:30 AM - 4:45 PM
: Monday, Wednesday, Thursday, Friday, Saturday, Sunday 10:30 AM - 4:45 PM
: Monday, Wednesday, Thursday, Friday, Saturday, Sunday 10:30 AM - 4:45 PM
: Monday, Wednesday, Thursday, Friday, Saturday, Sunday 10:30 AM - 4:45 PM
: Monday, Wednesday, Thursday, Friday, Saturday, Sunday 10:30 AM - 4:45 PM
: Monday, Wednesday, Thursday, Friday, Saturday, Sunday 10:30 AM - 4:45 PM
: Monday, Wednesday, Thursday, Friday, Saturday, Sunday 10:30 AM - 4:45 PM
: Monday, Wednesday, Thursday, Friday, Saturday, Sunday 10:30 AM - 4:45 PM
: Monday, Wednesday, Thursday, Friday, Saturday, Sunday 10:30 AM - 4:45 PM

: Everyday 10:00 AM - 9:00 PM
: Everyday 10:00 AM - 9:00 PM
: Everyday 10:00 AM - 9:00 PM
: Everyday 10:00 AM - 9:00 PM
: Everyday 10:00 AM - 9:00 PM
: Everyday 10:00 AM - 9:00 PM
: Everyday 10:00 AM - 9:00 PM
: Everyday 10:00 AM - 9:00 PM
: Everyday 10:00 AM - 9:00 PM
: Everyday 10:00 AM - 9:00 PM
: Everyday 10:00 AM - 9:00 PM
: Everyday 10:00 AM - 9:00 PM

: Monday, Tuesday, Wednesday, Friday, Saturday, Sunday 11:00 AM - 3:00 PM; Thursday 1:00 PM - 8:00 PM
: Monday, Tuesday, Wednesday, Friday, Saturday, Sunday 11:00 AM - 3:00 PM; Thursday 1:00 PM - 8:00 PM
: Monday, Tuesday, Wednesday, Friday, Saturday, Sunday 11:00 AM - 3:00 PM; Thursday 1:00 PM - 8:00 PM
: Monday, Tuesday, Wednesday, Friday, Saturday, Sunday 11:00 AM - 3:00 PM; Thursday 1:00 PM - 8:00 PM
: Monday, Tuesday, Wednesday, Friday, Saturday, Sunday 11:00 AM - 3:00 PM; Thursday 1:00 PM - 8:00 PM
: Monday, Tuesday, Wednesday, Friday, Saturday, Sunday 11:00 AM - 3:00 PM; Thursday 1:00 PM - 8:00 PM
: Monday, Tuesday, Wednesday, Friday, Saturday, Sunday 11:00 AM - 3:00 PM; Thursday 1:00 PM - 8:00 PM
: Monday, Tuesday, Wednesday, Friday, Saturday, Sunday 11:00 AM - 3:00 PM; Thursday 1:00 PM - 8:00 PM
: Monday, Tuesday, Wednesday, Friday, Saturday, Sunday 11:00 AM - 3:00 PM; Thursday 1:00 PM - 8:00 PM
: Monday, Tuesday, Wednesday, Friday, Saturday, Sunday 11:00 AM - 3:00 PM; Thursday 1:00 PM - 8:00 PM
: Monday, Tuesday, Wednesday, Friday, Saturday, Sunday 11:00 AM - 3:00 PM; Thursday 1:00 PM - 8:00 PM
: Monday, Tuesday, Wednesday, Friday, Saturday, Sunday 11:00 AM - 3:00 PM; Thursday 1:00 PM - 8:00 PM

: Everyday 3:00 PM - 6:00 PM
: Everyday 3:00 PM - 6:00 PM
: Everyday 3:00 PM - 6:00 PM
: Everyday 3:00 PM - 6:00 PM
: Everyday 3:00 PM - 6:00 PM
: Everyday 3:00 PM - 6:00 PM
: Everyday 3:00 PM - 6:00 PM
: Everyday 3:00 PM - 6:00 PM
: Everyday 3:00 PM - 6:00 PM
: Everyday 3:00 PM - 6:00 PM
: Everyday 3:00 PM - 6:00 PM
: Everyday 3:00 PM - 6:00 PM

: Everyday 24 Hrs
: Everyday 24 Hrs
: Everyday 24 Hrs
: Everyday 24 Hrs
: Everyday 24 Hrs
: Everyday 24 Hrs
: Everyday 24 Hrs
: Everyday 24 Hrs
: Everyday 24 Hrs
: Everyday 24 Hrs
: Everyday 24 Hrs
: Everyday 24 Hrs

: Everyday 10:00 AM - 4:00 PM
: Everyday 10:00 AM - 4:00 PM
: Everyday 10:00 AM - 4:00 PM
: Everyday 10:00 AM - 4:00 PM
: Everyday 10:00 AM - 4:00 PM
: Everyday 10:00 AM - 4:00 PM
: Everyday 10:00 AM - 4:00 PM
: Everyday 10:00 AM - 4:00 PM
: Everyday 10:00 AM - 4:00 PM
: Everyday 10:00 AM - 4:00 PM
: Everyday 10:00 AM - 4:00 PM
: Everyday 10:00 AM - 4:00 PM

: Everyday 7:00 PM - 11:00 PM
: Everyday 7:00 PM - 11:00 PM
: Everyday 7:00 PM - 11:00 PM
: Everyday 7:00 PM - 11:00 PM
: Everyday 7:00 PM - 11:00 PM
: Everyday 7:00 PM - 11:00 PM
: Everyday 7:00 PM - 11:00 PM
: Everyday 7:00 PM - 11:00 PM
: Everyday 7:00 PM - 11:00 PM
: Everyday 7:00 PM - 11:00 PM
: Everyday 7:00 PM - 11:00 PM
: Everyday 7:00 PM - 11:00 PM

: Everyday 8:00 AM - 11:00 PM
: Everyday 8:00 AM - 11:00 PM
: Everyday 8:00 AM - 11:00 PM
: Everyday 8:00 AM - 11:00 PM
: Everyday 8:00 AM - 11:00 PM
: Everyday 8:00 AM - 11:00 PM
: Everyday 8:00 AM - 11:00 PM
: Everyday 8:00 AM - 11:00 PM
: Everyday 8:00 AM - 11:00 PM
: Everyday 8:00 AM - 11:00 PM
: Everyday 8:00 AM - 11:00 PM
: Everyday 8:00 AM - 11:00 PM

: Everyday 7:00 PM - 11:45 PM
: Everyday 7:00 PM - 11:45 PM
: Everyday 7:00 PM - 11:45 PM
: Everyday 7:00 PM - 11:45 PM
: Everyday 7:00 PM - 11:45 PM
: Everyday 7:00 PM - 11:45 PM
: Everyday 7:00 PM - 11:45 PM
: Everyday 7:00 PM - 11:45 PM
: Everyday 7:00 PM - 11:45 PM
: Everyday 7:00 PM - 11:45 PM
: Everyday 7:00 PM - 11:45 PM
: Everyday 7:00 PM - 11:45 PM

: Everyday 7:00 PM - 3:00 PM
: Everyday 7:00 PM - 3:00 PM
: Everyday 7:00 PM - 3:00 PM
: Everyday 7:00 PM - 3:00 PM
: Everyday 7:00 PM - 3:00 PM
: Everyday 7:00 PM - 3:00 PM
: Everyday 7:00 PM - 3:00 PM
: Everyday 7:00 PM - 3:00 PM
: Everyday 7:00 PM - 3:00 PM
: Everyday 7:00 PM - 3:00 PM
: Everyday 7:00 PM - 3:00 PM
: Everyday 7:00 PM - 3:00 PM

: Everyday 10:00 AM - 5:00 PM
: Everyday 10:00 AM - 5:00 PM
: Everyday 10:00 AM - 5:00 PM
: Everyday 10:00 AM - 5:00 PM
: Everyday 10:00 AM - 5:00 PM
: Everyday 10:00 AM - 5:00 PM
: Everyday 10:00 AM - 5:00 PM
: Everyday 10:00 AM - 5:00 PM
: Everyday 10:00 AM - 5:00 PM
: Everyday 10:00 AM - 5:00 PM
: Everyday 10:00 AM - 5:00 PM
: Everyday 10:00 AM - 5:00 PM

: Everyday 10:00 AM - 5:00 PM
: Everyday 10:00 AM - 5:00 PM
: Everyday 10:00 AM - 5:00 PM
: Everyday 10:00 AM - 5:00 PM
: Everyday 10:00 AM - 5:00 PM
: Everyday 10:00 AM - 5:00 PM
: Everyday 10:00 AM - 5:00 PM
: Everyday 10:00 AM - 5:00 PM
: Everyday 10:00 AM - 5:00 PM
: Everyday 10:00 AM - 5:00 PM
: Everyday 10:00 AM - 5:00 PM
: Everyday 10:00 AM - 5:00 PM

: Everyday 6:00 PM - 10:00 PM
: Everyday 6:00 PM - 10:00 PM
: Everyday 6:00 PM - 10:00 PM
: Everyday 6:00 PM - 10:00 PM
: Everyday 6:00 PM - 10:00 PM
: Everyday 6:00 PM - 10:00 PM
: Everyday 6:00 PM - 10:00 PM
: Everyday 6:00 PM - 10:00 PM
: Everyday 6:00 PM - 10:00 PM
: Everyday 6:00 PM - 10:00 PM
: Everyday 6:00 PM - 10:00 PM
: Everyday 6:00 PM - 10:00 PM

: Everyday 10:00 AM - 6:00 PM
: Everyday 10:00 AM - 6:00 PM
: Everyday 10:00 AM - 6:00 PM
: Everyday 10:00 AM - 6:00 PM
: Everyday 10:00 AM - 6:00 PM
: Everyday 10:00 AM - 6:00 PM
: Everyday 10:00 AM - 6:00 PM
: Everyday 10:00 AM - 6:00 PM
: Everyday 10:00 AM - 6:00 PM
: Everyday 10:00 AM - 6:00 PM
: Everyday 10:00 AM - 6:00 PM
: Everyday 10:00 AM - 6:00 PM

: Everyday 8:00 PM - 11:45 PM
: Everyday 8:00 PM - 11:45 PM
: Everyday 8:00 PM - 11:45 PM
: Everyday 8:00 PM - 11:45 PM
: Everyday 8:00 PM - 11:45 PM
: Everyday 8:00 PM - 11:45 PM
: Everyday 8:00 PM - 11:45 PM
: Everyday 8:00 PM - 11:45 PM
: Everyday 8:00 PM - 11:45 PM
: Everyday 8:00 PM - 11:45 PM
: Everyday 8:00 PM - 11:45 PM
: Everyday 8:00 PM - 11:45 PM