Best Time To Visit San Gimignano
Explore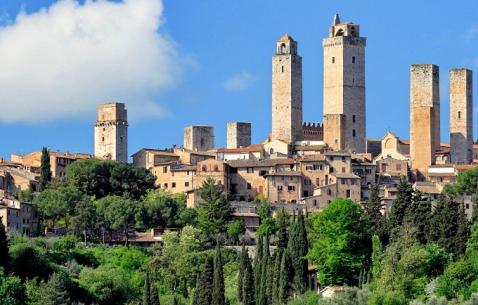 Best Time To Go To San Gimignano
The weather forecast of San Gimignano is pretty predictable all year round and it has a predominantly Mediterranean climate, like many other places in Italy.
Summer (June – August): Summers have the highest temperature around the year with temperature around 29°C.
Winter (December – February): Temperatures can reach up to 10ºC in winter and the lowest recorded is 4 degrees.
Spring (March – May): Springs are a bit rainy with temperature around 22°C.
Autumn (September – November): The temperature in Autumn can be about 24°C.
The best time to visit the place is between the months of July and August. Off season is from October to January when the tourist rush is less, hotel have low fares and you get the best deals on flights.
Best time to go to San Gimignano Attractions

: Everyday 10:00 AM - 7:00 PM
: Everyday 10:00 AM - 7:00 PM
: Everyday 10:00 AM - 7:00 PM
: Everyday 10:00 AM - 7:00 PM
: Everyday 10:00 AM - 7:00 PM
: Everyday 10:00 AM - 7:00 PM
: Everyday 10:00 AM - 7:00 PM
: Everyday 10:00 AM - 7:00 PM
: Everyday 10:00 AM - 7:00 PM
: Everyday 10:00 AM - 7:00 PM
: Everyday 10:00 AM - 7:00 PM
: Everyday 10:00 AM - 7:00 PM

: Everyday 11:00 AM - 2:00 PM
: Everyday 11:00 AM - 2:00 PM
: Everyday 11:00 AM - 2:00 PM
: Everyday 11:00 AM - 2:00 PM
: Everyday 11:00 AM - 2:00 PM
: Everyday 11:00 AM - 2:00 PM
: Everyday 11:00 AM - 2:00 PM
: Everyday 11:00 AM - 2:00 PM
: Everyday 11:00 AM - 2:00 PM
: Everyday 11:00 AM - 2:00 PM
: Everyday 11:00 AM - 2:00 PM
: Everyday 11:00 AM - 2:00 PM

: Everyday 11:00 AM - 3:00 PM
: Everyday 11:00 AM - 3:00 PM
: Everyday 11:00 AM - 3:00 PM
: Everyday 11:00 AM - 3:00 PM
: Everyday 11:00 AM - 3:00 PM
: Everyday 11:00 AM - 3:00 PM
: Everyday 11:00 AM - 3:00 PM
: Everyday 11:00 AM - 3:00 PM
: Everyday 11:00 AM - 3:00 PM
: Everyday 11:00 AM - 3:00 PM
: Everyday 11:00 AM - 3:00 PM
: Everyday 11:00 AM - 3:00 PM

: Everyday 11:00 AM - 3:00 PM
: Everyday 11:00 AM - 3:00 PM
: Everyday 11:00 AM - 3:00 PM
: Everyday 11:00 AM - 3:00 PM
: Everyday 11:00 AM - 3:00 PM
: Everyday 11:00 AM - 3:00 PM
: Everyday 11:00 AM - 3:00 PM
: Everyday 11:00 AM - 3:00 PM
: Everyday 11:00 AM - 3:00 PM
: Everyday 11:00 AM - 3:00 PM
: Everyday 11:00 AM - 3:00 PM
: Everyday 11:00 AM - 3:00 PM

: Everyday 11:00 AM - 9:00 PM
: Everyday 11:00 AM - 9:00 PM
: Everyday 11:00 AM - 9:00 PM
: Everyday 11:00 AM - 9:00 PM
: Everyday 11:00 AM - 9:00 PM
: Everyday 11:00 AM - 9:00 PM
: Everyday 11:00 AM - 9:00 PM
: Everyday 11:00 AM - 9:00 PM
: Everyday 11:00 AM - 9:00 PM
: Everyday 11:00 AM - 9:00 PM
: Everyday 11:00 AM - 9:00 PM
: Everyday 11:00 AM - 9:00 PM

: Everyday 1:00 PM - 3:00 PM
: Everyday 1:00 PM - 3:00 PM
: Everyday 1:00 PM - 3:00 PM
: Everyday 1:00 PM - 3:00 PM
: Everyday 1:00 PM - 3:00 PM
: Everyday 1:00 PM - 3:00 PM
: Everyday 1:00 PM - 3:00 PM
: Everyday 1:00 PM - 3:00 PM
: Everyday 1:00 PM - 3:00 PM
: Everyday 1:00 PM - 3:00 PM
: Everyday 1:00 PM - 3:00 PM
: Everyday 1:00 PM - 3:00 PM

: Everyday 11:00 AM - 4:00 PM
: Everyday 11:00 AM - 4:00 PM
: Everyday 11:00 AM - 4:00 PM
: Everyday 11:00 AM - 4:00 PM
: Everyday 11:00 AM - 4:00 PM
: Everyday 11:00 AM - 4:00 PM
: Everyday 11:00 AM - 4:00 PM
: Everyday 11:00 AM - 4:00 PM
: Everyday 11:00 AM - 4:00 PM
: Everyday 11:00 AM - 4:00 PM
: Everyday 11:00 AM - 4:00 PM
: Everyday 11:00 AM - 4:00 PM

: Monday to Saturday 9:00 AM - 5:00 PM
: Monday to Saturday 9:00 AM - 5:00 PM
: Monday to Saturday 9:00 AM - 5:00 PM
: Monday to Saturday 9:00 AM - 5:00 PM
: Monday to Saturday 9:00 AM - 5:00 PM
: Monday to Saturday 9:00 AM - 5:00 PM
: Monday to Saturday 9:00 AM - 5:00 PM
: Monday to Saturday 9:00 AM - 5:00 PM
: Monday to Saturday 9:00 AM - 5:00 PM
: Monday to Saturday 9:00 AM - 5:00 PM
: Monday to Saturday 9:00 AM - 5:00 PM
: Monday to Saturday 9:00 AM - 5:00 PM

: Everyday 10:00 AM - 4:00 PM
: Everyday 10:00 AM - 4:00 PM
: Everyday 10:00 AM - 4:00 PM
: Everyday 10:00 AM - 4:00 PM
: Everyday 10:00 AM - 4:00 PM
: Everyday 10:00 AM - 4:00 PM
: Everyday 10:00 AM - 4:00 PM
: Everyday 10:00 AM - 4:00 PM
: Everyday 10:00 AM - 4:00 PM
: Everyday 10:00 AM - 4:00 PM
: Everyday 10:00 AM - 4:00 PM
: Everyday 10:00 AM - 4:00 PM

: Everyday 11:00 AM - 4:00 PM; Everyday 11:00 AM - 4:00 PM | 3:00 PM - 5:00 PM
: Everyday 11:00 AM - 4:00 PM; Everyday 11:00 AM - 4:00 PM | 3:00 PM - 5:00 PM
: Everyday 11:00 AM - 4:00 PM; Everyday 11:00 AM - 4:00 PM | 3:00 PM - 5:00 PM
: Everyday 11:00 AM - 4:00 PM; Everyday 11:00 AM - 4:00 PM | 3:00 PM - 5:00 PM
: Everyday 11:00 AM - 4:00 PM; Everyday 11:00 AM - 4:00 PM | 3:00 PM - 5:00 PM
: Everyday 11:00 AM - 4:00 PM; Everyday 11:00 AM - 4:00 PM | 3:00 PM - 5:00 PM
: Everyday 11:00 AM - 4:00 PM; Everyday 11:00 AM - 4:00 PM | 3:00 PM - 5:00 PM
: Everyday 11:00 AM - 4:00 PM; Everyday 11:00 AM - 4:00 PM | 3:00 PM - 5:00 PM
: Everyday 11:00 AM - 4:00 PM; Everyday 11:00 AM - 4:00 PM | 3:00 PM - 5:00 PM
: Everyday 11:00 AM - 4:00 PM; Everyday 11:00 AM - 4:00 PM | 3:00 PM - 5:00 PM
: Everyday 11:00 AM - 4:00 PM; Everyday 11:00 AM - 4:00 PM | 3:00 PM - 5:00 PM
: Everyday 11:00 AM - 4:00 PM; Everyday 11:00 AM - 4:00 PM | 3:00 PM - 5:00 PM

: Everyday 11:00 AM - 1:00 PM; Everyday 11:00 AM - 1:00 PM | 3:00 PM - 5:00 PM
: Everyday 11:00 AM - 1:00 PM; Everyday 11:00 AM - 1:00 PM | 3:00 PM - 5:00 PM
: Everyday 11:00 AM - 1:00 PM; Everyday 11:00 AM - 1:00 PM | 3:00 PM - 5:00 PM
: Everyday 11:00 AM - 1:00 PM; Everyday 11:00 AM - 1:00 PM | 3:00 PM - 5:00 PM
: Everyday 11:00 AM - 1:00 PM; Everyday 11:00 AM - 1:00 PM | 3:00 PM - 5:00 PM
: Everyday 11:00 AM - 1:00 PM; Everyday 11:00 AM - 1:00 PM | 3:00 PM - 5:00 PM
: Everyday 11:00 AM - 1:00 PM; Everyday 11:00 AM - 1:00 PM | 3:00 PM - 5:00 PM
: Everyday 11:00 AM - 1:00 PM; Everyday 11:00 AM - 1:00 PM | 3:00 PM - 5:00 PM
: Everyday 11:00 AM - 1:00 PM; Everyday 11:00 AM - 1:00 PM | 3:00 PM - 5:00 PM
: Everyday 11:00 AM - 1:00 PM; Everyday 11:00 AM - 1:00 PM | 3:00 PM - 5:00 PM
: Everyday 11:00 AM - 1:00 PM; Everyday 11:00 AM - 1:00 PM | 3:00 PM - 5:00 PM
: Everyday 11:00 AM - 1:00 PM; Everyday 11:00 AM - 1:00 PM | 3:00 PM - 5:00 PM

: Everyday 11:00 AM - 6:00 PM
: Everyday 11:00 AM - 6:00 PM
: Everyday 11:00 AM - 6:00 PM
: Everyday 11:00 AM - 6:00 PM
: Everyday 11:00 AM - 6:00 PM
: Everyday 11:00 AM - 6:00 PM
: Everyday 11:00 AM - 6:00 PM
: Everyday 11:00 AM - 6:00 PM
: Everyday 11:00 AM - 6:00 PM
: Everyday 11:00 AM - 6:00 PM
: Everyday 11:00 AM - 6:00 PM
: Everyday 11:00 AM - 6:00 PM

: Everyday 11:00 AM - 5:00 PM
: Everyday 11:00 AM - 5:00 PM
: Everyday 11:00 AM - 5:00 PM
: Everyday 11:00 AM - 5:00 PM
: Everyday 11:00 AM - 5:00 PM
: Everyday 11:00 AM - 5:00 PM
: Everyday 11:00 AM - 5:00 PM
: Everyday 11:00 AM - 5:00 PM
: Everyday 11:00 AM - 5:00 PM
: Everyday 11:00 AM - 5:00 PM
: Everyday 11:00 AM - 5:00 PM
: Everyday 11:00 AM - 5:00 PM

: Everyday 9:00 AM - 6:00 PM
: Everyday 9:00 AM - 6:00 PM
: Everyday 9:00 AM - 6:00 PM
: Everyday 9:00 AM - 6:00 PM
: Everyday 9:00 AM - 6:00 PM
: Everyday 9:00 AM - 6:00 PM
: Everyday 9:00 AM - 6:00 PM
: Everyday 9:00 AM - 6:00 PM
: Everyday 9:00 AM - 6:00 PM
: Everyday 9:00 AM - 6:00 PM
: Everyday 9:00 AM - 6:00 PM
: Everyday 9:00 AM - 6:00 PM

: Everyday 11:00 AM - 6:00 PM
: Everyday 11:00 AM - 6:00 PM
: Everyday 11:00 AM - 6:00 PM
: Everyday 11:00 AM - 6:00 PM
: Everyday 11:00 AM - 6:00 PM
: Everyday 11:00 AM - 6:00 PM
: Everyday 11:00 AM - 6:00 PM
: Everyday 11:00 AM - 6:00 PM
: Everyday 11:00 AM - 6:00 PM
: Everyday 11:00 AM - 6:00 PM
: Everyday 11:00 AM - 6:00 PM
: Everyday 11:00 AM - 6:00 PM

: Everyday 11:00 AM - 4:00 PM
: Everyday 11:00 AM - 4:00 PM
: Everyday 11:00 AM - 4:00 PM
: Everyday 11:00 AM - 4:00 PM
: Everyday 11:00 AM - 4:00 PM
: Everyday 11:00 AM - 4:00 PM
: Everyday 11:00 AM - 4:00 PM
: Everyday 11:00 AM - 4:00 PM
: Everyday 11:00 AM - 4:00 PM
: Everyday 11:00 AM - 4:00 PM
: Everyday 11:00 AM - 4:00 PM
: Everyday 11:00 AM - 4:00 PM

: Everyday 11:00 AM - 6:00 PM
: Everyday 11:00 AM - 6:00 PM
: Everyday 11:00 AM - 6:00 PM
: Everyday 11:00 AM - 6:00 PM
: Everyday 11:00 AM - 6:00 PM
: Everyday 11:00 AM - 6:00 PM
: Everyday 11:00 AM - 6:00 PM
: Everyday 11:00 AM - 6:00 PM
: Everyday 11:00 AM - 6:00 PM
: Everyday 11:00 AM - 6:00 PM
: Everyday 11:00 AM - 6:00 PM
: Everyday 11:00 AM - 6:00 PM

: Everyday 11:00 AM - 6:00 PM
: Everyday 11:00 AM - 6:00 PM
: Everyday 11:00 AM - 6:00 PM
: Everyday 11:00 AM - 6:00 PM
: Everyday 11:00 AM - 6:00 PM
: Everyday 11:00 AM - 6:00 PM
: Everyday 11:00 AM - 6:00 PM
: Everyday 11:00 AM - 6:00 PM
: Everyday 11:00 AM - 6:00 PM
: Everyday 11:00 AM - 6:00 PM
: Everyday 11:00 AM - 6:00 PM
: Everyday 11:00 AM - 6:00 PM

: Everyday 2:00 PM - 4:00 PM
: Everyday 2:00 PM - 4:00 PM
: Everyday 2:00 PM - 4:00 PM
: Everyday 2:00 PM - 4:00 PM
: Everyday 2:00 PM - 4:00 PM
: Everyday 2:00 PM - 4:00 PM
: Everyday 2:00 PM - 4:00 PM
: Everyday 2:00 PM - 4:00 PM
: Everyday 2:00 PM - 4:00 PM
: Everyday 2:00 PM - 4:00 PM
: Everyday 2:00 PM - 4:00 PM
: Everyday 2:00 PM - 4:00 PM

: Everyday 1:00 PM - 3:00 PM
: Everyday 1:00 PM - 3:00 PM
: Everyday 1:00 PM - 3:00 PM
: Everyday 1:00 PM - 3:00 PM
: Everyday 1:00 PM - 3:00 PM
: Everyday 1:00 PM - 3:00 PM
: Everyday 1:00 PM - 3:00 PM
: Everyday 1:00 PM - 3:00 PM
: Everyday 1:00 PM - 3:00 PM
: Everyday 1:00 PM - 3:00 PM
: Everyday 1:00 PM - 3:00 PM
: Everyday 1:00 PM - 3:00 PM

: Everyday 11:00 AM - 6:00 PM
: Everyday 11:00 AM - 6:00 PM
: Everyday 11:00 AM - 6:00 PM
: Everyday 11:00 AM - 6:00 PM
: Everyday 11:00 AM - 6:00 PM
: Everyday 11:00 AM - 6:00 PM
: Everyday 11:00 AM - 6:00 PM
: Everyday 11:00 AM - 6:00 PM
: Everyday 11:00 AM - 6:00 PM
: Everyday 11:00 AM - 6:00 PM
: Everyday 11:00 AM - 6:00 PM
: Everyday 11:00 AM - 6:00 PM

: Everyday 11:00 AM - 4:00 PM
: Everyday 11:00 AM - 4:00 PM
: Everyday 11:00 AM - 4:00 PM
: Everyday 11:00 AM - 4:00 PM
: Everyday 11:00 AM - 4:00 PM
: Everyday 11:00 AM - 4:00 PM
: Everyday 11:00 AM - 4:00 PM
: Everyday 11:00 AM - 4:00 PM
: Everyday 11:00 AM - 4:00 PM
: Everyday 11:00 AM - 4:00 PM
: Everyday 11:00 AM - 4:00 PM
: Everyday 11:00 AM - 4:00 PM

: Everyday 11:00 AM - 6:00 PM
: Everyday 11:00 AM - 6:00 PM
: Everyday 11:00 AM - 6:00 PM
: Everyday 11:00 AM - 6:00 PM
: Everyday 11:00 AM - 6:00 PM
: Everyday 11:00 AM - 6:00 PM
: Everyday 11:00 AM - 6:00 PM
: Everyday 11:00 AM - 6:00 PM
: Everyday 11:00 AM - 6:00 PM
: Everyday 11:00 AM - 6:00 PM
: Everyday 11:00 AM - 6:00 PM
: Everyday 11:00 AM - 6:00 PM

:
:
:
: Everyday 11:00 AM - 3:00 PM
: Everyday 11:00 AM - 3:00 PM
: Everyday 11:00 AM - 3:00 PM
: Everyday 11:00 AM - 3:00 PM
: Everyday 11:00 AM - 3:00 PM
: Everyday 11:00 AM - 3:00 PM
:
:
:

: Everyday 11:00 AM - 4:00 PM
: Everyday 11:00 AM - 4:00 PM
: Everyday 11:00 AM - 4:00 PM
: Everyday 11:00 AM - 4:00 PM
: Everyday 11:00 AM - 4:00 PM
: Everyday 11:00 AM - 4:00 PM
: Everyday 11:00 AM - 4:00 PM
: Everyday 11:00 AM - 4:00 PM
: Everyday 11:00 AM - 4:00 PM
: Everyday 11:00 AM - 4:00 PM
: Everyday 11:00 AM - 4:00 PM
: Everyday 11:00 AM - 4:00 PM

: Everyday 11:00 AM - 4:00 PM
: Everyday 11:00 AM - 4:00 PM
: Everyday 11:00 AM - 4:00 PM
: Everyday 11:00 AM - 4:00 PM
: Everyday 11:00 AM - 4:00 PM
: Everyday 11:00 AM - 4:00 PM
: Everyday 11:00 AM - 4:00 PM
: Everyday 11:00 AM - 4:00 PM
: Everyday 11:00 AM - 4:00 PM
: Everyday 11:00 AM - 4:00 PM
: Everyday 11:00 AM - 4:00 PM
: Everyday 11:00 AM - 4:00 PM

: Tuesday to Saturday 11:00 AM - 3:00 PM; Tuesday to Saturday 11:00 AM - 3:00 PM | 7:00 PM - 10:00 PM
: Tuesday to Saturday 11:00 AM - 3:00 PM; Tuesday to Saturday 11:00 AM - 3:00 PM | 7:00 PM - 10:00 PM
: Tuesday to Saturday 11:00 AM - 3:00 PM; Tuesday to Saturday 11:00 AM - 3:00 PM | 7:00 PM - 10:00 PM
: Tuesday to Saturday 11:00 AM - 3:00 PM; Tuesday to Saturday 11:00 AM - 3:00 PM | 7:00 PM - 10:00 PM
: Tuesday to Saturday 11:00 AM - 3:00 PM; Tuesday to Saturday 11:00 AM - 3:00 PM | 7:00 PM - 10:00 PM
: Tuesday to Saturday 11:00 AM - 3:00 PM; Tuesday to Saturday 11:00 AM - 3:00 PM | 7:00 PM - 10:00 PM
: Tuesday to Saturday 11:00 AM - 3:00 PM; Tuesday to Saturday 11:00 AM - 3:00 PM | 7:00 PM - 10:00 PM
: Tuesday to Saturday 11:00 AM - 3:00 PM; Tuesday to Saturday 11:00 AM - 3:00 PM | 7:00 PM - 10:00 PM
: Tuesday to Saturday 11:00 AM - 3:00 PM; Tuesday to Saturday 11:00 AM - 3:00 PM | 7:00 PM - 10:00 PM
: Tuesday to Saturday 11:00 AM - 3:00 PM; Tuesday to Saturday 11:00 AM - 3:00 PM | 7:00 PM - 10:00 PM
: Tuesday to Saturday 11:00 AM - 3:00 PM; Tuesday to Saturday 11:00 AM - 3:00 PM | 7:00 PM - 10:00 PM
: Tuesday to Saturday 11:00 AM - 3:00 PM; Tuesday to Saturday 11:00 AM - 3:00 PM | 7:00 PM - 10:00 PM