Best Time To Visit Sandusky
Explore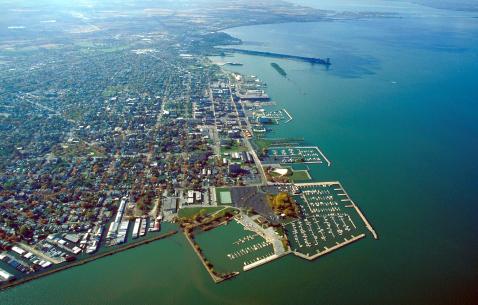 Best Time To Go To Sandusky
Sandusky is quite a weekend getaway for many. But if you are looking for something more than just a weekend getaway then it is the month of Fall, especially during Halloween when the city comes alive with lots of fun activities including haunted house tours, and of course some incredible Fall foliage.
Spring: The Month of April is typically the only month that receives Spring like weather. The average highest temperature is around 13 degrees Celsius, while the lowest is anything around a pleasant 4 degrees Celsius.
Summer: May to September is Summer in Sandusky, with the highest and lowest temperatures being around 25 degrees Celsius and 16 degrees Celsius, respectively. Thus, summers are warm and humid.
Fall: The best time to visit Sandusky, the Fall season spans over the months of October to November. The highest and lowest temperatures during these months are anywhere around 12 degrees Celsius and 4.5 degrees Celsius, respectively.
Winter: From December to March, it is winter in Sandusky with the highest and lowest temperature being around 1 degrees Celsius and -5 degrees Celsius respectively. It even snows during these months.
Best time to go to Sandusky Attractions

: Everyday 11:00 AM - 7:00 PM
: Everyday 11:00 AM - 7:00 PM
: Everyday 11:00 AM - 7:00 PM
: Everyday 11:00 AM - 7:00 PM
: Everyday 11:00 AM - 7:00 PM
: Everyday 11:00 AM - 7:00 PM
: Everyday 11:00 AM - 7:00 PM
: Everyday 11:00 AM - 7:00 PM
: Everyday 11:00 AM - 7:00 PM
: Everyday 11:00 AM - 7:00 PM
: Everyday 11:00 AM - 7:00 PM
: Everyday 11:00 AM - 7:00 PM

: Everyday 9:00 AM - 7:00 PM
: Everyday 9:00 AM - 7:00 PM
: Everyday 9:00 AM - 7:00 PM
: Everyday 9:00 AM - 7:00 PM
: Everyday 9:00 AM - 7:00 PM
: Everyday 9:00 AM - 7:00 PM
: Everyday 9:00 AM - 7:00 PM
: Everyday 9:00 AM - 7:00 PM
: Everyday 9:00 AM - 7:00 PM
: Everyday 9:00 AM - 7:00 PM
: Everyday 9:00 AM - 7:00 PM
: Everyday 9:00 AM - 7:00 PM

:
: Saturday, Sunday 9:00 AM - 2:30 PM
: Wednesday to Sunday 9:00 AM - 2:30 PM
: Wednesday to Sunday 9:00 AM - 2:30 PM
: Everyday 9:00 AM - 2:30 PM
: Everyday 9:00 AM - 2:30 PM
: Everyday 9:00 AM - 2:30 PM
: Everyday 9:00 AM - 2:30 PM
: Everyday 9:00 AM - 2:30 PM
: Wednesday to Sunday 9:00 AM - 2:30 PM
: Wednesday to Sunday 9:00 AM - 2:30 PM
: Wednesday to Sunday 9:00 AM - 2:30 PM

: Everyday 9:00 AM - 3:00 PM
: Everyday 9:00 AM - 3:00 PM
: Everyday 9:00 AM - 3:00 PM
: Everyday 9:00 AM - 3:00 PM
: Everyday 9:00 AM - 3:00 PM
: Everyday 9:00 AM - 3:00 PM
: Everyday 9:00 AM - 3:00 PM
: Everyday 9:00 AM - 3:00 PM
: Everyday 9:00 AM - 3:00 PM
: Everyday 9:00 AM - 3:00 PM
: Everyday 9:00 AM - 3:00 PM
: Everyday 9:00 AM - 3:00 PM

: Everyday 9:00 AM - 7:00 PM
: Everyday 9:00 AM - 7:00 PM
: Everyday 9:00 AM - 7:00 PM
: Everyday 9:00 AM - 7:00 PM
: Everyday 9:00 AM - 7:00 PM
: Everyday 9:00 AM - 7:00 PM
: Everyday 9:00 AM - 7:00 PM
: Everyday 9:00 AM - 7:00 PM
: Everyday 9:00 AM - 7:00 PM
: Everyday 9:00 AM - 7:00 PM
: Everyday 9:00 AM - 7:00 PM
: Everyday 9:00 AM - 7:00 PM

: Everyday 10:00 AM - 4:00 PM
: Everyday 10:00 AM - 4:00 PM
: Everyday 10:00 AM - 4:00 PM
: Everyday 10:00 AM - 4:00 PM
: Everyday 10:00 AM - 4:00 PM
: Everyday 10:00 AM - 4:00 PM
: Everyday 10:00 AM - 4:00 PM
: Everyday 10:00 AM - 4:00 PM
: Everyday 10:00 AM - 4:00 PM
: Everyday 10:00 AM - 4:00 PM
: Everyday 10:00 AM - 4:00 PM
: Everyday 10:00 AM - 4:00 PM

: Monday to Saturday 10:00 AM - 3:00 PM
: Monday to Saturday 10:00 AM - 3:00 PM
: Monday to Saturday 10:00 AM - 3:00 PM
: Monday to Saturday 10:00 AM - 3:00 PM
: Monday to Saturday 10:00 AM - 3:00 PM
: Friday to Sunday 10:00 AM - 3:00 PM
: Friday to Sunday 10:00 AM - 3:00 PM
: Friday to Sunday 10:00 AM - 3:00 PM
: Friday to Sunday 10:00 AM - 3:00 PM
: Friday to Sunday 10:00 AM - 3:00 PM
: Monday to Saturday 10:00 AM - 3:00 PM
: Monday to Saturday 10:00 AM - 3:00 PM

: Friday to Sunday 10:00 AM - 2:00 PM
: Friday to Sunday 10:00 AM - 2:00 PM
: Friday to Sunday 10:00 AM - 2:00 PM
: Friday to Sunday 10:00 AM - 2:00 PM
: Friday to Sunday 10:00 AM - 2:00 PM
: Tuesday to Sunday 10:00 AM - 2:00 PM
: Tuesday to Sunday 10:00 AM - 2:00 PM
: Tuesday to Sunday 10:00 AM - 2:00 PM
: Friday to Sunday 10:00 AM - 2:00 PM
: Friday to Sunday 10:00 AM - 2:00 PM
: Friday to Sunday 10:00 AM - 2:00 PM
: Friday to Sunday 10:00 AM - 2:00 PM

: Everyday 11:00 AM - 6:00 PM
: Everyday 11:00 AM - 6:00 PM
: Everyday 11:00 AM - 6:00 PM
: Everyday 11:00 AM - 6:00 PM
: Everyday 11:00 AM - 6:00 PM
: Everyday 11:00 AM - 6:00 PM
: Everyday 11:00 AM - 6:00 PM
: Everyday 11:00 AM - 6:00 PM
: Everyday 11:00 AM - 6:00 PM
: Everyday 11:00 AM - 6:00 PM
: Everyday 11:00 AM - 6:00 PM
: Everyday 11:00 AM - 6:00 PM

:
:
:
: Saturday 11:00 AM - 3:00 PM
: Saturday 11:00 AM - 3:00 PM
: Wednesday, Friday, Saturday 11:00 AM - 1:00 PM
: Wednesday, Friday, Saturday 11:00 AM - 1:00 PM
: Wednesday, Friday, Saturday 11:00 AM - 1:00 PM
: Saturday 11:00 AM - 3:00 PM
: Saturday 11:00 AM - 3:00 PM
: Saturday 11:00 AM - 3:00 PM
: Saturday 11:00 AM - 3:00 PM

: Everyday 11:00 AM - 3:00 PM
: Everyday 11:00 AM - 3:00 PM
: Everyday 11:00 AM - 3:00 PM
: Everyday 11:00 AM - 3:00 PM
: Everyday 11:00 AM - 3:00 PM
: Everyday 11:00 AM - 3:00 PM
: Everyday 11:00 AM - 3:00 PM
: Everyday 11:00 AM - 3:00 PM
: Everyday 11:00 AM - 3:00 PM
: Everyday 11:00 AM - 3:00 PM
: Everyday 11:00 AM - 3:00 PM
: Everyday 11:00 AM - 3:00 PM

:
:
:
: Tuesday to Saturday 11:00 AM - 1:00 PM
: Tuesday to Saturday 11:00 AM - 1:00 PM
: Tuesday to Saturday 11:00 AM - 1:00 PM
: Tuesday to Saturday 11:00 AM - 1:00 PM
: Tuesday to Saturday 11:00 AM - 1:00 PM
: Tuesday to Saturday 11:00 AM - 1:00 PM
: Tuesday to Saturday 11:00 AM - 1:00 PM
: Tuesday to Saturday 11:00 AM - 1:00 PM
: Tuesday to Saturday 11:00 AM - 1:00 PM

: Friday to Sunday 11:00 AM - 2:30 PM
: Friday to Sunday 11:00 AM - 2:30 PM
: Friday to Sunday 11:00 AM - 2:30 PM
: Friday to Sunday 11:00 AM - 2:30 PM
: Friday to Sunday 11:00 AM - 2:30 PM
: Friday to Sunday 11:00 AM - 2:30 PM
: Friday to Sunday 11:00 AM - 2:30 PM
: Friday to Sunday 11:00 AM - 2:30 PM
: Friday to Sunday 11:00 AM - 2:30 PM
: Friday to Sunday 11:00 AM - 2:30 PM
: Friday to Sunday 11:00 AM - 2:30 PM
: Friday to Sunday 11:00 AM - 2:30 PM

: Everyday 11:00 AM - 3:00 PM
: Everyday 11:00 AM - 3:00 PM
: Everyday 11:00 AM - 3:00 PM
: Everyday 11:00 AM - 3:00 PM
: Everyday 11:00 AM - 3:00 PM
: Everyday 11:00 AM - 3:00 PM
: Everyday 11:00 AM - 3:00 PM
: Everyday 11:00 AM - 3:00 PM
: Everyday 11:00 AM - 3:00 PM
: Everyday 11:00 AM - 3:00 PM
: Everyday 11:00 AM - 3:00 PM
: Everyday 11:00 AM - 3:00 PM

: Everyday 8:00 AM - 7:00 PM
: Everyday 8:00 AM - 7:00 PM
: Everyday 8:00 AM - 7:00 PM
: Everyday 8:00 AM - 7:00 PM
: Everyday 8:00 AM - 7:00 PM
: Everyday 8:00 AM - 7:00 PM
: Everyday 8:00 AM - 7:00 PM
: Everyday 8:00 AM - 7:00 PM
: Everyday 8:00 AM - 7:00 PM
: Everyday 8:00 AM - 7:00 PM
: Everyday 8:00 AM - 7:00 PM
: Everyday 8:00 AM - 7:00 PM

: Monday to Saturday 9:00 AM - 8:30 PM; Sunday 11:00 AM - 4:30 PM
: Monday to Saturday 9:00 AM - 8:30 PM; Sunday 11:00 AM - 4:30 PM
: Monday to Saturday 9:00 AM - 8:30 PM; Sunday 11:00 AM - 4:30 PM
: Monday to Saturday 9:00 AM - 8:30 PM; Sunday 11:00 AM - 4:30 PM
: Monday to Saturday 9:00 AM - 8:30 PM; Sunday 11:00 AM - 4:30 PM
: Monday to Saturday 9:00 AM - 8:30 PM; Sunday 11:00 AM - 4:30 PM
: Monday to Saturday 9:00 AM - 8:30 PM; Sunday 11:00 AM - 4:30 PM
: Monday to Saturday 9:00 AM - 8:30 PM; Sunday 11:00 AM - 4:30 PM
: Monday to Saturday 9:00 AM - 8:30 PM; Sunday 11:00 AM - 4:30 PM
: Monday to Saturday 9:00 AM - 8:30 PM; Sunday 11:00 AM - 4:30 PM
: Monday to Saturday 9:00 AM - 8:30 PM; Sunday 11:00 AM - 4:30 PM
: Monday to Saturday 9:00 AM - 8:30 PM; Sunday 11:00 AM - 4:30 PM

: Everyday 24 Hrs
: Everyday 24 Hrs
: Everyday 24 Hrs
: Everyday 24 Hrs
: Everyday 24 Hrs
: Everyday 24 Hrs
: Everyday 24 Hrs
: Everyday 24 Hrs
: Everyday 24 Hrs
: Everyday 24 Hrs
: Everyday 24 Hrs
: Everyday 24 Hrs

: Everyday 24 Hrs
: Everyday 24 Hrs
: Everyday 24 Hrs
: Everyday 24 Hrs
: Everyday 24 Hrs
: Everyday 24 Hrs
: Everyday 24 Hrs
: Everyday 24 Hrs
: Everyday 24 Hrs
: Everyday 24 Hrs
: Everyday 24 Hrs
: Everyday 24 Hrs

: Everyday 24 Hrs
: Everyday 24 Hrs
: Everyday 24 Hrs
: Everyday 24 Hrs
: Everyday 24 Hrs
: Everyday 24 Hrs
: Everyday 24 Hrs
: Everyday 24 Hrs
: Everyday 24 Hrs
: Everyday 24 Hrs
: Everyday 24 Hrs
: Everyday 24 Hrs

: Monday to Saturday 10:00 AM - 9:30 PM; Sunday 10:00 AM - 6:00 PM
: Monday to Saturday 10:00 AM - 9:30 PM; Sunday 10:00 AM - 6:00 PM
: Monday to Saturday 10:00 AM - 9:30 PM; Sunday 10:00 AM - 6:00 PM
: Monday to Saturday 10:00 AM - 9:30 PM; Sunday 10:00 AM - 6:00 PM
: Monday to Saturday 10:00 AM - 9:30 PM; Sunday 10:00 AM - 6:00 PM
: Monday to Saturday 10:00 AM - 9:30 PM; Sunday 10:00 AM - 6:00 PM
: Monday to Saturday 10:00 AM - 9:30 PM; Sunday 10:00 AM - 6:00 PM
: Monday to Saturday 10:00 AM - 9:30 PM; Sunday 10:00 AM - 6:00 PM
: Monday to Saturday 10:00 AM - 9:30 PM; Sunday 10:00 AM - 6:00 PM
: Monday to Saturday 10:00 AM - 9:30 PM; Sunday 10:00 AM - 6:00 PM
: Monday to Saturday 10:00 AM - 9:30 PM; Sunday 10:00 AM - 6:00 PM
: Monday to Saturday 10:00 AM - 9:30 PM; Sunday 10:00 AM - 6:00 PM

: Everyday 10:30 AM - 6:00 PM
: Everyday 10:30 AM - 6:00 PM
: Everyday 10:30 AM - 6:00 PM
: Everyday 10:30 AM - 6:00 PM
: Everyday 10:30 AM - 6:00 PM
: Everyday 10:30 AM - 6:00 PM
: Everyday 10:30 AM - 6:00 PM
: Everyday 10:30 AM - 6:00 PM
: Everyday 10:30 AM - 6:00 PM
: Everyday 10:30 AM - 6:00 PM
: Everyday 10:30 AM - 6:00 PM
: Everyday 10:30 AM - 6:00 PM

: Friday, Saturday 10:00 AM - 11:59 PM; Monday, Tuesday, Wednesday, Thursday, Sunday 10:00 AM - 10:00 PM
: Friday, Saturday 10:00 AM - 11:59 PM; Monday, Tuesday, Wednesday, Thursday, Sunday 10:00 AM - 10:00 PM
: Friday, Saturday 10:00 AM - 11:59 PM; Monday, Tuesday, Wednesday, Thursday, Sunday 10:00 AM - 10:00 PM
: Friday, Saturday 10:00 AM - 11:59 PM; Monday, Tuesday, Wednesday, Thursday, Sunday 10:00 AM - 10:00 PM
: Friday, Saturday 10:00 AM - 11:59 PM; Monday, Tuesday, Wednesday, Thursday, Sunday 10:00 AM - 10:00 PM
: Friday, Saturday 10:00 AM - 11:59 PM; Monday, Tuesday, Wednesday, Thursday, Sunday 10:00 AM - 10:00 PM
: Friday, Saturday 10:00 AM - 11:59 PM; Monday, Tuesday, Wednesday, Thursday, Sunday 10:00 AM - 10:00 PM
: Friday, Saturday 10:00 AM - 11:59 PM; Monday, Tuesday, Wednesday, Thursday, Sunday 10:00 AM - 10:00 PM
: Friday, Saturday 10:00 AM - 11:59 PM; Monday, Tuesday, Wednesday, Thursday, Sunday 10:00 AM - 10:00 PM
: Friday, Saturday 10:00 AM - 11:59 PM; Monday, Tuesday, Wednesday, Thursday, Sunday 10:00 AM - 10:00 PM
: Friday, Saturday 10:00 AM - 11:59 PM; Monday, Tuesday, Wednesday, Thursday, Sunday 10:00 AM - 10:00 PM
: Friday, Saturday 10:00 AM - 11:59 PM; Monday, Tuesday, Wednesday, Thursday, Sunday 10:00 AM - 10:00 PM

: Tuesday to Friday 8:00 AM - 6:00 PM; Saturday 9:00 AM - 4:00 PM; Monday, Sunday 9:00 AM - 3:00 PM
: Tuesday to Friday 8:00 AM - 6:00 PM; Saturday 9:00 AM - 4:00 PM; Monday, Sunday 9:00 AM - 3:00 PM
: Tuesday to Friday 8:00 AM - 6:00 PM; Saturday 9:00 AM - 4:00 PM; Monday, Sunday 9:00 AM - 3:00 PM
: Tuesday to Friday 8:00 AM - 6:00 PM; Saturday 9:00 AM - 4:00 PM; Monday, Sunday 9:00 AM - 3:00 PM
: Tuesday to Friday 8:00 AM - 6:00 PM; Saturday 9:00 AM - 4:00 PM; Monday, Sunday 9:00 AM - 3:00 PM
: Tuesday to Friday 8:00 AM - 6:00 PM; Saturday 9:00 AM - 4:00 PM; Monday, Sunday 9:00 AM - 3:00 PM
: Tuesday to Friday 8:00 AM - 6:00 PM; Saturday 9:00 AM - 4:00 PM; Monday, Sunday 9:00 AM - 3:00 PM
: Tuesday to Friday 8:00 AM - 6:00 PM; Saturday 9:00 AM - 4:00 PM; Monday, Sunday 9:00 AM - 3:00 PM
: Tuesday to Friday 8:00 AM - 6:00 PM; Saturday 9:00 AM - 4:00 PM; Monday, Sunday 9:00 AM - 3:00 PM
: Tuesday to Friday 8:00 AM - 6:00 PM; Saturday 9:00 AM - 4:00 PM; Monday, Sunday 9:00 AM - 3:00 PM
: Tuesday to Friday 8:00 AM - 6:00 PM; Saturday 9:00 AM - 4:00 PM; Monday, Sunday 9:00 AM - 3:00 PM
: Tuesday to Friday 8:00 AM - 6:00 PM; Saturday 9:00 AM - 4:00 PM; Monday, Sunday 9:00 AM - 3:00 PM

: Everyday 10:00 AM - 5:00 PM
: Everyday 10:00 AM - 5:00 PM
: Everyday 10:00 AM - 5:00 PM
: Everyday 10:00 AM - 5:00 PM
: Everyday 10:00 AM - 5:00 PM
: Everyday 10:00 AM - 5:00 PM
: Everyday 10:00 AM - 5:00 PM
: Everyday 10:00 AM - 5:00 PM
: Everyday 10:00 AM - 5:00 PM
: Everyday 10:00 AM - 5:00 PM
: Everyday 10:00 AM - 5:00 PM
: Everyday 10:00 AM - 5:00 PM