Best Time To Visit Santa Cruz De Tenerife
Explore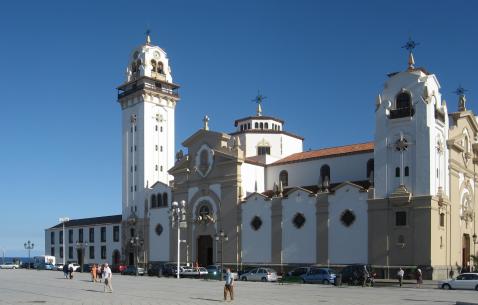 Best Time To Go To Santa Cruz De Tenerife
The weather in Tenerife is warm throughout the year. It shares the same latitude as the Sahara Dessert and its topography makes the island a pleasant visit anytime of the year.
Summer: May to September is the summer time in Tenerife with average temperature of 25 degrees Celsius. Summers are dry. This is the peak season for tourists to enjoy this place.
Winter: Weather in Tenerife from December to February is pretty cold with an average temperature of 15 Degrees Celsius. The temperature starts getting lovely from March onwards. This is also a good season to visit this place as the weather is pleasant during this time of the year.
Tenerife is pleasant enough to travel to all year round even though summer is the best time to visit this island.
Best time to go to Santa Cruz De Tenerife Attractions

: Everyday 11:00 AM - 3:00 PM
: Everyday 11:00 AM - 3:00 PM
: Everyday 11:00 AM - 3:00 PM
: Everyday 11:00 AM - 3:00 PM
: Everyday 11:00 AM - 3:00 PM
: Everyday 11:00 AM - 3:00 PM
: Everyday 11:00 AM - 3:00 PM
: Everyday 11:00 AM - 3:00 PM
: Everyday 11:00 AM - 3:00 PM
: Everyday 11:00 AM - 3:00 PM
: Everyday 11:00 AM - 3:00 PM
: Everyday 11:00 AM - 3:00 PM

: Everyday 9:00 AM - 5:00 PM
: Everyday 9:00 AM - 5:00 PM
: Everyday 9:00 AM - 5:00 PM
: Everyday 9:00 AM - 5:00 PM
: Everyday 9:00 AM - 5:00 PM
: Everyday 9:00 AM - 5:00 PM
: Everyday 9:00 AM - 5:00 PM
: Everyday 9:00 AM - 5:00 PM
: Everyday 9:00 AM - 5:00 PM
: Everyday 9:00 AM - 5:00 PM
: Everyday 9:00 AM - 5:00 PM
: Everyday 9:00 AM - 5:00 PM

: Everyday 11:00 AM - 3:30 PM
: Everyday 11:00 AM - 3:30 PM
: Everyday 11:00 AM - 3:30 PM
: Everyday 11:00 AM - 3:30 PM
: Everyday 11:00 AM - 3:30 PM
: Everyday 11:00 AM - 3:30 PM
: Everyday 11:00 AM - 3:30 PM
: Everyday 11:00 AM - 3:30 PM
: Everyday 11:00 AM - 3:30 PM
: Everyday 11:00 AM - 3:30 PM
: Everyday 11:00 AM - 3:30 PM
: Everyday 11:00 AM - 3:30 PM

: Tuesday to Sunday 9:00 AM - 3:00 PM
: Tuesday to Sunday 9:00 AM - 3:00 PM
: Tuesday to Sunday 9:00 AM - 3:00 PM
: Tuesday to Sunday 9:00 AM - 3:00 PM
: Tuesday to Sunday 9:00 AM - 3:00 PM
: Tuesday to Sunday 9:00 AM - 3:00 PM
: Tuesday to Sunday 9:00 AM - 3:00 PM
: Tuesday to Sunday 9:00 AM - 3:00 PM
: Tuesday to Sunday 9:00 AM - 3:00 PM
: Tuesday to Sunday 9:00 AM - 3:00 PM
: Tuesday to Sunday 9:00 AM - 3:00 PM
: Tuesday to Sunday 9:00 AM - 3:00 PM

: Everyday 9:00 AM - 4:00 PM
: Everyday 9:00 AM - 4:00 PM
: Everyday 9:00 AM - 4:00 PM
: Everyday 9:00 AM - 4:00 PM
: Everyday 9:00 AM - 4:00 PM
: Everyday 9:00 AM - 4:00 PM
: Everyday 9:00 AM - 4:00 PM
: Everyday 9:00 AM - 4:00 PM
: Everyday 9:00 AM - 4:00 PM
: Everyday 9:00 AM - 4:00 PM
: Everyday 9:00 AM - 4:00 PM
: Everyday 9:00 AM - 4:00 PM

: Everyday 8:00 AM - 3:00 PM
: Everyday 8:00 AM - 3:00 PM
: Everyday 8:00 AM - 3:00 PM
: Everyday 8:00 AM - 3:00 PM
: Everyday 8:00 AM - 3:00 PM
: Everyday 8:00 AM - 3:00 PM
: Everyday 8:00 AM - 3:00 PM
: Everyday 8:00 AM - 3:00 PM
: Everyday 8:00 AM - 3:00 PM
: Everyday 8:00 AM - 3:00 PM
: Everyday 8:00 AM - 3:00 PM
: Everyday 8:00 AM - 3:00 PM

: Everyday 9:00 AM - 4:00 PM
: Everyday 9:00 AM - 4:00 PM
: Everyday 9:00 AM - 4:00 PM
: Everyday 9:00 AM - 4:00 PM
: Everyday 9:00 AM - 4:00 PM
: Everyday 9:00 AM - 4:00 PM
: Everyday 9:00 AM - 4:00 PM
: Everyday 9:00 AM - 4:00 PM
: Everyday 9:00 AM - 4:00 PM
: Everyday 9:00 AM - 4:00 PM
: Everyday 9:00 AM - 4:00 PM
: Everyday 9:00 AM - 4:00 PM

: Everyday 10:00 AM - 4:30 PM
: Everyday 10:00 AM - 4:30 PM
: Everyday 10:00 AM - 4:30 PM
: Everyday 10:00 AM - 4:30 PM
: Everyday 10:00 AM - 4:30 PM
: Everyday 10:00 AM - 4:30 PM
: Everyday 10:00 AM - 4:30 PM
: Everyday 10:00 AM - 4:30 PM
: Everyday 10:00 AM - 4:30 PM
: Everyday 10:00 AM - 4:30 PM
: Everyday 10:00 AM - 4:30 PM
: Everyday 10:00 AM - 4:30 PM

: Everyday 9:00 AM - 5:00 PM
: Everyday 9:00 AM - 5:00 PM
: Everyday 9:00 AM - 5:00 PM
: Everyday 9:00 AM - 5:00 PM
: Everyday 9:00 AM - 5:00 PM
: Everyday 9:00 AM - 5:00 PM
: Everyday 9:00 AM - 5:00 PM
: Everyday 9:00 AM - 5:00 PM
: Everyday 9:00 AM - 5:00 PM
: Everyday 9:00 AM - 5:00 PM
: Everyday 9:00 AM - 5:00 PM
: Everyday 9:00 AM - 5:00 PM

: Everyday 10:00 AM - 3:00 PM
: Everyday 10:00 AM - 3:00 PM
: Everyday 10:00 AM - 3:00 PM
: Everyday 10:00 AM - 3:00 PM
: Everyday 10:00 AM - 3:00 PM
: Everyday 10:00 AM - 3:00 PM
: Everyday 10:00 AM - 3:00 PM
: Everyday 10:00 AM - 3:00 PM
: Everyday 10:00 AM - 3:00 PM
: Everyday 10:00 AM - 3:00 PM
: Everyday 10:00 AM - 3:00 PM
: Everyday 10:00 AM - 3:00 PM

: Monday 3:30 PM - 7:00 PM; Tuesday to Sunday 8:00 AM - 7:00 PM
: Monday 3:30 PM - 7:00 PM; Tuesday to Sunday 8:00 AM - 7:00 PM
: Monday 3:30 PM - 7:00 PM; Tuesday to Sunday 8:00 AM - 7:00 PM
: Monday 3:30 PM - 7:00 PM; Tuesday to Sunday 8:00 AM - 7:00 PM
: Monday 3:30 PM - 7:00 PM; Tuesday to Sunday 8:00 AM - 7:00 PM
: Monday 3:30 PM - 7:00 PM; Tuesday to Sunday 8:00 AM - 7:00 PM
: Monday 3:30 PM - 7:00 PM; Tuesday to Sunday 8:00 AM - 7:00 PM
: Monday 3:30 PM - 7:00 PM; Tuesday to Sunday 8:00 AM - 7:00 PM
: Monday 3:30 PM - 7:00 PM; Tuesday to Sunday 8:00 AM - 7:00 PM
: Monday 3:30 PM - 7:00 PM; Tuesday to Sunday 8:00 AM - 7:00 PM
: Monday 3:30 PM - 7:00 PM; Tuesday to Sunday 8:00 AM - 7:00 PM
: Monday 3:30 PM - 7:00 PM; Tuesday to Sunday 8:00 AM - 7:00 PM

: Everyday 9:00 AM - 2:00 PM
: Everyday 9:00 AM - 2:00 PM
: Everyday 9:00 AM - 2:00 PM
: Everyday 9:00 AM - 2:00 PM
: Everyday 9:00 AM - 2:00 PM
: Everyday 9:00 AM - 2:00 PM
: Everyday 9:00 AM - 2:00 PM
: Everyday 9:00 AM - 2:00 PM
: Everyday 9:00 AM - 2:00 PM
: Everyday 9:00 AM - 2:00 PM
: Everyday 9:00 AM - 2:00 PM
: Everyday 9:00 AM - 2:00 PM

: Tuesday to Sunday 11:00 AM - 5:00 PM
: Tuesday to Sunday 11:00 AM - 5:00 PM
: Tuesday to Sunday 11:00 AM - 5:00 PM
: Tuesday to Sunday 11:00 AM - 5:00 PM
: Tuesday to Sunday 11:00 AM - 5:00 PM
: Tuesday to Sunday 11:00 AM - 5:00 PM
: Tuesday to Sunday 11:00 AM - 5:00 PM
: Tuesday to Sunday 11:00 AM - 5:00 PM
: Tuesday to Sunday 11:00 AM - 5:00 PM
: Tuesday to Sunday 11:00 AM - 5:00 PM
: Tuesday to Sunday 11:00 AM - 5:00 PM
: Tuesday to Sunday 11:00 AM - 5:00 PM

: Everyday 10:00 AM - 6:00 PM
: Everyday 10:00 AM - 6:00 PM
: Everyday 10:00 AM - 6:00 PM
: Everyday 10:00 AM - 6:00 PM
: Everyday 10:00 AM - 6:00 PM
: Everyday 10:00 AM - 6:00 PM
: Everyday 10:00 AM - 6:00 PM
: Everyday 10:00 AM - 6:00 PM
: Everyday 10:00 AM - 6:00 PM
: Everyday 10:00 AM - 6:00 PM
: Everyday 10:00 AM - 6:00 PM
: Everyday 10:00 AM - 6:00 PM

: Everyday 9:00 AM - 5:00 PM
: Everyday 9:00 AM - 5:00 PM
: Everyday 9:00 AM - 5:00 PM
: Everyday 9:00 AM - 5:00 PM
: Everyday 9:00 AM - 5:00 PM
: Everyday 9:00 AM - 5:00 PM
: Everyday 9:00 AM - 5:00 PM
: Everyday 9:00 AM - 5:00 PM
: Everyday 9:00 AM - 5:00 PM
: Everyday 9:00 AM - 5:00 PM
: Everyday 9:00 AM - 5:00 PM
: Everyday 9:00 AM - 5:00 PM

: Tuesday to Sunday 11:00 AM - 6:00 PM
: Tuesday to Sunday 11:00 AM - 6:00 PM
: Tuesday to Sunday 11:00 AM - 6:00 PM
: Tuesday to Sunday 11:00 AM - 6:00 PM
: Tuesday to Sunday 11:00 AM - 6:00 PM
: Tuesday to Sunday 11:00 AM - 6:00 PM
: Tuesday to Sunday 11:00 AM - 6:00 PM
: Tuesday to Sunday 11:00 AM - 6:00 PM
: Tuesday to Sunday 11:00 AM - 6:00 PM
: Tuesday to Sunday 11:00 AM - 6:00 PM
: Tuesday to Sunday 11:00 AM - 6:00 PM
: Tuesday to Sunday 11:00 AM - 6:00 PM

: Everyday 9:00 AM - 5:00 PM
: Everyday 9:00 AM - 5:00 PM
: Everyday 9:00 AM - 5:00 PM
: Everyday 9:00 AM - 5:00 PM
: Everyday 9:00 AM - 5:00 PM
: Everyday 9:00 AM - 5:00 PM
: Everyday 9:00 AM - 5:00 PM
: Everyday 9:00 AM - 5:00 PM
: Everyday 9:00 AM - 5:00 PM
: Everyday 9:00 AM - 5:00 PM
: Everyday 9:00 AM - 5:00 PM
: Everyday 9:00 AM - 5:00 PM

: Everyday 11:00 AM - 1:00 PM; Everyday 11:00 AM - 1:00 PM | 5:00 PM - 8:00 PM
: Everyday 11:00 AM - 1:00 PM; Everyday 11:00 AM - 1:00 PM | 5:00 PM - 8:00 PM
: Everyday 11:00 AM - 1:00 PM; Everyday 11:00 AM - 1:00 PM | 5:00 PM - 8:00 PM
: Everyday 11:00 AM - 1:00 PM; Everyday 11:00 AM - 1:00 PM | 5:00 PM - 8:00 PM
: Everyday 11:00 AM - 1:00 PM; Everyday 11:00 AM - 1:00 PM | 5:00 PM - 8:00 PM
: Everyday 11:00 AM - 1:00 PM; Everyday 11:00 AM - 1:00 PM | 5:00 PM - 8:00 PM
: Everyday 11:00 AM - 1:00 PM; Everyday 11:00 AM - 1:00 PM | 5:00 PM - 8:00 PM
: Everyday 11:00 AM - 1:00 PM; Everyday 11:00 AM - 1:00 PM | 5:00 PM - 8:00 PM
: Everyday 11:00 AM - 1:00 PM; Everyday 11:00 AM - 1:00 PM | 5:00 PM - 8:00 PM
: Everyday 11:00 AM - 1:00 PM; Everyday 11:00 AM - 1:00 PM | 5:00 PM - 8:00 PM
: Everyday 11:00 AM - 1:00 PM; Everyday 11:00 AM - 1:00 PM | 5:00 PM - 8:00 PM
: Everyday 11:00 AM - 1:00 PM; Everyday 11:00 AM - 1:00 PM | 5:00 PM - 8:00 PM

: Everyday 8:00 AM - 3:00 PM
: Everyday 8:00 AM - 3:00 PM
: Everyday 8:00 AM - 3:00 PM
: Everyday 8:00 AM - 3:00 PM
: Everyday 8:00 AM - 3:00 PM
: Everyday 8:00 AM - 3:00 PM
: Everyday 8:00 AM - 3:00 PM
: Everyday 8:00 AM - 3:00 PM
: Everyday 8:00 AM - 3:00 PM
: Everyday 8:00 AM - 3:00 PM
: Everyday 8:00 AM - 3:00 PM
: Everyday 8:00 AM - 3:00 PM

: Everyday 24 Hrs
: Everyday 24 Hrs
: Everyday 24 Hrs
: Everyday 24 Hrs
: Everyday 24 Hrs
: Everyday 24 Hrs
: Everyday 24 Hrs
: Everyday 24 Hrs
: Everyday 24 Hrs
: Everyday 24 Hrs
: Everyday 24 Hrs
: Everyday 24 Hrs

: Everyday 10:00 AM - 4:00 PM
: Everyday 10:00 AM - 4:00 PM
: Everyday 10:00 AM - 4:00 PM
: Everyday 10:00 AM - 4:00 PM
: Everyday 10:00 AM - 4:00 PM
: Everyday 10:00 AM - 4:00 PM
: Everyday 10:00 AM - 4:00 PM
: Everyday 10:00 AM - 4:00 PM
: Everyday 10:00 AM - 4:00 PM
: Everyday 10:00 AM - 4:00 PM
: Everyday 10:00 AM - 4:00 PM
: Everyday 10:00 AM - 4:00 PM

: Everyday 24 Hrs
: Everyday 24 Hrs
: Everyday 24 Hrs
: Everyday 24 Hrs
: Everyday 24 Hrs
: Everyday 24 Hrs
: Everyday 24 Hrs
: Everyday 24 Hrs
: Everyday 24 Hrs
: Everyday 24 Hrs
: Everyday 24 Hrs
: Everyday 24 Hrs

: Everyday 24 Hrs
: Everyday 24 Hrs
: Everyday 24 Hrs
: Everyday 24 Hrs
: Everyday 24 Hrs
: Everyday 24 Hrs
: Everyday 24 Hrs
: Everyday 24 Hrs
: Everyday 24 Hrs
: Everyday 24 Hrs
: Everyday 24 Hrs
: Everyday 24 Hrs

: Everyday 24 Hrs
: Everyday 24 Hrs
: Everyday 24 Hrs
: Everyday 24 Hrs
: Everyday 24 Hrs
: Everyday 24 Hrs
: Everyday 24 Hrs
: Everyday 24 Hrs
: Everyday 24 Hrs
: Everyday 24 Hrs
: Everyday 24 Hrs
: Everyday 24 Hrs

: Everyday 24 Hrs
: Everyday 24 Hrs
: Everyday 24 Hrs
: Everyday 24 Hrs
: Everyday 24 Hrs
: Everyday 24 Hrs
: Everyday 24 Hrs
: Everyday 24 Hrs
: Everyday 24 Hrs
: Everyday 24 Hrs
: Everyday 24 Hrs
: Everyday 24 Hrs

: Everyday 24 Hrs
: Everyday 24 Hrs
: Everyday 24 Hrs
: Everyday 24 Hrs
: Everyday 24 Hrs
: Everyday 24 Hrs
: Everyday 24 Hrs
: Everyday 24 Hrs
: Everyday 24 Hrs
: Everyday 24 Hrs
: Everyday 24 Hrs
: Everyday 24 Hrs

: Everyday 24 Hrs
: Everyday 24 Hrs
: Everyday 24 Hrs
: Everyday 24 Hrs
: Everyday 24 Hrs
: Everyday 24 Hrs
: Everyday 24 Hrs
: Everyday 24 Hrs
: Everyday 24 Hrs
: Everyday 24 Hrs
: Everyday 24 Hrs
: Everyday 24 Hrs

: Everyday 24 Hrs
: Everyday 24 Hrs
: Everyday 24 Hrs
: Everyday 24 Hrs
: Everyday 24 Hrs
: Everyday 24 Hrs
: Everyday 24 Hrs
: Everyday 24 Hrs
: Everyday 24 Hrs
: Everyday 24 Hrs
: Everyday 24 Hrs
: Everyday 24 Hrs

: Everyday 24 Hrs
: Everyday 24 Hrs
: Everyday 24 Hrs
: Everyday 24 Hrs
: Everyday 24 Hrs
: Everyday 24 Hrs
: Everyday 24 Hrs
: Everyday 24 Hrs
: Everyday 24 Hrs
: Everyday 24 Hrs
: Everyday 24 Hrs
: Everyday 24 Hrs