Best Time To Visit Santillana Del Mar
Explore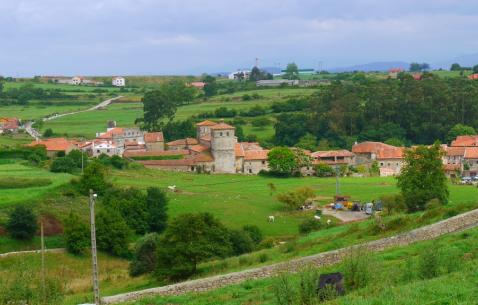 Best Time To Go To Santillana Del Mar
Santillana Del Mar experiences mild climate, and rainfall can be expected anytime throughout the year.
Summer (June – August): Hottest time of the year with temperature ranging from 14 degree Celsius - 27 degree Celsius.
Winter (December- February): Temperatures around 5 degree Celsius - 15 degree Celsius.
Spring (March – May): High chances of rainfall. Average temperature is around 7 degree Celsius - 22 degree Celsius.
Autumn (September – November): Temperature ranges around 8 degree Celsius - 22 degrees Celsius. This season also has high expectancy of rainfall.
The best time to visit the town is late April through August, when you can enjoy a nice weather.
Best time to go to Santillana Del Mar Attractions

: Tuesday to Sunday 10:00 AM - 1:30 PM
: Tuesday to Sunday 10:00 AM - 1:30 PM
: Tuesday to Sunday 10:00 AM - 1:30 PM
: Tuesday to Sunday 10:00 AM - 1:30 PM
: Tuesday to Sunday 10:00 AM - 1:30 PM
: Tuesday to Sunday 10:00 AM - 1:30 PM
: Tuesday to Sunday 10:00 AM - 1:30 PM
: Tuesday to Sunday 10:00 AM - 1:30 PM
: Tuesday to Sunday 10:00 AM - 1:30 PM
: Tuesday to Sunday 10:00 AM - 1:30 PM
: Tuesday to Sunday 10:00 AM - 1:30 PM
: Tuesday to Sunday 10:00 AM - 1:30 PM

: Tuesday to Sunday 10:00 AM - 3:00 PM
: Tuesday to Sunday 10:00 AM - 3:00 PM
: Tuesday to Sunday 10:00 AM - 3:00 PM
: Tuesday to Sunday 10:00 AM - 3:00 PM
: Tuesday to Sunday 10:00 AM - 3:00 PM
: Tuesday to Sunday 10:00 AM - 3:00 PM
: Tuesday to Sunday 10:00 AM - 3:00 PM
: Tuesday to Sunday 10:00 AM - 3:00 PM
: Tuesday to Sunday 10:00 AM - 3:00 PM
: Tuesday to Sunday 10:00 AM - 3:00 PM
: Tuesday to Sunday 10:00 AM - 3:00 PM
: Tuesday to Sunday 10:00 AM - 3:00 PM

: Everyday 10:00 AM - 6:00 PM
: Everyday 10:00 AM - 6:00 PM
: Everyday 10:00 AM - 6:00 PM
: Everyday 10:00 AM - 6:00 PM
: Everyday 10:00 AM - 6:00 PM
: Everyday 10:00 AM - 6:00 PM
: Everyday 10:00 AM - 6:00 PM
: Everyday 10:00 AM - 6:00 PM
: Everyday 10:00 AM - 6:00 PM
: Everyday 10:00 AM - 6:00 PM
: Everyday 10:00 AM - 6:00 PM
: Everyday 10:00 AM - 6:00 PM

: Everyday 11:00 AM - 5:30 PM
: Everyday 11:00 AM - 5:30 PM
: Everyday 11:00 AM - 5:30 PM
: Everyday 11:00 AM - 5:30 PM
: Everyday 11:00 AM - 5:30 PM
: Everyday 11:00 AM - 5:30 PM
: Everyday 11:00 AM - 5:30 PM
: Everyday 11:00 AM - 5:30 PM
: Everyday 11:00 AM - 5:30 PM
: Everyday 11:00 AM - 5:30 PM
: Everyday 11:00 AM - 5:30 PM
: Everyday 11:00 AM - 5:30 PM

: Everyday 1:00 PM - 3:00 PM
: Everyday 1:00 PM - 3:00 PM
: Everyday 1:00 PM - 3:00 PM
: Everyday 1:00 PM - 3:00 PM
: Everyday 1:00 PM - 3:00 PM
: Everyday 1:00 PM - 3:00 PM
: Everyday 1:00 PM - 3:00 PM
: Everyday 1:00 PM - 3:00 PM
: Everyday 1:00 PM - 3:00 PM
: Everyday 1:00 PM - 3:00 PM
: Everyday 1:00 PM - 3:00 PM
: Everyday 1:00 PM - 3:00 PM

: Everyday 7:00 AM - 2:00 PM
: Everyday 7:00 AM - 2:00 PM
: Everyday 7:00 AM - 2:00 PM
: Everyday 7:00 AM - 2:00 PM
: Everyday 7:00 AM - 2:00 PM
: Everyday 7:00 AM - 2:00 PM
: Everyday 7:00 AM - 2:00 PM
: Everyday 7:00 AM - 2:00 PM
: Everyday 7:00 AM - 2:00 PM
: Everyday 7:00 AM - 2:00 PM
: Everyday 7:00 AM - 2:00 PM
: Everyday 7:00 AM - 2:00 PM

: Everyday 10:00 AM - 3:00 PM
: Everyday 10:00 AM - 3:00 PM
: Everyday 10:00 AM - 3:00 PM
: Everyday 10:00 AM - 3:00 PM
: Everyday 10:00 AM - 3:00 PM
: Everyday 10:00 AM - 3:00 PM
: Everyday 10:00 AM - 3:00 PM
: Everyday 10:00 AM - 3:00 PM
: Everyday 10:00 AM - 3:00 PM
: Everyday 10:00 AM - 3:00 PM
: Everyday 10:00 AM - 3:00 PM
: Everyday 10:00 AM - 3:00 PM

: Everyday 9:30 AM - 3:00 PM
: Everyday 9:30 AM - 3:00 PM
: Everyday 9:30 AM - 3:00 PM
: Everyday 9:30 AM - 3:00 PM
: Everyday 9:30 AM - 3:00 PM
: Everyday 9:30 AM - 3:00 PM
: Everyday 9:30 AM - 3:00 PM
: Everyday 9:30 AM - 3:00 PM
: Everyday 9:30 AM - 3:00 PM
: Everyday 9:30 AM - 3:00 PM
: Everyday 9:30 AM - 3:00 PM
: Everyday 9:30 AM - 3:00 PM

: Everyday 1:30 PM - 3:00 PM
: Everyday 1:30 PM - 3:00 PM
: Everyday 1:30 PM - 3:00 PM
: Everyday 1:30 PM - 3:00 PM
: Everyday 1:30 PM - 3:00 PM
: Everyday 1:30 PM - 3:00 PM
: Everyday 1:30 PM - 3:00 PM
: Everyday 1:30 PM - 3:00 PM
: Everyday 1:30 PM - 3:00 PM
: Everyday 1:30 PM - 3:00 PM
: Everyday 1:30 PM - 3:00 PM
: Everyday 1:30 PM - 3:00 PM

: Everyday 4:00 PM - 6:00 PM
: Everyday 4:00 PM - 6:00 PM
: Everyday 4:00 PM - 6:00 PM
: Everyday 4:00 PM - 6:00 PM
: Everyday 4:00 PM - 6:00 PM
: Everyday 4:00 PM - 6:00 PM
: Everyday 4:00 PM - 6:00 PM
: Everyday 4:00 PM - 6:00 PM
: Everyday 4:00 PM - 6:00 PM
: Everyday 4:00 PM - 6:00 PM
: Everyday 4:00 PM - 6:00 PM
: Everyday 4:00 PM - 6:00 PM

: Everyday 4:30 PM - 6:00 PM
: Everyday 4:30 PM - 6:00 PM
: Everyday 4:30 PM - 6:00 PM
: Everyday 4:30 PM - 6:00 PM
: Everyday 4:30 PM - 6:00 PM
: Everyday 4:30 PM - 6:00 PM
: Everyday 4:30 PM - 6:00 PM
: Everyday 4:30 PM - 6:00 PM
: Everyday 4:30 PM - 6:00 PM
: Everyday 4:30 PM - 6:00 PM
: Everyday 4:30 PM - 6:00 PM
: Everyday 4:30 PM - 6:00 PM

: Everyday 6:00 PM - 8:00 PM
: Everyday 6:00 PM - 8:00 PM
: Everyday 6:00 PM - 8:00 PM
: Everyday 6:00 PM - 8:00 PM
: Everyday 6:00 PM - 8:00 PM
: Everyday 6:00 PM - 8:00 PM
: Everyday 6:00 PM - 8:00 PM
: Everyday 6:00 PM - 8:00 PM
: Everyday 6:00 PM - 8:00 PM
: Everyday 6:00 PM - 8:00 PM
: Everyday 6:00 PM - 8:00 PM
: Everyday 6:00 PM - 8:00 PM

: Everyday 2:30 PM - 4:00 PM
: Everyday 2:30 PM - 4:00 PM
: Everyday 2:30 PM - 4:00 PM
: Everyday 2:30 PM - 4:00 PM
: Everyday 2:30 PM - 4:00 PM
: Everyday 2:30 PM - 4:00 PM
: Everyday 2:30 PM - 4:00 PM
: Everyday 2:30 PM - 4:00 PM
: Everyday 2:30 PM - 4:00 PM
: Everyday 2:30 PM - 4:00 PM
: Everyday 2:30 PM - 4:00 PM
: Everyday 2:30 PM - 4:00 PM

: Everyday 4:00 PM - 5:00 PM
: Everyday 4:00 PM - 5:00 PM
: Everyday 4:00 PM - 5:00 PM
: Everyday 4:00 PM - 5:00 PM
: Everyday 4:00 PM - 5:00 PM
: Everyday 4:00 PM - 5:00 PM
: Everyday 4:00 PM - 5:00 PM
: Everyday 4:00 PM - 5:00 PM
: Everyday 4:00 PM - 5:00 PM
: Everyday 4:00 PM - 5:00 PM
: Everyday 4:00 PM - 5:00 PM
: Everyday 4:00 PM - 5:00 PM

: Tuesday to Sunday 4:30 PM - 8:00 PM
: Tuesday to Sunday 4:30 PM - 8:00 PM
: Everyday 4:30 PM - 8:00 PM
: Everyday 4:30 PM - 8:00 PM
: Everyday 4:30 PM - 8:00 PM
: Everyday 4:30 PM - 8:00 PM
: Everyday 4:30 PM - 8:00 PM
: Everyday 4:30 PM - 8:00 PM
: Everyday 4:30 PM - 8:00 PM
: Everyday 4:30 PM - 8:00 PM
: Everyday 4:30 PM - 8:00 PM
: Tuesday to Sunday 4:30 PM - 8:00 PM

: Tuesday to Sunday 10:00 AM - 1:00 PM
: Tuesday to Sunday 10:00 AM - 1:00 PM
: Tuesday to Sunday 10:00 AM - 1:00 PM
: Tuesday to Sunday 10:00 AM - 1:00 PM
: Tuesday to Sunday 10:00 AM - 1:00 PM
: Tuesday to Sunday 10:00 AM - 1:00 PM
: Tuesday to Sunday 10:00 AM - 1:00 PM
: Tuesday to Sunday 10:00 AM - 1:00 PM
: Tuesday to Sunday 10:00 AM - 1:00 PM
: Tuesday to Sunday 10:00 AM - 1:00 PM
: Tuesday to Sunday 10:00 AM - 1:00 PM
: Tuesday to Sunday 10:00 AM - 1:00 PM

: Tuesday to Sunday 10:00 AM - 1:30 PM
: Tuesday to Sunday 10:00 AM - 1:30 PM
: Tuesday to Sunday 10:00 AM - 1:30 PM
: Tuesday to Sunday 10:00 AM - 1:30 PM
: Tuesday to Sunday 10:00 AM - 1:30 PM
: Tuesday to Sunday 10:00 AM - 1:30 PM
: Tuesday to Sunday 10:00 AM - 1:30 PM
: Tuesday to Sunday 10:00 AM - 1:30 PM
: Tuesday to Sunday 10:00 AM - 1:30 PM
: Tuesday to Sunday 10:00 AM - 1:30 PM
: Tuesday to Sunday 10:00 AM - 1:30 PM
: Tuesday to Sunday 10:00 AM - 1:30 PM

: Everyday 3:00 PM - 4:00 PM
: Everyday 3:00 PM - 4:00 PM
: Everyday 3:00 PM - 4:00 PM
: Everyday 3:00 PM - 4:00 PM
: Everyday 3:00 PM - 4:00 PM
: Everyday 3:00 PM - 4:00 PM
: Everyday 3:00 PM - 4:00 PM
: Everyday 3:00 PM - 4:00 PM
: Everyday 3:00 PM - 4:00 PM
: Everyday 3:00 PM - 4:00 PM
: Everyday 3:00 PM - 4:00 PM
: Everyday 3:00 PM - 4:00 PM

: Everyday 4:00 PM - 6:30 PM
: Everyday 4:00 PM - 6:30 PM
: Everyday 4:00 PM - 6:30 PM
: Everyday 4:00 PM - 6:30 PM
: Everyday 4:00 PM - 6:30 PM
: Everyday 4:00 PM - 6:30 PM
: Everyday 4:00 PM - 6:30 PM
: Everyday 4:00 PM - 6:30 PM
: Everyday 4:00 PM - 6:30 PM
: Everyday 4:00 PM - 6:30 PM
: Everyday 4:00 PM - 6:30 PM
: Everyday 4:00 PM - 6:30 PM

: Tuesday to Sunday 5:30 PM - 7:00 PM
: Tuesday to Sunday 5:30 PM - 7:00 PM
: Tuesday to Sunday 5:30 PM - 7:00 PM
: Tuesday to Sunday 5:30 PM - 7:00 PM
: Tuesday to Sunday 5:30 PM - 7:00 PM
: Tuesday to Sunday 5:30 PM - 7:00 PM
: Tuesday to Sunday 5:30 PM - 7:00 PM
: Tuesday to Sunday 5:30 PM - 7:00 PM
: Tuesday to Sunday 5:30 PM - 7:00 PM
: Tuesday to Sunday 5:30 PM - 7:00 PM
: Tuesday to Sunday 5:30 PM - 7:00 PM
: Tuesday to Sunday 5:30 PM - 7:00 PM

: Everyday 11:30 AM - 1:30 PM
: Everyday 11:30 AM - 1:30 PM
: Everyday 11:30 AM - 1:30 PM
: Everyday 11:30 AM - 1:30 PM
: Everyday 11:30 AM - 1:30 PM
: Everyday 11:30 AM - 1:30 PM
: Everyday 11:30 AM - 1:30 PM
: Everyday 11:30 AM - 1:30 PM
: Everyday 11:30 AM - 1:30 PM
: Everyday 11:30 AM - 1:30 PM
: Everyday 11:30 AM - 1:30 PM
: Everyday 11:30 AM - 1:30 PM

: Tuesday to Saturday 9:30 AM - 8:00 PM; Sunday 9:30 AM - 3:00 PM
: Tuesday to Saturday 9:30 AM - 8:00 PM; Sunday 9:30 AM - 3:00 PM
: Tuesday to Saturday 9:30 AM - 8:00 PM; Sunday 9:30 AM - 3:00 PM
: Tuesday to Saturday 9:30 AM - 8:00 PM; Sunday 9:30 AM - 3:00 PM
: Tuesday to Saturday 9:30 AM - 8:00 PM; Sunday 9:30 AM - 3:00 PM
: Tuesday to Saturday 9:30 AM - 8:00 PM; Sunday 9:30 AM - 3:00 PM
: Tuesday to Saturday 9:30 AM - 8:00 PM; Sunday 9:30 AM - 3:00 PM
: Tuesday to Saturday 9:30 AM - 8:00 PM; Sunday 9:30 AM - 3:00 PM
: Tuesday to Saturday 9:30 AM - 8:00 PM; Sunday 9:30 AM - 3:00 PM
: Tuesday to Saturday 9:30 AM - 8:00 PM; Sunday 9:30 AM - 3:00 PM
: Tuesday to Saturday 9:30 AM - 8:00 PM; Sunday 9:30 AM - 3:00 PM
: Tuesday to Saturday 9:30 AM - 8:00 PM; Sunday 9:30 AM - 3:00 PM