Best Time To Visit Sarasota
Explore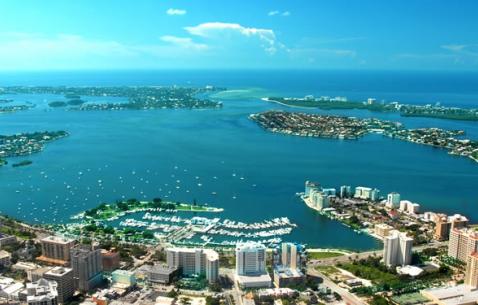 Accommodations with

See All
Best Time To Go To Sarasota
Sarasota weather is comparatively warmer than the rest of US and it witnesses humid and subtropical climate. Summers here are extremely hot, humid and sometimes too uncomfortable. Autumns are short but warm. Winters are also warm and dry. You will find comparatively cooler weather only for a couple of days here that is an outcome of the arctic blasts.
Summers experience thunderstorms almost every alternative day and the city is extremely vulnerable to hurricanes or such tropical storms. All in all, the city is hot the whole year round. The TripHobo Sarasota travel guide recommends autumn and winter as the best times to visit.
Explore the best travel planner for your visit to Sarasota and create a flawless plan in few simple steps!
Best time to go to Sarasota Attractions

: Everyday 11:00 AM - 2:00 PM
: Everyday 11:00 AM - 2:00 PM
: Everyday 11:00 AM - 2:00 PM
: Everyday 11:00 AM - 2:00 PM
: Everyday 11:00 AM - 2:00 PM
: Everyday 11:00 AM - 2:00 PM
: Everyday 11:00 AM - 2:00 PM
: Everyday 11:00 AM - 2:00 PM
: Everyday 11:00 AM - 2:00 PM
: Everyday 11:00 AM - 2:00 PM
: Everyday 11:00 AM - 2:00 PM
: Everyday 11:00 AM - 2:00 PM

: Everyday 11:00 AM - 3:00 PM
: Everyday 11:00 AM - 3:00 PM
: Everyday 11:00 AM - 3:00 PM
: Everyday 11:00 AM - 3:00 PM
: Everyday 11:00 AM - 3:00 PM
: Everyday 11:00 AM - 3:00 PM
: Everyday 11:00 AM - 3:00 PM
: Everyday 11:00 AM - 3:00 PM
: Everyday 11:00 AM - 3:00 PM
: Everyday 11:00 AM - 3:00 PM
: Everyday 11:00 AM - 3:00 PM
: Everyday 11:00 AM - 3:00 PM

: Everyday 9:00 AM - 2:00 PM
: Everyday 9:00 AM - 2:00 PM
: Everyday 9:00 AM - 2:00 PM
: Everyday 9:00 AM - 2:00 PM
: Everyday 9:00 AM - 2:00 PM
: Everyday 9:00 AM - 2:00 PM
: Everyday 9:00 AM - 2:00 PM
: Everyday 9:00 AM - 2:00 PM
: Everyday 9:00 AM - 2:00 PM
: Everyday 9:00 AM - 2:00 PM
: Everyday 9:00 AM - 2:00 PM
: Everyday 9:00 AM - 2:00 PM

: Everyday 11:00 AM - 2:00 PM
: Everyday 11:00 AM - 2:00 PM
: Everyday 11:00 AM - 2:00 PM
: Everyday 11:00 AM - 2:00 PM
: Everyday 11:00 AM - 2:00 PM
: Everyday 11:00 AM - 2:00 PM
: Everyday 11:00 AM - 2:00 PM
: Everyday 11:00 AM - 2:00 PM
: Everyday 11:00 AM - 2:00 PM
: Everyday 11:00 AM - 2:00 PM
: Everyday 11:00 AM - 2:00 PM
: Everyday 11:00 AM - 2:00 PM

: Everyday 11:00 AM - 2:00 PM
: Everyday 11:00 AM - 2:00 PM
: Everyday 11:00 AM - 2:00 PM
: Everyday 11:00 AM - 2:00 PM
: Everyday 11:00 AM - 2:00 PM
: Everyday 11:00 AM - 2:00 PM
: Everyday 11:00 AM - 2:00 PM
: Everyday 11:00 AM - 2:00 PM
: Everyday 11:00 AM - 2:00 PM
: Everyday 11:00 AM - 2:00 PM
: Everyday 11:00 AM - 2:00 PM
: Everyday 11:00 AM - 2:00 PM

: Everyday 11:00 AM - 2:00 PM
: Everyday 11:00 AM - 2:00 PM
: Everyday 11:00 AM - 2:00 PM
: Everyday 11:00 AM - 2:00 PM
: Everyday 11:00 AM - 2:00 PM
: Everyday 11:00 AM - 2:00 PM
: Everyday 11:00 AM - 2:00 PM
: Everyday 11:00 AM - 2:00 PM
: Everyday 11:00 AM - 2:00 PM
: Everyday 11:00 AM - 2:00 PM
: Everyday 11:00 AM - 2:00 PM
: Everyday 11:00 AM - 2:00 PM

: Wednesday to Sunday 1:00 PM - 3:00 PM
: Wednesday to Sunday 1:00 PM - 3:00 PM
: Wednesday to Sunday 1:00 PM - 3:00 PM
: Wednesday to Sunday 1:00 PM - 3:00 PM
: Wednesday to Sunday 1:00 PM - 3:00 PM
: Wednesday to Sunday 1:00 PM - 3:00 PM
: Wednesday to Sunday 1:00 PM - 3:00 PM
: Wednesday to Sunday 1:00 PM - 3:00 PM
: Wednesday to Sunday 1:00 PM - 3:00 PM
: Wednesday to Sunday 1:00 PM - 3:00 PM
: Wednesday to Sunday 1:00 PM - 3:00 PM
: Wednesday to Sunday 1:00 PM - 3:00 PM

: Everyday 7:00 AM - 5:00 PM
: Everyday 7:00 AM - 5:00 PM
: Everyday 7:00 AM - 5:00 PM
: Everyday 7:00 AM - 5:00 PM
: Everyday 7:00 AM - 5:00 PM
: Everyday 7:00 AM - 5:00 PM
: Everyday 7:00 AM - 5:00 PM
: Everyday 7:00 AM - 5:00 PM
: Everyday 7:00 AM - 5:00 PM
: Everyday 7:00 AM - 5:00 PM
: Everyday 7:00 AM - 5:00 PM
: Everyday 7:00 AM - 5:00 PM

: Monday to Friday 11:00 AM - 2:00 PM
: Monday to Friday 11:00 AM - 2:00 PM
: Monday to Friday 11:00 AM - 2:00 PM
: Monday to Friday 11:00 AM - 2:00 PM
: Monday to Friday 11:00 AM - 2:00 PM
: Monday to Friday 11:00 AM - 2:00 PM
: Monday to Friday 11:00 AM - 2:00 PM
: Monday to Friday 11:00 AM - 2:00 PM
: Monday to Friday 11:00 AM - 2:00 PM
: Monday to Friday 11:00 AM - 2:00 PM
: Monday to Friday 11:00 AM - 2:00 PM
: Monday to Friday 11:00 AM - 2:00 PM

: Everyday 11:00 AM - 3:00 PM
: Everyday 11:00 AM - 3:00 PM
: Everyday 11:00 AM - 3:00 PM
: Everyday 11:00 AM - 3:00 PM
: Everyday 11:00 AM - 3:00 PM
: Everyday 11:00 AM - 3:00 PM
: Everyday 11:00 AM - 3:00 PM
: Everyday 11:00 AM - 3:00 PM
: Everyday 11:00 AM - 3:00 PM
: Everyday 11:00 AM - 3:00 PM
: Everyday 11:00 AM - 3:00 PM
: Everyday 11:00 AM - 3:00 PM

: Everyday 10:00 AM - 4:00 PM
: Everyday 10:00 AM - 4:00 PM
: Everyday 10:00 AM - 4:00 PM
: Everyday 10:00 AM - 4:00 PM
: Everyday 10:00 AM - 4:00 PM
: Everyday 10:00 AM - 4:00 PM
: Everyday 10:00 AM - 4:00 PM
: Everyday 10:00 AM - 4:00 PM
: Everyday 10:00 AM - 4:00 PM
: Everyday 10:00 AM - 4:00 PM
: Everyday 10:00 AM - 4:00 PM
: Everyday 10:00 AM - 4:00 PM

: Everyday 11:00 AM - 2:00 PM
: Everyday 11:00 AM - 2:00 PM
: Everyday 11:00 AM - 2:00 PM
: Everyday 11:00 AM - 2:00 PM
: Everyday 11:00 AM - 2:00 PM
: Everyday 11:00 AM - 2:00 PM
: Everyday 11:00 AM - 2:00 PM
: Everyday 11:00 AM - 2:00 PM
: Everyday 11:00 AM - 2:00 PM
: Everyday 11:00 AM - 2:00 PM
: Everyday 11:00 AM - 2:00 PM
: Everyday 11:00 AM - 2:00 PM

: Everyday 11:00 AM - 11:59 PM
: Everyday 11:00 AM - 11:59 PM
: Everyday 11:00 AM - 11:59 PM
: Everyday 11:00 AM - 11:59 PM
: Everyday 11:00 AM - 11:59 PM
: Everyday 11:00 AM - 11:59 PM
: Everyday 11:00 AM - 11:59 PM
: Everyday 11:00 AM - 11:59 PM
: Everyday 11:00 AM - 11:59 PM
: Everyday 11:00 AM - 11:59 PM
: Everyday 11:00 AM - 11:59 PM
: Everyday 11:00 AM - 11:59 PM

: Thursday to Saturday 1:00 PM - 4:00 PM
: Thursday to Saturday 1:00 PM - 4:00 PM
: Thursday to Saturday 1:00 PM - 4:00 PM
: Thursday to Saturday 1:00 PM - 4:00 PM
: Thursday to Saturday 1:00 PM - 4:00 PM
: Thursday to Saturday 1:00 PM - 4:00 PM
: Thursday to Saturday 1:00 PM - 4:00 PM
: Thursday to Saturday 1:00 PM - 4:00 PM
: Thursday to Saturday 1:00 PM - 4:00 PM
: Thursday to Saturday 1:00 PM - 4:00 PM
: Thursday to Saturday 1:00 PM - 4:00 PM
: Thursday to Saturday 1:00 PM - 4:00 PM

: Tuesday to Saturday 8:00 PM - 10:00 PM; Sunday 2:00 PM - 4:00 PM
: Tuesday to Saturday 8:00 PM - 10:00 PM; Sunday 2:00 PM - 4:00 PM
: Tuesday to Saturday 8:00 PM - 10:00 PM; Sunday 2:00 PM - 4:00 PM
: Tuesday to Saturday 8:00 PM - 10:00 PM; Sunday 2:00 PM - 4:00 PM
: Tuesday to Saturday 8:00 PM - 10:00 PM; Sunday 2:00 PM - 4:00 PM
: Tuesday to Saturday 8:00 PM - 10:00 PM; Sunday 2:00 PM - 4:00 PM
: Tuesday to Saturday 8:00 PM - 10:00 PM; Sunday 2:00 PM - 4:00 PM
: Tuesday to Saturday 8:00 PM - 10:00 PM; Sunday 2:00 PM - 4:00 PM
: Tuesday to Saturday 8:00 PM - 10:00 PM; Sunday 2:00 PM - 4:00 PM
: Tuesday to Saturday 8:00 PM - 10:00 PM; Sunday 2:00 PM - 4:00 PM
: Tuesday to Saturday 8:00 PM - 10:00 PM; Sunday 2:00 PM - 4:00 PM
: Tuesday to Saturday 8:00 PM - 10:00 PM; Sunday 2:00 PM - 4:00 PM

: Monday to Friday 9:00 AM - 4:00 PM
: Monday to Friday 9:00 AM - 4:00 PM
: Monday to Friday 9:00 AM - 4:00 PM
: Monday to Friday 9:00 AM - 4:00 PM
: Monday to Friday 9:00 AM - 4:00 PM
: Monday to Friday 9:00 AM - 4:00 PM
: Monday to Friday 9:00 AM - 4:00 PM
: Monday to Friday 9:00 AM - 4:00 PM
: Monday to Friday 9:00 AM - 4:00 PM
: Monday to Friday 9:00 AM - 4:00 PM
: Monday to Friday 9:00 AM - 4:00 PM
: Monday to Friday 9:00 AM - 4:00 PM

: Everyday 9:00 AM - 5:00 PM
: Everyday 9:00 AM - 5:00 PM
: Everyday 9:00 AM - 5:00 PM
: Everyday 9:00 AM - 5:00 PM
: Everyday 9:00 AM - 5:00 PM
: Everyday 9:00 AM - 5:00 PM
: Everyday 9:00 AM - 5:00 PM
: Everyday 9:00 AM - 5:00 PM
: Everyday 9:00 AM - 5:00 PM
: Everyday 9:00 AM - 5:00 PM
: Everyday 9:00 AM - 5:00 PM
: Everyday 9:00 AM - 5:00 PM

: Monday to Saturday 7:30 AM - 2:30 PM; Sunday 8:00 AM - 2:30 PM
: Monday to Saturday 7:30 AM - 2:30 PM; Sunday 8:00 AM - 2:30 PM
: Monday to Saturday 7:30 AM - 2:30 PM; Sunday 8:00 AM - 2:30 PM
: Monday to Saturday 7:30 AM - 2:30 PM; Sunday 8:00 AM - 2:30 PM
: Monday to Saturday 7:30 AM - 2:30 PM; Sunday 8:00 AM - 2:30 PM
: Monday to Saturday 7:30 AM - 2:30 PM; Sunday 8:00 AM - 2:30 PM
: Monday to Saturday 7:30 AM - 2:30 PM; Sunday 8:00 AM - 2:30 PM
: Monday to Saturday 7:30 AM - 2:30 PM; Sunday 8:00 AM - 2:30 PM
: Monday to Saturday 7:30 AM - 2:30 PM; Sunday 8:00 AM - 2:30 PM
: Monday to Saturday 7:30 AM - 2:30 PM; Sunday 8:00 AM - 2:30 PM
: Monday to Saturday 7:30 AM - 2:30 PM; Sunday 8:00 AM - 2:30 PM
: Monday to Saturday 7:30 AM - 2:30 PM; Sunday 8:00 AM - 2:30 PM

: Monday to Thursday 11:00 AM - 11:59 PM; Friday, Saturday 00:1 AM - 2:00 AM; Friday, Saturday 00:1 AM - 2:00 AM | 11:00 AM - 11:59 PM; Sunday 9:00 AM - 11:59 PM
: Monday to Thursday 11:00 AM - 11:59 PM; Friday, Saturday 00:1 AM - 2:00 AM; Friday, Saturday 00:1 AM - 2:00 AM | 11:00 AM - 11:59 PM; Sunday 9:00 AM - 11:59 PM
: Monday to Thursday 11:00 AM - 11:59 PM; Friday, Saturday 00:1 AM - 2:00 AM; Friday, Saturday 00:1 AM - 2:00 AM | 11:00 AM - 11:59 PM; Sunday 9:00 AM - 11:59 PM
: Monday to Thursday 11:00 AM - 11:59 PM; Friday, Saturday 00:1 AM - 2:00 AM; Friday, Saturday 00:1 AM - 2:00 AM | 11:00 AM - 11:59 PM; Sunday 9:00 AM - 11:59 PM
: Monday to Thursday 11:00 AM - 11:59 PM; Friday, Saturday 00:1 AM - 2:00 AM; Friday, Saturday 00:1 AM - 2:00 AM | 11:00 AM - 11:59 PM; Sunday 9:00 AM - 11:59 PM
: Monday to Thursday 11:00 AM - 11:59 PM; Friday, Saturday 00:1 AM - 2:00 AM; Friday, Saturday 00:1 AM - 2:00 AM | 11:00 AM - 11:59 PM; Sunday 9:00 AM - 11:59 PM
: Monday to Thursday 11:00 AM - 11:59 PM; Friday, Saturday 00:1 AM - 2:00 AM; Friday, Saturday 00:1 AM - 2:00 AM | 11:00 AM - 11:59 PM; Sunday 9:00 AM - 11:59 PM
: Monday to Thursday 11:00 AM - 11:59 PM; Friday, Saturday 00:1 AM - 2:00 AM; Friday, Saturday 00:1 AM - 2:00 AM | 11:00 AM - 11:59 PM; Sunday 9:00 AM - 11:59 PM
: Monday to Thursday 11:00 AM - 11:59 PM; Friday, Saturday 00:1 AM - 2:00 AM; Friday, Saturday 00:1 AM - 2:00 AM | 11:00 AM - 11:59 PM; Sunday 9:00 AM - 11:59 PM
: Monday to Thursday 11:00 AM - 11:59 PM; Friday, Saturday 00:1 AM - 2:00 AM; Friday, Saturday 00:1 AM - 2:00 AM | 11:00 AM - 11:59 PM; Sunday 9:00 AM - 11:59 PM
: Monday to Thursday 11:00 AM - 11:59 PM; Friday, Saturday 00:1 AM - 2:00 AM; Friday, Saturday 00:1 AM - 2:00 AM | 11:00 AM - 11:59 PM; Sunday 9:00 AM - 11:59 PM
: Monday to Thursday 11:00 AM - 11:59 PM; Friday, Saturday 00:1 AM - 2:00 AM; Friday, Saturday 00:1 AM - 2:00 AM | 11:00 AM - 11:59 PM; Sunday 9:00 AM - 11:59 PM

: Everyday 24 Hrs
: Everyday 24 Hrs
: Everyday 24 Hrs
: Everyday 24 Hrs
: Everyday 24 Hrs
: Everyday 24 Hrs
: Everyday 24 Hrs
: Everyday 24 Hrs
: Everyday 24 Hrs
: Everyday 24 Hrs
: Everyday 24 Hrs
: Everyday 24 Hrs

: Monday to Thursday 11:00 AM - 10:00 PM; Friday, Saturday 11:00 AM - 11:59 PM; Sunday 11:00 AM - 9:00 PM
: Monday to Thursday 11:00 AM - 10:00 PM; Friday, Saturday 11:00 AM - 11:59 PM; Sunday 11:00 AM - 9:00 PM
: Monday to Thursday 11:00 AM - 10:00 PM; Friday, Saturday 11:00 AM - 11:59 PM; Sunday 11:00 AM - 9:00 PM
: Monday to Thursday 11:00 AM - 10:00 PM; Friday, Saturday 11:00 AM - 11:59 PM; Sunday 11:00 AM - 9:00 PM
: Monday to Thursday 11:00 AM - 10:00 PM; Friday, Saturday 11:00 AM - 11:59 PM; Sunday 11:00 AM - 9:00 PM
: Monday to Thursday 11:00 AM - 10:00 PM; Friday, Saturday 11:00 AM - 11:59 PM; Sunday 11:00 AM - 9:00 PM
: Monday to Thursday 11:00 AM - 10:00 PM; Friday, Saturday 11:00 AM - 11:59 PM; Sunday 11:00 AM - 9:00 PM
: Monday to Thursday 11:00 AM - 10:00 PM; Friday, Saturday 11:00 AM - 11:59 PM; Sunday 11:00 AM - 9:00 PM
: Monday to Thursday 11:00 AM - 10:00 PM; Friday, Saturday 11:00 AM - 11:59 PM; Sunday 11:00 AM - 9:00 PM
: Monday to Thursday 11:00 AM - 10:00 PM; Friday, Saturday 11:00 AM - 11:59 PM; Sunday 11:00 AM - 9:00 PM
: Monday to Thursday 11:00 AM - 10:00 PM; Friday, Saturday 11:00 AM - 11:59 PM; Sunday 11:00 AM - 9:00 PM
: Monday to Thursday 11:00 AM - 10:00 PM; Friday, Saturday 11:00 AM - 11:59 PM; Sunday 11:00 AM - 9:00 PM