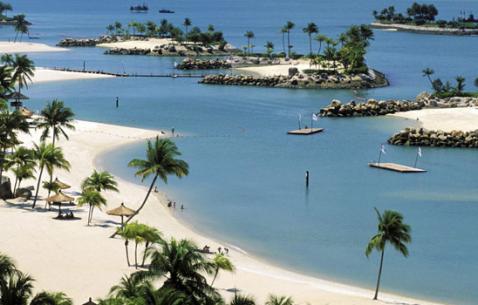 The Best Things To Do in Sentosa
Sentosa in Singapore is an island resort which also happens to be one of the most visited destinations in the country. About twenty million people visit Sentosa, every year. Thanks to the plentiful of sites to visit and incredible things to do. Before planning your trip to Sentosa, go through some of the must do things in Sentosa. Here's an exhaustive list of some top things to in Sentosa which can entertain adults and kids alike.
Experience the extravagance of filmmaking by visiting the ever so popular Universal Studios. Enjoy the breathtaking sea creatures by visiting the Sea Aquarium or a swim at the Adventure Cove Waterpark. Click photos at the landmark that Sentosa Merlion is or just take a walk along the Siloso beach. Other major attractions also include Tiger Sky Tower, Palawan Beach and Fort Siloso.
Best Things to do in Sentosa
The little island of Sentosa lies on the southern coast of Singapore and a popular weekend getaway for many Singaporeans and tourists alike. Formerly known as Pulau Belakang Mati, the little island stands as a reminder of many unsuccessful British activities that took place here decades ago. Despite being all that, the place still retains its charm and popularity among people who often come here for a peaceful natural retreat. There are plentiful of things to do in Sentosa Island, many of which derives from its beautiful beaches, exotic nightlife and myriad attractions. From theme parks to beaches, aquarium and what not! there is no dearth of things to explore and experience. Not to forget the cool beach bars (the place has many of them!). You can easily plan two days Sentosa island package and have loads of fun here!
The place has plenty of attractions that you must give a visit at least once during your trip. Start by visiting the most popular ones like Tiger Sky Tower, Fort Siloso, and Songs of the Sea. There are various theme parks in the island as well with the prominent one being Universal Studios Singapore. Fun, entertaining and replete with lots of rides, you can easily come here to have a great time amidst its myriad rides and fun zones. Other than that, you can go to its numerous golf clubs to play a game. Have a nice meal in the Garden restaurant or bet your luck in Crockfords Tower's casino which is among the most entertaining places here. If you are visiting with kids, you can always go to the S.E.A Aquarium and let them has a close interaction with the marine life.
Things to do in Sentosa for Adults
Thanks to it being home to great activities, the island sees plenty of tourists every year. You can always come here and expect something new to discover. From beach activities to adventurous pursuits, Sentosa island makes up for a delightful endeavour! Go to the Universal Studios and check out everything it has to offer. There are shops for shopaholics, there are restaurants for foodies, and there are rides for fun lovers. The adventure cove waterpark is another attraction that will beguile you for a fun time. If a natural retreat is what you are looking for, you can always head to Siloso Beach which bustles as a gem in Sentosa. If nothing seems to suit your taste, pick up your bags and set on for a detour in the city that will lead you to meet many tourists and check out its foods and culture up and close. Delve into spirituality for a while in Voyage de la Vie. Don't get us wrong, it is not a temple rather it is a theatre that provides you with some deep insights on larger than life matters.
Things to do in Sentosa for kids
If you thought that the island is all about kids, then you are in for a huge surprise there! There are plenty lots to do for kids here as well. Take your kids to ride the popular Sentosa island cable car and spend some time together. The beautiful vistas of the surrounding only complement the ride and make it more enjoyable. Another one of the popular places is Butterfly Park and the Insect Kingdom. The place is literally a guide to insect life and your children will have loads of fun exploring the different aspects of them. It will not only satiate their curiosity but also help them improvise their knowledge. After that, you can go for a nice Sentosa Boardwalk have a leisurely stroll there. For more adventurous types, there are Skyline Luge Sentosa that will bring out the inner adventure of yours. If nothing else, a tour through Trick Eye Museum Singapore will keep your children engaged and entertained.
Things to do in Sentosa for free
There are various things to do in Sentosa island for free that you will love to explore! Walk through the carved lane of Sentosa boardwalk and enjoy the vivid scenery of various landscape there. The place is not only a feast to the eye but to you inner foodie as well giving the number of restaurants and wine shops it has and they are cheap too! Rest assured to be pretty satisfied by the time you leave here. Go to Animal & Birds Encounter and interact with wildlife there. If you have children it is better! Check out the Orchid collection in Orchid Connection and admire their beauty for a while. There are some other places like Fort Siloso Skywalk and Sentosa Nature Discovery which are also free and a must visit in Sentosa.
Things to do in Sentosa at night
There are various Sentosa point of interest to look out for and see. You can always go to Sentosa Merlion to have a nice view. The building often lighted up in the night attracts lots of attention of folks who come here for a quiet time. You can also go to the Tiger Sky Tower in the end which resides in Singapore and is a prominent place of attraction. You can also go for Jewel Cable Car Ride which remains open from 8 to 10 in the nights and is said to be a calming experience. If nothing, activities like Sentosa 4D Magix, Sentosa CineBlast and Skyline Luge Sentosa will keep you entertained for the rest.
Explore the travel planning tool for your visit to Sentosa and create a flawless plan in few simple steps!
34 Tourist Attractions in Sentosa

Must see places in Sentosa ranked on popularity. Here is the complete list of best attractions in Sentosa and point of interests to visit.
Tourist Attractions Near Sentosa
Find Your Sentosa Attractions on Map
Types of Things To Do in Sentosa
Find more attractions and places to visit in Sentosa under these things to do categories.
Top Sentosa Activities And Tours
Explore the best things to do in Sentosa. These are the most preferred tourist activities.
What To Do in Sentosa: Day-Wise Ideas
Find what not to miss in Sentosa! Recommended Sentosa itineraries and vacation ideas created by travelers across the world.