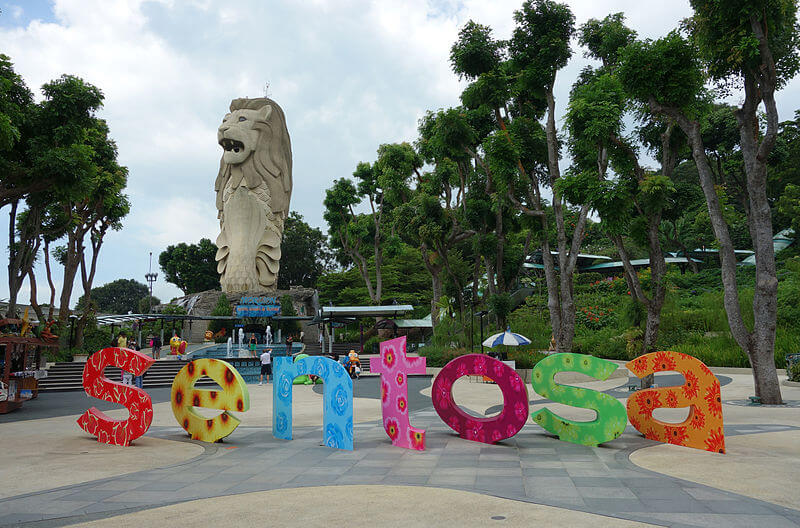 Image Source:wikipedia.org
Sentosa means "peace and tranquility" in Malay language and it was derived from a Sanskrit word Santosha which means satisfaction. This energetic resort is perfectly suitable for the purpose of vacations as well as for business purposes.
Sentosa is a perfect destination for the travelers who are searching for peace of mind while taking pleasure in fun-filled activities. It is a very popular world class island resort in Singapore and nearly twenty million visitors come here every year to rejuvenate their senses and refresh their minds. The main attractions include Resorts World Singapore featuring a theme park, Universal Studios, a 2-km long sheltered beach, two golf courses, 14 hotels, Fort Siloso and many other places of interest in Sentosa.
Here's the list of tourist attractions and 15 best things to do inSentosa:
1. Have fun in Adventure Cove Waterpark

Image Source: wikimedia.org
This is a water park where you can not only have a ride on the exciting high-speed slides and roller coasters but also spend some time in a lazy river. Have fun with your family in the main swimming pool or get a lifetime experience of meeting 20,000 aquatic animals under the colorful Rainbow Reef.
The Adventure Cove Park takes fun to completely next level as on one hand, you get to roll about in thrilling activities and on the other, it offers leisure along with a visual treat.
2. Enjoy the view from Tiger Sky Tower

Image Source: wikimedia.org
This is the tallest stand-alone observatory of Singapore where tourists can relax and relish the panoramic view of Sentosa as well as Southern Islands of Singapore. If the weather is clear, they can also enjoy the scenic beauty of neighboring Malaysia and Indonesia.
Visitors need to sit and relax in the air-conditioned cabin which will take them to a height of 131 meters that is almost equal to the height of 50 storeys. As the cabin goes up, the running commentary imparts knowledge to travelers about the history of Sentosa and popular landmarks of Singapore.
3. Universal Studios is a dream place

Image Source: wikimedia.org
Even though it started functioning in 2010 only, it can undoubtedly be called one of the main attractions as it has seven themed sections along with numerous rides and shows which are based on cities and super hit movies, such as The Lost World, Madagascar, etc. Its popularity rose further in 2017 when it won the title of the Best Amusement Park in Asia.
There are sections which are based on New York, Hollywood, Sci-fi city and Ancient Egypt and the environment in each section gives a feeling to the person that he/she is actually in these cities and not in any Asian country. This is a must visit place as it has a lot to offer everyone regardless of age.
4. Discover exotic marine life at S.E.A Aquarium

Image Source: pixabay.com
If you are tired of looking at fish in the tiny aquariums, you must head to S.E.A Aquarium where you can see more than 1,00,000 aquatic creatures of over 1000 species. If you are willing to take this experience one level up, you just need to visit the rock pool and touch some really wonderful and unique animals.
5. Meet celebs at Madame Tussauds Singapore

Image Source: wikimedia.org
Want to meet celebs from politics, Hollywood, Bollywood, sports, etc. and take a selfie with them? If so, Madame Tussauds Singapore is the place to go, as here you can find many celebrities smiling and waving at you. Yes, we know that the museum has statues of celebrities made of wax but they do look like the real ones a lot and you are not going to find so many celebs at one place. Statues of some very famous personalities such as Queen Elizabeth II, Barack Obama, Cristiano Ronaldo, Sachin Tendulkar, Shah Rukh Khan and former Prime Minister of Singapore Lee Kuan Yew can be seen here.
6. Get tricked at Trick Eye Museum Singapore
As the name suggests, this is a not a simple museum because with the augmented reality features, the paintings and art installations are brought to life. Be ready to thrill all your five senses as you enter the Trick Eye's World of 4D; here you can see 90 pieces of artwork which are specially designed for Singapore.
7. Bask in nature at Butterfly Park & Insect Kingdom
A heaven for the nature lovers, this kingdom makes everyone feel that they are sitting in the lap of nature. There are many varieties of beautiful butterflies and insects and anyone who enters this Butterfly Park & Insect Kingdom doesn't want to go out.
8. Exhilarating adventure starts at Mega Adventure Park
It's the best place for adrenaline junkies as this park offers the 450m steepest zip wire of South East Asia and it is called MegaZip. In this, the person flies at the speed of 60 km/h above the jungle and beaches of Sentosa. Other than MegaZip, there are other three activities for those who love adventure; they are MegaWall, MegaJump and Mega Climb.
9. Thrill yourself at Sentosa 4D AdventureLand
The 4D motion-simulated virtual roller coaster gives a ride which makes a person feel as if he/she is actually going up the mountain or jumping into the river. In simple words, it is a must visit for all those who are afraid of taking a ride in a roller coaster because here they can have fun without fear. Tourists can also play an interactive game Desperados and shoot the villain and all his bad boys or take a journey to the center of the Earth in Journey 2.
10. Meet the guardian of Singapore, Sentosa Merlion
The 37-metre tall Merlion guards the happiness and prosperity of Singapore. The history of Singapore as a port city is exemplified by Merlion which is a half lion half fish mythical creature. The lion in this figure depicts the folktale which tells about the rediscovery of lion (singa) by Prince Sang NilaUtama while the fish tail stands for Temasek, the ancient fishing village, and it means "sea" in Javanese.
The legendary Merlion has been protecting the city for several years now and it is being said that he visits Sentosa Island every year to protect the prosperity of Singapore. It is also being said that once on a dark night, a fierce storm attacked the island but Merlion fought and with the help of its magical powers, it saved the island. There are other six statues around Singapore as well which are guarding the city.
11. Get mesmerized by Crane Dance
You just can't miss this beautiful magical story of two cranes and how they get transformed into two real birds. The story is presented with the help of superb music and water effects along with the visual effects which make this experience for every visitor a mesmerizing one.
12. Explore the past at Maritime Experiential Museum
Revisit the glorious past of maritime silk route and get engrossed in 15 themed galleries which will not only tell you about the adventure of sea travelers but also make you acquaint with the exciting and dangerous lives of pirates.
13. Soak yourself up with iconic beaches
The beaches at Sentosa have a lot to offer to travelers as the Siloso Beach is the best for having a great time in summers with plenty of options for water sports during the day time while in the night, you can enjoy drinks at the party. Palawan Beach is suited best for families as it has a Palawan Pirate Ship water play park where people can make the most of their trip. It also offers great opportunities for clicking some really amazing photos, thanks to the iconic suspension bridge which joins Palawan Beach with the Southernmost Point of Continental Asia. On the other hand, Tanjong beach gives a chance to peace lovers where they can sit silently and have a drink or read a book as it is on one end of the island.
14. Sentosa is a culinary paradise
A dent can be made in your pocket if you dine at Sentosa but still there are many options available for travelers as they can choose from budget restaurants to seriously fine dining eateries. They can enjoy seafood while enjoying the panoramic views or have exotic meals at the beachside. If Greek food is your cup of tea, Mykonos on the Bay is the best option. For a unique lifetime experience of having meals in a setting surrounded by aquatic life, get seated in the heart of S.E.A. Aquarium in the Ocean Restaurant by Cat Cora.
15. Unleash the shopper inside you
Shopping is an integral part of a trip and how can Sentosa Island, which provides a plethora of choices when it comes to bars and dining places, remain behind in offering shopping opportunities to its visitors.
Head to Resorts World Sentosa that has its own shopping mall where you can find not only the big brands of the world but also some local players which make it a perfect place to shop for people of various tastes and budgets. A visit to Harbour Front Centre is also just as it offers a wide range of options in fashion, electronic goods, sporting equipments, restaurants and more.
Singapore boasts of some really great shopping malls and Vivo City has to be included in them. It is situated on the Harbour Front and is an ideal place for shopping and entertainment as it is home to the largest cinema of Singapore, the biggest toy store, a wade pool and an amphitheater.