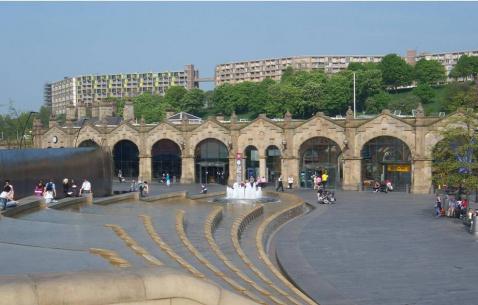 Would you like to be transported into a green, grassy version of Victorian-era England? Or grab a taste of what it was like to live during the crusty, dusty age of Industrialization? Maybe travel up and down flower filled nature trails, with the wind tickling your neck and afterwards, reward yourself with the ethereal sounds of an angelic, invisible choir? If these experiences sound are appealing to your mind, then the small town of Sheffield, in Yorkshire, is the perfect get away for you. Filled to the brim with nature trails, gorgeous parks, fascinating museums and many other beautiful sights to see, you'll find Sheffield thrilling as well as tranquil, modern as well as pleasantly old fashioned and all in all, a small city hugely important in history.
A Sheffield travel guide will mention that land upon which Sheffield stands today has been occupied since prehistoric times, with an enterprising tribe, known as the Brigantes, having constructed several hill forts in and around the city land. This is most fitting as Sheffield is known all over the world for its industrial endeavors throughout history. Romans, Celtic people, Anglian settlers and settlers of Anglo-Saxon and Danish origins have all inhabited this lusciously green patch of land. By 1296, Sheffield was well established and became famous as a market-town, already well known for its knives and cutlery.
The city's sturdy steel creations slowly led to a reputation as an industrious town and the city of Sheffield prospered when suddenly, calamity hit! Losses of export markets, a terrible recession and an even worse cholera epidemic struck this down but luckily, the population was able to slowly overcome these challenges and by 1893, the town was granted a city charter. The city sturdily developed with factories and industries sprouting, but these resulted in smog, pollution and cramped dwellings.
The famous George Orwell once wrote "Sheffield, I suppose, could justly claim to be called the ugliest town in the Old World". Thankfully, this is no longer the case. During the Second World War, Sheffield was ravaged by bombs in a truly horrendous incident which was later labeled the 'Sheffield Blitz', in which nearly 600 souls perished and many buildings in the city were burned down. Today, a restoration project known as the 'Heart of the City' has been employed and turned this hard working city into a vision of beauty.
Sheffield has always been relevant, with its accomplishments in steel and metal work regarded all over the world. It's marvelous cutlery was mentioned in Charles Chaucer's famous 'The Canterbury Tales', it became the second most important producer of cutlery in all of England and Mary, Queen of Scots, was imprisoned here. In the 1740's, the town became home to a form of crucible steel processing which resulted in high quality steel which ultimately gave birth to a unique form of silver plating known as 'Sheffield Plate'. During the Second World War, this city is where weapons and ammunition was manufactured for the British forces. During 1991, the city played host to the World Student Games and built numerous now famous sporting facilities.
Sheffield is also one of the greenest cities in the UK, rich with natural flora and fauna. This is obvious when one considers the great number of parks and nature trails the city is home to, making it an important preservation site for British plant and animal life. The city is home to a natural amphitheatre, created by several hills! Five rivers meet in this city, and they provide the lifeline to over two million trees! For a city that's just 367.9 km square in size, that's a huge concentration of living beings! The trees, the animals and, of course, the people in Sheffield have transformed this industrial area into a giant, throbbing area land full of life.
Today, visitors from all over the world flock to this city; there's no lack of places to visit in Sheffield. Besides having a rich historically and beautiful natural scenery, the city is home to a large population of students, because of whom, the city maintains a diverse as well as thriving night life. On the other hand, Sheffield sightseeing is filled with museums and parks, which provide brilliant experiences for children and families. Fancy getting close to nature? Places to visit in Sheffield include natural delights too, such as The Sheffield, Tinsley Canal Trail and Rivelin Valley Nature Trail are sure to get you walking amongst sweet little furry critters while surrounded by emerald trees. Bejeweled butterflies and fine feathered fowls await you in the Butterfly House, as well as numerous parks filled with laughing children, relaxed parents and frolicking youngsters.
If you're a culture buff, then take a nice, big bite out of history in the Kelham Island Museum, the Abbeydale Industrial Hamlet and National Emergency Services Museum. One of the best things to do in Sheffield is to visit its gorgeous castle, which is sure to enthrall the romantic in you, with its stunning olden day architecture that seems straight out of a fairytale. If you feel like catching a musical, a play or a concert, the Motorpoint Arena, and the Lyceum Theatre are sure to provide you with a great array of choices.
Transportation is easily available since Sheffield is a small city and though most of the attraction lay in the outskirts, they're all easy to reach. Travel information is easily available on the internet as are hotel recommendations and bookings. Whether you're full of exuberant energy or desire some peace away from home, what to see in Sheffield isn't a question that will keep you wondering. Spending time in Sheffield is a fantastic experience, full of picturesque sights and picture worthy sites.
Essential travel information and Sheffield tips for your visit
Treat yourself to a picnic in any of the city's gorgeous gardens, parks or nature reserves.
Walk the river Porter. Start at Hunters Bar and leave buildings behind as you walk through Endcliffe and Bingham parks, Whitely Woods, Forge Dam, up to Ringinglow and beyond. From the hills above Hathersage you get a fine view back over the city.
Over the weekend there are 'unlimited' Supertram tickets £8 for the weekend/£3.70 for a day.
Sheffield Trip Planner
Plan your customized day by day trip plan for Sheffield. Choose from various experinces categories as adventure, romantic and family and kids friendly for your trip using using Sheffield trip planner.
The best tours and activities in the city, guided by experts to give you a local insight to the best of Sheffield