Best Time To Visit Shenzhen
Explore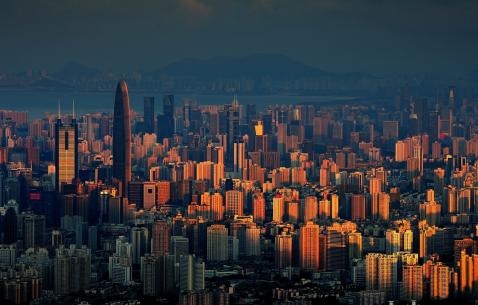 Best Time To Go To Shenzhen
Shenzhen has a mild subtropical climate. The weather is often mild with an abundance of sunshine and rainfall throughout the year.
Summer (April–October): Summer can be the hottest as well as the wettest season with temperature rising up to 35°C and more. The weather is often horrible with thunderstorms, floods and typhoons.
Winter (Mid-January–Early February): winter in Shenzhen lasts only about 27 days with temperatures around 10°C on an average.
Spring (February – April): There are high variations in weather during spring with hot days and cold nights.
Autumn (November–Early January): Autumns are generally dry and cool with temperatures normally around 20°C.
Shenzhen is a year-round destination for lot of tourists. But the best time to visit the city is between November and Early January.
Best time to go to Shenzhen Attractions

: Everyday 2:00 PM - 8:30 PM
: Everyday 2:00 PM - 8:30 PM
: Everyday 2:00 PM - 8:30 PM
: Everyday 2:00 PM - 8:30 PM
: Everyday 2:00 PM - 8:30 PM
: Everyday 2:00 PM - 8:30 PM
: Everyday 2:00 PM - 8:30 PM
: Everyday 2:00 PM - 8:30 PM
: Everyday 2:00 PM - 8:30 PM
: Everyday 2:00 PM - 8:30 PM
: Everyday 2:00 PM - 8:30 PM
: Everyday 2:00 PM - 8:30 PM

: Everyday 2:00 PM - 7:00 PM
: Everyday 2:00 PM - 7:00 PM
: Everyday 2:00 PM - 7:00 PM
: Everyday 2:00 PM - 7:00 PM
: Everyday 2:00 PM - 7:00 PM
: Everyday 2:00 PM - 7:00 PM
: Everyday 2:00 PM - 7:00 PM
: Everyday 2:00 PM - 7:00 PM
: Everyday 2:00 PM - 7:00 PM
: Everyday 2:00 PM - 7:00 PM
: Everyday 2:00 PM - 7:00 PM
: Everyday 2:00 PM - 7:00 PM

: Everyday 10:00 AM - 3:00 PM
: Everyday 10:00 AM - 3:00 PM
: Everyday 10:00 AM - 3:00 PM
: Everyday 10:00 AM - 3:00 PM
: Everyday 10:00 AM - 3:00 PM
: Everyday 10:00 AM - 3:00 PM
: Everyday 10:00 AM - 3:00 PM
: Everyday 10:00 AM - 3:00 PM
: Everyday 10:00 AM - 3:00 PM
: Everyday 10:00 AM - 3:00 PM
: Everyday 10:00 AM - 3:00 PM
: Everyday 10:00 AM - 3:00 PM

: Everyday 11:00 AM - 5:00 PM
: Everyday 11:00 AM - 5:00 PM
: Everyday 11:00 AM - 5:00 PM
: Everyday 11:00 AM - 5:00 PM
: Everyday 11:00 AM - 5:00 PM
: Everyday 11:00 AM - 5:00 PM
: Everyday 11:00 AM - 5:00 PM
: Everyday 11:00 AM - 5:00 PM
: Everyday 11:00 AM - 5:00 PM
: Everyday 11:00 AM - 5:00 PM
: Everyday 11:00 AM - 5:00 PM
: Everyday 11:00 AM - 5:00 PM

: Everyday 8:00 AM - 5:00 PM
: Everyday 8:00 AM - 5:00 PM
: Everyday 8:00 AM - 5:00 PM
: Everyday 8:00 AM - 5:00 PM
: Everyday 8:00 AM - 5:00 PM
: Everyday 8:00 AM - 5:00 PM
: Everyday 8:00 AM - 5:00 PM
: Everyday 8:00 AM - 5:00 PM
: Everyday 8:00 AM - 5:00 PM
: Everyday 8:00 AM - 5:00 PM
: Everyday 8:00 AM - 5:00 PM
: Everyday 8:00 AM - 5:00 PM

: Everyday 3:00 PM - 9:00 PM
: Everyday 3:00 PM - 9:00 PM
: Everyday 3:00 PM - 9:00 PM
: Everyday 3:00 PM - 9:00 PM
: Everyday 3:00 PM - 9:00 PM
: Everyday 3:00 PM - 9:00 PM
: Everyday 3:00 PM - 9:00 PM
: Everyday 3:00 PM - 9:00 PM
: Everyday 3:00 PM - 9:00 PM
: Everyday 3:00 PM - 9:00 PM
: Everyday 3:00 PM - 9:00 PM
: Everyday 3:00 PM - 9:00 PM

: Everyday 10:00 AM - 3:00 PM
: Everyday 10:00 AM - 3:00 PM
: Everyday 10:00 AM - 3:00 PM
: Everyday 10:00 AM - 3:00 PM
: Everyday 10:00 AM - 3:00 PM
: Everyday 10:00 AM - 3:00 PM
: Everyday 10:00 AM - 3:00 PM
: Everyday 10:00 AM - 3:00 PM
: Everyday 10:00 AM - 3:00 PM
: Everyday 10:00 AM - 3:00 PM
: Everyday 10:00 AM - 3:00 PM
: Everyday 10:00 AM - 3:00 PM

: Everyday 8:00 AM - 1:00 PM
: Everyday 8:00 AM - 1:00 PM
: Everyday 8:00 AM - 1:00 PM
: Everyday 8:00 AM - 1:00 PM
: Everyday 8:00 AM - 1:00 PM
: Everyday 8:00 AM - 1:00 PM
: Everyday 8:00 AM - 1:00 PM
: Everyday 8:00 AM - 1:00 PM
: Everyday 8:00 AM - 1:00 PM
: Everyday 8:00 AM - 1:00 PM
: Everyday 8:00 AM - 1:00 PM
: Everyday 8:00 AM - 1:00 PM

: Everyday 10:00 AM - 3:00 PM
: Everyday 10:00 AM - 3:00 PM
: Everyday 10:00 AM - 3:00 PM
: Everyday 10:00 AM - 3:00 PM
: Everyday 10:00 AM - 3:00 PM
: Everyday 10:00 AM - 3:00 PM
: Everyday 10:00 AM - 3:00 PM
: Everyday 10:00 AM - 3:00 PM
: Everyday 10:00 AM - 3:00 PM
: Everyday 10:00 AM - 3:00 PM
: Everyday 10:00 AM - 3:00 PM
: Everyday 10:00 AM - 3:00 PM

: Everyday 11:00 AM - 5:00 PM
: Everyday 11:00 AM - 5:00 PM
: Everyday 11:00 AM - 5:00 PM
: Everyday 11:00 AM - 5:00 PM
: Everyday 11:00 AM - 5:00 PM
: Everyday 11:00 AM - 5:00 PM
: Everyday 11:00 AM - 5:00 PM
: Everyday 11:00 AM - 5:00 PM
: Everyday 11:00 AM - 5:00 PM
: Everyday 11:00 AM - 5:00 PM
: Everyday 11:00 AM - 5:00 PM
: Everyday 11:00 AM - 5:00 PM

: Everyday 9:00 AM - 1:00 PM
: Everyday 9:00 AM - 1:00 PM
: Everyday 9:00 AM - 1:00 PM
: Everyday 9:00 AM - 1:00 PM
: Everyday 9:00 AM - 1:00 PM
: Everyday 9:00 AM - 1:00 PM
: Everyday 9:00 AM - 1:00 PM
: Everyday 9:00 AM - 1:00 PM
: Everyday 9:00 AM - 1:00 PM
: Everyday 9:00 AM - 1:00 PM
: Everyday 9:00 AM - 1:00 PM
: Everyday 9:00 AM - 1:00 PM

: Monday to Friday 10:00 AM - 11:30 AM
: Monday to Friday 10:00 AM - 11:30 AM
: Monday to Friday 10:00 AM - 11:30 AM
: Monday to Friday 10:00 AM - 11:30 AM
: Monday to Friday 10:00 AM - 11:30 AM
: Monday to Friday 10:00 AM - 11:30 AM
: Monday to Friday 10:00 AM - 11:30 AM
: Monday to Friday 10:00 AM - 11:30 AM
: Monday to Friday 10:00 AM - 11:30 AM
: Monday to Friday 10:00 AM - 11:30 AM
: Monday to Friday 10:00 AM - 11:30 AM
: Monday to Friday 10:00 AM - 11:30 AM

: Everyday 8:00 AM - 2:00 PM
: Everyday 8:00 AM - 2:00 PM
: Everyday 8:00 AM - 2:00 PM
: Everyday 8:00 AM - 2:00 PM
: Everyday 8:00 AM - 2:00 PM
: Everyday 8:00 AM - 2:00 PM
: Everyday 8:00 AM - 2:00 PM
: Everyday 8:00 AM - 2:00 PM
: Everyday 8:00 AM - 2:00 PM
: Everyday 8:00 AM - 2:00 PM
: Everyday 8:00 AM - 2:00 PM
: Everyday 8:00 AM - 2:00 PM

: Tuesday to Sunday 11:00 AM - 3:00 PM
: Tuesday to Sunday 11:00 AM - 3:00 PM
: Tuesday to Sunday 11:00 AM - 3:00 PM
: Tuesday to Sunday 11:00 AM - 3:00 PM
: Tuesday to Sunday 11:00 AM - 3:00 PM
: Tuesday to Sunday 11:00 AM - 3:00 PM
: Tuesday to Sunday 11:00 AM - 3:00 PM
: Tuesday to Sunday 11:00 AM - 3:00 PM
: Tuesday to Sunday 11:00 AM - 3:00 PM
: Tuesday to Sunday 11:00 AM - 3:00 PM
: Tuesday to Sunday 11:00 AM - 3:00 PM
: Tuesday to Sunday 11:00 AM - 3:00 PM

: Everyday 10:00 AM - 3:00 PM
: Everyday 10:00 AM - 3:00 PM
: Everyday 10:00 AM - 3:00 PM
: Everyday 10:00 AM - 3:00 PM
: Everyday 10:00 AM - 3:00 PM
: Everyday 10:00 AM - 3:00 PM
: Everyday 10:00 AM - 3:00 PM
: Everyday 10:00 AM - 3:00 PM
: Everyday 10:00 AM - 3:00 PM
: Everyday 10:00 AM - 3:00 PM
: Everyday 10:00 AM - 3:00 PM
: Everyday 10:00 AM - 3:00 PM

: Everyday 11:30 AM - 6:30 PM
: Everyday 11:30 AM - 6:30 PM
: Everyday 11:30 AM - 6:30 PM
: Everyday 11:30 AM - 6:30 PM
: Everyday 11:30 AM - 6:30 PM
: Everyday 11:30 AM - 6:30 PM
: Everyday 11:30 AM - 6:30 PM
: Everyday 11:30 AM - 6:30 PM
: Everyday 11:30 AM - 6:30 PM
: Everyday 11:30 AM - 6:30 PM
: Everyday 11:30 AM - 6:30 PM
: Everyday 11:30 AM - 6:30 PM

: Everyday 3:00 PM - 8:00 PM
: Everyday 3:00 PM - 8:00 PM
: Everyday 3:00 PM - 8:00 PM
: Everyday 3:00 PM - 8:00 PM
: Everyday 3:00 PM - 8:00 PM
: Everyday 3:00 PM - 8:00 PM
: Everyday 3:00 PM - 8:00 PM
: Everyday 3:00 PM - 8:00 PM
: Everyday 3:00 PM - 8:00 PM
: Everyday 3:00 PM - 8:00 PM
: Everyday 3:00 PM - 8:00 PM
: Everyday 3:00 PM - 8:00 PM

: Everyday 9:00 AM - 3:00 PM
: Everyday 9:00 AM - 3:00 PM
: Everyday 9:00 AM - 3:00 PM
: Everyday 9:00 AM - 3:00 PM
: Everyday 9:00 AM - 3:00 PM
: Everyday 9:00 AM - 3:00 PM
: Everyday 9:00 AM - 3:00 PM
: Everyday 9:00 AM - 3:00 PM
: Everyday 9:00 AM - 3:00 PM
: Everyday 9:00 AM - 3:00 PM
: Everyday 9:00 AM - 3:00 PM
: Everyday 9:00 AM - 3:00 PM

: Everyday 1:00 PM - 5:00 PM
: Everyday 1:00 PM - 5:00 PM
: Everyday 1:00 PM - 5:00 PM
: Everyday 1:00 PM - 5:00 PM
: Everyday 1:00 PM - 5:00 PM
: Everyday 1:00 PM - 5:00 PM
: Everyday 1:00 PM - 5:00 PM
: Everyday 1:00 PM - 5:00 PM
: Everyday 1:00 PM - 5:00 PM
: Everyday 1:00 PM - 5:00 PM
: Everyday 1:00 PM - 5:00 PM
: Everyday 1:00 PM - 5:00 PM

: Everyday 11:00 AM - 3:00 PM
: Everyday 11:00 AM - 3:00 PM
: Everyday 11:00 AM - 3:00 PM
: Everyday 11:00 AM - 3:00 PM
: Everyday 11:00 AM - 3:00 PM
: Everyday 11:00 AM - 3:00 PM
: Everyday 11:00 AM - 3:00 PM
: Everyday 11:00 AM - 3:00 PM
: Everyday 11:00 AM - 3:00 PM
: Everyday 11:00 AM - 3:00 PM
: Everyday 11:00 AM - 3:00 PM
: Everyday 11:00 AM - 3:00 PM

: Everyday 11:00 AM - 3:00 PM
: Everyday 11:00 AM - 3:00 PM
: Everyday 11:00 AM - 3:00 PM
: Everyday 11:00 AM - 3:00 PM
: Everyday 11:00 AM - 3:00 PM
: Everyday 11:00 AM - 3:00 PM
: Everyday 11:00 AM - 3:00 PM
: Everyday 11:00 AM - 3:00 PM
: Everyday 11:00 AM - 3:00 PM
: Everyday 11:00 AM - 3:00 PM
: Everyday 11:00 AM - 3:00 PM
: Everyday 11:00 AM - 3:00 PM

: Everyday 10:30 AM - 4:00 PM
: Everyday 10:30 AM - 4:00 PM
: Everyday 10:30 AM - 4:00 PM
: Everyday 10:30 AM - 4:00 PM
: Everyday 10:30 AM - 4:00 PM
: Everyday 10:30 AM - 4:00 PM
: Everyday 10:30 AM - 4:00 PM
: Everyday 10:30 AM - 4:00 PM
: Everyday 10:30 AM - 4:00 PM
: Everyday 10:30 AM - 4:00 PM
: Everyday 10:30 AM - 4:00 PM
: Everyday 10:30 AM - 4:00 PM

: Everyday 3:30 PM - 8:30 PM
: Everyday 3:30 PM - 8:30 PM
: Everyday 3:30 PM - 8:30 PM
: Everyday 3:30 PM - 8:30 PM
: Everyday 3:30 PM - 8:30 PM
: Everyday 3:30 PM - 8:30 PM
: Everyday 3:30 PM - 8:30 PM
: Everyday 3:30 PM - 8:30 PM
: Everyday 3:30 PM - 8:30 PM
: Everyday 3:30 PM - 8:30 PM
: Everyday 3:30 PM - 8:30 PM
: Everyday 3:30 PM - 8:30 PM

: Monday to Saturday 8:30 AM - 1:00 PM
: Monday to Saturday 8:30 AM - 1:00 PM
: Monday to Saturday 8:30 AM - 1:00 PM
: Monday to Saturday 8:30 AM - 1:00 PM
: Monday to Saturday 8:30 AM - 1:00 PM
: Monday to Saturday 8:30 AM - 1:00 PM
: Monday to Saturday 8:30 AM - 1:00 PM
: Monday to Saturday 8:30 AM - 1:00 PM
: Monday to Saturday 8:30 AM - 1:00 PM
: Monday to Saturday 8:30 AM - 1:00 PM
: Monday to Saturday 8:30 AM - 1:00 PM
: Monday to Saturday 8:30 AM - 1:00 PM

: Everyday 11:00 AM - 4:00 PM
: Everyday 11:00 AM - 4:00 PM
: Everyday 11:00 AM - 4:00 PM
: Everyday 11:00 AM - 4:00 PM
: Everyday 11:00 AM - 4:00 PM
: Everyday 11:00 AM - 4:00 PM
: Everyday 11:00 AM - 4:00 PM
: Everyday 11:00 AM - 4:00 PM
: Everyday 11:00 AM - 4:00 PM
: Everyday 11:00 AM - 4:00 PM
: Everyday 11:00 AM - 4:00 PM
: Everyday 11:00 AM - 4:00 PM