Best Time To Visit Siem Reap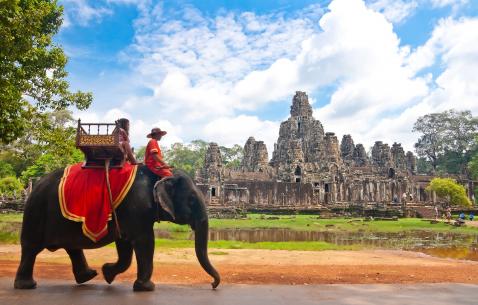 Best Time To Go To Siem Reap
Siem Reap experiences a tropical wet and dry climate. The temperatures remain constant for most part of the year with precipitation fluctuating. The months can be divided into two seasons:
Wet Season (April- November): The Wet season is relatively much lengthier in Siem Reap. It starts in the month of April and the rains get really frequent and heavy in the months of June and July. Once they settle down in August a little, they retain their pace in September and October. In November they start slowing down and give way to the Dry Season. The highest temperature during this season is 35 degree Celsius on an average and can fall down to as low as 22 degree Celsius.
Dry Season (December- March) : The highest temperature during this season is 34 degree Celsius but it maintains an average of about 32 degree Celsius. The lowest average temperature during these months is 20 Degree Celsius. There is low or no rainfall during this particular season.
The best time to visit Siam Reap is during the months of December to February for soothing temperatures. You will also encounter much lesser tourism during these times. There is actually no bad time to visit Siem Reap but avoiding the wet season is a sensible move as it may hamper with a lot of activities that you can otherwise undertake.
Best time to go to Siem Reap Attractions

: Everyday 7:00 AM - 2:00 PM
: Everyday 7:00 AM - 2:00 PM
: Everyday 7:00 AM - 2:00 PM
: Everyday 7:00 AM - 2:00 PM
: Everyday 7:00 AM - 2:00 PM
: Everyday 7:00 AM - 2:00 PM
: Everyday 7:00 AM - 2:00 PM
: Everyday 7:00 AM - 2:00 PM
: Everyday 7:00 AM - 2:00 PM
: Everyday 7:00 AM - 2:00 PM
: Everyday 7:00 AM - 2:00 PM
: Everyday 7:00 AM - 2:00 PM

: Everyday 7:00 AM - 4:00 PM
: Everyday 7:00 AM - 4:00 PM
: Everyday 7:00 AM - 4:00 PM
: Everyday 7:00 AM - 4:00 PM
: Everyday 7:00 AM - 4:00 PM
: Everyday 7:00 AM - 4:00 PM
: Everyday 7:00 AM - 4:00 PM
: Everyday 7:00 AM - 4:00 PM
: Everyday 7:00 AM - 4:00 PM
: Everyday 7:00 AM - 4:00 PM
: Everyday 7:00 AM - 4:00 PM
: Everyday 7:00 AM - 4:00 PM

: Everyday 7:00 AM - 3:00 PM
: Everyday 7:00 AM - 3:00 PM
: Everyday 7:00 AM - 3:00 PM
: Everyday 7:00 AM - 3:00 PM
: Everyday 7:00 AM - 3:00 PM
: Everyday 7:00 AM - 3:00 PM
: Everyday 7:00 AM - 3:00 PM
: Everyday 7:00 AM - 3:00 PM
: Everyday 7:00 AM - 3:00 PM
: Everyday 7:00 AM - 3:00 PM
: Everyday 7:00 AM - 3:00 PM
: Everyday 7:00 AM - 3:00 PM

: Everyday 7:00 PM - 7:30 PM
: Everyday 7:00 PM - 7:30 PM
: Everyday 7:00 PM - 7:30 PM
: Everyday 7:00 PM - 7:30 PM
: Everyday 7:00 PM - 7:30 PM
: Everyday 7:00 PM - 7:30 PM
: Everyday 7:00 PM - 7:30 PM
: Everyday 7:00 PM - 7:30 PM
: Everyday 7:00 PM - 7:30 PM
: Everyday 7:00 PM - 7:30 PM
: Everyday 7:00 PM - 7:30 PM
: Everyday 7:00 PM - 7:30 PM

: Everyday 7:00 AM - 3:00 PM
: Everyday 7:00 AM - 3:00 PM
: Everyday 7:00 AM - 3:00 PM
: Everyday 7:00 AM - 3:00 PM
: Everyday 7:00 AM - 3:00 PM
: Everyday 7:00 AM - 3:00 PM
: Everyday 7:00 AM - 3:00 PM
: Everyday 7:00 AM - 3:00 PM
: Everyday 7:00 AM - 3:00 PM
: Everyday 7:00 AM - 3:00 PM
: Everyday 7:00 AM - 3:00 PM
: Everyday 7:00 AM - 3:00 PM

: Everyday 5:00 PM - 10:00 PM
: Everyday 5:00 PM - 10:00 PM
: Everyday 5:00 PM - 10:00 PM
: Everyday 5:00 PM - 10:00 PM
: Everyday 5:00 PM - 10:00 PM
: Everyday 5:00 PM - 10:00 PM
: Everyday 5:00 PM - 10:00 PM
: Everyday 5:00 PM - 10:00 PM
: Everyday 5:00 PM - 10:00 PM
: Everyday 5:00 PM - 10:00 PM
: Everyday 5:00 PM - 10:00 PM
: Everyday 5:00 PM - 10:00 PM

: Everyday 5:00 PM - 4:00 PM
: Everyday 5:00 PM - 4:00 PM
: Everyday 5:00 PM - 4:00 PM
: Everyday 5:00 PM - 4:00 PM
: Everyday 5:00 PM - 4:00 PM
: Everyday 5:00 PM - 4:00 PM
: Everyday 5:00 PM - 4:00 PM
: Everyday 5:00 PM - 4:00 PM
: Everyday 5:00 PM - 4:00 PM
: Everyday 5:00 PM - 4:00 PM
: Everyday 5:00 PM - 4:00 PM
: Everyday 5:00 PM - 4:00 PM

: Everyday 11:00 AM - 4:00 PM
: Everyday 11:00 AM - 4:00 PM
: Everyday 11:00 AM - 4:00 PM
: Everyday 11:00 AM - 4:00 PM
: Everyday 11:00 AM - 4:00 PM
: Everyday 11:00 AM - 4:00 PM
: Everyday 11:00 AM - 4:00 PM
: Everyday 11:00 AM - 4:00 PM
: Everyday 11:00 AM - 4:00 PM
: Everyday 11:00 AM - 4:00 PM
: Everyday 11:00 AM - 4:00 PM
: Everyday 11:00 AM - 4:00 PM

: Everyday 11:00 AM - 4:00 PM
: Everyday 11:00 AM - 4:00 PM
: Everyday 11:00 AM - 4:00 PM
: Everyday 11:00 AM - 4:00 PM
: Everyday 11:00 AM - 4:00 PM
: Everyday 11:00 AM - 4:00 PM
: Everyday 11:00 AM - 4:00 PM
: Everyday 11:00 AM - 4:00 PM
: Everyday 11:00 AM - 4:00 PM
: Everyday 11:00 AM - 4:00 PM
: Everyday 11:00 AM - 4:00 PM
: Everyday 11:00 AM - 4:00 PM

: Everyday 7:00 AM - 4:00 PM
: Everyday 7:00 AM - 4:00 PM
: Everyday 7:00 AM - 4:00 PM
: Everyday 7:00 AM - 4:00 PM
: Everyday 7:00 AM - 4:00 PM
: Everyday 7:00 AM - 4:00 PM
: Everyday 7:00 AM - 4:00 PM
: Everyday 7:00 AM - 4:00 PM
: Everyday 7:00 AM - 4:00 PM
: Everyday 7:00 AM - 4:00 PM
: Everyday 7:00 AM - 4:00 PM
: Everyday 7:00 AM - 4:00 PM

: Everyday 10:00 AM - 3:00 PM
: Everyday 10:00 AM - 3:00 PM
: Everyday 10:00 AM - 3:00 PM
: Everyday 10:00 AM - 3:00 PM
: Everyday 10:00 AM - 3:00 PM
: Everyday 10:00 AM - 3:00 PM
: Everyday 10:00 AM - 3:00 PM
: Everyday 10:00 AM - 3:00 PM
: Everyday 10:00 AM - 3:00 PM
: Everyday 10:00 AM - 3:00 PM
: Everyday 10:00 AM - 3:00 PM
: Everyday 10:00 AM - 3:00 PM

: Everyday 4:00 PM - 9:00 PM
: Everyday 4:00 PM - 9:00 PM
: Everyday 4:00 PM - 9:00 PM
: Everyday 4:00 PM - 9:00 PM
: Everyday 4:00 PM - 9:00 PM
: Everyday 4:00 PM - 9:00 PM
: Everyday 4:00 PM - 9:00 PM
: Everyday 4:00 PM - 9:00 PM
: Everyday 4:00 PM - 9:00 PM
: Everyday 4:00 PM - 9:00 PM
: Everyday 4:00 PM - 9:00 PM
: Everyday 4:00 PM - 9:00 PM

: Everyday 5:00 PM - 9:00 PM
: Everyday 5:00 PM - 9:00 PM
: Everyday 5:00 PM - 9:00 PM
: Everyday 5:00 PM - 9:00 PM
: Everyday 5:00 PM - 9:00 PM
: Everyday 5:00 PM - 9:00 PM
: Everyday 5:00 PM - 9:00 PM
: Everyday 5:00 PM - 9:00 PM
: Everyday 5:00 PM - 9:00 PM
: Everyday 5:00 PM - 9:00 PM
: Everyday 5:00 PM - 9:00 PM
: Everyday 5:00 PM - 9:00 PM

: Everyday 5:00 PM - 4:00 PM
: Everyday 5:00 PM - 4:00 PM
: Everyday 5:00 PM - 4:00 PM
: Everyday 5:00 PM - 4:00 PM
: Everyday 5:00 PM - 4:00 PM
: Everyday 5:00 PM - 4:00 PM
: Everyday 5:00 PM - 4:00 PM
: Everyday 5:00 PM - 4:00 PM
: Everyday 5:00 PM - 4:00 PM
: Everyday 5:00 PM - 4:00 PM
: Everyday 5:00 PM - 4:00 PM
: Everyday 5:00 PM - 4:00 PM

: Everyday 3:00 PM - 6:00 PM
: Everyday 3:00 PM - 6:00 PM
: Everyday 3:00 PM - 6:00 PM
: Everyday 3:00 PM - 6:00 PM
: Everyday 3:00 PM - 6:00 PM
: Everyday 3:00 PM - 6:00 PM
: Everyday 3:00 PM - 6:00 PM
: Everyday 3:00 PM - 6:00 PM
: Everyday 3:00 PM - 6:00 PM
: Everyday 3:00 PM - 6:00 PM
: Everyday 3:00 PM - 6:00 PM
: Everyday 3:00 PM - 6:00 PM

: Everyday 10:00 AM - 5:00 PM
: Everyday 10:00 AM - 5:00 PM
: Everyday 10:00 AM - 5:00 PM
: Everyday 10:00 AM - 5:00 PM
: Everyday 10:00 AM - 5:00 PM
: Everyday 10:00 AM - 5:00 PM
: Everyday 10:00 AM - 5:00 PM
: Everyday 10:00 AM - 5:00 PM
: Everyday 10:00 AM - 5:00 PM
: Everyday 10:00 AM - 5:00 PM
: Everyday 10:00 AM - 5:00 PM
: Everyday 10:00 AM - 5:00 PM

: Everyday 10:00 AM - 1:30 PM
: Everyday 10:00 AM - 1:30 PM
: Everyday 10:00 AM - 1:30 PM
: Everyday 10:00 AM - 1:30 PM
: Everyday 10:00 AM - 1:30 PM
: Everyday 10:00 AM - 1:30 PM
: Everyday 10:00 AM - 1:30 PM
: Everyday 10:00 AM - 1:30 PM
: Everyday 10:00 AM - 1:30 PM
: Everyday 10:00 AM - 1:30 PM
: Everyday 10:00 AM - 1:30 PM
: Everyday 10:00 AM - 1:30 PM

: Everyday 4:00 PM - 8:00 PM
: Everyday 4:00 PM - 8:00 PM
: Everyday 4:00 PM - 8:00 PM
: Everyday 4:00 PM - 8:00 PM
: Everyday 4:00 PM - 8:00 PM
: Everyday 4:00 PM - 8:00 PM
: Everyday 4:00 PM - 8:00 PM
: Everyday 4:00 PM - 8:00 PM
: Everyday 4:00 PM - 8:00 PM
: Everyday 4:00 PM - 8:00 PM
: Everyday 4:00 PM - 8:00 PM
: Everyday 4:00 PM - 8:00 PM

: Everyday 10:00 AM - 8:00 PM
: Everyday 10:00 AM - 8:00 PM
: Everyday 10:00 AM - 8:00 PM
: Everyday 10:00 AM - 8:00 PM
: Everyday 10:00 AM - 8:00 PM
: Everyday 10:00 AM - 8:00 PM
: Everyday 10:00 AM - 8:00 PM
: Everyday 10:00 AM - 8:00 PM
: Everyday 10:00 AM - 8:00 PM
: Everyday 10:00 AM - 8:00 PM
: Everyday 10:00 AM - 8:00 PM
: Everyday 10:00 AM - 8:00 PM

: Everyday 10:00 AM - 3:00 PM
: Everyday 10:00 AM - 3:00 PM
: Everyday 10:00 AM - 3:00 PM
: Everyday 10:00 AM - 3:00 PM
: Everyday 10:00 AM - 3:00 PM
: Everyday 10:00 AM - 3:00 PM
: Everyday 10:00 AM - 3:00 PM
: Everyday 10:00 AM - 3:00 PM
: Everyday 10:00 AM - 3:00 PM
: Everyday 10:00 AM - 3:00 PM
: Everyday 10:00 AM - 3:00 PM
: Everyday 10:00 AM - 3:00 PM

: Everyday 9:00 AM - 4:00 PM
: Everyday 9:00 AM - 4:00 PM
: Everyday 9:00 AM - 4:00 PM
: Everyday 9:00 AM - 4:00 PM
: Everyday 9:00 AM - 4:00 PM
: Everyday 9:00 AM - 4:00 PM
: Everyday 9:00 AM - 4:00 PM
: Everyday 9:00 AM - 4:00 PM
: Everyday 9:00 AM - 4:00 PM
: Everyday 9:00 AM - 4:00 PM
: Everyday 9:00 AM - 4:00 PM
: Everyday 9:00 AM - 4:00 PM

: Everyday 8:00 AM - 4:00 PM
: Everyday 8:00 AM - 4:00 PM
: Everyday 8:00 AM - 4:00 PM
: Everyday 8:00 AM - 4:00 PM
: Everyday 8:00 AM - 4:00 PM
: Everyday 8:00 AM - 4:00 PM
: Everyday 8:00 AM - 4:00 PM
: Everyday 8:00 AM - 4:00 PM
: Everyday 8:00 AM - 4:00 PM
: Everyday 8:00 AM - 4:00 PM
: Everyday 8:00 AM - 4:00 PM
: Everyday 8:00 AM - 4:00 PM

: Everyday 11:00 AM - 4:00 PM
: Everyday 11:00 AM - 4:00 PM
: Everyday 11:00 AM - 4:00 PM
: Everyday 11:00 AM - 4:00 PM
: Everyday 11:00 AM - 4:00 PM
: Everyday 11:00 AM - 4:00 PM
: Everyday 11:00 AM - 4:00 PM
: Everyday 11:00 AM - 4:00 PM
: Everyday 11:00 AM - 4:00 PM
: Everyday 11:00 AM - 4:00 PM
: Everyday 11:00 AM - 4:00 PM
: Everyday 11:00 AM - 4:00 PM

: Everyday 7:00 AM - 10:00 PM
: Everyday 7:00 AM - 10:00 PM
: Everyday 7:00 AM - 10:00 PM
: Everyday 7:00 AM - 10:00 PM
: Everyday 7:00 AM - 10:00 PM
: Everyday 7:00 AM - 10:00 PM
: Everyday 7:00 AM - 10:00 PM
: Everyday 7:00 AM - 10:00 PM
: Everyday 7:00 AM - 10:00 PM
: Everyday 7:00 AM - 10:00 PM
: Everyday 7:00 AM - 10:00 PM
: Everyday 7:00 AM - 10:00 PM

: Monday to Saturday 9:00 AM - 10:00 PM
: Monday to Saturday 9:00 AM - 10:00 PM
: Monday to Saturday 9:00 AM - 10:00 PM
: Monday to Saturday 9:00 AM - 10:00 PM
: Monday to Saturday 9:00 AM - 10:00 PM
: Monday to Saturday 9:00 AM - 10:00 PM
: Monday to Saturday 9:00 AM - 10:00 PM
: Monday to Saturday 9:00 AM - 10:00 PM
: Monday to Saturday 9:00 AM - 10:00 PM
: Monday to Saturday 9:00 AM - 10:00 PM
: Monday to Saturday 9:00 AM - 10:00 PM
: Monday to Saturday 9:00 AM - 10:00 PM

: Everyday 7:00 AM - 9:00 PM
: Everyday 7:00 AM - 9:00 PM
: Everyday 7:00 AM - 9:00 PM
: Everyday 7:00 AM - 9:00 PM
: Everyday 7:00 AM - 9:00 PM
: Everyday 7:00 AM - 9:00 PM
: Everyday 7:00 AM - 9:00 PM
: Everyday 7:00 AM - 9:00 PM
: Everyday 7:00 AM - 9:00 PM
: Everyday 7:00 AM - 9:00 PM
: Everyday 7:00 AM - 9:00 PM
: Everyday 7:00 AM - 9:00 PM