Best Time To Visit Siena
Explore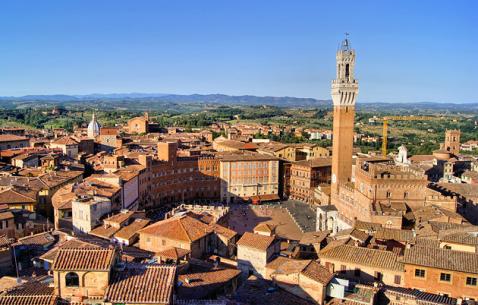 Accommodations with

See All
Best Time To Go To Siena
Siena is such a place where the weather is temperate throughout the year. Still the people out here do enjoy all the four seasons and it is like; Spring (March - May), Summer (June - September), Autumn (October - November), and Winter (December - February).
So, whether you plan your trip in summer or winter, the weather would be moderate , making this city a round-the-year vacation destination.
However, Spring and Autumn is being considered as the best time to visit Siena.
Explore the best travel planner for your visit to Siena and create a flawless plan in few simple steps!
Best time to go to Siena Attractions

: Everyday 4:00 PM - 8:00 PM
: Everyday 4:00 PM - 8:00 PM
: Everyday 4:00 PM - 8:00 PM
: Everyday 4:00 PM - 8:00 PM
: Everyday 4:00 PM - 8:00 PM
: Everyday 4:00 PM - 8:00 PM
: Everyday 4:00 PM - 8:00 PM
: Everyday 4:00 PM - 8:00 PM
: Everyday 4:00 PM - 8:00 PM
: Everyday 4:00 PM - 8:00 PM
: Everyday 4:00 PM - 8:00 PM
: Everyday 4:00 PM - 8:00 PM

: Everyday 11:00 AM - 2:00 PM
: Everyday 11:00 AM - 2:00 PM
: Everyday 11:00 AM - 2:00 PM
: Everyday 11:00 AM - 2:00 PM
: Everyday 11:00 AM - 2:00 PM
: Everyday 11:00 AM - 2:00 PM
: Everyday 11:00 AM - 2:00 PM
: Everyday 11:00 AM - 2:00 PM
: Everyday 11:00 AM - 2:00 PM
: Everyday 11:00 AM - 2:00 PM
: Everyday 11:00 AM - 2:00 PM
: Everyday 11:00 AM - 2:00 PM

: Everyday 10:00 AM - 4:00 PM
: Everyday 10:00 AM - 4:00 PM
: Everyday 10:00 AM - 4:00 PM
: Everyday 10:00 AM - 4:00 PM
: Everyday 10:00 AM - 4:00 PM
: Everyday 10:00 AM - 4:00 PM
: Everyday 10:00 AM - 4:00 PM
: Everyday 10:00 AM - 4:00 PM
: Everyday 10:00 AM - 4:00 PM
: Everyday 10:00 AM - 4:00 PM
: Everyday 10:00 AM - 4:00 PM
: Everyday 10:00 AM - 4:00 PM

: Everyday 3:00 PM - 4:00 PM
: Everyday 3:00 PM - 4:00 PM
: Everyday 3:00 PM - 6:00 PM
: Everyday 3:00 PM - 6:00 PM
: Everyday 3:00 PM - 6:00 PM
: Everyday 3:00 PM - 6:00 PM
: Everyday 3:00 PM - 6:00 PM
: Everyday 3:00 PM - 6:00 PM
: Everyday 3:00 PM - 6:00 PM
: Everyday 3:00 PM - 4:00 PM
: Everyday 3:00 PM - 4:00 PM

: Everyday 11:00 AM - 4:00 PM
: Everyday 11:00 AM - 4:00 PM
: Everyday 11:00 AM - 4:00 PM
: Everyday 11:00 AM - 4:00 PM
: Everyday 11:00 AM - 4:00 PM
: Everyday 11:00 AM - 4:00 PM
: Everyday 11:00 AM - 4:00 PM
: Everyday 11:00 AM - 4:00 PM
: Everyday 11:00 AM - 4:00 PM
: Everyday 11:00 AM - 4:00 PM
: Everyday 11:00 AM - 4:00 PM
: Everyday 11:00 AM - 4:00 PM

: Monday to Saturday 11:00 AM - 4:00 PM; Sunday 2:00 PM - 4:00 PM
: Monday to Saturday 11:00 AM - 4:00 PM; Sunday 2:00 PM - 4:00 PM
: Monday to Saturday 11:00 AM - 4:00 PM; Sunday 2:00 PM - 4:00 PM
: Monday to Saturday 11:00 AM - 4:00 PM; Sunday 2:00 PM - 4:00 PM
: Monday to Saturday 11:00 AM - 4:00 PM; Sunday 2:00 PM - 4:00 PM
: Monday to Saturday 11:00 AM - 4:00 PM; Sunday 2:00 PM - 4:00 PM
: Monday to Saturday 11:00 AM - 4:00 PM; Sunday 2:00 PM - 4:00 PM
: Monday to Saturday 11:00 AM - 4:00 PM; Sunday 2:00 PM - 4:00 PM
: Monday to Saturday 11:00 AM - 4:00 PM; Sunday 2:00 PM - 4:00 PM
: Monday to Saturday 11:00 AM - 4:00 PM; Sunday 2:00 PM - 4:00 PM
: Monday to Saturday 11:00 AM - 4:00 PM; Sunday 2:00 PM - 4:00 PM
: Monday to Saturday 11:00 AM - 4:00 PM; Sunday 2:00 PM - 4:00 PM

: Everyday 8:00 AM - 10:00 AM
: Everyday 8:00 AM - 10:00 AM
: Everyday 8:00 AM - 10:00 AM
: Everyday 8:00 AM - 10:00 AM
: Everyday 8:00 AM - 10:00 AM
: Everyday 8:00 AM - 10:00 AM
: Everyday 8:00 AM - 10:00 AM
: Everyday 8:00 AM - 10:00 AM
: Everyday 8:00 AM - 10:00 AM
: Everyday 8:00 AM - 10:00 AM
: Everyday 8:00 AM - 10:00 AM
: Everyday 8:00 AM - 10:00 AM

: Everyday 11:00 AM - 4:00 PM
: Everyday 11:00 AM - 4:00 PM
: Everyday 11:00 AM - 4:00 PM
: Everyday 11:00 AM - 4:00 PM
: Everyday 11:00 AM - 4:00 PM
: Everyday 11:00 AM - 4:00 PM
: Everyday 11:00 AM - 4:00 PM
: Everyday 11:00 AM - 4:00 PM
: Everyday 11:00 AM - 4:00 PM
: Everyday 11:00 AM - 4:00 PM
: Everyday 11:00 AM - 4:00 PM
: Everyday 11:00 AM - 4:00 PM

: Everyday 11:00 AM - 4:00 PM
: Everyday 11:00 AM - 4:00 PM
: Everyday 11:00 AM - 4:00 PM
: Everyday 11:00 AM - 4:00 PM
: Everyday 11:00 AM - 4:00 PM
: Everyday 11:00 AM - 4:00 PM
: Everyday 11:00 AM - 4:00 PM
: Everyday 11:00 AM - 4:00 PM
: Everyday 11:00 AM - 4:00 PM
: Everyday 11:00 AM - 4:00 PM
: Everyday 11:00 AM - 4:00 PM
: Everyday 11:00 AM - 4:00 PM

: Everyday 10:00 AM - 4:00 PM; Everyday 10:00 AM - 4:00 PM | 3:00 PM - 4:00 PM
: Everyday 10:00 AM - 4:00 PM; Everyday 10:00 AM - 4:00 PM | 3:00 PM - 4:00 PM
: Everyday 10:00 AM - 4:00 PM; Everyday 10:00 AM - 4:00 PM | 3:00 PM - 4:00 PM
: Everyday 10:00 AM - 4:00 PM; Everyday 10:00 AM - 4:00 PM | 3:00 PM - 4:00 PM
: Everyday 10:00 AM - 4:00 PM; Everyday 10:00 AM - 4:00 PM | 3:00 PM - 4:00 PM
: Everyday 10:00 AM - 4:00 PM; Everyday 10:00 AM - 4:00 PM | 3:00 PM - 4:00 PM
: Everyday 10:00 AM - 4:00 PM; Everyday 10:00 AM - 4:00 PM | 3:00 PM - 4:00 PM
: Everyday 10:00 AM - 4:00 PM; Everyday 10:00 AM - 4:00 PM | 3:00 PM - 4:00 PM
: Everyday 10:00 AM - 4:00 PM; Everyday 10:00 AM - 4:00 PM | 3:00 PM - 4:00 PM
: Everyday 10:00 AM - 4:00 PM; Everyday 10:00 AM - 4:00 PM | 3:00 PM - 4:00 PM
: Everyday 10:00 AM - 4:00 PM; Everyday 10:00 AM - 4:00 PM | 3:00 PM - 4:00 PM
: Everyday 10:00 AM - 4:00 PM; Everyday 10:00 AM - 4:00 PM | 3:00 PM - 4:00 PM

: Everyday 2:00 PM - 7:00 PM
: Everyday 2:00 PM - 7:00 PM
: Everyday 2:00 PM - 7:00 PM
: Everyday 2:00 PM - 7:00 PM
: Everyday 2:00 PM - 7:00 PM
: Everyday 2:00 PM - 7:00 PM
: Everyday 2:00 PM - 7:00 PM
: Everyday 2:00 PM - 7:00 PM
: Everyday 2:00 PM - 7:00 PM
: Everyday 2:00 PM - 7:00 PM
: Everyday 2:00 PM - 7:00 PM
: Everyday 2:00 PM - 7:00 PM

: Everyday 10:00 AM - 1:00 PM
: Everyday 10:00 AM - 1:00 PM
: Everyday 10:00 AM - 1:00 PM
: Everyday 10:00 AM - 1:00 PM
: Everyday 10:00 AM - 1:00 PM
: Everyday 10:00 AM - 1:00 PM
: Everyday 10:00 AM - 1:00 PM
: Everyday 10:00 AM - 1:00 PM
: Everyday 10:00 AM - 1:00 PM
: Everyday 10:00 AM - 1:00 PM
: Everyday 10:00 AM - 1:00 PM
: Everyday 10:00 AM - 1:00 PM

: Everyday 10:00 AM - 4:00 PM
: Everyday 10:00 AM - 4:00 PM
: Everyday 10:00 AM - 4:00 PM
: Everyday 10:00 AM - 4:00 PM
: Everyday 10:00 AM - 4:00 PM
: Everyday 10:00 AM - 4:00 PM
: Everyday 10:00 AM - 4:00 PM
: Everyday 10:00 AM - 4:00 PM
: Everyday 10:00 AM - 4:00 PM
: Everyday 10:00 AM - 4:00 PM
: Everyday 10:00 AM - 4:00 PM
: Everyday 10:00 AM - 4:00 PM

: Everyday 9:00 AM - 4:00 PM
: Everyday 9:00 AM - 4:00 PM
: Everyday 9:00 AM - 4:00 PM
: Everyday 9:00 AM - 4:00 PM
: Everyday 9:00 AM - 4:00 PM
: Everyday 9:00 AM - 4:00 PM
: Everyday 9:00 AM - 4:00 PM
: Everyday 9:00 AM - 4:00 PM
: Everyday 9:00 AM - 4:00 PM
: Everyday 9:00 AM - 4:00 PM
: Everyday 9:00 AM - 4:00 PM
: Everyday 9:00 AM - 4:00 PM

: Monday to Saturday 2:00 PM - 6:00 PM
: Monday to Saturday 2:00 PM - 6:00 PM
: Monday to Saturday 2:00 PM - 6:00 PM
: Monday to Saturday 2:00 PM - 6:00 PM
: Monday to Saturday 2:00 PM - 6:00 PM
: Monday to Saturday 2:00 PM - 6:00 PM
: Monday to Saturday 2:00 PM - 6:00 PM
: Monday to Saturday 2:00 PM - 6:00 PM
: Monday to Saturday 2:00 PM - 6:00 PM
: Monday to Saturday 2:00 PM - 6:00 PM
: Monday to Saturday 2:00 PM - 6:00 PM
: Monday to Saturday 2:00 PM - 6:00 PM

: Everyday 24 Hrs
: Everyday 24 Hrs
: Everyday 24 Hrs
: Everyday 24 Hrs
: Everyday 24 Hrs
: Everyday 24 Hrs
: Everyday 24 Hrs
: Everyday 24 Hrs
: Everyday 24 Hrs
: Everyday 24 Hrs
: Everyday 24 Hrs
: Everyday 24 Hrs

: Saturday, Sunday 11:00 AM - 3:00 PM
: Saturday, Sunday 11:00 AM - 3:00 PM
: Saturday, Sunday 11:00 AM - 3:00 PM
: Everyday 11:00 AM - 3:00 PM
: Everyday 11:00 AM - 3:00 PM
: Everyday 11:00 AM - 3:00 PM
: Everyday 11:00 AM - 3:00 PM
: Everyday 11:00 AM - 3:00 PM
: Everyday 11:00 AM - 3:00 PM
: Everyday 11:00 AM - 3:00 PM
: Saturday, Sunday 11:00 AM - 3:00 PM
: Saturday, Sunday 11:00 AM - 3:00 PM

: Everyday 8:30 AM - 2:00 PM
: Everyday 8:30 AM - 2:00 PM
: Everyday 8:30 AM - 2:00 PM
: Everyday 8:30 AM - 2:00 PM
: Everyday 8:30 AM - 2:00 PM
: Everyday 8:30 AM - 2:00 PM
: Everyday 8:30 AM - 2:00 PM
: Everyday 8:30 AM - 2:00 PM
: Everyday 8:30 AM - 2:00 PM
: Everyday 8:30 AM - 2:00 PM
: Everyday 8:30 AM - 2:00 PM
: Everyday 8:30 AM - 2:00 PM

: Monday, Tuesday, Wednesday, Thursday, Friday, Sunday 10:30 AM - 5:00 PM
: Monday, Tuesday, Wednesday, Thursday, Friday, Sunday 10:30 AM - 5:00 PM
: Monday, Tuesday, Wednesday, Thursday, Friday, Sunday 10:30 AM - 5:00 PM
: Monday, Tuesday, Wednesday, Thursday, Friday, Sunday 10:30 AM - 5:00 PM
: Monday, Tuesday, Wednesday, Thursday, Friday, Sunday 10:30 AM - 5:00 PM
: Monday, Tuesday, Wednesday, Thursday, Friday, Sunday 10:30 AM - 5:00 PM
: Monday, Tuesday, Wednesday, Thursday, Friday, Sunday 10:30 AM - 5:00 PM
: Monday, Tuesday, Wednesday, Thursday, Friday, Sunday 10:30 AM - 5:00 PM
: Monday, Tuesday, Wednesday, Thursday, Friday, Sunday 10:30 AM - 5:00 PM
: Monday, Tuesday, Wednesday, Thursday, Friday, Sunday 10:30 AM - 5:00 PM
: Monday, Tuesday, Wednesday, Thursday, Friday, Sunday 10:30 AM - 5:00 PM
: Monday, Tuesday, Wednesday, Thursday, Friday, Sunday 10:30 AM - 5:00 PM

: Monday, Tuesday, Wednesday, Thursday, Friday, Sunday 3:00 PM - 6:00 PM
: Monday, Tuesday, Wednesday, Thursday, Friday, Sunday 3:00 PM - 6:00 PM
: Monday, Tuesday, Wednesday, Thursday, Friday, Sunday 3:00 PM - 6:00 PM
: Monday, Tuesday, Wednesday, Thursday, Friday, Sunday 3:00 PM - 6:00 PM
: Monday, Tuesday, Wednesday, Thursday, Friday, Sunday 3:00 PM - 6:00 PM
: Monday, Tuesday, Wednesday, Thursday, Friday, Sunday 3:00 PM - 6:00 PM
: Monday, Tuesday, Wednesday, Thursday, Friday, Sunday 3:00 PM - 6:00 PM
: Monday, Tuesday, Wednesday, Thursday, Friday, Sunday 3:00 PM - 6:00 PM
: Monday, Tuesday, Wednesday, Thursday, Friday, Sunday 3:00 PM - 6:00 PM
: Monday, Tuesday, Wednesday, Thursday, Friday, Sunday 3:00 PM - 6:00 PM
: Monday, Tuesday, Wednesday, Thursday, Friday, Sunday 3:00 PM - 6:00 PM
: Monday, Tuesday, Wednesday, Thursday, Friday, Sunday 3:00 PM - 6:00 PM

: Everyday 24 Hrs
: Everyday 24 Hrs
: Everyday 24 Hrs
: Everyday 24 Hrs
: Everyday 24 Hrs
: Everyday 24 Hrs
: Everyday 24 Hrs
: Everyday 24 Hrs
: Everyday 24 Hrs
: Everyday 24 Hrs
: Everyday 24 Hrs
: Everyday 24 Hrs

: Everyday :00 AM - 2:00 PM
: Everyday :00 AM - 2:00 PM
: Everyday :00 AM - 2:00 PM
: Everyday :00 AM - 2:00 PM
: Everyday :00 AM - 2:00 PM
: Everyday :00 AM - 2:00 PM
: Everyday :00 AM - 2:00 PM
: Everyday :00 AM - 2:00 PM
: Everyday :00 AM - 2:00 PM
: Everyday :00 AM - 2:00 PM
: Everyday :00 AM - 2:00 PM
: Everyday :00 AM - 2:00 PM

: Everyday :00 AM - 5:00 PM
: Everyday :00 AM - 5:00 PM
: Everyday :00 AM - 5:00 PM
: Everyday :00 AM - 5:00 PM
: Everyday :00 AM - 5:00 PM
: Everyday :00 AM - 5:00 PM
: Everyday :00 AM - 5:00 PM
: Everyday :00 AM - 5:00 PM
: Everyday :00 AM - 5:00 PM
: Everyday :00 AM - 5:00 PM
: Everyday :00 AM - 5:00 PM
: Everyday :00 AM - 5:00 PM

: Monday, Wednesday, Thursday, Friday, Saturday, Sunday :00 AM - 3:00 PM
: Monday, Wednesday, Thursday, Friday, Saturday, Sunday :00 AM - 3:00 PM
: Monday, Wednesday, Thursday, Friday, Saturday, Sunday :00 AM - 3:00 PM
: Monday, Wednesday, Thursday, Friday, Saturday, Sunday :00 AM - 3:00 PM
: Monday, Wednesday, Thursday, Friday, Saturday, Sunday :00 AM - 3:00 PM
: Monday, Wednesday, Thursday, Friday, Saturday, Sunday :00 AM - 3:00 PM
: Monday, Wednesday, Thursday, Friday, Saturday, Sunday :00 AM - 3:00 PM
: Monday, Wednesday, Thursday, Friday, Saturday, Sunday :00 AM - 3:00 PM
: Monday, Wednesday, Thursday, Friday, Saturday, Sunday :00 AM - 3:00 PM
: Monday, Wednesday, Thursday, Friday, Saturday, Sunday :00 AM - 3:00 PM
: Monday, Wednesday, Thursday, Friday, Saturday, Sunday :00 AM - 3:00 PM
: Monday, Wednesday, Thursday, Friday, Saturday, Sunday :00 AM - 3:00 PM

: Everyday 11:00 AM - 4:00 PM
: Everyday 11:00 AM - 4:00 PM
: Everyday 11:00 AM - 4:00 PM
: Everyday 11:00 AM - 4:00 PM
: Everyday 11:00 AM - 4:00 PM
: Everyday 11:00 AM - 4:00 PM
: Everyday 11:00 AM - 4:00 PM
: Everyday 11:00 AM - 4:00 PM
: Everyday 11:00 AM - 4:00 PM
: Everyday 11:00 AM - 4:00 PM
: Everyday 11:00 AM - 4:00 PM
: Everyday 11:00 AM - 4:00 PM

: Everyday 24 Hrs
: Everyday 24 Hrs
: Everyday 24 Hrs
: Everyday 24 Hrs
: Everyday 24 Hrs
: Everyday 24 Hrs
: Everyday 24 Hrs
: Everyday 24 Hrs
: Everyday 24 Hrs
: Everyday 24 Hrs
: Everyday 24 Hrs
: Everyday 24 Hrs

: Everyday 24 Hrs
: Everyday 24 Hrs
: Everyday 24 Hrs
: Everyday 24 Hrs
: Everyday 24 Hrs
: Everyday 24 Hrs
: Everyday 24 Hrs
: Everyday 24 Hrs
: Everyday 24 Hrs
: Everyday 24 Hrs
: Everyday 24 Hrs
: Everyday 24 Hrs