Best Time To Visit Sion
Explore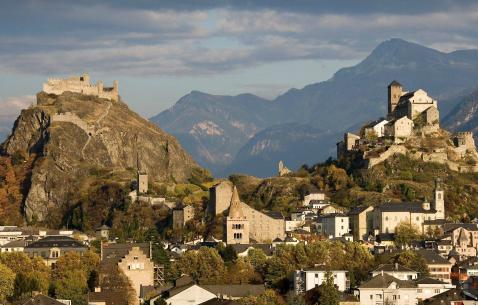 Best Time To Go To Sion
Sion experiences Marine West Coast climate throughout the year.
Winter Season: It continues from November to February. December receives maximum rainfall and snowfall. Hence, Sion experiences moist winter season.
Spring: This season continues from March to May where the temperature rises to 14 degree Celsius.
Summer: Continues from June to September with temperature starting from 19 degree Celsius.
Autumn: October experience autumn season with temperature around 7 degree Celsius.
Among all these seasons, summer is considered as the best time to visit Sion.
Best time to go to Sion Attractions

:
:
: Everyday 11:00 AM - 2:00 PM
: Everyday 11:00 AM - 2:00 PM
: Everyday 11:00 AM - 2:00 PM
: Everyday 11:00 AM - 2:00 PM
: Everyday 11:00 AM - 2:00 PM
: Everyday 11:00 AM - 2:00 PM
: Everyday 11:00 AM - 2:00 PM
:

: Tuesday to Sunday 11:00 AM - 3:00 PM
: Tuesday to Sunday 11:00 AM - 3:00 PM
: Tuesday to Sunday 11:00 AM - 3:00 PM
: Tuesday to Sunday 11:00 AM - 3:00 PM
: Tuesday to Sunday 11:00 AM - 3:00 PM
: Tuesday to Sunday 11:00 AM - 3:00 PM
: Tuesday to Sunday 11:00 AM - 3:00 PM
: Tuesday to Sunday 11:00 AM - 3:00 PM
: Tuesday to Sunday 11:00 AM - 3:00 PM
: Tuesday to Sunday 11:00 AM - 3:00 PM
: Tuesday to Sunday 11:00 AM - 3:00 PM
: Tuesday to Sunday 11:00 AM - 3:00 PM

:
:
: Everyday 1:00 PM - 5:00 PM
: Everyday 1:00 PM - 5:00 PM
: Everyday 1:00 PM - 5:00 PM
: Everyday 1:00 PM - 5:00 PM
: Everyday 1:00 PM - 5:00 PM
: Everyday 1:00 PM - 5:00 PM
: Everyday 1:00 PM - 5:00 PM
:

: Everyday 8:00 AM - 5:00 PM
: Everyday 8:00 AM - 5:00 PM
: Everyday 8:00 AM - 5:00 PM
: Everyday 8:00 AM - 5:00 PM
: Everyday 8:00 AM - 5:00 PM
: Everyday 8:00 AM - 5:00 PM
: Everyday 8:00 AM - 5:00 PM
: Everyday 8:00 AM - 5:00 PM
: Everyday 8:00 AM - 5:00 PM
: Everyday 8:00 AM - 5:00 PM
: Everyday 8:00 AM - 5:00 PM
: Everyday 8:00 AM - 5:00 PM

:
:
:
:
: Everyday 11:00 AM - 3:00 PM
: Everyday 11:00 AM - 3:00 PM
: Wednesday to Sunday 11:00 AM - 3:00 PM
: Everyday 11:00 AM - 3:00 PM
: Everyday 11:00 AM - 3:00 PM
:
:

: Monday to Friday 9:00 AM - 11:00 AM
: Monday to Friday 9:00 AM - 11:00 AM
: Monday to Friday 9:00 AM - 11:00 AM
: Monday to Friday 9:00 AM - 11:00 AM
: Monday to Friday 9:00 AM - 11:00 AM
: Monday to Friday 9:00 AM - 11:00 AM
: Monday to Friday 9:00 AM - 11:00 AM
: Monday to Friday 9:00 AM - 11:00 AM
: Monday to Friday 9:00 AM - 11:00 AM
: Monday to Friday 9:00 AM - 11:00 AM
: Monday to Friday 9:00 AM - 11:00 AM
: Monday to Friday 9:00 AM - 11:00 AM

: Everyday 10:00 AM - 2:00 PM
: Everyday 10:00 AM - 2:00 PM
:
:
:
:
:
:
:
:
: Everyday 10:00 AM - 2:00 PM
: Everyday 10:00 AM - 2:00 PM

: Wednesday to Sunday 1:00 PM - 3:00 PM
: Wednesday to Sunday 1:00 PM - 3:00 PM
: Wednesday to Sunday 1:00 PM - 3:00 PM
: Wednesday to Sunday 1:00 PM - 3:00 PM
: Wednesday to Sunday 1:00 PM - 3:00 PM
: Wednesday to Sunday 1:00 PM - 3:00 PM
: Wednesday to Sunday 1:00 PM - 3:00 PM
: Wednesday to Sunday 1:00 PM - 3:00 PM
: Wednesday to Sunday 1:00 PM - 3:00 PM
: Wednesday to Sunday 1:00 PM - 3:00 PM
: Wednesday to Sunday 1:00 PM - 3:00 PM
: Wednesday to Sunday 1:00 PM - 3:00 PM

: Monday to Friday 9:00 AM - 5:00 PM
: Monday to Friday 9:00 AM - 5:00 PM
: Monday to Friday 9:00 AM - 5:00 PM
: Monday to Friday 9:00 AM - 5:00 PM
: Monday to Friday 9:00 AM - 5:00 PM
: Monday to Friday 9:00 AM - 5:00 PM
: Monday to Friday 9:00 AM - 5:00 PM
: Monday to Friday 9:00 AM - 5:00 PM
: Monday to Friday 9:00 AM - 5:00 PM
: Monday to Friday 9:00 AM - 5:00 PM
: Monday to Friday 9:00 AM - 5:00 PM
: Monday to Friday 9:00 AM - 5:00 PM