15 Best Things To Do in Sioux Falls
Sioux Falls is the main attraction in South Dakota and thus people only visit this town for this falls. South Dakota is a town away from the major spots in the country, and thus you need to go out of the usual route to visit this town. Sioux Falls offers a great view and spectacular scenery to feast your eyes on. If you ever happen to this town, then this fall is something you cannot miss. This is the perfect place for a family picnic and for spending some time involved in outdoor activities and site seeing. This list of 15 best thongs to do in Sioux Falls United States will help you plan your vacation in this town.
1. Falls Park
The first thing you need to do when you visit the town is seeing the falls. The Sioux Falls is located within the Falls Park and even though this fall is no the biggest in the world it has a certain charm which will captivate you in itself. This entire park is spread over an area of 123 acres, and you will find walking and cycling trails which will lead you around the city. There is a 19th century Queen Bee Mill on the eastern side of the tower which offers a great view and a spot to explore.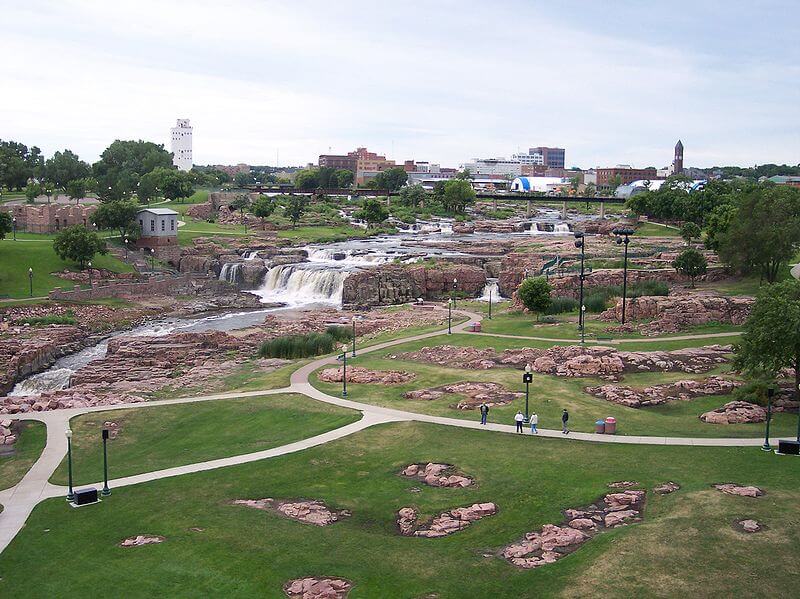 Image Source: wikimedia.org
2. USS South Dakota Battleship Memorial
This memorial houses a number of relics from this battleship. USS South Dakota has been at the forefront of quite a few wars including the World War 2 in the Pacific region, the battle of the Santa Cruz Islands and the battle of Guadalcanal. Thus, this battleship has a lot of history within it, and so it makes a wonderful experience for people of all ages. The interiors include a number of relics and memorabilia from the ship's past and the wars it fought in. After it was decommissioned the battleship was dismantled, but several parts were kept for this museum. A trip to here is a nice way to spend an afternoon with your family learning about the rich history of past battles and wars.
3. Cathedral of Saint Joseph
This cathedral is one of the most beautiful cathedrals in the city and is the seat of the Diocese of Sioux Falls. The Cathedral of Saint Joseph was designed by the famous architect Emmanuel Louis Masqueray. However, he died before the church was completed. A Kilgen pipe and a high marble altar were later installed. When you visit this church, you would see beautiful French windows and anybody can attend the organ concerts conducted here often. You can also attend several conferences on a number of varied topics which also includes non-Catholic audiences. A nice and peaceful way to spend some time admiring the beauty of the church.
4. Veterans' Memorial Park
This public park was built to commemorate and honor the military actions of the people in this town. This park is located in a spot which was earlier used by the US Army Air Corps in the World War 2. The park has a number of exhibits showcasing the history of the war. There are military memorials, walking trails, gardens, and sculptures. If you wish to spend some time in the tranquility and know about the heroic deeds of the army, then this is the place to be.
5. Falls Overlook Cafe
As the name suggests this café overlooks the town and the view from here is priceless. You will be able to see a number of falls from the café and greenery surrounding the area. The café is hugely popular with locals and tourists alike, and people often come here to relax and grab a bite while enjoying the fantastic view from here.
6. Wild Water West
This is a water park that you can enjoy with your family and kids. This park has earned the distinction of being the largest water park in South Dakota. This park was established a staggering twenty five years ago, and after a slew of new additions to the park rides, this is now the hottest destination in town. Some of the rides in this [ark includes a tube slide 55 foot long, Tornado Alley, Wave pod with waves up to six foot high and Waterslide Complex which is 65 foot high and has four slides. For adults, there is a swim-up bar where you can enjoy some alcoholic drinks, and for babies, there is a baby pool. If you do not want to get wet, then you can enjoy the go-karts, mini golf, paintball and sand volleyball, among others. This park truly has something for everyone, and so you should not miss this place.
7. Great Bear Recreation Park
Simply known as the Great Bear, this is a ski area which owned by the city of Sioux Falls. When it began operating this ski area only had one rope tow and two runs. Now, this park has three lifts and twelve runs. If you wish to perform aerial tricks, then visit the Terrain Park where you will meet fellow skiers with the same interest. During the summers you can enjoy the eight miles of walking trail with spectacular views.
8. Sertoma Butterfly House and Marine Cove
If you like butterflies then head towards the Sertoma Butterfly House and Marine Cove. This Butterfly House is spread in an area of more than 3,600 square feet, and you can see more than eight hundred butterflies flying around. Apart from the native species, this establishment has species from all over the world such as Asia, Africa, Australia and Latin America. Behind the Butterfly House, there is a marine cove where there are numerous corals and fish.
9. Outdoor Campus
If you enjoy being outdoors then there is no better place than the Outdoor Campus. This is the best place to learn a new skill and enjoy the outdoors. There are classes for both adults and kids, so you need not worry about your kid getting bored. Apart from learning classes, there are many other fun activities in which you can take part and enjoy with your family. Moreover, the best thing about this is that all such activities are free. If you want to experience the wilderness, then you need to visit this place.
10. Terrace Park
If you want a place to relax and stay away from the hustle of the city then the Terrace Park is the best place for that. There are a lot of things to do and observe in this park. For activities, you can kayak, canoe and fish in the waters. There are several other amenities like a ball court, baseball fields, and tennis courts. While the kids enjoy in the water, adults can enjoy watching the sculptures and the Japanese gardens there. A complete family outing is possible here so do not miss this park if you visit this city.
11. WoodGrain Brewing Company
If you are a fan of good quality beer then do stop by at the WoodGrain Brewing Company where you can taste some premium beers made from locally sourced items including barley, hops, and yeast. The high-quality craft beer is very popular in this city, and you can enjoy it while on a tour of the company. Apart from beer tours, you can also enjoy music shows and barbecue fests, which are occasionally hosted here. You can also taste some delicious food while you are here.
12. Buffalo Ridge 1880 Cowboy Town
If you like weird tours then visiting this weird town must be on top of your list. This town was built in the '60s as a source of entertainment and amusement. This place consists of a single street with buildings including a saloon, a Chinese dry cleaner, forts, and a haunted mine, to list a few. The reason this deserted town is famous for is that the town is filled with robots dressed as humans. They are quite old so they might look eerie at first but if you dare then take a self-guided tour and explore the various buildings and spots in this spot.
13. Sioux Falls Stadium
Also known as the Birdcage, this stadium hosts many minor league games and will definitely set your mood for classic American baseball. The seats are really cheap, and you will find budget-friendly food there so you can eat as much as you want without burning a hole in your pocket. The staff is friendly, and they try to get the audience involved. This stadium is used by the Sioux Falls Canaries, and they run several promotions so get ready to be surprised when you visit for a game. This is certainly the best place to enjoy a baseball game with your family without spending a fortune.
14. Great Plains Zoo and Delbridge Museum
This is a great place for kids since they can see a number of animals including some big animals such as rhinos, leopards, tigers, and monkeys. The zoo also has some endangered animals, and the main attraction of this zoo is the red panda. Your kids will surely never get bored here, and it will be a learning experience too.
15. Pettigrew Home and Museum
This museum was built in 1889 and then passed on to the senator that time, Senator Richard Franklin, who remodeled this house into a museum showcasing the rich cultural history of South Dakota. A trip to here is a complete learning experience, and if you wish to know about the city, then this is the right place for that.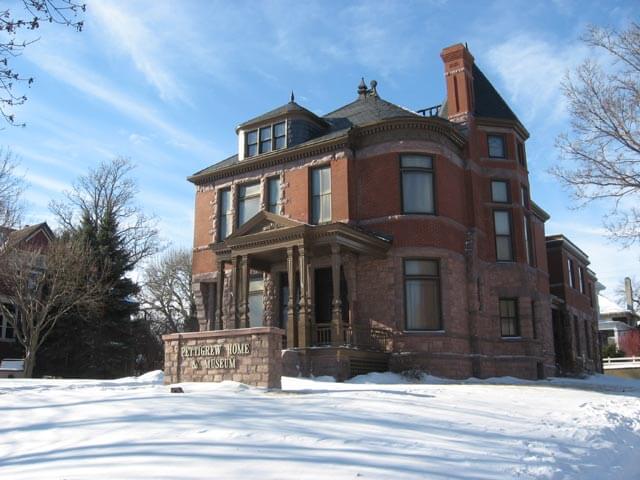 Image Source: wikimedia.org
These are the few things that you do in Sioux Falls and enjoy your stay here. You will surely be left with quite a few memories after staying a few days in this city.
Are you looking for a Sioux Falls travel itinerary? Create an itinerary within minutes, on your own!
Top-Rated Tourist Attractions in Sioux Falls, South Dakota
Must see places in Sioux Falls ranked on popularity. Here is the complete list of best attractions in Sioux Falls and point of interests to visit.
Tourist Attractions Near Sioux Falls
Find Your Sioux Falls Attractions on Map
Types of Things To Do in Sioux Falls
Find more attractions and places to visit in Sioux Falls under these things to do categories.
Find more places to see in Sioux Falls
Queen Bee Mill

N Weber Ave

Historic and Protected Sites

Central Fire Station

100 S Minnesota Ave

Historic and Protected Sites

Ole Statue

South Summit Avenue

Historic and Protected Sites

Grand Lodge And Library Of The Ancient Free And Accepted Masons

Historic and Protected Sites

Rock Island Depot

Historic and Protected Sites

Amidon Affair

Historic and Protected Sites
View On Map
Wall Lake

46252-46298 County Hwy

Lakes

Lake Alvin

479TH Ave

Lakes
View On Map
Old Courthouse Museum

200 W 6th St

Museums

Great Plains Zoo

805 S Kiwanis Ave

Museums

Museum of Visual Materials

500 N Main Ave

Museums

Washington Pavilion

301 S Main Ave

Museums

Pettigrew Home & Museum

131 N Duluth Ave

Museums

Center for Western Studies

2121 S Summit Ave

Museums
View On Map
Galaxy Gaming

3801 W 34th St

Amusement Parks

Wild Water West Waterpark

26767 466th Ave

Amusement Parks

Sertoma Butterfly House

4320 S Oxbow Ave

Amusement Parks

Restaurants

Electric Rainbow

2101 W 41st St

Amusement Parks

Catfish Bay Water Ski Park

900 S Grandview Ave

Amusement Parks

Restaurants

Commando Paintball-Wild Water

26767 466th Ave

Amusement Parks
View On Map
Upper Cut

2819 E 10th St

Bars

American

Mexican

Sandbar & Grill

2310 S Marion Rd

American

Burgers

Bars

Tinner's Bar & Grill

449 W 69th St

Bars

American

Barbecue

Granite City Food & Brewery

2620 S Louise Ave

American

Bars

Breweries

Crawford's Bar & Grill

214 S Phillips Ave

American

Bars

Barbecue

Chili's Grill & Bar

3720 W 41st St

American

Bars
View On Map
Gold Rush Casino

2701 W 41st St

Casinos and Gaming

Bars

Ken's Korner

918 W 6th St

Casinos and Gaming

Burnside Game Place

1605 W Burnside St

Casinos and Gaming

Black Diamond Casino

5113 W 41st St

Casinos and Gaming

Crown Casino East

2401 E 10th St

Casinos and Gaming

Gregg's Substation & Casino

1000 W 41st St

Casinos and Gaming

Burgers

Fast Food
View On Map
Northview Bait & Storage

1400 N Kiwanis Ave

Hunting and Fishing

Midwest Hunting & Fshng

4005 S Western Ave

Hunting and Fishing

X-Stinkd

26787 466th Ave

Hunting and Fishing

US Canandian Hunting Trips

24668 Garfield

Hunting and Fishing

Meter Fishing Tackle

46532 Jeannine Dr

Hunting and Fishing

Midwest Custom Taxidermy

303 W 4th St

Hunting and Fishing
View On Map
Howard Wood Field

2000 W Russell St

Stadiums and Arenas

Music and Show Venues

Usf Stadium

6200 N Cliff Ave

Soccer

Stadiums and Arenas
View On Map
GE Properties

4 N Sun Valley Pl

Buildings and Structures
View On Map
Paulson Monuments

210 E 5th St

Monuments and Memorials
View On Map
What To Do in Sioux Falls: Day-Wise Ideas
Find what not to miss in Sioux Falls! Recommended Sioux Falls itineraries and vacation ideas created by travelers across the world.