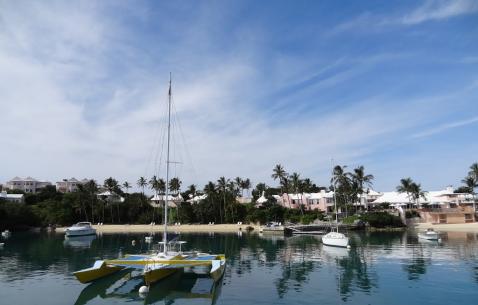 Somerset Village is a small, unincorporated village in the northwest area of Bermuda, located in Sandys Parish. It lies in the northern half of Somerset Island. Like Flatts Village and Tucker's Town, the settlement has existed for centuries, though a lack of formal borders and municipal government means its foundation is undated, and when, precisely, the area came to be commonly thought of as a village is not clear. The village centres on the southern shore of Mangrove Bay, and was once a useful, if minor port. Today, the area includes a bank, a police station, post office, ferry station (on the Great Sound, beside Watford Bridge), library, a number of shops, small hotels, pubs and restaurants, and a boat club. There is also a bus depot as the village is the terminus of a number of bus routes. There is a small beach at the west of the village, and another at nearby (Somerset) Long Bay (there are two other Long Bays in Bermuda) is within walking distance. The village is conveniently near to the defunct Royal Naval Dockyard on Ireland Island (part of a former naval base that began on the opposite end of Watford Bridge), and is connected to the City of Hamilton, as well as the Dockyard, by regular ferries. The village is the site, each summer, of the Non-Mariners' Race, a humorous non-race by deliberately unseaworthy floats.
Wikipedia
Discover the beauty of the city's striking landscope, welcome to , . To explore , set aside 1 to 2 number of your days. You'll be coming back for more!
Yes,it is that simple really! Enjoy your trip! Keep travelling!
Essential travel information and Somerset Village tips for your visit
Avoid Bermuda during the Monsoon. You will not be able to enjoy this beautiful Island, and it's not considered to be safe as it tends to get very windy. Also, research well about the hurricane season and avoid a trip during that time period.
Always carry a high SPF sunscreen, and reapply every few years as sun burn is a possibility here. Wear a good quality hat, and carry fresh bottled water around.
Be safe when on the beach, as there might be strong undercurrents and riptides. Also, be on the lookout for a Jellyfish while swimming or snorkeling. Sting from its tentacles can be bad.
Keep in mind at all times that the people in Bermuda follow a left hand drive rule. It might be difficult if your country has a right hand drive rule. In cases like that, always be safe by renting a cab or use the efficient bus service in the Island.
Always be polite while communicating with the locals. Start your conversation with the greetings like Good morning/ Afternoon/ Evening; etc. else you might be considered rude.
Street markets here sell a variety of items which you might be tempted to buy as a souvenir or a gift. Do check for the place where the product was manufactured, chances are it was imported and is not a necessarily an indigenous product.
Be aware of the theft/robbery - lock the rented mopeds and carry your valuables and important documents along.
Somerset Village Trip Planner
Plan your customized day by day trip plan for Somerset Village. Choose from various experinces categories as adventure, romantic and family and kids friendly for your trip using using Somerset Village trip planner.