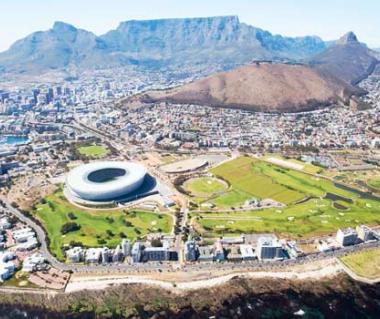 South Africa Trip Planner
Plan your customized trip plan for South Africa. Choose from Top Toursim cities and tourist attarctions of South Africa using trip planner.
South Africa Overview
As a destination, South Africa is multi-faceted – it is a big kaleidoscope that unfurls itself scene by scene from people, to the landscapes to the bustling cities juxtaposed against towering mountains, different cultures and a long standing heritage, vast game reserves teeming with wildlife, the abundant flora and fauna and miles and miles of undulating grasslands. You name it and South Africa's got it. From spectacular sunsets over the Cape to endless national parks and reserves, from thousands of species of exotic birds and beasts and marine life to mist-covered mountains and gentle rolling velds, South Africa has it all.
South Africa is an incredible destination in so many ways - it is the kind of destination that will touch all of your senses in a myriad of ways, and once all is said and done you probably won't be the same again. South Africa is mercurial in nature, one moment you'll be exploring the origins of ancient man, the next you're cage-diving with Great White Sharks and the next you're drinking traditional beer in a lively township shebeen. South Africa really is a destination where you can experience it all.
So to sum it up, South Africa truly is a groundbreaking destination for explorers and adventurers who want to experience life in all its fullness.
When to Go :-
South Africa has the climatic and topographical diversity of a continent rolled into one country, so when you should go depends on what you plan as your major holiday activity. In southernmost tip of the Western Cape Town, temperate Mediterranean climate ensures that one can even visit in the summer, between October and April. June and July, when the humidity is low, are ideal months to visit Durban and the coast. The best time for game viewing is during the drier period from June to September, when the vegetation is sparse and big game frequents waterholes. If its the flowers on the Garden Route you would like to see, then Spring time in August-September is when they burst into bloom - the flowers are a riot of color and a very pretty sight indeed!
Getting to South Africa
By Air
South Africa's main airport, the Johannesburg International Airport, is 30 kilometres from Johannesburg and 60 kolometres from Pretoria. It is reasonably well connected to many parts of the world. Airport buses to the SAA terminal run every 30 minutes and there are also services to and from Pretoria. Several hotels provide courtesy buses. Otherwise, taxis are a ready and relatively inexpensive option. There are also international airports at Cape Town (about 20 kilometres from the city) and Durban (16 kilometres).
By Road
Bus companies offer services from neighbouring countries to South African cities, for example, from Harare (Zimbabwe) Windhoek (Namibia), Maputo (Mozambique) and Lusaka (Zambia). Motorists traveling from South Africa to neighboring countries should contact the Department of Home Affairs for details of the opening and closing times of the relevant border posts.
By Rail
The main train services to South Africa are from Zimbabwe. The Blue Train which is one of world's best luxury train runs on a 27 hour long scenic journey between Cape Town and Pretoria – book well in advance as the train is almost always sold out!
What to see and experience-
Sightseeing-
Cape Town & Cape Peninsula
Cape Town and the Cape Peninsula up to Cape Point, are famous for scenic beauty; celebrity beaches; Table Mountain; whale watching; world-class shopping, nightlife, food & wine; and a laid-back atmosphere.
The Winelands
Discover the joys of SA's award-winning wines and cuisine along any of the beautiful Cape wine routes, taking you through green valleys and historic towns.
Known as South Africa's Eden, the famous Garden Route traverses an area rich in natural beauty and charm, attracting adventure-seekers and outdoor enthusiasts.
Johannesburg
South Africa's pulsating African heartbeat is felt in the 'City of Gold' with its endless opportunities for shopping, entertainment, freedom tours and eating out.
This world-renowned park of nearly 2 million hectares features 16 ecosystems. Spot the Big Five on a 4x4 game drive or walking safari.
Durban beachfront
For those with fun and sun on their minds, SA's sunshine city has something for the whole family - golden beaches, surfing and a marine park.
The island's most famous prisoner, Nelson Mandela, has turned this institute of brutality into a symbol of the triumph of the human spirit over enormous hardship.
South Africa's largest and most famous township was a hotbed of anti-apartheid activity. Visit Freedom Struggle sites and eat at a shebeen or township restaurant.
Blyde River Canyon Nature Reserve
Most famous for God's Window, the panoramic splendor of the Blyde River Canyon makes it ideal for scenic drives and hiking trails.
Wild Coast
Rugged and untamed, the Wild Coast offers deserted beaches, dolphins, horseback and hiking trails, cosy hotels, golf, gambling, mystical history, Xhosa heritage and the Hole-in-the-Wall.
Eating Out In South Africa-
The ubiquitous South African dining experience is probably the braai, an open-air barbecue stand featuring grilled meat (including delicacies like peri-peri chicken and boerewors – spicy sausages) and vegetables. A braai under the stars, with lots of beer is a dining experience not to be missed in South Africa, and do not fret, there will be a braai even in most remote South African city or game park. The most preferred dining out experience among South Africans is probably in the American-style steak houses that have mushroomed in cities throughout the length and breadth of the country.
Entertainment & Night Life-
South Africa boasts some fantastic nightlife, with discos and nightclubs open until the early hours. More classical entertainment can be found at numerous ballet and opera performances throughout the country. The State Theatre in Pretoria, the Civic Theatre in Johannesburg, the Nico Malan in Cape Town, The Playhouse in Durban and a variety of smaller theatres offer contemporary theater and plays.
Johannesburg has a unique attraction - mine dancing, based on the homespun entertainment of Africans employed by turn-of-the-century gold mines. Also take the chance to hear some kwela, a form of South African jazz found in many inner city clubs especially in Johannesburg. Near Johannesburg, the Randburg Waterfront is home to 55 food outlets, pubs, live music venues, 10 cinemas, children's entertainment area, a wide selection of water sports - and the largest musical fountain in the world.
The famed Victoria & Alfred Waterfront in Cape Town offers a range of entertainment options like casinos and restaurants by day and through the night. The corner of Bree and Waterkant Sts is very popular with local young crowd for the range of pubs and clubs there. Mariner's Wharf, at Hout Bay in the Cape Town area, South Africa's first harbour-front development, boasts seafood bistros, restaurants, fresh fish and lobster markets, and curio shops.
Shopping-
Traditional South African craftwork such as bowls, clay pots, beadwork, carvings, tapestries and paintings can be found almost everywhere, although the quality may vary. Jewellery is also worth looking out for - after all, South Africa is the home of gold and diamonds. The other major buy in South Africa is its popular wine, especially the inexpensive but high-quality wine of the Western Cape. Because of the advantageous exchange rate and South Africa's long economic isolation from the world, a lot of merchandise is comparatively inexpensive. When in Johannesburg, visit the huge flea market at Bruma Lake near Eastgate shopping centre, a 15 minutes' drive from central Johannesburg.
Major Events-
KaapseKlopse, Cape Town
The streets of Cape Town come alive on 2 January when the Cape Minstrels celebrate TweedeNuweJaar in style wearing brightly coloured outfits, sporting umbrellas and singing traditional songs.
Namaqualand Daisies in Springtime
Namaqualand Daisies is a major event on the Northern Cape's calendar! In springtime millions of wild daisies sprout after the first rains, a sight to behold.
Comrades Marathon
This ultra-marathon that takes place between Durban and Pietermaritzburg has become known as the 'greatest race on earth'. Great spectator value!
Grahamstown National Arts Festival
In July, the student town of Grahamstown comes to live during the National Arts Festival – a celebration of song, dance and creativity.
Pick 'n Pay Argus Cycle Tour
Known as one of the most popular cycling races on the planet. 'The Argus' takes place in and around the Cape Peninsula and attracts cyclists from all over the globe.
The Sardine Run
A race of a different kind! Thousands upon thousands of silvery sardines make their way to the South Coast of KwaZulu Natal, followed closely by sharks and dolphins.
Joburg Easter Festival
Lots of fun for the whole family – the Joburg Easter Festival is a great place to shop for household goods, there are also live music concerts that shouldn't be missed.
The Soweto Derby
This yearly clash between Kaiser Chiefs and Orlando Pirates at Soccer City is legendary and soccer fans around the country just love the event.
Klein Karoo NasionaleKunstefees
This fun festival takes place in Oudtshoorn and is a celebration of Afrikaner culture. Great food stalls, music concerts and live performance.
Knysna Oyster Festival
South Africans just love their food festivals and one of the major highlights is the Knysna Oyster Festival along the Garden Route (March).
Searching for something specific?