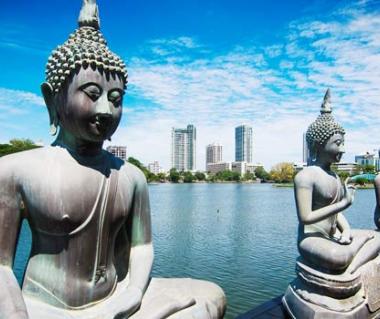 Sri Lanka Trip Planner
Plan your customized trip plan for Sri Lanka. Choose from Top Toursim cities and tourist attarctions of Sri Lanka using trip planner.
Sri Lanka Overview
Sri Lanka, formerly known as Ceylon, is in Southern Asia. It is an island country in the Indian Ocean, south of India. One of the most famous is the Ramayana, in which the island, which was referred to as Lanka, was the island fortress of the king Ravana, who captured the wife of Rama an incarnation of the Hindu God, Vishnu. Attractive mist-shrouded mountains, covered in forests of wind-stunted trees (in fact there are seven different types of forest in Sri Lanka), plains known as patanas, and rolling tea plantations also exists. In addition, the hillsides are invariably punctuated by dramatic waterfalls. For its size Sri Lanka has perhaps the largest number of waterfalls of any country.
How to go : -
Sri Lanka is accessible by ship and by air.
Air: - A few airlines other than the national carrier, Air Lanka, fly to Kattunayake International Airport (Sri Lanka's lone international airport). Another option, if your itinerary includes India, is to fly Indian Airlines (India's domestic airline), which operates daily flights to Colombo from a number of southern Indian cities including Thiruvananthapuram, Bangalore and Chennai.
Climate and Best time to visit : -
Sri Lanka's climate is pretty balmy – cool, pleasant and without the extremes of temperature encountered in countries like India. Ideally, the best time to visit Sri Lanka is either between December and March.
What to see : -
Though a small country, Sri Lanka has quite enough to keep a visitor occupied for a few weeks. There's a lot to see, including old forts, museums, temples, viharas, churches, wildlife sanctuaries, beaches, and more. Located two and a half hours away from Colombo on the road to Kandy is the Pinnawela Elephant Orphanage, a great favorite with visitors to Sri Lanka. The second highest mountain in Sri Lanka (2224 mts high), Adam's Peak is also known as 'Samanalakande is also famous.
Eateries :-
Typical dishes of Sri Lanka include rice and curry, pittu, Kiribath, whole meal Roti, String hoppers, wattalapam (a rich pudding of Malay origin made of coconut milk, jaggery, cashew nuts, eggs, and spices including cinnamon and nutmeg), kottu, and hoppers.
Searching for something specific?