Best Time To Visit St-malo
Explore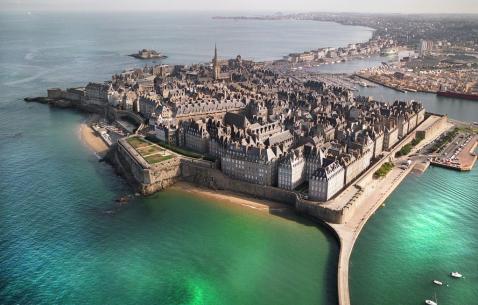 Best Time To Go To St-malo
Saint-Malo experiences a maritime temperate climate with mild temperatures and moderate rainfall throughout the year.
Summer (June – September): The weather in summer is mild and changeable with temperature rising up to 20°Celcius or more. Being the peak season for tourists, expect crowds.
Autumn (October – November): Autumn cools up very quickly and the temperature drops to 16°Celcius or below. If you are visiting with family, this is an ideal time to visit Saint Malo.
Winter (December – February): Winters are cool with an average high temperature around 6-8°Celcius. An off season, so perfect for those who don't like crowds.
Spring (March – May): Weather slowly heats up in spring with temperatures reaching up to 13°Celcius on an average.
Saint-Malo is a great place to be on your itinerary planners all year round. However, the months of summer, especially July and August are the best time to visit Saint Malo.
Best time to go to St-malo Attractions

: Everyday 6:00 AM - 7:00 PM
: Everyday 6:00 AM - 7:00 PM
: Everyday 6:00 AM - 7:00 PM
: Everyday 6:00 AM - 7:00 PM
: Everyday 6:00 AM - 7:00 PM
: Everyday 6:00 AM - 7:00 PM
: Everyday 6:00 AM - 7:00 PM
: Everyday 6:00 AM - 7:00 PM
: Everyday 6:00 AM - 7:00 PM
: Everyday 6:00 AM - 7:00 PM
: Everyday 6:00 AM - 7:00 PM
: Everyday 6:00 AM - 7:00 PM

: Everyday 10:00 AM - 4:00 PM
: Everyday 10:00 AM - 4:00 PM
: Everyday 10:00 AM - 4:00 PM
: Everyday 10:00 AM - 4:00 PM
: Everyday 10:00 AM - 4:00 PM
: Everyday 10:00 AM - 4:00 PM
: Everyday 10:00 AM - 4:00 PM
: Everyday 10:00 AM - 4:00 PM
: Everyday 10:00 AM - 4:00 PM
: Everyday 10:00 AM - 4:00 PM
: Everyday 10:00 AM - 4:00 PM

: Everyday 1:00 PM - 3:00 PM
: Everyday 1:00 PM - 3:00 PM
: Everyday 1:00 PM - 3:00 PM
: Everyday 1:00 PM - 3:00 PM
: Everyday 1:00 PM - 3:00 PM
: Everyday 1:00 PM - 3:00 PM
: Everyday 1:00 PM - 3:00 PM
: Everyday 1:00 PM - 3:00 PM
: Everyday 1:00 PM - 3:00 PM
: Everyday 1:00 PM - 3:00 PM
: Everyday 1:00 PM - 3:00 PM
: Everyday 1:00 PM - 3:00 PM

: Monday, Tuesday, Thursday, Friday, Saturday, Sunday 2:00 PM - 4:00 PM
: Monday, Tuesday, Thursday, Friday, Saturday, Sunday 2:00 PM - 4:00 PM
: Monday, Tuesday, Thursday, Friday, Saturday, Sunday 2:00 PM - 4:00 PM
: Monday, Tuesday, Thursday, Friday, Saturday, Sunday 2:00 PM - 4:00 PM
: Monday, Tuesday, Thursday, Friday, Saturday, Sunday 2:00 PM - 4:00 PM
: Monday, Tuesday, Thursday, Friday, Saturday, Sunday 2:00 PM - 4:00 PM
: Monday, Tuesday, Thursday, Friday, Saturday, Sunday 2:00 PM - 4:00 PM
: Monday, Tuesday, Thursday, Friday, Saturday, Sunday 2:00 PM - 4:00 PM
: Monday, Tuesday, Thursday, Friday, Saturday, Sunday 2:00 PM - 4:00 PM
: Monday, Tuesday, Thursday, Friday, Saturday, Sunday 2:00 PM - 4:00 PM
: Monday, Tuesday, Thursday, Friday, Saturday, Sunday 2:00 PM - 4:00 PM
: Monday, Tuesday, Thursday, Friday, Saturday, Sunday 2:00 PM - 4:00 PM

: Everyday 11:00 AM - 4:00 PM
: Everyday 11:00 AM - 4:00 PM
: Everyday 11:00 AM - 4:00 PM
: Everyday 11:00 AM - 4:00 PM
: Everyday 11:00 AM - 4:00 PM
: Everyday 11:00 AM - 4:00 PM
: Everyday 11:00 AM - 4:00 PM
: Everyday 11:00 AM - 4:00 PM
: Everyday 11:00 AM - 4:00 PM
: Everyday 11:00 AM - 4:00 PM
: Everyday 11:00 AM - 4:00 PM
: Everyday 11:00 AM - 4:00 PM

: Tuesday to Sunday 2:30 PM - 4:00 PM
: Tuesday to Sunday 2:30 PM - 4:00 PM
: Tuesday to Sunday 2:30 PM - 4:00 PM
: Tuesday to Sunday 2:30 PM - 4:00 PM
: Tuesday to Sunday 2:30 PM - 4:00 PM
: Tuesday to Sunday 2:30 PM - 4:00 PM
: Everyday 2:30 PM - 4:00 PM
: Everyday 2:30 PM - 4:00 PM
: Tuesday to Sunday 2:30 PM - 4:00 PM
: Tuesday to Sunday 2:30 PM - 4:00 PM
: Tuesday to Sunday 2:30 PM - 4:00 PM
: Tuesday to Sunday 2:30 PM - 4:00 PM

: Everyday 2:30 PM - 3:00 PM
: Everyday 2:30 PM - 3:00 PM
: Everyday 2:30 PM - 3:00 PM
: Everyday 2:30 PM - 3:00 PM
: Everyday 2:30 PM - 3:00 PM
: Everyday 2:30 PM - 3:00 PM
: Everyday 2:30 PM - 3:00 PM
: Everyday 2:30 PM - 3:00 PM
: Everyday 2:30 PM - 3:00 PM
: Everyday 2:30 PM - 3:00 PM
: Everyday 2:30 PM - 3:00 PM
: Everyday 2:30 PM - 3:00 PM

: Everyday 11:00 AM - 3:00 PM
: Everyday 11:00 AM - 3:00 PM
: Everyday 11:00 AM - 3:00 PM
: Everyday 11:00 AM - 3:00 PM
: Everyday 11:00 AM - 3:00 PM
: Everyday 11:00 AM - 3:00 PM
: Everyday 11:00 AM - 3:00 PM
: Everyday 11:00 AM - 3:00 PM
: Everyday 11:00 AM - 3:00 PM
: Everyday 11:00 AM - 3:00 PM
: Everyday 11:00 AM - 3:00 PM
: Everyday 11:00 AM - 3:00 PM

: Tuesday to Sunday 2:00 PM - 4:00 PM
: Tuesday to Sunday 2:00 PM - 4:00 PM
: Tuesday to Sunday 2:00 PM - 4:00 PM
: Everyday 2:00 PM - 4:00 PM
: Everyday 2:00 PM - 4:00 PM
: Everyday 2:00 PM - 4:00 PM
: Everyday 2:00 PM - 4:00 PM
: Everyday 2:00 PM - 4:00 PM
: Everyday 2:00 PM - 4:00 PM
: Tuesday to Sunday 2:00 PM - 4:00 PM
: Tuesday to Sunday 2:00 PM - 4:00 PM
: Tuesday to Sunday 2:00 PM - 4:00 PM

: Everyday 11:00 AM - 6:00 PM
: Tuesday to Sunday 11:00 AM - 6:00 PM
: Tuesday to Sunday 11:00 AM - 6:00 PM
: Tuesday to Sunday 11:00 AM - 6:00 PM
: Tuesday to Sunday 11:00 AM - 6:00 PM
: Everyday 11:00 AM - 6:00 PM
: Tuesday to Sunday 11:00 AM - 6:00 PM
: Tuesday to Sunday 11:00 AM - 6:00 PM
: Everyday 11:00 AM - 6:00 PM
: Tuesday to Sunday 11:00 AM - 6:00 PM
: Tuesday to Sunday 11:00 AM - 6:00 PM
: Everyday 11:00 AM - 6:00 PM

: Everyday 2:00 PM - 3:00 PM
: Everyday 2:00 PM - 3:00 PM
: Everyday 2:00 PM - 3:00 PM
: Everyday 2:00 PM - 3:00 PM
: Everyday 2:00 PM - 3:00 PM
: Monday to Saturday 2:30 PM - 5:00 PM
: Everyday 2:30 PM - 5:00 PM
: Everyday 2:30 PM - 5:00 PM
: Monday to Saturday 2:30 PM - 5:00 PM
: Everyday 2:00 PM - 3:00 PM
: Everyday 2:00 PM - 3:00 PM
: Everyday 2:00 PM - 3:00 PM

:
:
:
: Monday, Tuesday, Wednesday, Thursday, Friday, Sunday 2:00 PM - 3:00 PM
: Monday, Tuesday, Wednesday, Thursday, Friday, Sunday 2:00 PM - 3:00 PM
: Monday, Tuesday, Wednesday, Thursday, Friday, Sunday 2:00 PM - 3:00 PM
: Monday, Tuesday, Wednesday, Thursday, Friday, Sunday 2:00 PM - 3:00 PM
: Monday, Tuesday, Wednesday, Thursday, Friday, Sunday 2:00 PM - 3:00 PM
: Monday, Tuesday, Wednesday, Thursday, Friday, Sunday 2:00 PM - 3:00 PM
: Monday, Tuesday, Wednesday, Thursday, Friday, Sunday 2:00 PM - 3:00 PM
:
:

: Everyday 10:00 AM - 5:00 PM
: Everyday 10:00 AM - 5:00 PM
: Everyday 10:00 AM - 5:00 PM
: Everyday 10:00 AM - 5:00 PM
: Everyday 10:00 AM - 5:00 PM
: Everyday 10:00 AM - 5:00 PM
: Everyday 10:00 AM - 5:00 PM
: Everyday 10:00 AM - 5:00 PM
: Everyday 10:00 AM - 5:00 PM
: Everyday 10:00 AM - 5:00 PM
: Everyday 10:00 AM - 5:00 PM
: Everyday 10:00 AM - 5:00 PM

: Tuesday to Sunday 7:00 PM - 10:00 PM
: Tuesday to Sunday 7:00 PM - 10:00 PM
: Tuesday to Sunday 7:00 PM - 10:00 PM
: Tuesday to Sunday 7:00 PM - 10:00 PM
: Tuesday to Sunday 7:00 PM - 10:00 PM
: Tuesday to Sunday 7:00 PM - 10:00 PM
: Tuesday to Sunday 7:00 PM - 10:00 PM
: Tuesday to Sunday 7:00 PM - 10:00 PM
: Tuesday to Sunday 7:00 PM - 10:00 PM
: Tuesday to Sunday 7:00 PM - 10:00 PM
: Tuesday to Sunday 7:00 PM - 10:00 PM
: Tuesday to Sunday 7:00 PM - 10:00 PM

:
:
:
: Everyday 2:00 PM - 3:00 PM
: Everyday 2:00 PM - 3:00 PM
: Everyday 2:00 PM - 3:00 PM
: Everyday 2:00 PM - 3:00 PM
: Everyday 2:00 PM - 3:00 PM
: Everyday 2:00 PM - 3:00 PM
: Everyday 2:00 PM - 3:00 PM
:
:

: Everyday 10:00 AM - 3:00 PM
: Everyday 10:00 AM - 3:00 PM
: Everyday 10:00 AM - 3:00 PM
: Everyday 10:00 AM - 3:00 PM
: Everyday 10:00 AM - 3:00 PM
: Everyday 10:00 AM - 3:00 PM
: Everyday 10:00 AM - 3:00 PM
: Everyday 10:00 AM - 3:00 PM
: Everyday 10:00 AM - 3:00 PM
: Everyday 10:00 AM - 3:00 PM
: Everyday 10:00 AM - 3:00 PM
: Everyday 10:00 AM - 3:00 PM

: Tuesday to Sunday 2:00 PM - 4:00 PM
: Tuesday to Sunday 2:00 PM - 4:00 PM
: Tuesday to Sunday 2:00 PM - 4:00 PM
: Everyday 2:00 PM - 4:00 PM
: Everyday 2:00 PM - 4:00 PM
: Everyday 2:00 PM - 4:00 PM
: Everyday 2:00 PM - 4:00 PM
: Everyday 2:00 PM - 4:00 PM
: Everyday 2:00 PM - 4:00 PM
: Tuesday to Sunday 2:00 PM - 4:00 PM
: Tuesday to Sunday 2:00 PM - 4:00 PM
: Tuesday to Sunday 2:00 PM - 4:00 PM

: Everyday 8:00 AM - 5:00 PM
: Everyday 8:00 AM - 5:00 PM
: Everyday 8:00 AM - 5:00 PM
: Everyday 8:00 AM - 5:00 PM
: Everyday 8:00 AM - 5:00 PM
: Everyday 8:00 AM - 5:00 PM
: Everyday 8:00 AM - 5:00 PM
: Everyday 8:00 AM - 5:00 PM
: Everyday 8:00 AM - 5:00 PM
: Everyday 8:00 AM - 5:00 PM
: Everyday 8:00 AM - 5:00 PM
: Everyday 8:00 AM - 5:00 PM

: Everyday 2:00 PM - 7:00 PM
: Everyday 2:00 PM - 7:00 PM
: Everyday 2:00 PM - 7:00 PM
: Everyday 2:00 PM - 7:00 PM
: Everyday 2:00 PM - 7:00 PM
: Everyday 2:00 PM - 7:00 PM
: Everyday 2:00 PM - 7:00 PM
: Everyday 2:00 PM - 7:00 PM
: Everyday 2:00 PM - 7:00 PM
: Everyday 2:00 PM - 7:00 PM
: Everyday 2:00 PM - 7:00 PM
: Everyday 2:00 PM - 7:00 PM

: Everyday 24 Hrs
: Everyday 24 Hrs
: Everyday 24 Hrs
: Everyday 24 Hrs
: Everyday 24 Hrs
: Everyday 24 Hrs
: Everyday 24 Hrs
: Everyday 24 Hrs
: Everyday 24 Hrs
: Everyday 24 Hrs
: Everyday 24 Hrs
: Everyday 24 Hrs