Best Time To Visit St Moritz
Explore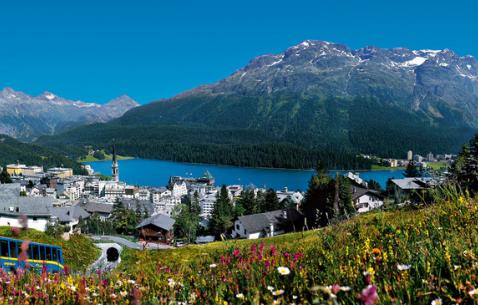 Best Time To Go To St Moritz
There are two major seasons in Saint Moritz:
Winter: December to March: This is a peak season for tourists with clear, bright, cold days, lots and lots of fine powder snow, spectacular natural scenery everywhere. Popular for winter sports like Skiing and Ice-skating, as the tourists enjoy these activities in the month of December to March.
Summer: Mid-June through Mid-October is also a good season for tourists and is known for outdoor activities like hiking, biking, mountain climbing and sailing.
Spring: April and May and Autumn: Late-October and November are considered as off seasons as there is nothing much to do if you travel to Saint Moritz in these seasons.
Thus, the best time to visit Saint Moritz is between December to March and July to October.
Best time to go to St Moritz Attractions

: Everyday 8:00 AM - 1:00 PM
: Everyday 8:00 AM - 1:00 PM
: Everyday 8:00 AM - 1:00 PM
: Everyday 8:00 AM - 1:00 PM
: Everyday 8:00 AM - 1:00 PM
: Everyday 8:00 AM - 1:00 PM
: Everyday 8:00 AM - 1:00 PM
: Everyday 8:00 AM - 1:00 PM
: Everyday 8:00 AM - 1:00 PM
: Everyday 8:00 AM - 1:00 PM
: Everyday 8:00 AM - 1:00 PM
: Everyday 8:00 AM - 1:00 PM

: Everyday 24 Hrs
: Everyday 24 Hrs
: Everyday 24 Hrs
: Everyday 24 Hrs
: Everyday 24 Hrs
: Everyday 24 Hrs
: Everyday 24 Hrs
: Everyday 24 Hrs
: Everyday 24 Hrs
: Everyday 24 Hrs
: Everyday 24 Hrs
: Everyday 24 Hrs

: Everyday 8:00 AM - 12:00 PM
: Everyday 8:00 AM - 12:00 PM
: Everyday 8:00 AM - 12:00 PM
: Everyday 8:00 AM - 12:00 PM
: Everyday 8:00 AM - 12:00 PM
: Everyday 8:00 AM - 12:00 PM
: Everyday 8:00 AM - 12:00 PM
: Everyday 8:00 AM - 12:00 PM
: Everyday 8:00 AM - 12:00 PM
: Everyday 8:00 AM - 12:00 PM
: Everyday 8:00 AM - 12:00 PM
: Everyday 8:00 AM - 12:00 PM

: Everyday 8:00 AM - 12:00 PM
: Everyday 8:00 AM - 12:00 PM
: Everyday 8:00 AM - 12:00 PM
: Everyday 8:00 AM - 12:00 PM
: Everyday 8:00 AM - 12:00 PM
: Everyday 8:00 AM - 12:00 PM
: Everyday 8:00 AM - 12:00 PM
: Everyday 8:00 AM - 12:00 PM
: Everyday 8:00 AM - 12:00 PM
: Everyday 8:00 AM - 12:00 PM
: Everyday 8:00 AM - 12:00 PM
: Everyday 8:00 AM - 12:00 PM

: Everyday 9:00 AM - 3:00 PM
: Everyday 9:00 AM - 3:00 PM
: Everyday 9:00 AM - 3:00 PM
: Everyday 9:00 AM - 3:00 PM
: Everyday 9:00 AM - 3:00 PM
: Everyday 9:00 AM - 3:00 PM
: Everyday 9:00 AM - 3:00 PM
: Everyday 9:00 AM - 3:00 PM
: Everyday 9:00 AM - 3:00 PM
: Everyday 9:00 AM - 3:00 PM
: Everyday 9:00 AM - 3:00 PM
: Everyday 9:00 AM - 3:00 PM

: Everyday 10:00 AM - 3:00 PM
: Everyday 10:00 AM - 3:00 PM
: Everyday 10:00 AM - 3:00 PM
: Everyday 10:00 AM - 3:00 PM
: Everyday 10:00 AM - 3:00 PM
: Everyday 10:00 AM - 3:00 PM
: Everyday 10:00 AM - 3:00 PM
: Everyday 10:00 AM - 3:00 PM
: Everyday 10:00 AM - 3:00 PM
: Everyday 10:00 AM - 3:00 PM
: Everyday 10:00 AM - 3:00 PM
: Everyday 10:00 AM - 3:00 PM

: Everyday 8:00 AM - 1:00 PM
: Everyday 8:00 AM - 1:00 PM
: Everyday 8:00 AM - 1:00 PM
: Everyday 8:00 AM - 1:00 PM
: Everyday 8:00 AM - 1:00 PM
: Everyday 8:00 AM - 1:00 PM
: Everyday 8:00 AM - 1:00 PM
: Everyday 8:00 AM - 1:00 PM
: Everyday 8:00 AM - 1:00 PM
: Everyday 8:00 AM - 1:00 PM
: Everyday 8:00 AM - 1:00 PM
: Everyday 8:00 AM - 1:00 PM

: Tuesday to Sunday 2:00 PM - 5:00 PM
: Tuesday to Sunday 2:00 PM - 5:00 PM
: Tuesday to Sunday 2:00 PM - 5:00 PM
: Tuesday to Sunday 2:00 PM - 5:00 PM
: Tuesday to Sunday 2:00 PM - 5:00 PM
: Tuesday to Sunday 2:00 PM - 5:00 PM
: Tuesday to Sunday 2:00 PM - 5:00 PM
: Tuesday to Sunday 2:00 PM - 5:00 PM
: Tuesday to Sunday 2:00 PM - 5:00 PM
:

: Everyday 5:00 PM - 11:00 PM
: Everyday 5:00 PM - 11:00 PM
: Everyday 5:00 PM - 11:00 PM
: Everyday 5:00 PM - 11:00 PM
:
: Everyday 5:00 PM - 11:00 PM
: Everyday 5:00 PM - 11:00 PM
: Everyday 5:00 PM - 11:00 PM
: Everyday 5:00 PM - 11:00 PM
: Everyday 5:00 PM - 11:00 PM
:
: Everyday 5:00 PM - 11:00 PM

: Everyday 9:30 AM - 11:00 AM
: Everyday 9:30 AM - 11:00 AM
:
:
:
:
:
:
:
:
:
:

: Everyday 8:00 AM - 11:00 AM
: Everyday 8:00 AM - 11:00 AM
: Everyday 8:00 AM - 11:00 AM
: Everyday 8:00 AM - 11:00 AM
: Everyday 8:00 AM - 11:00 AM
: Everyday 8:00 AM - 11:00 AM
: Everyday 8:00 AM - 11:00 AM
: Everyday 8:00 AM - 11:00 AM
: Everyday 8:00 AM - 11:00 AM
: Everyday 8:00 AM - 11:00 AM
: Everyday 8:00 AM - 11:00 AM
: Everyday 8:00 AM - 11:00 AM

: Everyday 7:00 AM - 1:00 PM
: Everyday 7:00 AM - 1:00 PM
: Everyday 7:00 AM - 1:00 PM
: Everyday 7:00 AM - 1:00 PM
: Everyday 7:00 AM - 1:00 PM
: Everyday 7:00 AM - 1:00 PM
: Everyday 7:00 AM - 1:00 PM
: Everyday 7:00 AM - 1:00 PM
: Everyday 7:00 AM - 1:00 PM
: Everyday 7:00 AM - 1:00 PM
: Everyday 7:00 AM - 1:00 PM
: Everyday 7:00 AM - 1:00 PM

: Everyday 8:00 AM - 1:00 PM
: Everyday 8:00 AM - 1:00 PM
: Everyday 8:00 AM - 1:00 PM
: Everyday 8:00 AM - 1:00 PM
: Everyday 8:00 AM - 1:00 PM
: Everyday 8:00 AM - 1:00 PM
: Everyday 8:00 AM - 1:00 PM
: Everyday 8:00 AM - 1:00 PM
: Everyday 8:00 AM - 1:00 PM
: Everyday 8:00 AM - 1:00 PM
: Everyday 8:00 AM - 1:00 PM
: Everyday 8:00 AM - 1:00 PM

: Everyday 7:00 AM - 2:00 PM
: Everyday 7:00 AM - 2:00 PM
: Everyday 7:00 AM - 2:00 PM
: Everyday 7:00 AM - 2:00 PM
: Everyday 7:00 AM - 2:00 PM
: Everyday 7:00 AM - 2:00 PM
: Everyday 7:00 AM - 2:00 PM
: Everyday 7:00 AM - 2:00 PM
: Everyday 7:00 AM - 2:00 PM
: Everyday 7:00 AM - 2:00 PM
: Everyday 7:00 AM - 2:00 PM
: Everyday 7:00 AM - 2:00 PM

: Everyday 2:00 PM - 8:00 PM
: Everyday 2:00 PM - 8:00 PM
: Everyday 2:00 PM - 8:00 PM
: Everyday 2:00 PM - 8:00 PM
: Everyday 2:00 PM - 8:00 PM
: Everyday 2:00 PM - 8:00 PM
: Everyday 2:00 PM - 8:00 PM
: Everyday 2:00 PM - 8:00 PM
: Everyday 2:00 PM - 8:00 PM
: Everyday 2:00 PM - 8:00 PM
: Everyday 2:00 PM - 8:00 PM
: Everyday 2:00 PM - 8:00 PM

: Everyday 24 Hrs
: Everyday 24 Hrs
: Everyday 24 Hrs
: Everyday 24 Hrs
: Everyday 24 Hrs
: Everyday 24 Hrs
: Everyday 24 Hrs
: Everyday 24 Hrs
: Everyday 24 Hrs
: Everyday 24 Hrs
: Everyday 24 Hrs
: Everyday 24 Hrs

: Everyday 00:1 AM - :30 AM; Everyday 00:1 AM - :30 AM | 7:00 AM - 11:59 PM
: Everyday 00:1 AM - :30 AM; Everyday 00:1 AM - :30 AM | 7:00 AM - 11:59 PM
: Everyday 00:1 AM - :30 AM; Everyday 00:1 AM - :30 AM | 7:00 AM - 11:59 PM
: Everyday 00:1 AM - :30 AM; Everyday 00:1 AM - :30 AM | 7:00 AM - 11:59 PM
: Everyday 00:1 AM - :30 AM; Everyday 00:1 AM - :30 AM | 7:00 AM - 11:59 PM
: Everyday 00:1 AM - :30 AM; Everyday 00:1 AM - :30 AM | 7:00 AM - 11:59 PM
: Everyday 00:1 AM - :30 AM; Everyday 00:1 AM - :30 AM | 7:00 AM - 11:59 PM
: Everyday 00:1 AM - :30 AM; Everyday 00:1 AM - :30 AM | 7:00 AM - 11:59 PM
: Everyday 00:1 AM - :30 AM; Everyday 00:1 AM - :30 AM | 7:00 AM - 11:59 PM
: Everyday 00:1 AM - :30 AM; Everyday 00:1 AM - :30 AM | 7:00 AM - 11:59 PM
: Everyday 00:1 AM - :30 AM; Everyday 00:1 AM - :30 AM | 7:00 AM - 11:59 PM
: Everyday 00:1 AM - :30 AM; Everyday 00:1 AM - :30 AM | 7:00 AM - 11:59 PM

: Everyday 24 Hrs
: Everyday 24 Hrs
: Everyday 24 Hrs
: Everyday 24 Hrs
: Everyday 24 Hrs
: Everyday 24 Hrs
: Everyday 24 Hrs
: Everyday 24 Hrs
: Everyday 24 Hrs
: Everyday 24 Hrs
: Everyday 24 Hrs
: Everyday 24 Hrs