Best Time To Visit Stavanger
Explore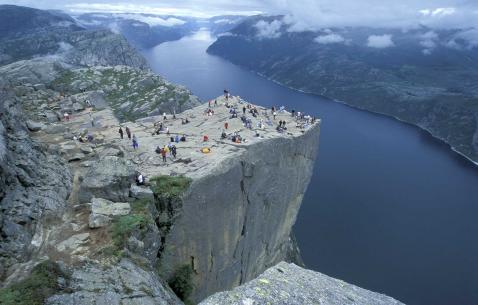 Best Time To Go To Stavanger
The climate of Stavanger is maritime and mild. It's usually windy and the area is blessed with pleasant mild winters year around.
Summer:(April to July): In summers average high temperatures remain around 9-15 Degree Celsius while low temperatures dip to less than 5 Degree Celsius. The hottest month is July, when max temperature is about 19 degree Celsius. This is good season to visit Stavanger.
Winter :( November to January): Winter temperatures can dip to a couple of degrees below freezing. The coldest month is January. In this month temperature could be even minus 2 degree Celsius at night and be prepared for Rain, Snow, Thunderstorm and Fog. This time of the year is also off season for the visitors.
So, the best time to visit Stavanger is between the months of April to July.
Best time to go to Stavanger Attractions

: Everyday 9:00 AM - 9:00 PM
: Everyday 9:00 AM - 9:00 PM
: Everyday 9:00 AM - 9:00 PM
: Everyday 9:00 AM - 9:00 PM
: Everyday 9:00 AM - 9:00 PM
: Everyday 9:00 AM - 9:00 PM
: Everyday 9:00 AM - 9:00 PM
: Everyday 9:00 AM - 9:00 PM
: Everyday 9:00 AM - 9:00 PM
: Everyday 9:00 AM - 9:00 PM
: Everyday 9:00 AM - 9:00 PM
: Everyday 9:00 AM - 9:00 PM

: Everyday 10:00 AM - 4:00 PM
: Everyday 10:00 AM - 4:00 PM
: Everyday 10:00 AM - 4:00 PM
: Everyday 10:00 AM - 4:00 PM
: Everyday 10:00 AM - 4:00 PM
: Everyday 10:00 AM - 4:00 PM
: Everyday 10:00 AM - 4:00 PM
: Everyday 10:00 AM - 4:00 PM
: Everyday 10:00 AM - 4:00 PM
: Everyday 10:00 AM - 4:00 PM
: Everyday 10:00 AM - 4:00 PM
: Everyday 10:00 AM - 4:00 PM

: Monday to Saturday 10:00 AM - 3:00 PM
: Monday to Saturday 10:00 AM - 3:00 PM
: Monday to Saturday 10:00 AM - 3:00 PM
: Monday to Saturday 10:00 AM - 3:00 PM
: Monday to Saturday 10:00 AM - 3:00 PM
: Monday to Saturday 10:00 AM - 3:00 PM
: Monday to Saturday 10:00 AM - 3:00 PM
: Monday to Saturday 10:00 AM - 3:00 PM
: Monday to Saturday 10:00 AM - 3:00 PM
: Monday to Saturday 10:00 AM - 3:00 PM
: Monday to Saturday 10:00 AM - 3:00 PM
: Monday to Saturday 10:00 AM - 3:00 PM

: Everyday 7:00 AM - 7:00 PM
: Everyday 7:00 AM - 7:00 PM
: Everyday 7:00 AM - 7:00 PM
: Everyday 7:00 AM - 7:00 PM
: Everyday 7:00 AM - 7:00 PM
: Everyday 7:00 AM - 7:00 PM
: Everyday 7:00 AM - 7:00 PM
: Everyday 7:00 AM - 7:00 PM
: Everyday 7:00 AM - 7:00 PM
: Everyday 7:00 AM - 7:00 PM
: Everyday 7:00 AM - 7:00 PM
: Everyday 7:00 AM - 7:00 PM

: Everyday 7:00 AM - 3:00 PM
: Everyday 7:00 AM - 3:00 PM
: Everyday 7:00 AM - 3:00 PM
: Everyday 7:00 AM - 3:00 PM
: Everyday 7:00 AM - 3:00 PM
: Everyday 7:00 AM - 3:00 PM
: Everyday 7:00 AM - 3:00 PM
: Everyday 7:00 AM - 3:00 PM
: Everyday 7:00 AM - 3:00 PM
: Everyday 7:00 AM - 3:00 PM
: Everyday 7:00 AM - 3:00 PM
: Everyday 7:00 AM - 3:00 PM

: Everyday 10:00 AM - 3:00 PM
: Everyday 10:00 AM - 3:00 PM
: Everyday 10:00 AM - 3:00 PM
: Everyday 10:00 AM - 3:00 PM
: Everyday 10:00 AM - 3:00 PM
: Everyday 10:00 AM - 3:00 PM
: Everyday 10:00 AM - 3:00 PM
: Everyday 10:00 AM - 3:00 PM
: Everyday 10:00 AM - 3:00 PM
: Everyday 10:00 AM - 3:00 PM
: Everyday 10:00 AM - 3:00 PM
: Everyday 10:00 AM - 3:00 PM

: Tuesday to Sunday 10:00 AM - 2:00 PM
: Tuesday to Sunday 10:00 AM - 2:00 PM
: Tuesday to Sunday 10:00 AM - 2:00 PM
: Tuesday to Sunday 10:00 AM - 2:00 PM
: Everyday 10:00 AM - 2:00 PM
: Everyday 10:00 AM - 2:00 PM
: Everyday 10:00 AM - 2:00 PM
: Tuesday to Sunday 10:00 AM - 2:00 PM
: Tuesday to Sunday 10:00 AM - 2:00 PM
: Tuesday to Sunday 10:00 AM - 2:00 PM

: Tuesday to Friday 11:00 AM - 4:00 PM; Saturday, Sunday 11:00 AM - 3:00 PM
: Tuesday to Friday 11:00 AM - 4:00 PM; Saturday, Sunday 11:00 AM - 3:00 PM
: Tuesday to Friday 11:00 AM - 4:00 PM; Saturday, Sunday 11:00 AM - 3:00 PM
: Tuesday to Friday 11:00 AM - 4:00 PM; Saturday, Sunday 11:00 AM - 3:00 PM
: Tuesday to Friday 11:00 AM - 4:00 PM; Saturday, Sunday 11:00 AM - 3:00 PM
: Tuesday to Friday 11:00 AM - 4:00 PM; Saturday, Sunday 11:00 AM - 3:00 PM
: Tuesday to Friday 11:00 AM - 4:00 PM; Saturday, Sunday 11:00 AM - 3:00 PM
: Tuesday to Friday 11:00 AM - 4:00 PM; Saturday, Sunday 11:00 AM - 3:00 PM
: Tuesday to Friday 11:00 AM - 4:00 PM; Saturday, Sunday 11:00 AM - 3:00 PM
: Tuesday to Friday 11:00 AM - 4:00 PM; Saturday, Sunday 11:00 AM - 3:00 PM
: Tuesday to Friday 11:00 AM - 4:00 PM; Saturday, Sunday 11:00 AM - 3:00 PM
: Tuesday to Friday 11:00 AM - 4:00 PM; Saturday, Sunday 11:00 AM - 3:00 PM

: Everyday 11:00 AM - 2:00 PM
: Everyday 11:00 AM - 2:00 PM
: Everyday 11:00 AM - 2:00 PM
: Everyday 11:00 AM - 2:00 PM
: Everyday 11:00 AM - 2:00 PM
: Everyday 11:00 AM - 2:00 PM
: Everyday 11:00 AM - 2:00 PM
: Everyday 11:00 AM - 2:00 PM
: Everyday 11:00 AM - 2:00 PM
: Everyday 11:00 AM - 2:00 PM
: Everyday 11:00 AM - 2:00 PM
: Everyday 11:00 AM - 2:00 PM

: Monday, Tuesday, Wednesday, Thursday, Friday, Sunday 9:00 AM - 3:00 PM; Saturday 9:00 AM - 2:00 PM
: Monday, Tuesday, Wednesday, Thursday, Friday, Sunday 9:00 AM - 3:00 PM; Saturday 9:00 AM - 2:00 PM
: Monday, Tuesday, Wednesday, Thursday, Friday, Sunday 9:00 AM - 3:00 PM; Saturday 9:00 AM - 2:00 PM
: Monday, Tuesday, Wednesday, Thursday, Friday, Sunday 9:00 AM - 3:00 PM; Saturday 9:00 AM - 2:00 PM
: Monday, Tuesday, Wednesday, Thursday, Friday, Sunday 9:00 AM - 3:00 PM; Saturday 9:00 AM - 2:00 PM
: Monday, Tuesday, Wednesday, Thursday, Friday, Sunday 9:00 AM - 3:00 PM; Saturday 9:00 AM - 2:00 PM
: Monday, Tuesday, Wednesday, Thursday, Friday, Sunday 9:00 AM - 3:00 PM; Saturday 9:00 AM - 2:00 PM
: Monday, Tuesday, Wednesday, Thursday, Friday, Sunday 9:00 AM - 3:00 PM; Saturday 9:00 AM - 2:00 PM
: Monday, Tuesday, Wednesday, Thursday, Friday, Sunday 9:00 AM - 3:00 PM; Saturday 9:00 AM - 2:00 PM
: Monday, Tuesday, Wednesday, Thursday, Friday, Sunday 9:00 AM - 3:00 PM; Saturday 9:00 AM - 2:00 PM
: Monday, Tuesday, Wednesday, Thursday, Friday, Sunday 9:00 AM - 3:00 PM; Saturday 9:00 AM - 2:00 PM
: Monday, Tuesday, Wednesday, Thursday, Friday, Sunday 9:00 AM - 3:00 PM; Saturday 9:00 AM - 2:00 PM

: Monday to Friday 2:00 PM - 6:00 PM; Saturday 2:00 PM - 5:00 PM
: Monday to Friday 2:00 PM - 6:00 PM; Saturday 2:00 PM - 5:00 PM
: Monday to Friday 2:00 PM - 6:00 PM; Saturday 2:00 PM - 5:00 PM
: Monday to Friday 2:00 PM - 6:00 PM; Saturday 2:00 PM - 5:00 PM
: Monday to Friday 2:00 PM - 6:00 PM; Saturday 2:00 PM - 5:00 PM
: Monday to Friday 2:00 PM - 6:00 PM; Saturday 2:00 PM - 5:00 PM
: Monday to Friday 2:00 PM - 6:00 PM; Saturday 2:00 PM - 5:00 PM
: Monday to Friday 2:00 PM - 6:00 PM; Saturday 2:00 PM - 5:00 PM
: Monday to Friday 2:00 PM - 6:00 PM; Saturday 2:00 PM - 5:00 PM
: Monday to Friday 2:00 PM - 6:00 PM; Saturday 2:00 PM - 5:00 PM
: Monday to Friday 2:00 PM - 6:00 PM; Saturday 2:00 PM - 5:00 PM
: Monday to Friday 2:00 PM - 6:00 PM; Saturday 2:00 PM - 5:00 PM

: Everyday 10:00 AM - 4:00 PM
: Everyday 10:00 AM - 4:00 PM
: Everyday 10:00 AM - 4:00 PM
: Everyday 10:00 AM - 4:00 PM
: Everyday 10:00 AM - 4:00 PM
: Everyday 10:00 AM - 4:00 PM
: Everyday 10:00 AM - 4:00 PM
: Everyday 10:00 AM - 4:00 PM
: Everyday 10:00 AM - 4:00 PM
: Everyday 10:00 AM - 4:00 PM
: Everyday 10:00 AM - 4:00 PM
: Everyday 10:00 AM - 4:00 PM

: Everyday 11:00 AM - 6:00 PM
: Everyday 11:00 AM - 6:00 PM
: Everyday 11:00 AM - 6:00 PM
: Everyday 11:00 AM - 6:00 PM
: Everyday 11:00 AM - 6:00 PM
: Everyday 11:00 AM - 6:00 PM
: Everyday 11:00 AM - 6:00 PM
: Everyday 11:00 AM - 6:00 PM
: Everyday 11:00 AM - 6:00 PM
: Everyday 11:00 AM - 6:00 PM
: Everyday 11:00 AM - 6:00 PM
: Everyday 11:00 AM - 6:00 PM

: Tuesday to Sunday 11:00 AM - 4:00 PM
: Tuesday to Sunday 11:00 AM - 4:00 PM
: Tuesday to Sunday 11:00 AM - 4:00 PM
: Tuesday to Sunday 11:00 AM - 4:00 PM
: Tuesday to Sunday 11:00 AM - 4:00 PM
: Tuesday to Sunday 11:00 AM - 4:00 PM
: Tuesday to Sunday 11:00 AM - 4:00 PM
: Tuesday to Sunday 11:00 AM - 4:00 PM
: Tuesday to Sunday 11:00 AM - 4:00 PM
: Tuesday to Sunday 11:00 AM - 4:00 PM
: Tuesday to Sunday 11:00 AM - 4:00 PM
: Tuesday to Sunday 11:00 AM - 4:00 PM

: Monday to Saturday 11:00 AM - 4:00 PM; Sunday 11:00 AM - 4:00 PM
: Monday to Saturday 11:00 AM - 4:00 PM; Sunday 11:00 AM - 4:00 PM
: Monday to Saturday 11:00 AM - 4:00 PM; Sunday 11:00 AM - 4:00 PM
: Monday to Saturday 11:00 AM - 4:00 PM; Sunday 11:00 AM - 4:00 PM
: Monday to Saturday 11:00 AM - 4:00 PM; Sunday 11:00 AM - 4:00 PM
: Monday to Saturday 11:00 AM - 4:00 PM; Sunday 11:00 AM - 4:00 PM
: Monday to Saturday 11:00 AM - 4:00 PM; Sunday 11:00 AM - 4:00 PM
: Monday to Saturday 11:00 AM - 4:00 PM; Sunday 11:00 AM - 4:00 PM
: Monday to Saturday 11:00 AM - 4:00 PM; Sunday 11:00 AM - 4:00 PM
: Monday to Saturday 11:00 AM - 4:00 PM; Sunday 11:00 AM - 4:00 PM
: Monday to Saturday 11:00 AM - 4:00 PM; Sunday 11:00 AM - 4:00 PM
: Monday to Saturday 11:00 AM - 4:00 PM; Sunday 11:00 AM - 4:00 PM

: Everyday 6:00 PM - 11:59 PM
: Everyday 6:00 PM - 11:59 PM
: Everyday 6:00 PM - 11:59 PM
: Everyday 6:00 PM - 11:59 PM
: Everyday 6:00 PM - 11:59 PM
: Everyday 6:00 PM - 11:59 PM
: Everyday 6:00 PM - 11:59 PM
: Everyday 6:00 PM - 11:59 PM
: Everyday 6:00 PM - 11:59 PM
: Everyday 6:00 PM - 11:59 PM
: Everyday 6:00 PM - 11:59 PM
: Everyday 6:00 PM - 11:59 PM

: Tuesday to Sunday 11:00 AM - 4:00 PM
: Tuesday to Sunday 11:00 AM - 4:00 PM
: Tuesday to Sunday 11:00 AM - 4:00 PM
: Tuesday to Sunday 11:00 AM - 4:00 PM
: Tuesday to Sunday 11:00 AM - 4:00 PM
: Tuesday to Sunday 11:00 AM - 4:00 PM
: Tuesday to Sunday 11:00 AM - 4:00 PM
: Tuesday to Sunday 11:00 AM - 4:00 PM
: Tuesday to Sunday 11:00 AM - 4:00 PM
: Tuesday to Sunday 11:00 AM - 4:00 PM
: Tuesday to Sunday 11:00 AM - 4:00 PM
: Tuesday to Sunday 11:00 AM - 4:00 PM

: Everyday 10:00 AM - 6:00 PM
: Everyday 10:00 AM - 6:00 PM
: Everyday 10:00 AM - 6:00 PM
: Everyday 10:00 AM - 6:00 PM
: Everyday 10:00 AM - 6:00 PM
: Everyday 10:00 AM - 6:00 PM
: Everyday 10:00 AM - 6:00 PM
: Everyday 10:00 AM - 6:00 PM
: Everyday 10:00 AM - 6:00 PM
: Everyday 10:00 AM - 6:00 PM
: Everyday 10:00 AM - 6:00 PM
: Everyday 10:00 AM - 6:00 PM

: Everyday 11:00 AM - 7:00 PM
: Everyday 11:00 AM - 7:00 PM
: Everyday 11:00 AM - 7:00 PM
: Everyday 11:00 AM - 7:00 PM
: Everyday 11:00 AM - 7:00 PM
: Everyday 11:00 AM - 7:00 PM
: Everyday 11:00 AM - 7:00 PM
: Everyday 11:00 AM - 7:00 PM
: Everyday 11:00 AM - 7:00 PM
: Everyday 11:00 AM - 7:00 PM
: Everyday 11:00 AM - 7:00 PM
: Everyday 11:00 AM - 7:00 PM

: Everyday 10:00 AM - 7:00 PM
: Everyday 10:00 AM - 7:00 PM
: Everyday 10:00 AM - 7:00 PM
: Everyday 10:00 AM - 7:00 PM
: Everyday 10:00 AM - 7:00 PM
: Everyday 10:00 AM - 7:00 PM
: Everyday 10:00 AM - 7:00 PM
: Everyday 10:00 AM - 7:00 PM
: Everyday 10:00 AM - 7:00 PM
: Everyday 10:00 AM - 7:00 PM
: Everyday 10:00 AM - 7:00 PM
: Everyday 10:00 AM - 7:00 PM

: Tuesday to Saturday 11:00 AM - 3:00 PM; Sunday 11:00 AM - 3:00 PM
: Tuesday to Saturday 11:00 AM - 3:00 PM; Sunday 11:00 AM - 3:00 PM
: Tuesday to Saturday 11:00 AM - 3:00 PM; Sunday 11:00 AM - 3:00 PM
: Tuesday to Saturday 11:00 AM - 3:00 PM; Sunday 11:00 AM - 3:00 PM
: Tuesday to Saturday 11:00 AM - 3:00 PM; Sunday 11:00 AM - 3:00 PM
: Tuesday to Saturday 11:00 AM - 3:00 PM; Sunday 11:00 AM - 3:00 PM
: Tuesday to Saturday 11:00 AM - 3:00 PM; Sunday 11:00 AM - 3:00 PM
: Tuesday to Saturday 11:00 AM - 3:00 PM; Sunday 11:00 AM - 3:00 PM
: Tuesday to Saturday 11:00 AM - 3:00 PM; Sunday 11:00 AM - 3:00 PM
: Tuesday to Saturday 11:00 AM - 3:00 PM; Sunday 11:00 AM - 3:00 PM
: Tuesday to Saturday 11:00 AM - 3:00 PM; Sunday 11:00 AM - 3:00 PM
: Tuesday to Saturday 11:00 AM - 3:00 PM; Sunday 11:00 AM - 3:00 PM

: Everyday 11:00 AM - 4:00 PM
: Everyday 11:00 AM - 4:00 PM
: Everyday 11:00 AM - 4:00 PM
: Everyday 11:00 AM - 4:00 PM
: Everyday 11:00 AM - 4:00 PM
: Everyday 11:00 AM - 4:00 PM
: Everyday 11:00 AM - 4:00 PM
: Everyday 11:00 AM - 4:00 PM
: Everyday 11:00 AM - 4:00 PM
: Everyday 11:00 AM - 4:00 PM
: Everyday 11:00 AM - 4:00 PM
: Everyday 11:00 AM - 4:00 PM

: Everyday 9:00 AM - 6:00 PM
: Everyday 9:00 AM - 6:00 PM
: Everyday 9:00 AM - 6:00 PM
: Everyday 9:00 AM - 6:00 PM
: Everyday 9:00 AM - 6:00 PM
: Everyday 9:00 AM - 6:00 PM
: Everyday 9:00 AM - 6:00 PM
: Everyday 9:00 AM - 6:00 PM
: Everyday 9:00 AM - 6:00 PM
: Everyday 9:00 AM - 6:00 PM
: Everyday 9:00 AM - 6:00 PM
: Everyday 9:00 AM - 6:00 PM

: Everyday 10:00 AM - 5:00 PM
: Everyday 10:00 AM - 5:00 PM
: Everyday 10:00 AM - 5:00 PM
: Everyday 10:00 AM - 5:00 PM
: Everyday 10:00 AM - 5:00 PM
: Everyday 10:00 AM - 5:00 PM
: Everyday 10:00 AM - 5:00 PM
: Everyday 10:00 AM - 5:00 PM
: Everyday 10:00 AM - 5:00 PM
: Everyday 10:00 AM - 5:00 PM
: Everyday 10:00 AM - 5:00 PM
: Everyday 10:00 AM - 5:00 PM

: Everyday 10:00 AM - 4:00 PM
: Everyday 10:00 AM - 4:00 PM
: Everyday 10:00 AM - 4:00 PM
: Everyday 10:00 AM - 4:00 PM
: Everyday 10:00 AM - 4:00 PM
: Everyday 10:00 AM - 4:00 PM
: Everyday 10:00 AM - 4:00 PM
: Everyday 10:00 AM - 4:00 PM
: Everyday 10:00 AM - 4:00 PM
: Everyday 10:00 AM - 4:00 PM
: Everyday 10:00 AM - 4:00 PM
: Everyday 10:00 AM - 4:00 PM

: Everyday 11:00 AM - 4:00 PM
: Everyday 11:00 AM - 4:00 PM
: Everyday 11:00 AM - 4:00 PM
: Everyday 11:00 AM - 4:00 PM
: Everyday 11:00 AM - 4:00 PM
: Everyday 11:00 AM - 4:00 PM
: Everyday 11:00 AM - 4:00 PM
: Everyday 11:00 AM - 4:00 PM
: Everyday 11:00 AM - 4:00 PM
: Everyday 11:00 AM - 4:00 PM
: Everyday 11:00 AM - 4:00 PM
: Everyday 11:00 AM - 4:00 PM

: Tuesday to Sunday 11:00 AM - 3:00 PM
: Tuesday to Sunday 11:00 AM - 3:00 PM
: Tuesday to Sunday 11:00 AM - 3:00 PM
: Tuesday to Sunday 11:00 AM - 3:00 PM
: Tuesday to Sunday 11:00 AM - 3:00 PM
: Tuesday to Sunday 11:00 AM - 3:00 PM
: Tuesday to Sunday 11:00 AM - 3:00 PM
: Tuesday to Sunday 11:00 AM - 3:00 PM
: Tuesday to Sunday 11:00 AM - 3:00 PM
: Tuesday to Sunday 11:00 AM - 3:00 PM
: Tuesday to Sunday 11:00 AM - 3:00 PM
: Tuesday to Sunday 11:00 AM - 3:00 PM

: Everyday 11:00 AM - 11:59 PM
: Everyday 11:00 AM - 11:59 PM
: Everyday 11:00 AM - 11:59 PM
: Everyday 11:00 AM - 11:59 PM
: Everyday 11:00 AM - 11:59 PM
: Everyday 11:00 AM - 11:59 PM
: Everyday 11:00 AM - 11:59 PM
: Everyday 11:00 AM - 11:59 PM
: Everyday 11:00 AM - 11:59 PM
: Everyday 11:00 AM - 11:59 PM
: Everyday 11:00 AM - 11:59 PM
: Everyday 11:00 AM - 11:59 PM