Best Time To Visit Sunny Beach
Explore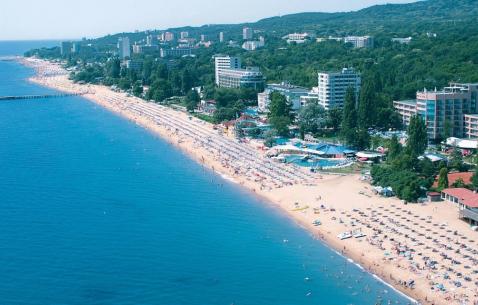 Accommodations with

See All
Best Time To Go To Sunny Beach
Sunny Beach experiences a humid subtropical climate with Maritime and Continental influences.
Summer: The sea temperatures in summer range around 26°C on an average.
Winter: The weather in winter is cold and dry. Sunny Beach is almost deserted and is thus an off season for the visitors.
Low Season (May – mid-June & September): Tourist concentration is relatively low.
Middle Season (mid-June – July, mid-August – September): The number of visitors increases moderately. You can plan your trip during these months if you don't want to go when it is too crowded
High Season (mid-July – mid-August): This is the best time to visit Sunny Beach as the climate is perfect and the temperatures are extremely pleasant .
Explore the best travel planner for your visit to Sunny Beach and create a flawless plan in few simple steps!
Best time to go to Sunny Beach Attractions

: Everyday 10:00 AM - 3:00 PM
: Everyday 10:00 AM - 3:00 PM
: Everyday 10:00 AM - 3:00 PM
: Everyday 10:00 AM - 3:00 PM
: Everyday 10:00 AM - 3:00 PM
: Everyday 10:00 AM - 3:00 PM
: Everyday 10:00 AM - 3:00 PM
: Everyday 10:00 AM - 3:00 PM
: Everyday 10:00 AM - 3:00 PM
: Everyday 10:00 AM - 3:00 PM
: Everyday 10:00 AM - 3:00 PM
: Everyday 10:00 AM - 3:00 PM

: Everyday 3:00 PM - 5:00 PM
: Everyday 3:00 PM - 5:00 PM
: Everyday 3:00 PM - 5:00 PM
: Everyday 3:00 PM - 5:00 PM
: Everyday 3:00 PM - 5:00 PM
: Everyday 3:00 PM - 5:00 PM
: Everyday 3:00 PM - 5:00 PM
: Everyday 3:00 PM - 5:00 PM
: Everyday 3:00 PM - 5:00 PM
: Everyday 3:00 PM - 5:00 PM
: Everyday 3:00 PM - 5:00 PM
: Everyday 3:00 PM - 5:00 PM

: Everyday 00:1 AM - 4:00 AM; Everyday 00:1 AM - 4:00 AM | 6:00 PM - 11:59 PM
: Everyday 00:1 AM - 4:00 AM; Everyday 00:1 AM - 4:00 AM | 6:00 PM - 11:59 PM
: Everyday 00:1 AM - 4:00 AM; Everyday 00:1 AM - 4:00 AM | 6:00 PM - 11:59 PM
: Everyday 00:1 AM - 4:00 AM; Everyday 00:1 AM - 4:00 AM | 6:00 PM - 11:59 PM
: Everyday 00:1 AM - 4:00 AM; Everyday 00:1 AM - 4:00 AM | 6:00 PM - 11:59 PM
: Everyday 00:1 AM - 4:00 AM; Everyday 00:1 AM - 4:00 AM | 6:00 PM - 11:59 PM
: Everyday 00:1 AM - 4:00 AM; Everyday 00:1 AM - 4:00 AM | 6:00 PM - 11:59 PM
: Everyday 00:1 AM - 4:00 AM; Everyday 00:1 AM - 4:00 AM | 6:00 PM - 11:59 PM
: Everyday 00:1 AM - 4:00 AM; Everyday 00:1 AM - 4:00 AM | 6:00 PM - 11:59 PM
: Everyday 00:1 AM - 4:00 AM; Everyday 00:1 AM - 4:00 AM | 6:00 PM - 11:59 PM
: Everyday 00:1 AM - 4:00 AM; Everyday 00:1 AM - 4:00 AM | 6:00 PM - 11:59 PM
: Everyday 00:1 AM - 4:00 AM; Everyday 00:1 AM - 4:00 AM | 6:00 PM - 11:59 PM

: Everyday 2:00 PM - 8:00 PM
: Everyday 2:00 PM - 8:00 PM
: Everyday 2:00 PM - 8:00 PM
: Everyday 2:00 PM - 8:00 PM
: Everyday 2:00 PM - 8:00 PM
: Everyday 2:00 PM - 8:00 PM
: Everyday 2:00 PM - 8:00 PM
: Everyday 2:00 PM - 8:00 PM
: Everyday 2:00 PM - 8:00 PM
: Everyday 2:00 PM - 8:00 PM
: Everyday 2:00 PM - 8:00 PM
: Everyday 2:00 PM - 8:00 PM

: Everyday 00:1 AM - 3:00 AM
: Everyday 00:1 AM - 3:00 AM
: Everyday 00:1 AM - 3:00 AM
: Everyday 00:1 AM - 3:00 AM
: Everyday 00:1 AM - 3:00 AM
: Everyday 00:1 AM - 3:00 AM
: Everyday 00:1 AM - 3:00 AM
: Everyday 00:1 AM - 3:00 AM
: Everyday 00:1 AM - 3:00 AM
: Everyday 00:1 AM - 3:00 AM
: Everyday 00:1 AM - 3:00 AM
: Everyday 00:1 AM - 3:00 AM

: Everyday 00:1 AM - 2:00 AM; Everyday 00:1 AM - 2:00 AM | 10:00 AM - 11:59 PM
: Everyday 00:1 AM - 2:00 AM; Everyday 00:1 AM - 2:00 AM | 10:00 AM - 11:59 PM
: Everyday 00:1 AM - 2:00 AM; Everyday 00:1 AM - 2:00 AM | 10:00 AM - 11:59 PM
: Everyday 00:1 AM - 2:00 AM; Everyday 00:1 AM - 2:00 AM | 10:00 AM - 11:59 PM
: Everyday 00:1 AM - 2:00 AM; Everyday 00:1 AM - 2:00 AM | 10:00 AM - 11:59 PM
: Everyday 00:1 AM - 2:00 AM; Everyday 00:1 AM - 2:00 AM | 10:00 AM - 11:59 PM
: Everyday 00:1 AM - 2:00 AM; Everyday 00:1 AM - 2:00 AM | 10:00 AM - 11:59 PM
: Everyday 00:1 AM - 2:00 AM; Everyday 00:1 AM - 2:00 AM | 10:00 AM - 11:59 PM
: Everyday 00:1 AM - 2:00 AM; Everyday 00:1 AM - 2:00 AM | 10:00 AM - 11:59 PM
: Everyday 00:1 AM - 2:00 AM; Everyday 00:1 AM - 2:00 AM | 10:00 AM - 11:59 PM
: Everyday 00:1 AM - 2:00 AM; Everyday 00:1 AM - 2:00 AM | 10:00 AM - 11:59 PM
: Everyday 00:1 AM - 2:00 AM; Everyday 00:1 AM - 2:00 AM | 10:00 AM - 11:59 PM

:
:
:
:
: Everyday 5:00 PM - 11:59 PM
: Everyday 5:00 PM - 11:59 PM
: Everyday 5:00 PM - 11:59 PM
: Everyday 5:00 PM - 11:59 PM
: Everyday 5:00 PM - 11:59 PM
: Everyday 5:00 PM - 11:59 PM
:
:

: Everyday 24 Hrs
: Everyday 24 Hrs
: Everyday 24 Hrs
: Everyday 24 Hrs
: Everyday 24 Hrs
: Everyday 24 Hrs
: Everyday 24 Hrs
: Everyday 24 Hrs
: Everyday 24 Hrs
: Everyday 24 Hrs
: Everyday 24 Hrs
: Everyday 24 Hrs