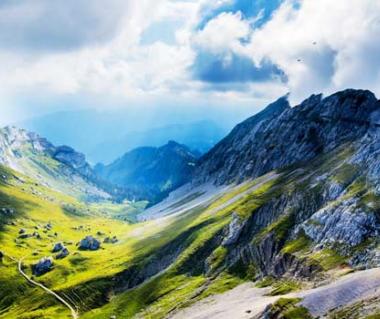 Switzerland Trip Planner
Plan your customized trip plan for Switzerland. Choose from Top Toursim cities and tourist attarctions of Switzerland using trip planner.
Switzerland Overview
A scintillating blend of pastoral, rustic lifestyles and metropolitan attractions, the mountainous paradise called Switzerland attracts tourists of varied persuasions. Enough adjectives have already been used to describe this heaven on earth. Instead of adding to that list, I will just provide a simple comparison – Here's a place that combines the Best of the Best – German Engineering, French Fine crafts, English/American Banking & Finance and on top of all this, spectacular nature!
Known as a summer and winter sports paradise Switzerland is the land of cuckoo clocks and bankers, historic landmarks and chalet-dotted countryside. Though the Swiss are united neither by religion or language they have lived peacefully together for centuries and have maintained their neutrality which has since become their hallmark. They have deliberately kept aloof from political issues the world over and are a self-contained nation, both culturally and economically. Visitors often presume that this would mean meeting a reserved and unfriendly people – Not true! The Swiss can envelop you with their warm hospitality as soon as you allow them to… so be ready for one of the most pleasant travel experiences when you come a-visiting.
When to Go :-
The best time to visit Switzerland depends upon what's on your to-do list. Switzerland has a pleasant climate with the peaks of the Alps being snow covered while the lowlands and plains enjoy a temperate climate all through the year. If you are into adventure sports then the ideal time to visit Switzerland is during the winter, which starts from late December and goes on to March.
The best time to visit Switzerland for sightseeing and to experience the scenic beauty and varying colors is the summer season (June to September) as the mountain passes are open and you can see the most picturesque and panoramic views at this time of the year. This is also the peak tourist time, so it gets quite crowded. Autumnis a good time for hiking in the Swiss Alps as the view from the mountain peaks can take your breath away. The temperature starts to fall around this time of the year and the air gets cooler. May and October are the shoulder months when you will find good hotel bargains, as this is time the tourist's flow falls considerably. At any time, as you travel around the country you'll hit many different climatic conditions.
Getting to Switzerland
By Air
Geneva International Airport and Zurich Airport , have frequent flights connecting Switzerland to major destinations across Europe, Asia, Africa, Australia and the Americas. The national airline, Swiss (LX), is the chief carrier, although a number of other international airlines- including Lufthansa, British Airways, Darwin, Air France, United Airlines, Continental Airlines and American Airlines also fly to/from Switzerland. Bern-Belp and Lugani Airport are the secondary airports but are rapidly growing.
By Rail
Eurostar, ICE, and TGV trains connect numerous European cities to Switzerland on a daily basis. If you plan to enter the country by train you may do so on Eurail and this may work out to be economical as Eurail is valid on most intercity trains. The railway network is efficient and well connected throughout the country and this is a great way of seeing the spectacular scenery that the mountains offer.
By Road
One can motor into Switzerland from any of the neighboring countries. General road conditions within the Swiss mainland are usually excellent, owing to a highway system that is extensive and well developed. The roads are well surfaced – although the winding paths along the mountains make for low average speeds. A rough patch can be expected during the somewhat treacherous winter, when hazardous weather results in temporary roadblocks around the steeper paths. To counter this, the tourist has access to a reliable forecasting network– just dial 163 for bulletins and advance information on weather conditions. Getting around by car, then, is generally a good idea for most of the year – provided you plan wisely during the periods specified. Make sure you are equipped with snow chains on your tires and fog lights, if the weather demands.
What to see and experience-
Sightseeing-
You haven't seen Switzerland if you haven't managed some historic snapshots of the omnipresent Swiss cow with its trademark bell. In other words, if "sightseeing" is your thing, you've got to camp out in places like Luzern or Lugano and enjoy the green meadows and the natural beauty to get a taste of the rustic splendor of the country. Luzern, Geneva and Lugano have the most breathtaking bodies of water in the continent and certainly merit a day or two of strolling along the banks of the lakes.
Interlaken-
The most visited area in Switzerland is Interlaken, which is surrounded by unparalleled natural beauty and is a hit with the adventure seeking backpacker, as the nearby mountains have some of the best hiking trails in the world.
Ski Resort-
The ski resort of Zermatt is home to the towering Matterhorn and tourists flock here to get a glimpse of this magnificent peak. The quintessential excursion to the cheese makers' or to the local clock shop, to find out the manufacturing secrets of the Swiss, would also be something worth keeping in mind.
Any holiday would be incomplete sans a visit to the famous museums, churches, mansions and universities of Geneva and Zurich.
Eating out in Switzerland-
Dining options range from luxury establishments to modest cafes, stubli (tavern cafes), and restaurants specializing in local cuisine. If you're staying in a resort, you can normally use the half pension plan, which includes a simple, hot meal in the room rate. 

Mealtimes: the main Swiss meal of the day is lunch, followed by light evening snacks.
NightLife :-
In bigger cities like Zurich and Geneva night life centers around cafes along the lakeside where street performers put up their acts on summer nights.. Jazz is popular and jazz festivals are held periodically. If it is something more serious you are looking for catch a play or a music concert. Weekly listings of concerts and performances are available at the local Tourist Information booths around the cities.
Where to stay :
Easily one of the most sought after vacation destinations in Europe, Switzerland sees huge hordes of tourists visiting every year. Most Swiss hotels tend to be quite expensive but with a little research one can easily find the best places to stay in Switzerland that fit their needs.
While most places in the country being quite expensive, it can often be quite difficult to find a good budget hotel option. A good way to plan your trip, given a decent amount of time is to call the tourism office that can help guide you with the planning and offer you great advice on the best hotels in your price range.
When deciding where to stay in Switzerland, the more expensive options, coming in at around $400-$500, tend to be closer to the views and experiences of the Alps and if skiing is on the docket, a nice luxury hotel is the way to go. The other options, while being substantially cheaper, don't really fall in the budget category, coming in at $300 or so for a night and so it is better to stay along the outskirts or foothills and visit the hills for the day, where prices are more along the lines of $100 or so for a business hotel.
When deciding where to stay in Switzerland, serious consideration should be given to homestay options are these are the cheapest and most comfortable. Your Swiss accommodation in an AirBnb will be comfortable, while not providing any of the somewhat unnecessary bells and whistles.
Shopping :-
The world famous Lindt chocolates will beckon you throughout your trip, the Gruyere, emmentaler or vacherin will tickle your palette and the sleek Rolexes will make you swoon. Prices, no doubt, will reflect the world-class quality and durability of these products. For the budget shoppers, inexpensive and delightful souvenirs and goodies in street shops will give you something to show for the trip. Other items of purchase in Switzerland include pottery, crystal, embroidered items, wood carvings, clocks (including cuckoos), Swiss army knives, liquors (Williamine, the best thing that can be done with a pear), lace, textiles, folklore souvenirs (such as music boxes), cowbells, cheese, antiques, stainless-steel cutlery, ski equipment and clothing, leather goods and shoes.
Events :-
During summer there are a lot of international and local events held which are mostly themed on sports, music and art. One of the well-known festivals is the Lucerne Music Festival, which usually last's for the entire summer. Other festivals include the World Snow Festival at Grindelwald, International Motor show at Geneva, Berne International Jazz Festival, Basle Carnival at Basle, International Balloon Festival in January, Cow Fighting Festival in March, Montreux Jazz Festival in July, Polo World Cup on Snow at St. Moritz, the International Film And Television Festival in December and Swiss Alpine Marathon at Danos are few of the special events to make your visit memorable.
hello I have party of 6 staying in Lucernain June 2020, Can you recommend the best tours . They will only be there June 13-16 , They have a cruise on the 16th .

Answer

Report Abuse
Searching for something specific?