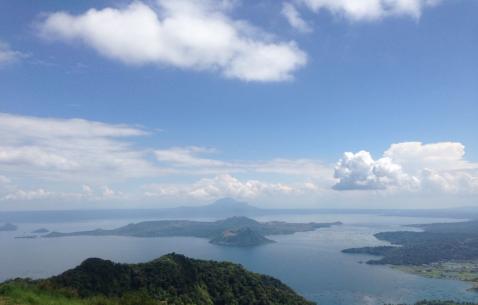 Best places to visit in Tagaytay
A picturesque resort town, there are plenty of things to do in Tagaytay that will keep a visitor occupied for atleast a couple of days. An experience you should not miss out on is visiting the active Taal Volcano and its marvellous lake. Activities one can undertake at the volcano site include trekking, canoeing and horse riding.
Other popular tourist attractions in Tagaytay are the Residence Inn Zoo, the Tagaytay Eye (Sky Ranch), the scenic People's Park, the intriguing Puzzle Mansion museum, the church of Our Lady Of Manaoag At Tierra De Maria and the vivacious Paradizoo. If you love adventure or if you are an outdoorsy person, the Picnic Grove recreational area with its thrilling ziplining activities is a must visit.
Romantic things to do in Tagaytay
One of the most laidback towns of Philippines, Tagaytay with its faded yet saturated panoramas with a clean and fresh air that instantly revitalizes the mind and body is one hidden gem in the troop of the best romantic places in the world. The town offers lovely accommodations, fabulous dine outs, and lots of activities making sure that couple don't run out of Tagaytay date ideas.
To start with the best place for couples in Tagaytay there are a number of staying places that offer unique experiences. Along with lots of Bed and Breakfast options, you will also find unique places like the Nurture Wellness Village and Casa De Carlo among many others. A Tagaytay date itinerary is incomplete without good food. The town has an unmissable breakfast culture, so a hearty breakfast at the Marcia Adams Tuscany Tagaytay or Breakfast at Antonio's has got to be on your list! These two especially are also two of the best places to eat in Tagaytay.
And if you want something really offbeat yet highly romantic then places like The Purple Owl Tagaytay or the Moon Garden Tagaytay Tagaytay, Cavite will make you not want to leave! Cozy accommodations, a very "Tumblr-like" ambience, open air movie screenings complete with lots of cushions and fairy lights, places like these are the ones you must look for while in Tagaytay.
Things to do in Tagaytay at night
You will never have to wonder what to do or where to eat in Tagaytay given the number of restaurants, quaint pubs and things to do this this place offers. Being in the land of the Philippines, expect a lot of drinking and merry making scenes. If you are looking out for some unique dining opportunities, then places like The Wild Juan is where you should head to. A beautiful mélange of the western cuisines smoothly accommodated in the traditional style, this restaurant assures foodgasm! If dinner with a serene view is your idea of a fabulous night out, then the Papa Doms Bar & Restaurant with its unlimited beer and views of the Lake Taal will not cease to charm you. In Tagaytay with the family? A place like Bulalo Capital would be a great choice. This one particularly with its family KTV promises a cherishing night to remember.
Top 10 things to do in Tagaytay
As you begin to plan your Tagaytay tourist spots itinerary you will come across the most undertaken attractions including people's park Tagaytay, Tagaytay picnic grove, Tagaytay sky ranch among others. But a as you explore these do not miss out on other Tagaytay Philippines points of interest like the Puzzle Mansion Tagaytay and the Paradizoo Tagaytay too.