by Saket Newaskar Updated on 22 Oct 2018

Image Source: wikimedia.org
Tagaytay or Tagaytay City as it is commonly known is probably the most popular tourist destination in the Philippines. Located in the province of Cavite, Tagaytay is renowned for its beautiful scenic landscapes, natural attractions and relatively cooler climate because of its high altitude. It is ideally located overlooking the Taal Lake providing views of the Taal Volcano Island in the middle of the lake. The city offers various vantage points for viewing the Taal Volcano. Tagaytay is about 59 kms (37 mi) from Manila and is a frequent escape for the city locals to have some downtime.
Here we try to provide a comprehensive overview of various popular things to do in Tagaytay along with some offbeat ideas for having some fun time in this beautiful city. Most sightseeing activities in Tagaytay are connected with the Taal Lake and Volcano here. Some activities are designed for soaking in the beautiful views of the Taal Lake and Volcano.
Let's explore one by one the best things to do in Tagaytay:
1. Top activities with Taal Volcano and Lake or with Views of Taal Volcano and Lake
1.1) Hike up the Taal Volcano and enjoy the Beauty of Taal Lake


Image Source: flickr.com
The Taal Volcano and Lake are undoubtedly the most attractive attractions for your first visit to Tagaytay. The Mountain you see from Tagaytay is Mt Binintian. This is a Dormant Volcano. The Taal Volcano is behind Mt Binintian. This place is a paradise for nature lovers. Taal Volcano has been through 33 recorded eruptions and as per some sources is also the smallest active volcano in the World. The Taal Lake surrounds this volcanic mountain. You can see a huge cratered mouth and sides right in the middle of the lake. Inside the crater, there is another lake. Thus, sometimes this place is called the twin lake.
It is best to start for Taal lake from Tagaytay in the morning to avoid the heat. Carry some sunscreen if you are sensitive to heat. A short boat ride through the Taal lake takes you to the volcano island. A 35 to 40 minutes walk through a 1.24 miles (2 km) sandy trail from the village will take you straight to the Taal mountain crater.
On the way, you pass through the volcanic steam vents. From the top, the water looks dark green. You can also swim in the sulphuric lake inside the crater. This is a beautiful once in a lifetime experience but it may be slightly expensive. You have to shell out about P100 per person for tourism tax, cost of the boat ride etc are separate depending on the service you choose.
1.2) Ride on the Philippines' tallest Ferris wheel at Sky Ranch and enjoy with your family


Image Source: wikipedia.org
If you have kids with you during your stay in Tagaytay, then Sky Ranch is a must visit. This amusement park offers some of the best rides in Tagaytay in the backdrop of the Taal lake and Volcano. The main attraction is the Sky Eye Ferris Wheel which is the tallest / highest ferris wheel at 63 m above the ground. Views of the lake and volcano from the top are just breathtaking.
Another interesting ride is the Sky Cruiser. It is a pedal bike at a significant height. The track in the sky offers beautiful views of the Taal Lake and Volcano. Another popular ride here is the zipline. You can zip through a height of 300 m in the backdrop of the Taal lake. Other amusing rides and activities like Super Viking, Snail Attack, Bubble-O-Fun and Lobster Pot. These fun-filled games ensure that the time spent at Sky Ranch is a splendid one for your kids and family.
You can purchase food only inside Sky Ranch restaurants. Outside food is not allowed.
Treasury Office, located in Sky Ranch Tagaytay: Monday - Sunday, 10:00 am - 7:00 pm
Treasury Office located in SM Mall of Asia Admin: Monday - Sunday, 8:00 am - 6:00 pm
Make your stay comfortable with hotels near Sky Ranch, Tagaytay.
1.3) Have a Picnic at the Picnic Grove


Image Source: wikimedia.org
Picnic Grove is a picturesque, laid back place with some incredible panoramic views of the Taal Lake and Volcano. Picnic areas here are in a scenic hilltop setting. Other activities here include horse-riding, kite flying, cable-car, eco-trails and ziplines. A selfie while horse riding here is worth it! It may cost you 20p. Shopping, restaurants and activities here can keep you busy for the whole day.
An entry into the park costs 50p per head. Kids below 4 years go free if you carry age proof.
You may rent a table (100P), Picnic Huts (150P), Family Sheds (300P), Pavillion (500p), Viewdeck Hall (2,500p) depending on your requirement.
Zip lines cost 200p during weekdays and 300p during weekends or holidays for one way zip and an additional 100p for a ride back.


Image Source: wikipedia.org
This place was earlier known as the "Palace in the Sky". This park is a historical incomplete mansion (belonged to the Marcos family at some point of time) converted into an urban park. The hilltop is spotted with benches, wooden footbridges and gazeboes. Built on top of Mount Gonzales, there is also a multitude of refreshment stalls and souvenir shops surrounding the park. Again, the views of the valley from the hilltop are stunning. Ideal for Instagram worthy photography and spending a relaxed afternoon, People's Park In The Sky is perfect for people of all ages. Admission here costs 30P.
2. Go for some spiritual rejuvenation at Our Lady Of Manaoag
The Philippines is full of spiritual and religious places and Tagaytay is no different. You will find many churches shrines and meditation houses where you can meditate.
2.1) Our Lady Of Manaoag - Mother Mary is kind!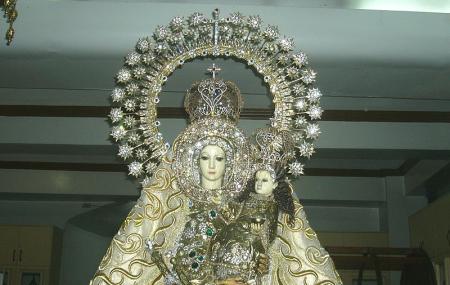 Image Source: wikipedia.org
The most prominent of these is a tranquil Catholic church which is a perfect place for reflection and praying, Our Lady Of Manaoag. This is a gorgeous shrine emanating an aura of peace and serenity. This 50ft red/brown statue of mother Mary. You can't miss this. The walls decked with colorful images and dried flowers add to the beauty of this chapel while the lush green surroundings amp up its attractiveness. Considered to be a healing place, Our Lady Of Manaoag is perfect for meditating and relaxing.
This place is nice for a traditional family photo for your facebook cover! The atmosphere at this place is beautiful during Christmas. You can shop for small Jesus Crosses and Statues in the flea market adjacent to the Church.
2.2) Experience solitude at Lourdes Church
Featuring beautiful and spacious interiors, Lourdes Church beguiles tourists with its aura of quietude and peace. The wonderfully designed surroundings and the tranquil landscapes make this church a great place to pray, rejuvenate and meditate.
3. Go for a food trip - Top things to do for Foodies in Tagaytay


Image Source: wikipedia.org
3.1) One of the most popular places in Tagaytay to eat is Sonya's Garden
Though this was a hidden gem some time ago as a bread and breakfast, Sony's Garden has become one of the most popular places to visit in Tagaytay. Reason: Their salad dressing. People from far corners of the country will come here to purchase this secret recipe salad dressing. Try some for yourself and bring back some for your friends too!
3.2) Chill and eat at Dreamland Arts & Crafts Cafe
A well-known place to eat in Tagaytay, Dreamland Arts & Crafts Café is a hippie-themed restaurant boasting of a funky vibe. Decked up in artsy stuff like dreamcatchers, posters and photos, this café is ideal for youngsters from all around the world. That's not all- they also stock up on quirky stuff like coloring books, temporary silver and gold sticker tattoos and yarns.
In addition to the lip-smacking snacks served here, they are also known for their eclectic drinks and beverages.
3.3) Don't miss Pasalubong
Pasalubong means some stuff travellers bring home from their destination. Try some of the Pasalubong stuff like pies, cakes, breads and confectionary items. Amira's Buco Tart Haus, Carmela's Banana Cake, Owen and Sophia house of Delicacies, Rowena's Pasalubong are some good places for Pasalubong in Tagaytay. Try to get some home too!
4. Time at the Zoo with family
There are two zoos; the Paradizoo and Residence Inn zoo, you may choose to visit one of them depending on the time you have and your location.
4.1) Spend time with farm animals at Paradizoo


Image Source: wikimedia.org
A theme farm with separate sections for farm animals, vegetable and flower gardens, Paradizoo is a nature lover's paradise. Bequeathing you with a chance to get up close and personal with the farm animals, this zoo has separate tour guides for every farm cluster. Here, you can also indulge in off-beat recreational activities like horseback riding and camel feeding. The Paradizoo also houses a quirky café as well as a discovery shop.
4.2) Indulge in recreational activities at Residence Inn Zoo
A popular tourist attraction in Tagaytay, the Residence Inn Zoo is so much more than a quintessential menagerie. In addition to housing plethora of wild animals and exotic birds, this place also consists of a theme park that showcases wonderful shows and offers exciting activities like ziplining. This zoo inn is also known for the exceptionally comfortable and affordable accommodation option, it provides to the visitors.
5. Top Indoor things to do in Tagaytay
5.1) Take a look at the world's largest puzzle collection at Puzzle Mansion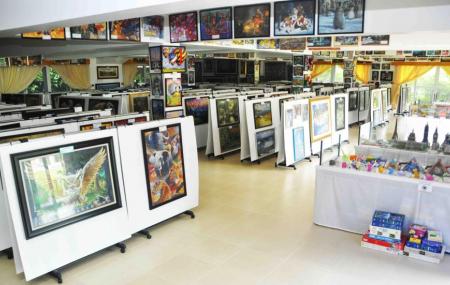 Image Source: facebook.com
Featuring a collection of a jigsaw puzzle which is recognized as the biggest in the world, Puzzle Mansion is a museum nestled in the puzzle collector Gina Gil Lacuna's one-hectare summer house in Tagaytay. The variety of puzzles, the different types of formats, the attention to detail and the cultural references leave you fascinated and make sure that you have a wonderful time at this mansion.
5.2) Admire fantastic artwork at Museo Orlina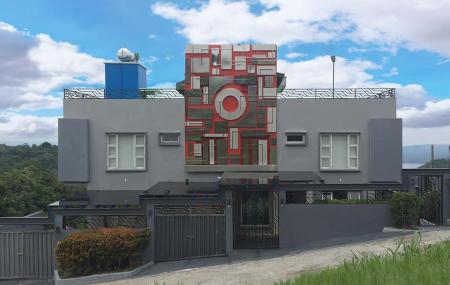 Image Source: facebook.com
Museo Orlina displays fantastic artwork of glass sculpture artist Ramon Orlina and is considered to be one of the finest museums in the country. A must-visit place for all art buffs, this museum is a popular tourist spot in Tagaytay. The exhibits, which are housed on different levels and sorted into various galleries, give the visitors a glimpse into this complex art form of glass sculpting.
6. Relaxing in Tagaytay - Relaxing activities in Tagaytay
Live in rustic-chic bungalows at Nurture Wellness Village. As the name suggests, Nurture Wellness Village is a center which provides tourists with relaxing therapies and healing treatments in a rustic ambiance and one of the best places to visit in Tagaytay for couples. Tucked away between lovely coffee plantations and lush vegetation, Nurture Wellness Village offers visitors with pastoral yet elegant accommodation options, traditional techniques, private gardens and a beautiful view of the Taal lake. A visit and stay to this cozy wellness center is undoubtedly one of the most romantic things to do in Tagaytay.
7. Shopping in Tagaytay
Offering visitors with a wide selection of local and international shops, Alaya Malls Serin is the perfect place to head to for a relaxing evening after a hectic day of sightseeing in the city. Taking care of all your shopping woes, a visit to this mall promises you with the best of retail therapy sessions. With numerous restaurants housed in the mall, it is also one of the best places to eat in Tagaytay.
7.2) Twin lake shopping village
Some beautiful scenery is awaiting you while you shop here at the Twin lake shopping village. Laid back overall this place has a good ambience for cafes and restro-shops.
8. Things to do in Tagaytay at night


Image Source: pixabay.com
While it has a plethora of exciting things to do in daytime, a few think the town's nightlife is a dull dud. But, we would force you to disagree. A place that offers restaurants to embark on a sumptuous gastronomic journey along with live music, bars that have the best of ales, and karaoke venues where you can sing to your heart's content, definitely proves to be good enough to enjoy the night. Following are a few places that dominate the nightlife in Tagaytay, letting you have a great experience.
8.1) Tap your feet to the live music at TAJ
If Indian and Mediterranean cuisines titillate your taste buds, there can be no better place than TAJ to enjoy dinner in Tagaytay. You can enjoy your food while listening to live acoustic music. After gorging down chicken biryani, which is the most recommended dish, you can smoke some deliciously flavored shisha by ordering hookah.
8.2) Drink the night away at Papa Doms Bar and Restaurant
Head towards Papa Doms Bar and Restaurant and trump your companions at a beer pong game. Offering unlimited beer and a wide range of pulutan, this place is a favorite amongst locals and highly recommended to tourists.
8.3) Visit the pocket-friendly restaurant - Dencio's
Although Dencio's isn't open very late in the night, it is a good place to have dinner if you are travelling to Tagaytay on a budget. The place provides delicious Filipino comfort food and drinks at a very reasonable rate. It is mostly favored by young adults.
8.4) Go wild at The Wild Juan
This is a favorite hangout place amongst friends visiting Tagaytay. The restaurant is located along the highway. It provides innovative Filipino dishes that are served with a western twist. If you want to indulge in some Filipino crafted beer, this is the best place to be. Do not worry if you are waste, since you can always spend the entire night here.
8.5) Sing your heart out at Hellenic
Hellenic is a videoke and karaoke venue at Magallanes Square of Tagaytay. With a collection of around 50,000 recordings, this place encourages people to unleash the singer in them. You may also enjoy brilliant dance performances that are put up here at regular intervals.
9. Some Offbeat stuff to do in Tagaytay
Sailing at Taal Lake - Though Sailing is not the main attraction here, you may try it out as all the necessary equipment is available near the lake. If you want something really offbeat yet highly romantic then places like The Purple Owl Tagaytay or the Moon Garden will make you not want to leave! Cozy accommodations, a very "Tumblr-like" ambience, open-air movie screenings complete with lots of cushions and fairy lights, places like these are the ones you must look for while in Tagaytay.
Summary List: Tagaytay Points of Interest
Based on above recommendations, here is the summary of 22 points of interest in Tagaytay to visit:
Taal Volcano
Taal Lake
Sky Ranch
Zipline Ride
Picnic Grove
People's Park In The Sky
Our Lady Of Manaoag
Lourdes Church
Sonya's Garden
Dreamland Arts & Crafts Cafe
Paradizoo
Residence Inn Zoo
Puzzle Mansion
Museo Orlina
Nurture Wellness Village
Ayala Malls Serin
The Purple Owl Tagaytay
TAJ (for dinner & live music)
Papa Doms Bar and Restaurant
Dencio's
The Wild Juan
Hellenic