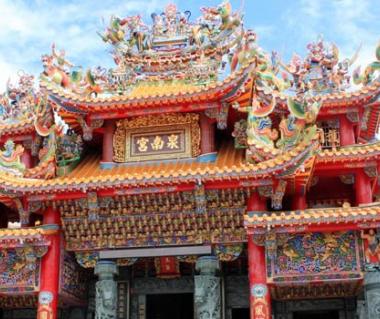 Taiwan Trip Planner
Plan your customized trip plan for Taiwan. Choose from Top Toursim cities and tourist attarctions of Taiwan using trip planner.
Taiwan Overview
Taiwan is situated in the Pacific Ocean about 160 kilometers (100 miles) from the southeastern coast of the Chinese mainland. Located about midway between Korea and Japan to the north and Hong Kong and the Philippines to the south, Taiwan is a natural gateway for travelers to and within Asia. Taiwan now has eight National Parks. Some of Asia's most spectacular scenery awaits you at Taroko Gorge National Park, Taiwan's foremost tourist draw. Lungshan is Taipei's oldest and most popular temple, dating back to the early 18th century attracts the visitor…
How to Enter :-
Air: - Taiwan's main international gateway is Taiwan Taoyuan International Airport near Taipei, Kaohsiung ,distant second and very limited international services to Taichung and Hualien. Taiwan is served by airlines from Asia, Europe, South Africa, and North America. The island has two international airports, at Kaohsiung in the south and at Taoyuan in the north. Chiang Kai-shek International Airport at Taoyuan is 40 kilometers (24.8 miles) southwest of Taipei.
Climate and Best time to visit : -
Lowland Taiwan has a marine tropical climate during the summer, with sweltering, humid weather (above 30°C, 86°F) from Jun-Sep.The best time of year to visit is from Oct-Dec,
What to see : -
Taiwan is known for its towering mountains, and is reputable as a "Mountainous Island". The island is spotted with numerous mountains over 3,000 meters. It is also home to Northeast Asia's highest mountain, Jade Mountain, which is nearly 4,000 meter in height. Besides mountains, beautiful coastal scenes are also part of Taiwan's great natural asset. There are various ways to discover the beauty of Taiwan. For example, trekking in the magnificence of the cliffs at Taroko Gorge; taking a ride on the Alishan Forest Railway and experiencing the breathtaking sunrise and sea of clouds; hiking up to the summit of Northeast Asia's highest peak, Yu Mountain (Yushan). You can also soak up the sun in Kending (Kenting), Asia's version of Hawaii; stand at the edge of Sun Moon Lake; wander through the East Rift Valley; or visit the offshore islands of Kinmen and Penghu.
Eateries : -
Pork, seafood, chicken, rice, and soy are very common ingredients. Beef is far less common. Curiously, the Taiwanese version of beef noodle soup remains one of the most popular dishes in Taiwan
Searching for something specific?