Best Time To Visit Termas De Rio Hondo
Explore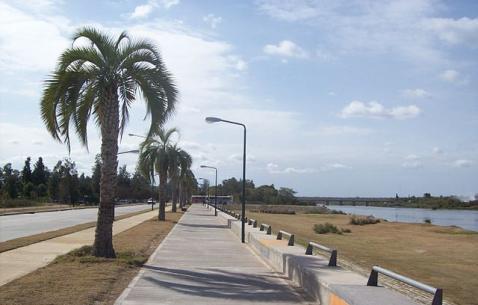 Best Time To Go To Termas De Rio Hondo
Termas de Rio Hondo has four main seasons and the tourism varies during different months due to the changing amount of heat and rainfall. While the wet season in Termas de Rio Hondo is humid and muggy, the dry season is comparatively comfortable. The climate of the city is subtropical hot and dry with scorching summers (38 degree Celsius) and mild winters (15 degree Celsius) registering an average annual temperature of 21 degree Celsius. The best times of year for warm-weather activities in Termas de Rio Hondo are from mid-March to early May and from mid-September to early November with a peak score in the second week of April when plenty of tourists from around the world visit the city for leisure.
Winter (June–August): Winter in Termas de Rio Hondo is not very cold. Clouds can be seen in the month of June from 8 July, the clouds begin to disappear. On 30 August, the city observes the clearest sky of the year.
Spring (September–November): During this time, there is a little rainfall that generally begins after 14 September. At the end of the month of November, the cloudier part of the year starts.
Summer (December–February): The temperature rises gradually this time. December 21 is the longest day of the season while December 28 is the hottest. It rains in February.
Autumn (March–May): This time of the year is drier and comfortable for traveling, hence considered as the best season for traveling.
Best time to go to termas de rio hondo Attractions

: Everyday 9:00 AM - 6:00 PM
: Everyday 9:00 AM - 6:00 PM
: Everyday 9:00 AM - 6:00 PM
: Everyday 9:00 AM - 6:00 PM
: Everyday 9:00 AM - 6:00 PM
: Everyday 9:00 AM - 6:00 PM
: Everyday 9:00 AM - 6:00 PM
: Everyday 9:00 AM - 6:00 PM
: Everyday 9:00 AM - 6:00 PM
: Everyday 9:00 AM - 6:00 PM
: Everyday 9:00 AM - 6:00 PM
: Everyday 9:00 AM - 6:00 PM

: Everyday 7:00 AM - 5:00 PM
: Everyday 7:00 AM - 5:00 PM
: Everyday 7:00 AM - 5:00 PM
: Everyday 7:00 AM - 5:00 PM
: Everyday 7:00 AM - 5:00 PM
: Everyday 7:00 AM - 5:00 PM
: Everyday 7:00 AM - 5:00 PM
: Everyday 7:00 AM - 5:00 PM
: Everyday 7:00 AM - 5:00 PM
: Everyday 7:00 AM - 5:00 PM
: Everyday 7:00 AM - 5:00 PM
: Everyday 7:00 AM - 5:00 PM

: Everyday 9:00 AM - 11:00 AM
: Everyday 9:00 AM - 11:00 AM
: Everyday 9:00 AM - 11:00 AM
: Everyday 9:00 AM - 11:00 AM
: Everyday 9:00 AM - 11:00 AM
: Everyday 9:00 AM - 11:00 AM
: Everyday 9:00 AM - 11:00 AM
: Everyday 9:00 AM - 11:00 AM
: Everyday 9:00 AM - 11:00 AM
: Everyday 9:00 AM - 11:00 AM
: Everyday 9:00 AM - 11:00 AM
: Everyday 9:00 AM - 11:00 AM

: Everyday 10:00 AM - 10:00 PM
: Everyday 10:00 AM - 10:00 PM
: Everyday 10:00 AM - 10:00 PM
: Everyday 10:00 AM - 10:00 PM
: Everyday 10:00 AM - 10:00 PM
: Everyday 10:00 AM - 10:00 PM
: Everyday 10:00 AM - 10:00 PM
: Everyday 10:00 AM - 10:00 PM
: Everyday 10:00 AM - 10:00 PM
: Everyday 10:00 AM - 10:00 PM
: Everyday 10:00 AM - 10:00 PM
: Everyday 10:00 AM - 10:00 PM

: Monday to Friday 9:00 AM - 5:00 PM; Saturday, Sunday 6:00 PM - 10:00 PM
: Monday to Friday 9:00 AM - 5:00 PM; Saturday, Sunday 6:00 PM - 10:00 PM
: Monday to Friday 9:00 AM - 5:00 PM; Saturday, Sunday 6:00 PM - 10:00 PM
: Monday to Friday 9:00 AM - 5:00 PM; Saturday, Sunday 6:00 PM - 10:00 PM
: Monday to Friday 9:00 AM - 5:00 PM; Saturday, Sunday 6:00 PM - 10:00 PM
: Monday to Friday 9:00 AM - 5:00 PM; Saturday, Sunday 6:00 PM - 10:00 PM
: Monday to Friday 9:00 AM - 5:00 PM; Saturday, Sunday 6:00 PM - 10:00 PM
: Monday to Friday 9:00 AM - 5:00 PM; Saturday, Sunday 6:00 PM - 10:00 PM
: Monday to Friday 9:00 AM - 5:00 PM; Saturday, Sunday 6:00 PM - 10:00 PM
: Monday to Friday 9:00 AM - 5:00 PM; Saturday, Sunday 6:00 PM - 10:00 PM
: Monday to Friday 9:00 AM - 5:00 PM; Saturday, Sunday 6:00 PM - 10:00 PM
: Monday to Friday 9:00 AM - 5:00 PM; Saturday, Sunday 6:00 PM - 10:00 PM

: Everyday 24 Hrs
: Everyday 24 Hrs
: Everyday 24 Hrs
: Everyday 24 Hrs
: Everyday 24 Hrs
: Everyday 24 Hrs
: Everyday 24 Hrs
: Everyday 24 Hrs
: Everyday 24 Hrs
: Everyday 24 Hrs
: Everyday 24 Hrs
: Everyday 24 Hrs