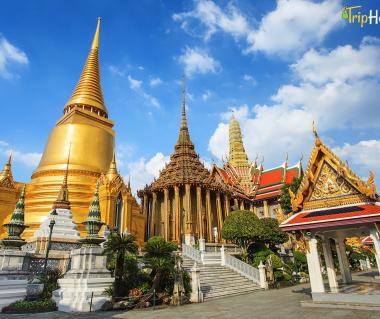 Thailand Trip Planner
Plan your customized trip plan for Thailand. Choose from Top Toursim cities and tourist attarctions of Thailand using trip planner.
Thailand Overview
Thailand is a wondrous kingdom, rich, mystical and with a cultural heritage that spans eons, featuring Buddhist temples, exotic wildlife, and spectacular islands. Along with a fascinating history and a unique culture that includes delectable Thai food and massage, Thailand features a modern capital city and friendly people who epitomize Thailand's "land of smiles" reputation and where visitors are honored as guests. It is one of the finest countries in the world to spend a vacation. Customize your travel as per your travel preferences. See and do what you'd like to do in Thailand.
Thailand is a tropical getaway for the hedonist and the hermit, the prince, and the pauper. And in between the kissing cousins of sea and sky are dramatic limestone mountains standing sentinel. This paradise offers a varied menu of playing in the gentle surf of Bang Saphan Yai, diving with whale sharks InKo Tao, scaling the sea cliff s of Krabi, learning to kiteboard in Hua Hin, recuperating at a health resort in Ko Samui and feasting on the beach wherever sand meets the sea. Thailand has something to offer to everyone and lures travelers from all over the world.
The entire diversity of Thailand can be covered in a minimum 2 weeks to a month. Bangkok, Phuket, Krabi, and Pattaya rules the itinerary charts. Spiritual temples, exotic islands, Thai massages, spas, night markets, water sports - Thailand has everything to leave you spellbound by its natural beauty and numerous adventure activities. Custom your fun-thrilled Thailand trip plans with the following piece of information on various things to do, modes of transportation and events.
Best time to Visit Thailand
Blessed with a tropical climate that is neither too hot nor too dry or too wet in the monsoon season, it is possible to travel comfortably in Thailand at any time of the year. To avoid Bangkok in April and in October - respectively the hottest and the wettest months of the year. But since you can't do the country piecemeal, come over in the months of November to March - overall the most pleasant months to visit are December and August, the peak months of the tourist season.
Getting to Thailand
By Air
Bangkok is Thailand's major gateway. Suvarnabhumi Airport has replaced Don Muang as Bangkok's major airport terminal. Most visitors arrive at Suvarnabhumi Airport because it is directly connected to Europe, Asia, North America and Australia by daily flights aboard the World's major airlines. Further international flights, mainly from Singapore, Malaysia, and Hong Kong, land at Phuket and Hat Yai International Airports in the south and Chiang Mai in the North.
By Rail
A regular and only rail service links Singapore and Bangkok via Kuala Lumpur and Butterworth in Malaysia. This service leaves daily and also connects with major southern Thai towns. The State Railway of Thailand and Malaysian Railway meet at Butterworth, 93kilometres (58miles) south of the Thai-Malaysian border, a transfer point to Penang or Kuala Lumpur.
It's not possible to buy thoroughfare tickets for rail journeys between Bangkok and Kuala Lumpur or Singapore unless you ride the luxurious Eastern & Oriental Express. Though the trip can be made on express trains via the Thai-Malaysia border at Pedang Besar. The journey usually requires an overnight stop in Butterworth in order to comfortably make train connections.
By Road
Inland to Thailand through roadway is possible through various check points. Passenger vehicles (car, van, truck or motorcycle) can be brought into Thailand for tourist purposes for up to six months.
What to see and experience
A Thai Meal
No matter what draws you to the country first, a Thai meal will keep you hooked. Adored around the world, Thai cuisine expresses fundamental aspects of Thai culture: it is generous and warm, outgoing and nuanced, refreshing and relaxed. And it is much more delicious in its native setting. Each Thai dish relies on fresh and local ingredients – from pungent lemongrass and searing chilies to plump seafood and crispy fried chicken. With a tropical abundance, a varied national menu is built around the four fundamental flavors: spicy, sweet, salty and sour. And then there are the regional differences, which propel travelers on an eating tour of Bangkok noodle shacks, seafood pavilions in Phuket, Burmese market stalls in Mae Hong Son, and luscious tropical fruit everywhere. Cooking classes reveal the simplicity behind the seemingly complicated dishes and mastering the markets becomes an important skill.
Sight-Seeing
Thailand is a rather heady mix of the old and the new - on the one hand, there are traditions which are centuries old; on the other, there are modern fashions, flashy gizmos- virtually every convenience of the new world. This fine blend of ancient heritage and the upwardly mobile trends of present times are carried through in Thailand's cities and towns too.
Heritage Sites & Temples
The rich cultural heritage of Thailand is still alive in the old cities of Sukhothai and Ayutthaya. Palace and temple ruins are scattered all over in these ancient cities, and they have been declared World Heritage Sites. Wat Phra Borommathat temple one of the holiest in all of Thailand is perched at a height of 1676 meters and watches over the city of Chiang Mai. Nakhon Si Thammarat the oldest city in Thailand is, reputed to be the highest Buddhist structure in the world.
Water Sports
At Phuket, you are not far from paradise. The beachfront at Patong is dotted with sun umbrellas and people sunning themselves to a deep bronze. You can take a dip in the cool blue water or zoom on a jet scooter around the bay. The marina is lined with little shops selling their wares - mostly tee shirts and trinkets to take back home. The waters of the Andaman Sea are a brilliant blue and the sands a silvery-white. Snorkel, swim, para-sail, go deep-sea diving or simply sit on a deck chair and soak in the sun. Pattaya is just a two-hour drive from Bangkok and transports you from the chaos of the city to scenic environs of azure skies and palm-fringed beaches. During the day one can either laze on the beaches or play a round of golf and come sundown, go bar hopping at "the Strip".
Other Attractions
There are, of course, many more sights to see, many more places to visit. Throughout the country, there are palaces, temples, and shrines for those who like to visit monuments; parks and sanctuaries like the Koh Samet Marine National Park, the Ao Phang Nga National Park where scenes of the James Bond movie `The Man with the Golden Gun' were shot, and Khao Yai National Park, for nature lovers.
Shopping
Thailand is regarded as a haven for shoppers, especially the affluent ones, and with good reason. There's a lot to buy in Thailand- from silks and jewels (Thailand is a major exporter of gemstones) - to handicrafts such as wicker ware, rattan, Thai dolls, flowers, particularly orchids, furniture and ceramics. Vast department stores and shopping malls lure the hungry shopper in larger towns and cities, but even in villages and small towns, you'll invariably find local bazaars and marts, which have something interesting to offer. Bangkok is generally considered the best place to shop in, but Chiang Mai too is pretty good, especially for handicrafts.
Events
The Songkran Festival is an extremely popular Thai festival. It marks the Thai New Year and is celebrated in April. This festival is celebrated with tremendous gusto with people throwing water at each other. The exact date varies, as it is dependent on the solar calendar when the planets are positioned in such a way that the days and nights are equal.
The Loy Krathong celebrated on a full moon night in November is a beautiful festival. All waterways, rivers, beaches, and canals are illuminated with hundreds and thousands of candles placed on krathongs (little boats made out of the trunk of a banana tree adorned with flowers and incense). People say a little prayer before the candles are ready to float away as it is believed to purge one of the sins, bad luck, and evil spirits.
Searching for something specific?