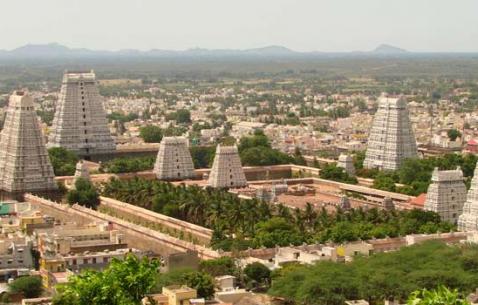 Thanjavur is city in Tamil Nadu which is famous for its rice production and its legacy in the fields of Art, architecture and literature. It is named after a mythological figure called Tanjan and rose to prominence during the Chola dynasty called Tanjore in British times, this city is famous for its temples and the distinct south Indian Chola style of architecture. The cultural glory of it is reflected in the grand monuments in the city. Thajavur was associated with the Chola dynasty since the 8th century. It came to prominence during this time and served as their capital for the longest time. The Cholas left their mark on the cuisine, the culture and scholarly institutions. Ekoji, the half brother of the Maratha Legend Shivaji captured and set up the Thanjavur Maratha Kingdom. Many people migrated to Thanjavur during his time and their ways blended with the local traditions.
Thanjavur has developed as an important centre of silk weaving. Silks saris produced here are exported all over the world. Travelling to Thanjavur and not indulging in some silk shopping feels very incomplete. The trade and commerce has flourished in Thanjavur but it remains an agricultural area primarily. It grows more than half of the rice produced in Tamil Nadu plus yields other crops like blackgram, banana, coconut, gingelly, ragi, red gram, green gram, sugarcane and maize. Students take a trip to Thanjavur to undergo intense training in the South Indian classical arts, be it dance or music. Many prominent artists have nurtured their talent here. Bharatnatyam, Carnatic music, literature in Tamil, Telgu and Sanskrit are a part of this city's lifestyle.
The city is a heaven for craft lovers. Not only can you pick up some readymade items, this gives you an entirely new world of things to do in Thanjavur! You can enrol in workshops that give classes in making the traditional Thanjavur dolls and paper mache articles. Sangeeta Mahal, which has a permanent handicrafts exhibition, is a place that will interest you. In recent times, Tanjavur has become an important pilgrim centre and tourist destination. Bhrihadeeswarar Mandir, a UNESCO world heritage site is the main attration of the city. The Thanjavur dancing doll, Tanjore style of paintings, Tanjore art plates and artistic plates are unique products that tourists take back as souvenirs with them. Local touts try to bluff visitors with exorbitant prices so purchase them from the old area of the city which is not that tourist oriented.The Palace of Thanjavur Marathas, The SaraswatiMahal Library, the shwartz church, five museums in the city and the Shivganga Park are some of the tourist attractions in the city. This is a perfect place for a traditional south Indian holiday with family.
Essential travel information and Thanjavur tips for your visit
Contact your hotel information desk to avoid potential situations that will be against the local customs.
Observe local traditions and customs.
Read about Tamil culture before traveling to the city - this isn't something a trip planner for Thanjavur will be able to help you with.
Carry a security belt to hold your important documents and money.
Carry photocopies of your important documents.
Travelling with a few companions is recommended.
Carry sunglasses, scarves and sunscreen lotion during summer visit.
Learn a few greeting in the local language.
Maintain the sanctity of the temples in the town.
Do not generalize South Indian communities. Respect the local languages.
Do not travel at night on your own. Do that only if you have a trustworthy person who knows the city with you.
If travelling alone, don't publicize it.
Do not litter in Public.
Don't leave without spending some money on the Silk saris!
Thanjavur Trip Planner
Plan your customized day by day trip plan for Thanjavur. Choose from various experinces categories as adventure, romantic and family and kids friendly for your trip using using Thanjavur trip planner.
The best tours and activities in the city, guided by experts to give you a local insight to the best of Thanjavur