Best Time To Visit Thessaloniki
Explore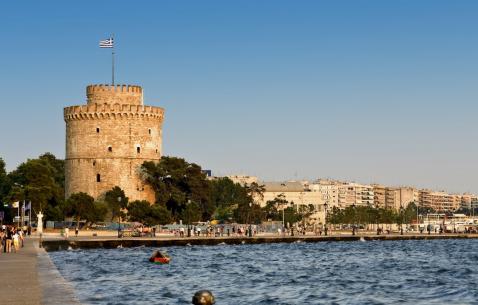 Best Time To Go To Thessaloniki
The Warm Mediterreanean climate ensures that the summers are hot and dry while the winters are wet and cold. Here is a general guide to weather throughout the year.
Spring: From the end of March till May is a great time to visit. Not too crowded or expensive, Thessaloniki is lovely during this time.
Summer: Usually from June to August is the summer season. This is probably the best time to visit due to the weather. But it is also the time when it will be the most crowded.
Autumn: The Month of September is another great time to visit the city. The weather is very pleasant and the sights can be seen at leisure.
Winter: Winter from November to February is a rather dreary time. You will find the most rain at this time so it isn't ideal for beach visits. However, the tariffs are way cheaper and you can visit all the other tourist sites so it is a great time to visit for the budget traveler.
Best time to go to Thessaloniki Attractions

: Everyday 10:00 AM - 2:00 PM
: Everyday 10:00 AM - 2:00 PM
: Everyday 10:00 AM - 2:00 PM
: Everyday 10:00 AM - 2:00 PM
: Everyday 10:00 AM - 2:00 PM
: Everyday 10:00 AM - 2:00 PM
: Everyday 10:00 AM - 2:00 PM
: Everyday 10:00 AM - 2:00 PM
: Everyday 10:00 AM - 2:00 PM
: Everyday 10:00 AM - 2:00 PM
: Everyday 10:00 AM - 2:00 PM
: Everyday 10:00 AM - 2:00 PM

: Monday 10:00 AM - 3:00 PM; Tuesday to Sunday 8:00 AM - 3:00 PM
: Monday 10:00 AM - 3:00 PM; Tuesday to Sunday 8:00 AM - 3:00 PM
: Monday 10:00 AM - 3:00 PM; Tuesday to Sunday 8:00 AM - 3:00 PM
: Monday 10:00 AM - 3:00 PM; Tuesday to Sunday 8:00 AM - 3:00 PM
: Monday 10:00 AM - 3:00 PM; Tuesday to Sunday 8:00 AM - 3:00 PM
: Monday 10:00 AM - 3:00 PM; Tuesday to Sunday 8:00 AM - 3:00 PM
: Monday 10:00 AM - 3:00 PM; Tuesday to Sunday 8:00 AM - 3:00 PM
: Monday 10:00 AM - 3:00 PM; Tuesday to Sunday 8:00 AM - 3:00 PM
: Monday 10:00 AM - 3:00 PM; Tuesday to Sunday 8:00 AM - 3:00 PM
: Monday 10:00 AM - 3:00 PM; Tuesday to Sunday 8:00 AM - 3:00 PM
: Monday 10:00 AM - 3:00 PM; Tuesday to Sunday 8:00 AM - 3:00 PM
: Monday 10:00 AM - 3:00 PM; Tuesday to Sunday 8:00 AM - 3:00 PM

: Everyday 24 Hrs
: Everyday 24 Hrs
: Everyday 24 Hrs
: Everyday 24 Hrs
: Everyday 24 Hrs
: Everyday 24 Hrs
: Everyday 24 Hrs
: Everyday 24 Hrs
: Everyday 24 Hrs
: Everyday 24 Hrs
: Everyday 24 Hrs
: Everyday 24 Hrs

: Everyday 10:00 AM - 1:00 PM
: Everyday 10:00 AM - 1:00 PM
: Everyday 10:00 AM - 1:00 PM
: Tuesday to Sunday 10:00 AM - 1:00 PM
: Tuesday to Sunday 10:00 AM - 1:00 PM
: Tuesday to Sunday 10:00 AM - 1:00 PM
: Tuesday to Sunday 10:00 AM - 1:00 PM
: Tuesday to Sunday 10:00 AM - 1:00 PM
: Tuesday to Sunday 10:00 AM - 1:00 PM
: Tuesday to Sunday 10:00 AM - 1:00 PM
: Everyday 10:00 AM - 1:00 PM
: Everyday 10:00 AM - 1:00 PM

: Everyday 24 Hrs
: Everyday 24 Hrs
: Everyday 24 Hrs
: Everyday 24 Hrs
: Everyday 24 Hrs
: Everyday 24 Hrs
: Everyday 24 Hrs
: Everyday 24 Hrs
: Everyday 24 Hrs
: Everyday 24 Hrs
: Everyday 24 Hrs
: Everyday 24 Hrs

: Everyday 24 Hrs
: Everyday 24 Hrs
: Everyday 24 Hrs
: Everyday 24 Hrs
: Everyday 24 Hrs
: Everyday 24 Hrs
: Everyday 24 Hrs
: Everyday 24 Hrs
: Everyday 24 Hrs
: Everyday 24 Hrs
: Everyday 24 Hrs
: Everyday 24 Hrs

: Everyday 10:00 AM - 8:00 PM
: Everyday 10:00 AM - 8:00 PM
: Everyday 10:00 AM - 8:00 PM
: Everyday 10:00 AM - 8:00 PM
: Everyday 10:00 AM - 8:00 PM
: Everyday 10:00 AM - 8:00 PM
: Everyday 10:00 AM - 8:00 PM
: Everyday 10:00 AM - 8:00 PM
: Everyday 10:00 AM - 8:00 PM
: Everyday 10:00 AM - 8:00 PM
: Everyday 10:00 AM - 8:00 PM
: Everyday 10:00 AM - 8:00 PM

: Everyday 8:00 AM - 8:00 PM
: Everyday 8:00 AM - 8:00 PM
: Everyday 8:00 AM - 8:00 PM
: Everyday 8:00 AM - 8:00 PM
: Everyday 8:00 AM - 8:00 PM
: Everyday 8:00 AM - 8:00 PM
: Everyday 8:00 AM - 8:00 PM
: Everyday 8:00 AM - 8:00 PM
: Everyday 8:00 AM - 8:00 PM
: Everyday 8:00 AM - 8:00 PM
: Everyday 8:00 AM - 8:00 PM
: Everyday 8:00 AM - 8:00 PM

: Everyday 10:00 AM - 5:00 PM
: Everyday 10:00 AM - 5:00 PM
: Everyday 10:00 AM - 5:00 PM
: Everyday 10:00 AM - 5:00 PM
: Everyday 10:00 AM - 5:00 PM
: Everyday 10:00 AM - 5:00 PM
: Everyday 10:00 AM - 5:00 PM
: Everyday 10:00 AM - 5:00 PM
: Everyday 10:00 AM - 5:00 PM
: Everyday 10:00 AM - 5:00 PM
: Everyday 10:00 AM - 5:00 PM
: Everyday 10:00 AM - 5:00 PM

: Everyday 7:30 AM - 11:00 AM; Everyday 7:30 AM - 11:00 AM | 5:30 PM - 8:00 PM
: Everyday 7:30 AM - 11:00 AM; Everyday 7:30 AM - 11:00 AM | 5:30 PM - 8:00 PM
: Everyday 7:30 AM - 11:00 AM; Everyday 7:30 AM - 11:00 AM | 5:30 PM - 8:00 PM
: Everyday 7:30 AM - 11:00 AM; Everyday 7:30 AM - 11:00 AM | 5:30 PM - 8:00 PM
: Everyday 7:30 AM - 11:00 AM; Everyday 7:30 AM - 11:00 AM | 5:30 PM - 8:00 PM
: Everyday 7:30 AM - 11:00 AM; Everyday 7:30 AM - 11:00 AM | 5:30 PM - 8:00 PM
: Everyday 7:30 AM - 11:00 AM; Everyday 7:30 AM - 11:00 AM | 5:30 PM - 8:00 PM
: Everyday 7:30 AM - 11:00 AM; Everyday 7:30 AM - 11:00 AM | 5:30 PM - 8:00 PM
: Everyday 7:30 AM - 11:00 AM; Everyday 7:30 AM - 11:00 AM | 5:30 PM - 8:00 PM
: Everyday 7:30 AM - 11:00 AM; Everyday 7:30 AM - 11:00 AM | 5:30 PM - 8:00 PM
: Everyday 7:30 AM - 11:00 AM; Everyday 7:30 AM - 11:00 AM | 5:30 PM - 8:00 PM
: Everyday 7:30 AM - 11:00 AM; Everyday 7:30 AM - 11:00 AM | 5:30 PM - 8:00 PM

: Everyday 8:30 AM - 2:00 PM; Everyday 8:30 AM - 2:00 PM | 5:30 PM - 8:00 PM
: Everyday 8:30 AM - 2:00 PM; Everyday 8:30 AM - 2:00 PM | 5:30 PM - 8:00 PM
: Everyday 8:30 AM - 2:00 PM; Everyday 8:30 AM - 2:00 PM | 5:30 PM - 8:00 PM
: Everyday 8:30 AM - 2:00 PM; Everyday 8:30 AM - 2:00 PM | 5:30 PM - 8:00 PM
: Everyday 8:30 AM - 2:00 PM; Everyday 8:30 AM - 2:00 PM | 5:30 PM - 8:00 PM
: Everyday 8:30 AM - 2:00 PM; Everyday 8:30 AM - 2:00 PM | 5:30 PM - 8:00 PM
: Everyday 8:30 AM - 2:00 PM; Everyday 8:30 AM - 2:00 PM | 5:30 PM - 8:00 PM
: Everyday 8:30 AM - 2:00 PM; Everyday 8:30 AM - 2:00 PM | 5:30 PM - 8:00 PM
: Everyday 8:30 AM - 2:00 PM; Everyday 8:30 AM - 2:00 PM | 5:30 PM - 8:00 PM
: Everyday 8:30 AM - 2:00 PM; Everyday 8:30 AM - 2:00 PM | 5:30 PM - 8:00 PM
: Everyday 8:30 AM - 2:00 PM; Everyday 8:30 AM - 2:00 PM | 5:30 PM - 8:00 PM
: Everyday 8:30 AM - 2:00 PM; Everyday 8:30 AM - 2:00 PM | 5:30 PM - 8:00 PM

: Everyday 8:00 AM - 5:00 PM
: Everyday 8:00 AM - 5:00 PM
: Everyday 8:00 AM - 5:00 PM
: Everyday 8:00 AM - 5:00 PM
: Everyday 8:00 AM - 5:00 PM
: Everyday 8:00 AM - 5:00 PM
: Everyday 8:00 AM - 5:00 PM
: Everyday 8:00 AM - 5:00 PM
: Everyday 8:00 AM - 5:00 PM
: Everyday 8:00 AM - 5:00 PM
: Everyday 8:00 AM - 5:00 PM
: Everyday 8:00 AM - 5:00 PM

: Everyday 8:00 AM - 3:00 PM
: Everyday 8:00 AM - 3:00 PM
: Everyday 8:00 AM - 3:00 PM
: Everyday 8:00 AM - 3:00 PM
: Everyday 8:00 AM - 3:00 PM
: Everyday 8:00 AM - 3:00 PM
: Everyday 8:00 AM - 3:00 PM
: Everyday 8:00 AM - 3:00 PM
: Everyday 8:00 AM - 3:00 PM
: Everyday 8:00 AM - 3:00 PM
: Everyday 8:00 AM - 3:00 PM
: Everyday 8:00 AM - 3:00 PM

: Tuesday to Saturday 10:00 AM - 6:00 PM; Sunday 11:00 AM - 3:00 PM
: Tuesday to Saturday 10:00 AM - 6:00 PM; Sunday 11:00 AM - 3:00 PM
: Tuesday to Saturday 10:00 AM - 6:00 PM; Sunday 11:00 AM - 3:00 PM
: Tuesday to Saturday 10:00 AM - 6:00 PM; Sunday 11:00 AM - 3:00 PM
: Tuesday to Saturday 10:00 AM - 2:00 PM; Tuesday to Saturday 10:00 AM - 2:00 PM | 6:00 PM - 9:00 PM; Sunday 11:00 AM - 3:00 PM
: Tuesday to Saturday 10:00 AM - 2:00 PM; Tuesday to Saturday 10:00 AM - 2:00 PM | 6:00 PM - 9:00 PM; Sunday 11:00 AM - 3:00 PM
: Tuesday to Saturday 10:00 AM - 2:00 PM; Tuesday to Saturday 10:00 AM - 2:00 PM | 6:00 PM - 9:00 PM; Sunday 11:00 AM - 3:00 PM
: Tuesday to Saturday 10:00 AM - 6:00 PM; Sunday 11:00 AM - 3:00 PM
: Tuesday to Saturday 10:00 AM - 6:00 PM; Sunday 11:00 AM - 3:00 PM
: Tuesday to Saturday 10:00 AM - 6:00 PM; Sunday 11:00 AM - 3:00 PM

: Everyday 24 Hrs
: Everyday 24 Hrs
: Everyday 24 Hrs
: Everyday 24 Hrs
: Everyday 24 Hrs
: Everyday 24 Hrs
: Everyday 24 Hrs
: Everyday 24 Hrs
: Everyday 24 Hrs
: Everyday 24 Hrs
: Everyday 24 Hrs
: Everyday 24 Hrs

: Everyday 24 Hrs
: Everyday 24 Hrs
: Everyday 24 Hrs
: Everyday 24 Hrs
: Everyday 24 Hrs
: Everyday 24 Hrs
: Everyday 24 Hrs
: Everyday 24 Hrs
: Everyday 24 Hrs
: Everyday 24 Hrs
: Everyday 24 Hrs
: Everyday 24 Hrs

: Everyday 24 Hrs
: Everyday 24 Hrs
: Everyday 24 Hrs
: Everyday 24 Hrs
: Everyday 24 Hrs
: Everyday 24 Hrs
: Everyday 24 Hrs
: Everyday 24 Hrs
: Everyday 24 Hrs
: Everyday 24 Hrs
: Everyday 24 Hrs
: Everyday 24 Hrs

: Everyday 24 Hrs
: Everyday 24 Hrs
: Everyday 24 Hrs
: Everyday 24 Hrs
: Everyday 24 Hrs
: Everyday 24 Hrs
: Everyday 24 Hrs
: Everyday 24 Hrs
: Everyday 24 Hrs
: Everyday 24 Hrs
: Everyday 24 Hrs
: Everyday 24 Hrs

: Everyday 24 Hrs
: Everyday 24 Hrs
: Everyday 24 Hrs
: Everyday 24 Hrs
: Everyday 24 Hrs
: Everyday 24 Hrs
: Everyday 24 Hrs
: Everyday 24 Hrs
: Everyday 24 Hrs
: Everyday 24 Hrs
: Everyday 24 Hrs
: Everyday 24 Hrs

: Everyday 24 Hrs
: Everyday 24 Hrs
: Everyday 24 Hrs
: Everyday 24 Hrs
: Everyday 24 Hrs
: Everyday 24 Hrs
: Everyday 24 Hrs
: Everyday 24 Hrs
: Everyday 24 Hrs
: Everyday 24 Hrs
: Everyday 24 Hrs
: Everyday 24 Hrs

: Everyday 24 Hrs
: Everyday 24 Hrs
: Everyday 24 Hrs
: Everyday 24 Hrs
: Everyday 24 Hrs
: Everyday 24 Hrs
: Everyday 24 Hrs
: Everyday 24 Hrs
: Everyday 24 Hrs
: Everyday 24 Hrs
: Everyday 24 Hrs
: Everyday 24 Hrs

: Everyday 24 Hrs
: Everyday 24 Hrs
: Everyday 24 Hrs
: Everyday 24 Hrs
: Everyday 24 Hrs
: Everyday 24 Hrs
: Everyday 24 Hrs
: Everyday 24 Hrs
: Everyday 24 Hrs
: Everyday 24 Hrs
: Everyday 24 Hrs
: Everyday 24 Hrs