Best Time To Visit Toledo
Explore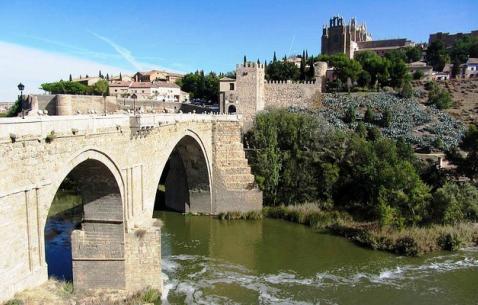 Best Time To Go To Toledo
Like other parts of Spain, Toledo experiences typical continental climate.
Summer: It is from May to September and the weather is hot and dry in Toledo.
Winter: It is from December to February and the weather remains mild and wet. This season comes with sunny days and chilled nights. Occasional snowfall is a common factor during this period of the time.
Autumn: It is from October to November. The temperature is high and you get plenty of sunshine during this period.
Spring: It begins from early March and continues till April. The season begins with the blooming of the new flowers and reappearing of green leaves in the trees. The temperature ranges from 5°C to 20°C (approximately). Rainfall is at its minimum level.
Considering fall these facts, summer and spring are considered as the best time to visit Toledo. However, avoid visiting the city in the month of July and August. This is because the heat makes the weather unbearable for sightseeing.
Best time to go to Toledo Attractions

: Everyday 10:30 AM - 5:30 PM
: Everyday 10:30 AM - 5:30 PM
: Everyday 10:30 AM - 5:30 PM
: Everyday 10:30 AM - 5:30 PM
: Everyday 10:30 AM - 5:30 PM
: Everyday 10:30 AM - 5:30 PM
: Everyday 10:30 AM - 5:30 PM
: Everyday 10:30 AM - 5:30 PM
: Everyday 10:30 AM - 5:30 PM
: Everyday 10:30 AM - 5:30 PM
: Everyday 10:30 AM - 5:30 PM
: Everyday 10:30 AM - 5:30 PM

: Tuesday to Saturday 10:00 AM - 6:00 PM; Sunday 10:00 AM - 3:00 PM
: Tuesday to Saturday 10:00 AM - 6:00 PM; Sunday 10:00 AM - 3:00 PM
: Tuesday to Saturday 10:00 AM - 6:00 PM; Sunday 10:00 AM - 3:00 PM
: Tuesday to Saturday 10:00 AM - 6:00 PM; Sunday 10:00 AM - 3:00 PM
: Tuesday to Saturday 10:00 AM - 6:00 PM; Sunday 10:00 AM - 3:00 PM
: Tuesday to Saturday 10:00 AM - 6:00 PM; Sunday 10:00 AM - 3:00 PM
: Tuesday to Saturday 10:00 AM - 6:00 PM; Sunday 10:00 AM - 3:00 PM
: Tuesday to Saturday 10:00 AM - 6:00 PM; Sunday 10:00 AM - 3:00 PM
: Tuesday to Saturday 10:00 AM - 6:00 PM; Sunday 10:00 AM - 3:00 PM
: Tuesday to Saturday 10:00 AM - 6:00 PM; Sunday 10:00 AM - 3:00 PM
: Tuesday to Saturday 10:00 AM - 6:00 PM; Sunday 10:00 AM - 3:00 PM
: Tuesday to Saturday 10:00 AM - 6:00 PM; Sunday 10:00 AM - 3:00 PM

: Everyday 10:30 AM - 5:30 PM
: Everyday 10:30 AM - 5:30 PM
: Everyday 10:30 AM - 5:30 PM
: Everyday 10:30 AM - 5:30 PM
: Everyday 10:30 AM - 5:30 PM
: Everyday 10:30 AM - 5:30 PM
: Everyday 10:30 AM - 5:30 PM
: Everyday 10:30 AM - 5:30 PM
: Everyday 10:30 AM - 5:30 PM
: Everyday 10:30 AM - 5:30 PM
: Everyday 10:30 AM - 5:30 PM
: Everyday 10:30 AM - 5:30 PM

: Tuesday to Saturday 10:00 AM - 6:00 PM; Sunday 10:00 AM - 3:00 PM
: Tuesday to Saturday 10:00 AM - 6:00 PM; Sunday 10:00 AM - 3:00 PM
: Tuesday to Saturday 10:00 AM - 6:00 PM; Sunday 10:00 AM - 3:00 PM
: Tuesday to Saturday 10:00 AM - 6:00 PM; Sunday 10:00 AM - 3:00 PM
: Tuesday to Saturday 10:00 AM - 6:00 PM; Sunday 10:00 AM - 3:00 PM
: Tuesday to Saturday 10:00 AM - 6:00 PM; Sunday 10:00 AM - 3:00 PM
: Tuesday to Saturday 10:00 AM - 6:00 PM; Sunday 10:00 AM - 3:00 PM
: Tuesday to Saturday 10:00 AM - 6:00 PM; Sunday 10:00 AM - 3:00 PM
: Tuesday to Saturday 10:00 AM - 6:00 PM; Sunday 10:00 AM - 3:00 PM
: Tuesday to Saturday 10:00 AM - 6:00 PM; Sunday 10:00 AM - 3:00 PM
: Tuesday to Saturday 10:00 AM - 6:00 PM; Sunday 10:00 AM - 3:00 PM
: Tuesday to Saturday 10:00 AM - 6:00 PM; Sunday 10:00 AM - 3:00 PM

: Everyday 10:30 AM - 5:00 PM
: Everyday 10:30 AM - 5:00 PM
: Everyday 10:30 AM - 5:00 PM
: Everyday 10:30 AM - 5:00 PM
: Everyday 10:30 AM - 5:00 PM
: Everyday 10:30 AM - 5:00 PM
: Everyday 10:30 AM - 5:00 PM
: Everyday 10:30 AM - 5:00 PM
: Everyday 10:30 AM - 5:00 PM
: Everyday 10:30 AM - 5:00 PM
: Everyday 10:30 AM - 5:00 PM
: Everyday 10:30 AM - 5:00 PM

: Monday, Tuesday, Thursday, Friday, Saturday, Sunday 10:30 AM - 4:00 PM
: Monday, Tuesday, Thursday, Friday, Saturday, Sunday 10:30 AM - 4:00 PM
: Monday, Tuesday, Thursday, Friday, Saturday, Sunday 10:30 AM - 4:00 PM
: Monday, Tuesday, Thursday, Friday, Saturday, Sunday 10:30 AM - 4:00 PM
: Monday, Tuesday, Thursday, Friday, Saturday, Sunday 10:30 AM - 4:00 PM
: Monday, Tuesday, Thursday, Friday, Saturday, Sunday 10:30 AM - 4:00 PM
: Monday, Tuesday, Thursday, Friday, Saturday, Sunday 10:30 AM - 4:00 PM
: Monday, Tuesday, Thursday, Friday, Saturday, Sunday 10:30 AM - 4:00 PM
: Monday, Tuesday, Thursday, Friday, Saturday, Sunday 10:30 AM - 4:00 PM
: Monday, Tuesday, Thursday, Friday, Saturday, Sunday 10:30 AM - 4:00 PM
: Monday, Tuesday, Thursday, Friday, Saturday, Sunday 10:30 AM - 4:00 PM
: Monday, Tuesday, Thursday, Friday, Saturday, Sunday 10:30 AM - 4:00 PM

: Everyday 7:00 AM - 9:00 AM; Everyday 7:00 AM - 9:00 AM | 11:00 AM - 1:00 PM
: Everyday 7:00 AM - 9:00 AM; Everyday 7:00 AM - 9:00 AM | 11:00 AM - 1:00 PM
: Everyday 7:00 AM - 9:00 AM; Everyday 7:00 AM - 9:00 AM | 11:00 AM - 1:00 PM
: Everyday 7:00 AM - 9:00 AM; Everyday 7:00 AM - 9:00 AM | 11:00 AM - 1:00 PM
: Everyday 7:00 AM - 9:00 AM; Everyday 7:00 AM - 9:00 AM | 11:00 AM - 1:00 PM
: Everyday 7:00 AM - 9:00 AM; Everyday 7:00 AM - 9:00 AM | 11:00 AM - 1:00 PM
: Everyday 7:00 AM - 9:00 AM; Everyday 7:00 AM - 9:00 AM | 11:00 AM - 1:00 PM
: Everyday 7:00 AM - 9:00 AM; Everyday 7:00 AM - 9:00 AM | 11:00 AM - 1:00 PM
: Everyday 7:00 AM - 9:00 AM; Everyday 7:00 AM - 9:00 AM | 11:00 AM - 1:00 PM
: Everyday 7:00 AM - 9:00 AM; Everyday 7:00 AM - 9:00 AM | 11:00 AM - 1:00 PM
: Everyday 7:00 AM - 9:00 AM; Everyday 7:00 AM - 9:00 AM | 11:00 AM - 1:00 PM
: Everyday 7:00 AM - 9:00 AM; Everyday 7:00 AM - 9:00 AM | 11:00 AM - 1:00 PM

: Everyday 10:30 AM - 6:00 PM
: Everyday 10:30 AM - 6:00 PM
: Everyday 10:30 AM - 6:00 PM
: Everyday 10:30 AM - 6:00 PM
: Everyday 10:30 AM - 6:00 PM
: Everyday 10:30 AM - 6:00 PM
: Everyday 10:30 AM - 6:00 PM
: Everyday 10:30 AM - 6:00 PM
: Everyday 10:30 AM - 6:00 PM
: Everyday 10:30 AM - 6:00 PM
: Everyday 10:30 AM - 6:00 PM
: Everyday 10:30 AM - 6:00 PM

: Monday to Saturday 11:00 AM - 6:00 PM; Sunday 11:00 AM - 2:00 PM
: Monday to Saturday 11:00 AM - 6:00 PM; Sunday 11:00 AM - 2:00 PM
: Monday to Saturday 11:00 AM - 6:00 PM; Sunday 11:00 AM - 2:00 PM
: Monday to Saturday 11:00 AM - 6:00 PM; Sunday 11:00 AM - 2:00 PM
: Monday to Saturday 11:00 AM - 6:00 PM; Sunday 11:00 AM - 2:00 PM
: Monday to Saturday 11:00 AM - 6:00 PM; Sunday 11:00 AM - 2:00 PM
: Monday to Saturday 11:00 AM - 6:00 PM; Sunday 11:00 AM - 2:00 PM
: Monday to Saturday 11:00 AM - 6:00 PM; Sunday 11:00 AM - 2:00 PM
: Monday to Saturday 11:00 AM - 6:00 PM; Sunday 11:00 AM - 2:00 PM
: Monday to Saturday 11:00 AM - 6:00 PM; Sunday 11:00 AM - 2:00 PM
: Monday to Saturday 11:00 AM - 6:00 PM; Sunday 11:00 AM - 2:00 PM
: Monday to Saturday 11:00 AM - 6:00 PM; Sunday 11:00 AM - 2:00 PM

: Everyday 9:00 AM - 9:00 PM
: Everyday 9:00 AM - 9:00 PM
: Everyday 9:00 AM - 9:00 PM
: Everyday 9:00 AM - 9:00 PM
: Everyday 9:00 AM - 9:00 PM
: Everyday 9:00 AM - 9:00 PM
: Everyday 9:00 AM - 9:00 PM
: Everyday 9:00 AM - 9:00 PM
: Everyday 9:00 AM - 9:00 PM
: Everyday 9:00 AM - 9:00 PM
: Everyday 9:00 AM - 9:00 PM
: Everyday 9:00 AM - 9:00 PM

: Everyday 10:00 AM - 9:00 PM
: Everyday 10:00 AM - 9:00 PM
: Everyday 10:00 AM - 9:00 PM
: Everyday 10:00 AM - 9:00 PM
: Everyday 10:00 AM - 9:00 PM
: Everyday 10:00 AM - 9:00 PM
: Everyday 10:00 AM - 9:00 PM
: Everyday 10:00 AM - 9:00 PM
: Everyday 10:00 AM - 9:00 PM
: Everyday 10:00 AM - 9:00 PM
: Everyday 10:00 AM - 9:00 PM
: Everyday 10:00 AM - 9:00 PM

: Everyday 10:30 AM - 5:00 PM
: Everyday 10:30 AM - 5:00 PM
: Everyday 10:30 AM - 5:00 PM
: Everyday 10:30 AM - 5:00 PM
: Everyday 10:30 AM - 5:00 PM
: Everyday 10:30 AM - 5:00 PM
: Everyday 10:30 AM - 5:00 PM
: Everyday 10:30 AM - 5:00 PM
: Everyday 10:30 AM - 5:00 PM
: Everyday 10:30 AM - 5:00 PM
: Everyday 10:30 AM - 5:00 PM
: Everyday 10:30 AM - 5:00 PM

: Everyday 11:00 AM - 5:45 PM
: Everyday 11:00 AM - 5:45 PM
: Everyday 11:00 AM - 5:45 PM
: Everyday 11:00 AM - 6:00 PM
: Everyday 11:00 AM - 6:00 PM
: Everyday 11:00 AM - 6:00 PM
: Everyday 11:00 AM - 6:00 PM
: Everyday 11:00 AM - 6:00 PM
: Everyday 11:00 AM - 6:00 PM
: Everyday 11:00 AM - 5:45 PM
: Everyday 11:00 AM - 5:45 PM
: Everyday 11:00 AM - 5:45 PM

: Everyday 9:00 AM - 8:00 PM
: Everyday 9:00 AM - 8:00 PM
: Everyday 9:00 AM - 8:00 PM
: Everyday 9:00 AM - 8:00 PM
: Everyday 9:00 AM - 8:00 PM
: Everyday 9:00 AM - 8:00 PM
: Everyday 9:00 AM - 8:00 PM
: Everyday 9:00 AM - 8:00 PM
: Everyday 9:00 AM - 8:00 PM
: Everyday 9:00 AM - 8:00 PM
: Everyday 9:00 AM - 8:00 PM
: Everyday 9:00 AM - 8:00 PM

: Everyday 9:00 AM - 9:00 PM
: Everyday 9:00 AM - 9:00 PM
: Everyday 9:00 AM - 9:00 PM
: Everyday 9:00 AM - 9:00 PM
: Everyday 9:00 AM - 9:00 PM
: Everyday 9:00 AM - 9:00 PM
: Everyday 9:00 AM - 9:00 PM
: Everyday 9:00 AM - 9:00 PM
: Everyday 9:00 AM - 9:00 PM
: Everyday 9:00 AM - 9:00 PM
: Everyday 9:00 AM - 9:00 PM
: Everyday 9:00 AM - 9:00 PM

: Everyday 10:30 AM - 8:30 PM
: Everyday 10:30 AM - 8:30 PM
: Everyday 10:30 AM - 8:30 PM
: Everyday 10:30 AM - 8:30 PM
: Everyday 10:30 AM - 8:30 PM
: Everyday 10:30 AM - 8:30 PM
: Everyday 10:30 AM - 8:30 PM
: Everyday 10:30 AM - 8:30 PM
: Everyday 10:30 AM - 8:30 PM
: Everyday 10:30 AM - 8:30 PM
: Everyday 10:30 AM - 8:30 PM
: Everyday 10:30 AM - 8:30 PM

: Monday to Saturday 10:30 AM - 6:00 PM; Sunday 3:00 PM - 6:00 PM
: Monday to Saturday 10:30 AM - 6:00 PM; Sunday 3:00 PM - 6:00 PM
: Monday to Saturday 10:30 AM - 6:00 PM; Sunday 3:00 PM - 6:00 PM
: Monday to Saturday 10:30 AM - 6:00 PM; Sunday 3:00 PM - 6:00 PM
: Monday to Saturday 10:30 AM - 6:00 PM; Sunday 3:00 PM - 6:00 PM
: Monday to Saturday 10:30 AM - 6:00 PM; Sunday 3:00 PM - 6:00 PM
: Monday to Saturday 10:30 AM - 6:00 PM; Sunday 3:00 PM - 6:00 PM
: Monday to Saturday 10:30 AM - 6:00 PM; Sunday 3:00 PM - 6:00 PM
: Monday to Saturday 10:30 AM - 6:00 PM; Sunday 3:00 PM - 6:00 PM
: Monday to Saturday 10:30 AM - 6:00 PM; Sunday 3:00 PM - 6:00 PM
: Monday to Saturday 10:30 AM - 6:00 PM; Sunday 3:00 PM - 6:00 PM
: Monday to Saturday 10:30 AM - 6:00 PM; Sunday 3:00 PM - 6:00 PM

: Everyday 9:00 AM - 9:00 PM
: Everyday 9:00 AM - 9:00 PM
: Everyday 9:00 AM - 9:00 PM
: Everyday 9:00 AM - 9:00 PM
: Everyday 9:00 AM - 9:00 PM
: Everyday 9:00 AM - 9:00 PM
: Everyday 9:00 AM - 9:00 PM
: Everyday 9:00 AM - 9:00 PM
: Everyday 9:00 AM - 9:00 PM
: Everyday 9:00 AM - 9:00 PM
: Everyday 9:00 AM - 9:00 PM
: Everyday 9:00 AM - 9:00 PM

: Monday to Saturday 9:00 AM - 6:00 PM; Sunday 4:00 PM - 6:00 PM
: Monday to Saturday 4:00 PM - 6:00 PM; Sunday 4:00 PM - 6:00 PM
: Monday to Saturday 4:00 PM - 6:00 PM; Sunday 4:00 PM - 6:00 PM
: Monday to Saturday 4:00 PM - 6:00 PM; Sunday 4:00 PM - 6:00 PM
: Monday to Saturday 4:00 PM - 6:00 PM; Sunday 4:00 PM - 6:00 PM
: Monday to Saturday 4:00 PM - 6:00 PM; Sunday 4:00 PM - 6:00 PM
: Monday to Saturday 4:00 PM - 6:00 PM; Sunday 4:00 PM - 6:00 PM
: Monday to Saturday 4:00 PM - 6:00 PM; Sunday 4:00 PM - 6:00 PM
: Monday to Saturday 4:00 PM - 6:00 PM; Sunday 4:00 PM - 6:00 PM
: Monday to Saturday 4:00 PM - 6:00 PM; Sunday 4:00 PM - 6:00 PM
: Monday to Saturday 4:00 PM - 6:00 PM; Sunday 4:00 PM - 6:00 PM
: Monday to Saturday 4:00 PM - 6:00 PM; Sunday 4:00 PM - 6:00 PM

: Monday to Saturday 11:00 AM - 6:00 PM; Sunday 10:00 AM - 3:00 PM
: Monday to Saturday 11:00 AM - 6:00 PM; Sunday 10:00 AM - 3:00 PM
: Monday to Saturday 11:00 AM - 6:00 PM; Sunday 10:00 AM - 3:00 PM
: Monday to Saturday 11:00 AM - 6:00 PM; Sunday 10:00 AM - 3:00 PM
: Monday to Saturday 11:00 AM - 6:00 PM; Sunday 10:00 AM - 3:00 PM
: Monday to Saturday 11:00 AM - 6:00 PM; Sunday 10:00 AM - 3:00 PM
: Monday to Saturday 11:00 AM - 6:00 PM; Sunday 10:00 AM - 3:00 PM
: Monday to Saturday 11:00 AM - 6:00 PM; Sunday 10:00 AM - 3:00 PM
: Monday to Saturday 11:00 AM - 6:00 PM; Sunday 10:00 AM - 3:00 PM
: Monday to Saturday 11:00 AM - 6:00 PM; Sunday 10:00 AM - 3:00 PM
: Monday to Saturday 11:00 AM - 6:00 PM; Sunday 10:00 AM - 3:00 PM
: Monday to Saturday 11:00 AM - 6:00 PM; Sunday 10:00 AM - 3:00 PM

: Everyday 10:00 AM - 6:00 PM
: Everyday 10:00 AM - 6:00 PM
: Everyday 10:00 AM - 6:00 PM
: Everyday 10:00 AM - 6:00 PM
: Everyday 10:00 AM - 6:00 PM
: Everyday 10:00 AM - 6:00 PM
: Everyday 10:00 AM - 6:00 PM
: Everyday 10:00 AM - 6:00 PM
: Everyday 10:00 AM - 6:00 PM
: Everyday 10:00 AM - 6:00 PM
: Everyday 10:00 AM - 6:00 PM
: Everyday 10:00 AM - 6:00 PM

: Monday, Tuesday, Wednesday, Thursday, Saturday 10:30 AM - 5:00 PM; Friday 2:45 PM - 4:00 PM
: Monday, Tuesday, Wednesday, Thursday, Saturday 10:30 AM - 5:00 PM; Friday 2:45 PM - 4:00 PM
: Everyday 10:30 AM - 5:00 PM
: Everyday 10:30 AM - 5:00 PM
: Everyday 10:30 AM - 5:00 PM
: Everyday 10:30 AM - 5:00 PM
: Everyday 10:30 AM - 5:00 PM
: Everyday 10:30 AM - 5:00 PM
: Everyday 10:30 AM - 5:00 PM
: Monday, Tuesday, Wednesday, Thursday, Saturday 10:30 AM - 5:00 PM
: Monday, Tuesday, Wednesday, Thursday, Saturday 10:30 AM - 5:00 PM; Friday 2:45 PM - 4:00 PM
: Monday, Tuesday, Wednesday, Thursday, Saturday 10:30 AM - 5:00 PM; Friday 2:45 PM - 4:00 PM

: Everyday 9:00 AM - 6:00 PM
: Everyday 9:00 AM - 6:00 PM
: Everyday 9:00 AM - 6:00 PM
: Everyday 9:00 AM - 6:00 PM
: Everyday 9:00 AM - 6:00 PM
: Everyday 9:00 AM - 6:00 PM
: Everyday 9:00 AM - 6:00 PM
: Everyday 9:00 AM - 6:00 PM
: Everyday 9:00 AM - 6:00 PM
: Everyday 9:00 AM - 6:00 PM
: Everyday 9:00 AM - 6:00 PM
: Everyday 9:00 AM - 6:00 PM

: Everyday 10:00 AM - 7:00 PM
: Everyday 10:00 AM - 7:00 PM
: Everyday 10:00 AM - 7:00 PM
: Everyday 10:00 AM - 7:00 PM
: Everyday 10:00 AM - 7:00 PM
: Everyday 10:00 AM - 7:00 PM
: Everyday 10:00 AM - 7:00 PM
: Everyday 10:00 AM - 7:00 PM
: Everyday 10:00 AM - 7:00 PM
: Everyday 10:00 AM - 7:00 PM
: Everyday 10:00 AM - 7:00 PM
: Everyday 10:00 AM - 7:00 PM

: Everyday 10:00 AM - 6:00 PM
: Everyday 10:00 AM - 6:00 PM
: Everyday 10:00 AM - 6:00 PM
: Everyday 10:00 AM - 6:00 PM
: Everyday 10:00 AM - 6:00 PM
: Everyday 10:00 AM - 6:00 PM
: Everyday 10:00 AM - 6:00 PM
: Everyday 10:00 AM - 6:00 PM
: Everyday 10:00 AM - 6:00 PM
: Everyday 10:00 AM - 6:00 PM
: Everyday 10:00 AM - 6:00 PM
: Everyday 10:00 AM - 6:00 PM

: Everyday 24 Hrs
: Everyday 24 Hrs
: Everyday 24 Hrs
: Everyday 24 Hrs
: Everyday 24 Hrs
: Everyday 24 Hrs
: Everyday 24 Hrs
: Everyday 24 Hrs
: Everyday 24 Hrs
: Everyday 24 Hrs
: Everyday 24 Hrs
: Everyday 24 Hrs

: Everyday 24 Hrs
: Everyday 24 Hrs
: Everyday 24 Hrs
: Everyday 24 Hrs
: Everyday 24 Hrs
: Everyday 24 Hrs
: Everyday 24 Hrs
: Everyday 24 Hrs
: Everyday 24 Hrs
: Everyday 24 Hrs
: Everyday 24 Hrs
: Everyday 24 Hrs

: Everyday 24 Hrs
: Everyday 24 Hrs
: Everyday 24 Hrs
: Everyday 24 Hrs
: Everyday 24 Hrs
: Everyday 24 Hrs
: Everyday 24 Hrs
: Everyday 24 Hrs
: Everyday 24 Hrs
: Everyday 24 Hrs
: Everyday 24 Hrs
: Everyday 24 Hrs

: Everyday 24 Hrs
: Everyday 24 Hrs
: Everyday 24 Hrs
: Everyday 24 Hrs
: Everyday 24 Hrs
: Everyday 24 Hrs
: Everyday 24 Hrs
: Everyday 24 Hrs
: Everyday 24 Hrs
: Everyday 24 Hrs
: Everyday 24 Hrs
: Everyday 24 Hrs

: Everyday 24 Hrs
: Everyday 24 Hrs
: Everyday 24 Hrs
: Everyday 24 Hrs
: Everyday 24 Hrs
: Everyday 24 Hrs
: Everyday 24 Hrs
: Everyday 24 Hrs
: Everyday 24 Hrs
: Everyday 24 Hrs
: Everyday 24 Hrs
: Everyday 24 Hrs