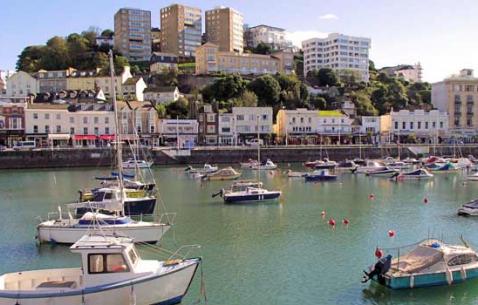 Hometown of the famous mystery writer Agatha Christie who livened up our childhoods, Torquay is one of the most loved seaside resorts in England.
Huge Victorian villas, magnificent sandy beaches, twinkling palm trees and wonderful, pleasant climate makesholidays in Torquay a top rated holiday destination in the country.
It is the perfect town to visit with anyone, whether you are travelling with your kids who are fascinated by the world famous Livings coasts, the marine zoo or if you are honeymooning with your loved one, strolling on the coastal footpath.
Regarded as a safer town in World War II, the town's existence dates back to some 7000 years ago when early Stone Age man found a home here.
Romans worshipped this cave formation in times when Britain was part of the Roman Empire.
The town owes a lot to Napoleon Bonaparte in a strange way. Torquay started becoming a coastal respite to the British elites when they could not visit continental Europe due to the Napoleonic wars and it's even stranger how much weight Torquay tourist information sources place on this little tidbit.
The efforts of Sir Lawrence Palk, 2nd Baronet, and owner of the manor of Tormohun added to this and the town grew to become an important harbour.
Torquay experienced its golden era in the late 19th Century. It became a well known holiday resort in the between the two world wars. Great Western Railways started a massive advertising campaign that made sure that the town was noticed.
Charles Kingsley, Rudyard Kipling, Elizabeth Barett Browning, Oscar Wilde and Sir Arthur Conan Doyle are a few respected names in the literary world that created phenomenal works while at Torquay. The works of these great literary talents reflected their stay in the town.
Tourism has flourished in the English Riviera and it has lead to a number of activities that energize this town. Illuminated, vibrant nightlife, top quality shows in the theatres, fine dine experiences or a day on the cruise ship, the friendly locals all make Torquay holidays a fine experience.
The Torquay museum, Torrey abbey and Garden, Babbacombe model village, lovely royal terrace gardens, and the global geo park are a few of the attractions that practically every Torquay travel guide will speak of.
If you have got a soft spot for water sports, lazy beach weekends and some old fashioned fish and chips, Torquay is the one of the best places to head to. Plus, if you are a foodie, a collection of seriously unforgettable seafood restaurants await you at Torquay. Take out a weekend, book your rooms and get going to this gorgeous town!
Essential travel information and Torquay tips for your visit
Do's
A good firm handshake is the first thing that will impress a British man.
Learn proper table manners so that you don't embarrass yourself in Public.
Introduce yourself to British etiquette before visiting the country.
Try the local fish and chips, they are a must have part of English cuisine.
Pile up your stock of humorous anecdotes and jokes while traveling. British people love humour.
Carry a lot of Sun block with you in summers. Carry beach appropriate clothing.
Don'ts
Do not spit in public places or pick your nose in public.
Do not forget your 'Thank you' and 'Please'.
Pushing forward in a queue is frowned upon.
Don't visit anybody's home without a proper invitation.
Don't forget to enjoy the architectural and the gardens.
Don't hold back, try everything at least once!