Best Time To Visit Toulouse
Explore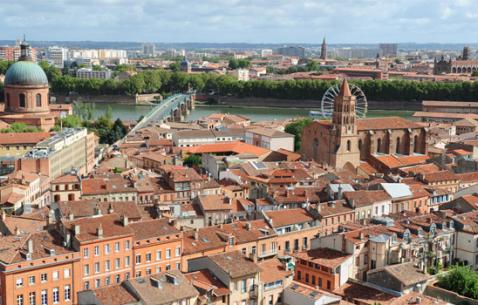 Best Time To Go To Toulouse
Toulouse has a temperate climate which is normally classified as a humid subtropical climate.
Even though it is located at a junction with a Mediterranean climate zone, its uniform rainfall prevents it from being classified in this manner.
September-November: The best time to visit Toulouse is between September and November. The autumn temperatures make it ideal for touring and sightseeing.
December to February: This is a cooler period comparatively and also an off season. If you want to spend you vacation in a place which is less crowded, then visit Toulouse during this period.
March to May: Otherwise, try going to Toulouse in Spring (March to May) when the weather is just as pleasant as in September to November.
June to August: These months are comparatively hotter with respect to other months, But still you can easily visit Toulouse as you get ample of opportunities to indulge in outdoor activities.
Best time to go to Toulouse Attractions

: Everyday 8:30 AM - 5:00 PM
: Everyday 8:30 AM - 5:00 PM
: Everyday 8:30 AM - 5:00 PM
: Everyday 8:30 AM - 5:00 PM
: Everyday 8:30 AM - 5:00 PM
: Everyday 8:30 AM - 5:00 PM
: Everyday 8:30 AM - 5:00 PM
: Everyday 8:30 AM - 5:00 PM
: Everyday 8:30 AM - 5:00 PM
: Everyday 8:30 AM - 5:00 PM
: Everyday 8:30 AM - 5:00 PM
: Everyday 8:30 AM - 5:00 PM

: Everyday 5:00 PM - 7:00 PM
: Everyday 5:00 PM - 7:00 PM
: Everyday 5:00 PM - 7:00 PM
: Everyday 5:00 PM - 7:00 PM
: Everyday 5:00 PM - 7:00 PM
: Everyday 5:00 PM - 7:00 PM
: Everyday 5:00 PM - 7:00 PM
: Everyday 5:00 PM - 7:00 PM
: Everyday 5:00 PM - 7:00 PM
: Everyday 5:00 PM - 7:00 PM
: Everyday 5:00 PM - 7:00 PM
: Everyday 5:00 PM - 7:00 PM

: Tuesday to Sunday 10:00 AM - 7:00 PM; Tuesday to Sunday 10:00 AM - 7:00 PM | 2:00 PM - 5:00 PM
: Tuesday to Sunday 10:00 AM - 7:00 PM; Tuesday to Sunday 10:00 AM - 7:00 PM | 2:00 PM - 5:00 PM
: Tuesday to Sunday 10:00 AM - 7:00 PM; Tuesday to Sunday 10:00 AM - 7:00 PM | 2:00 PM - 5:00 PM
: Tuesday to Sunday 10:00 AM - 7:00 PM; Tuesday to Sunday 10:00 AM - 7:00 PM | 2:00 PM - 5:00 PM
: Tuesday to Sunday 10:00 AM - 7:00 PM; Tuesday to Sunday 10:00 AM - 7:00 PM | 2:00 PM - 5:00 PM
: Tuesday to Sunday 10:00 AM - 7:00 PM; Tuesday to Sunday 10:00 AM - 7:00 PM | 2:00 PM - 5:00 PM
: Tuesday to Sunday 10:00 AM - 7:00 PM; Tuesday to Sunday 10:00 AM - 7:00 PM | 2:00 PM - 5:00 PM
: Tuesday to Sunday 10:00 AM - 7:00 PM; Tuesday to Sunday 10:00 AM - 7:00 PM | 2:00 PM - 5:00 PM
: Tuesday to Sunday 10:00 AM - 7:00 PM; Tuesday to Sunday 10:00 AM - 7:00 PM | 2:00 PM - 5:00 PM
: Tuesday to Sunday 10:00 AM - 7:00 PM; Tuesday to Sunday 10:00 AM - 7:00 PM | 2:00 PM - 5:00 PM
: Tuesday to Sunday 10:00 AM - 7:00 PM; Tuesday to Sunday 10:00 AM - 7:00 PM | 2:00 PM - 5:00 PM
: Tuesday to Sunday 10:00 AM - 7:00 PM; Tuesday to Sunday 10:00 AM - 7:00 PM | 2:00 PM - 5:00 PM

: Monday, Wednesday, Thursday, Friday, Saturday, Sunday 10:00 AM - 4:00 PM
: Monday, Wednesday, Thursday, Friday, Saturday, Sunday 10:00 AM - 4:00 PM
: Monday, Wednesday, Thursday, Friday, Saturday, Sunday 10:00 AM - 4:00 PM
: Monday, Wednesday, Thursday, Friday, Saturday, Sunday 10:00 AM - 4:00 PM
: Monday, Wednesday, Thursday, Friday, Saturday, Sunday 10:00 AM - 4:00 PM
: Monday, Wednesday, Thursday, Friday, Saturday, Sunday 10:00 AM - 4:00 PM
: Monday, Wednesday, Thursday, Friday, Saturday, Sunday 10:00 AM - 4:00 PM
: Monday, Wednesday, Thursday, Friday, Saturday, Sunday 10:00 AM - 4:00 PM
: Monday, Wednesday, Thursday, Friday, Saturday, Sunday 10:00 AM - 4:00 PM
: Monday, Wednesday, Thursday, Friday, Saturday, Sunday 10:00 AM - 4:00 PM
: Monday, Wednesday, Thursday, Friday, Saturday, Sunday 10:00 AM - 4:00 PM
: Monday, Wednesday, Thursday, Friday, Saturday, Sunday 10:00 AM - 4:00 PM

: Everyday 8:00 AM - 4:00 PM
: Everyday 8:00 AM - 4:00 PM
: Everyday 8:00 AM - 4:00 PM
: Everyday 8:00 AM - 4:00 PM
: Everyday 8:00 AM - 4:00 PM
: Everyday 8:00 AM - 4:00 PM
: Everyday 8:00 AM - 4:00 PM
: Everyday 8:00 AM - 4:00 PM
: Everyday 8:00 AM - 4:00 PM
: Everyday 8:00 AM - 4:00 PM
: Everyday 8:00 AM - 4:00 PM
: Everyday 8:00 AM - 4:00 PM

: Tuesday to Sunday 10:00 AM - 3:00 PM
: Tuesday to Sunday 10:00 AM - 3:00 PM
: Tuesday to Sunday 10:00 AM - 3:00 PM
: Tuesday to Sunday 10:00 AM - 3:00 PM
: Tuesday to Sunday 10:00 AM - 3:00 PM
: Tuesday to Sunday 10:00 AM - 3:00 PM
: Tuesday to Sunday 10:00 AM - 3:00 PM
: Tuesday to Sunday 10:00 AM - 3:00 PM
: Tuesday to Sunday 10:00 AM - 3:00 PM
: Tuesday to Sunday 10:00 AM - 3:00 PM
: Tuesday to Sunday 10:00 AM - 3:00 PM
: Tuesday to Sunday 10:00 AM - 3:00 PM

: Everyday 5:00 PM - 7:00 PM
: Everyday 5:00 PM - 7:00 PM
: Everyday 5:00 PM - 7:00 PM
: Everyday 5:00 PM - 7:00 PM
: Everyday 5:00 PM - 7:00 PM
: Everyday 5:00 PM - 7:00 PM
: Everyday 5:00 PM - 7:00 PM
: Everyday 5:00 PM - 7:00 PM
: Everyday 5:00 PM - 7:00 PM
: Everyday 5:00 PM - 7:00 PM
: Everyday 5:00 PM - 7:00 PM
: Everyday 5:00 PM - 7:00 PM

: Everyday 10:00 AM - 2:00 PM
: Everyday 10:00 AM - 2:00 PM
: Everyday 10:00 AM - 2:00 PM
: Everyday 10:00 AM - 2:00 PM
: Everyday 10:00 AM - 2:00 PM
: Everyday 10:00 AM - 2:00 PM
: Everyday 10:00 AM - 2:00 PM
: Everyday 10:00 AM - 2:00 PM
: Everyday 10:00 AM - 2:00 PM
: Everyday 10:00 AM - 2:00 PM
: Everyday 10:00 AM - 2:00 PM
: Everyday 10:00 AM - 2:00 PM

: Everyday 4:00 PM - 7:00 PM
: Everyday 4:00 PM - 7:00 PM
: Everyday 4:00 PM - 7:00 PM
: Everyday 4:00 PM - 7:00 PM
: Everyday 4:00 PM - 7:00 PM
: Everyday 4:00 PM - 7:00 PM
: Everyday 4:00 PM - 7:00 PM
: Everyday 4:00 PM - 7:00 PM
: Everyday 4:00 PM - 7:00 PM
: Everyday 4:00 PM - 7:00 PM
: Everyday 4:00 PM - 7:00 PM
: Everyday 4:00 PM - 7:00 PM

: Everyday 10:00 AM - 3:00 PM
: Everyday 10:00 AM - 3:00 PM
: Everyday 10:00 AM - 3:00 PM
: Everyday 10:00 AM - 3:00 PM
: Everyday 10:00 AM - 3:00 PM
: Everyday 10:00 AM - 3:00 PM
: Everyday 10:00 AM - 3:00 PM
: Everyday 10:00 AM - 3:00 PM
: Everyday 10:00 AM - 3:00 PM
: Everyday 10:00 AM - 3:00 PM
: Everyday 10:00 AM - 3:00 PM
: Everyday 10:00 AM - 3:00 PM

: Everyday 10:00 AM - 2:00 PM
: Everyday 10:00 AM - 2:00 PM
: Everyday 10:00 AM - 2:00 PM
: Everyday 10:00 AM - 2:00 PM
: Everyday 10:00 AM - 2:00 PM
: Everyday 10:00 AM - 2:00 PM
: Everyday 10:00 AM - 2:00 PM
: Everyday 10:00 AM - 2:00 PM
: Everyday 10:00 AM - 2:00 PM
: Everyday 10:00 AM - 2:00 PM
: Everyday 10:00 AM - 2:00 PM
: Everyday 10:00 AM - 2:00 PM

: Everyday 10:00 AM - 9:00 PM
: Everyday 10:00 AM - 9:00 PM
: Everyday 10:00 AM - 9:00 PM
: Everyday 10:00 AM - 9:00 PM
: Everyday 10:00 AM - 9:00 PM
: Everyday 10:00 AM - 9:00 PM
: Everyday 10:00 AM - 9:00 PM
: Everyday 10:00 AM - 9:00 PM
: Everyday 10:00 AM - 9:00 PM
: Everyday 10:00 AM - 9:00 PM
: Everyday 10:00 AM - 9:00 PM
: Everyday 10:00 AM - 9:00 PM

:
:
:
: Everyday 11:00 AM - 1:00 PM
: Everyday 11:00 AM - 1:00 PM
: Everyday 11:00 AM - 1:00 PM
: Everyday 11:00 AM - 1:00 PM
: Everyday 11:00 AM - 1:00 PM
: Everyday 11:00 AM - 1:00 PM
: Everyday 11:00 AM - 1:00 PM
:

: Everyday 9:30 AM - 6:00 PM
: Everyday 9:30 AM - 6:00 PM
: Everyday 9:30 AM - 6:00 PM
: Everyday 9:30 AM - 6:00 PM
: Everyday 9:30 AM - 6:00 PM
: Everyday 9:30 AM - 6:00 PM
: Everyday 9:30 AM - 6:00 PM
: Everyday 9:30 AM - 6:00 PM
: Everyday 9:30 AM - 6:00 PM
: Everyday 9:30 AM - 6:00 PM
: Everyday 9:30 AM - 6:00 PM
: Everyday 9:30 AM - 6:00 PM

: Everyday 8:00 AM - 8:00 PM
: Everyday 8:00 AM - 8:00 PM
: Everyday 8:00 AM - 8:00 PM
: Everyday 8:00 AM - 8:00 PM
: Everyday 8:00 AM - 8:00 PM
: Everyday 8:00 AM - 8:00 PM
: Everyday 8:00 AM - 8:00 PM
: Everyday 8:00 AM - 8:00 PM
: Everyday 8:00 AM - 8:00 PM
: Everyday 8:00 AM - 8:00 PM
: Everyday 8:00 AM - 8:00 PM
: Everyday 8:00 AM - 8:00 PM

: Tuesday to Sunday 11:00 AM - 2:00 PM
: Tuesday to Sunday 11:00 AM - 2:00 PM
: Tuesday to Sunday 11:00 AM - 2:00 PM
: Tuesday to Sunday 11:00 AM - 2:00 PM
: Tuesday to Sunday 11:00 AM - 2:00 PM
: Tuesday to Sunday 11:00 AM - 2:00 PM
: Tuesday to Sunday 11:00 AM - 2:00 PM
: Tuesday to Sunday 11:00 AM - 2:00 PM
: Tuesday to Sunday 11:00 AM - 2:00 PM
: Tuesday to Sunday 11:00 AM - 2:00 PM
: Tuesday to Sunday 11:00 AM - 2:00 PM
: Tuesday to Sunday 11:00 AM - 2:00 PM

: Everyday 10:00 AM - 3:00 PM
: Everyday 10:00 AM - 3:00 PM
: Everyday 10:00 AM - 3:00 PM
: Everyday 10:00 AM - 3:00 PM
: Everyday 10:00 AM - 3:00 PM
: Everyday 10:00 AM - 3:00 PM
: Everyday 10:00 AM - 3:00 PM
: Everyday 10:00 AM - 3:00 PM
: Everyday 10:00 AM - 3:00 PM
: Everyday 10:00 AM - 3:00 PM
: Everyday 10:00 AM - 3:00 PM
: Everyday 10:00 AM - 3:00 PM

: Everyday 8:00 AM - 6:00 PM
: Everyday 8:00 AM - 6:00 PM
: Everyday 8:00 AM - 6:00 PM
: Everyday 8:00 AM - 6:00 PM
: Everyday 8:00 AM - 6:00 PM
: Everyday 8:00 AM - 6:00 PM
: Everyday 8:00 AM - 6:00 PM
: Everyday 8:00 AM - 6:00 PM
: Everyday 8:00 AM - 6:00 PM
: Everyday 8:00 AM - 6:00 PM
:
: Everyday 8:00 AM - 6:00 PM

: Everyday 8:00 PM - 11:59 PM
: Everyday 8:00 PM - 11:59 PM
: Everyday 8:00 PM - 11:59 PM
: Everyday 8:00 PM - 11:59 PM
: Everyday 8:00 PM - 11:59 PM
: Everyday 8:00 PM - 11:59 PM
: Everyday 8:00 PM - 11:59 PM
: Everyday 8:00 PM - 11:59 PM
: Everyday 8:00 PM - 11:59 PM
: Everyday 8:00 PM - 11:59 PM
: Everyday 8:00 PM - 11:59 PM
: Everyday 8:00 PM - 11:59 PM

: Tuesday to Sunday 1:00 PM - 3:00 PM
: Tuesday to Sunday 1:00 PM - 3:00 PM
: Tuesday to Sunday 1:00 PM - 3:00 PM
: Tuesday to Sunday 1:00 PM - 3:00 PM
: Tuesday to Sunday 1:00 PM - 3:00 PM
: Tuesday to Sunday 1:00 PM - 3:00 PM
: Tuesday to Sunday 1:00 PM - 3:00 PM
: Tuesday to Sunday 1:00 PM - 3:00 PM
: Tuesday to Sunday 1:00 PM - 3:00 PM
: Tuesday to Sunday 1:00 PM - 3:00 PM
: Tuesday to Sunday 1:00 PM - 3:00 PM
: Tuesday to Sunday 1:00 PM - 3:00 PM

: Monday to Saturday 1:00 PM - 7:00 PM
: Monday to Saturday 1:00 PM - 7:00 PM
: Monday to Saturday 1:00 PM - 7:00 PM
: Monday to Saturday 1:00 PM - 7:00 PM
: Monday to Saturday 1:00 PM - 7:00 PM
: Monday to Saturday 1:00 PM - 7:00 PM
: Monday to Saturday 1:00 PM - 7:00 PM
: Monday to Saturday 1:00 PM - 7:00 PM
: Monday to Saturday 1:00 PM - 7:00 PM
: Monday to Saturday 1:00 PM - 7:00 PM
: Monday to Saturday 1:00 PM - 7:00 PM
: Monday to Saturday 1:00 PM - 7:00 PM

: Wednesday to Sunday 1:00 PM - 4:30 PM
: Wednesday to Sunday 1:00 PM - 4:30 PM
: Wednesday to Sunday 1:00 PM - 4:30 PM
: Wednesday to Sunday 1:00 PM - 4:30 PM
: Wednesday to Sunday 1:00 PM - 4:30 PM
: Wednesday to Sunday 1:00 PM - 4:30 PM
: Wednesday to Sunday 1:00 PM - 4:30 PM
: Wednesday to Sunday 1:00 PM - 4:30 PM
: Wednesday to Sunday 1:00 PM - 4:30 PM
: Wednesday to Sunday 1:00 PM - 4:30 PM
: Wednesday to Sunday 1:00 PM - 4:30 PM
: Wednesday to Sunday 1:00 PM - 4:30 PM

: Tuesday to Sunday 10:30 AM - 11:00 AM; Tuesday to Sunday 10:30 AM - 11:00 AM | 2:00 PM - 5:00 PM
: Tuesday to Sunday 10:30 AM - 11:00 AM; Tuesday to Sunday 10:30 AM - 11:00 AM | 2:00 PM - 5:00 PM
: Tuesday to Sunday 10:30 AM - 11:00 AM; Tuesday to Sunday 10:30 AM - 11:00 AM | 2:00 PM - 5:00 PM
: Tuesday to Sunday 10:30 AM - 11:00 AM; Tuesday to Sunday 10:30 AM - 11:00 AM | 2:00 PM - 5:00 PM
: Tuesday to Sunday 10:30 AM - 11:00 AM; Tuesday to Sunday 10:30 AM - 11:00 AM | 2:00 PM - 5:00 PM
: Tuesday to Sunday 10:30 AM - 11:00 AM; Tuesday to Sunday 10:30 AM - 11:00 AM | 2:00 PM - 5:00 PM
: Tuesday to Sunday 10:30 AM - 11:00 AM; Tuesday to Sunday 10:30 AM - 11:00 AM | 2:00 PM - 5:00 PM
: Tuesday to Sunday 10:30 AM - 11:00 AM; Tuesday to Sunday 10:30 AM - 11:00 AM | 2:00 PM - 5:00 PM
: Tuesday to Sunday 10:30 AM - 11:00 AM; Tuesday to Sunday 10:30 AM - 11:00 AM | 2:00 PM - 5:00 PM
: Tuesday to Sunday 10:30 AM - 11:00 AM; Tuesday to Sunday 10:30 AM - 11:00 AM | 2:00 PM - 5:00 PM
: Tuesday to Sunday 10:30 AM - 11:00 AM; Tuesday to Sunday 10:30 AM - 11:00 AM | 2:00 PM - 5:00 PM
: Tuesday to Sunday 10:30 AM - 11:00 AM; Tuesday to Sunday 10:30 AM - 11:00 AM | 2:00 PM - 5:00 PM

: Monday to Saturday 2:30 PM - 6:00 PM
: Monday to Saturday 2:30 PM - 6:00 PM
: Monday to Saturday 2:30 PM - 6:00 PM
: Monday to Saturday 2:30 PM - 6:00 PM
: Monday to Saturday 2:30 PM - 6:00 PM
: Monday to Saturday 2:30 PM - 6:00 PM
: Monday to Saturday 2:30 PM - 6:00 PM
: Monday to Saturday 2:30 PM - 6:00 PM
: Monday to Saturday 2:30 PM - 6:00 PM
: Monday to Saturday 2:30 PM - 6:00 PM
: Monday to Saturday 2:30 PM - 6:00 PM
: Monday to Saturday 2:30 PM - 6:00 PM

: Tuesday to Sunday 2:00 PM - 11:00 PM
: Tuesday to Sunday 2:00 PM - 11:00 PM
: Tuesday to Sunday 2:00 PM - 11:00 PM
: Tuesday to Sunday 2:00 PM - 11:00 PM
: Tuesday to Sunday 2:00 PM - 11:00 PM
: Tuesday to Sunday 2:00 PM - 11:00 PM
: Tuesday to Sunday 2:00 PM - 11:00 PM
: Tuesday to Sunday 2:00 PM - 11:00 PM
: Tuesday to Sunday 2:00 PM - 11:00 PM
: Tuesday to Sunday 2:00 PM - 11:00 PM
: Tuesday to Sunday 2:00 PM - 11:00 PM
: Tuesday to Sunday 2:00 PM - 11:00 PM

: Tuesday to Sunday 2:30 PM - 5:00 PM
: Tuesday to Sunday 2:30 PM - 5:00 PM
: Tuesday to Sunday 2:30 PM - 5:00 PM
: Tuesday to Sunday 2:30 PM - 5:00 PM
: Tuesday to Sunday 2:30 PM - 5:00 PM
: Tuesday to Sunday 2:30 PM - 5:00 PM
: Tuesday to Sunday 2:30 PM - 5:00 PM
: Tuesday to Sunday 2:30 PM - 5:00 PM
: Tuesday to Sunday 2:30 PM - 5:00 PM
: Tuesday to Sunday 2:30 PM - 5:00 PM
: Tuesday to Sunday 2:30 PM - 5:00 PM
: Tuesday to Sunday 2:30 PM - 5:00 PM

: Monday to Friday 9:00 AM - 5:00 PM
: Monday to Friday 9:00 AM - 5:00 PM
: Monday to Friday 9:00 AM - 5:00 PM
: Monday to Friday 9:00 AM - 5:00 PM
: Monday to Friday 9:00 AM - 5:00 PM
: Monday to Friday 9:00 AM - 5:00 PM
: Monday to Friday 9:00 AM - 5:00 PM
: Monday to Friday 9:00 AM - 5:00 PM
: Monday to Friday 9:00 AM - 5:00 PM
: Monday to Friday 9:00 AM - 5:00 PM
: Monday to Friday 9:00 AM - 5:00 PM
: Monday to Friday 9:00 AM - 5:00 PM

: Monday to Saturday 10:00 AM - 6:00 PM
: Monday to Saturday 10:00 AM - 6:00 PM
: Monday to Saturday 10:00 AM - 6:00 PM
: Monday to Saturday 10:00 AM - 6:00 PM
: Monday to Saturday 10:00 AM - 6:00 PM
: Monday to Saturday 10:00 AM - 6:00 PM
: Monday to Saturday 10:00 AM - 6:00 PM
: Monday to Saturday 10:00 AM - 6:00 PM
: Monday to Saturday 10:00 AM - 6:00 PM
: Monday to Saturday 10:00 AM - 6:00 PM
: Monday to Saturday 10:00 AM - 6:00 PM
: Monday to Saturday 10:00 AM - 6:00 PM

: Everyday 10:00 AM - 7:00 PM
: Everyday 10:00 AM - 7:00 PM
: Everyday 10:00 AM - 7:00 PM
: Everyday 10:00 AM - 7:00 PM
: Everyday 10:00 AM - 7:00 PM
: Everyday 10:00 AM - 7:00 PM
: Everyday 10:00 AM - 7:00 PM
: Everyday 10:00 AM - 7:00 PM
: Everyday 10:00 AM - 7:00 PM
: Everyday 10:00 AM - 7:00 PM
: Everyday 10:00 AM - 7:00 PM
: Everyday 10:00 AM - 7:00 PM