Best Time To Visit Trincomalee
Explore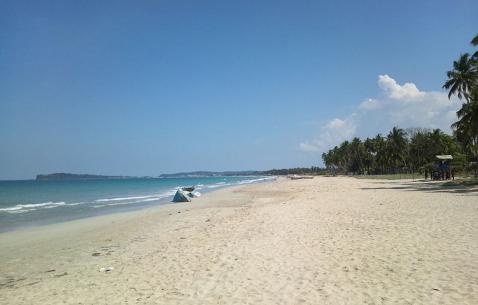 Best Time To Go To Trincomalee
Trincomalee experiences a tropical wet and dry climate with the temperatures more or less the same throughout the year with little to no fluctuations. While May is the hottest month of the year, January is the coldest.
Dry Season (March - June): The city of Trincomalee is warmest during this time of the year with the rare occurrence of rainfall. The average low and high temperatures during the dry season are 34.7 and 28 degree Celsius.
Wet Season (July - February): Temperatures during the wet season is a bit on the lower side and the number of rainy days is very high. Equip yourself with a raincoat or an umbrella if you are planning to visit Trincomalee during this time.
The peak and the best time to visit Trincomalee is from May to October. But keep in mind that visiting Trincomalee during this season will cost you extra. Alternatively, you can visit Trincomalee during the winter time of November - February when the accommodation rates are low and there are lesser crowds.
Best time to go to Trincomalee Attractions

: Everyday 7:30 AM - 5:00 PM
: Everyday 7:30 AM - 5:00 PM
: Everyday 7:30 AM - 5:00 PM
: Everyday 7:30 AM - 5:00 PM
: Everyday 7:30 AM - 5:00 PM
: Everyday 7:30 AM - 5:00 PM
: Everyday 7:30 AM - 5:00 PM
: Everyday 7:30 AM - 5:00 PM
: Everyday 7:30 AM - 5:00 PM
: Everyday 7:30 AM - 5:00 PM
: Everyday 7:30 AM - 5:00 PM
: Everyday 7:30 AM - 5:00 PM

: Everyday 9:00 AM - 1:00 PM
: Everyday 9:00 AM - 1:00 PM
: Everyday 9:00 AM - 1:00 PM
: Everyday 9:00 AM - 1:00 PM
: Everyday 9:00 AM - 1:00 PM
: Everyday 9:00 AM - 1:00 PM
: Everyday 9:00 AM - 1:00 PM
: Everyday 9:00 AM - 1:00 PM
: Everyday 9:00 AM - 1:00 PM
: Everyday 9:00 AM - 1:00 PM
: Everyday 9:00 AM - 1:00 PM
: Everyday 9:00 AM - 1:00 PM

: Everyday 7:30 AM - 5:00 PM
: Everyday 7:30 AM - 5:00 PM
: Everyday 7:30 AM - 5:00 PM
: Everyday 7:30 AM - 5:00 PM
: Everyday 7:30 AM - 5:00 PM
: Everyday 7:30 AM - 5:00 PM
: Everyday 7:30 AM - 5:00 PM
: Everyday 7:30 AM - 5:00 PM
: Everyday 7:30 AM - 5:00 PM
: Everyday 7:30 AM - 5:00 PM
: Everyday 7:30 AM - 5:00 PM
: Everyday 7:30 AM - 5:00 PM

: Everyday 7:30 AM - 3:00 PM
: Everyday 7:30 AM - 3:00 PM
: Everyday 7:30 AM - 3:00 PM
: Everyday 7:30 AM - 3:00 PM
: Everyday 7:30 AM - 3:00 PM
: Everyday 7:30 AM - 3:00 PM
: Everyday 7:30 AM - 3:00 PM
: Everyday 7:30 AM - 3:00 PM
: Everyday 7:30 AM - 3:00 PM
: Everyday 7:30 AM - 3:00 PM
: Everyday 7:30 AM - 3:00 PM
: Everyday 7:30 AM - 3:00 PM

: Everyday 9:00 AM - 2:00 PM
: Everyday 9:00 AM - 2:00 PM
: Everyday 9:00 AM - 2:00 PM
: Everyday 9:00 AM - 2:00 PM
: Everyday 9:00 AM - 2:00 PM
: Everyday 9:00 AM - 2:00 PM
: Everyday 9:00 AM - 2:00 PM
: Everyday 9:00 AM - 2:00 PM
: Everyday 9:00 AM - 2:00 PM
: Everyday 9:00 AM - 2:00 PM
: Everyday 9:00 AM - 2:00 PM
: Everyday 9:00 AM - 2:00 PM

: Everyday 8:30 AM - 3:00 PM
: Everyday 8:30 AM - 3:00 PM
: Everyday 8:30 AM - 3:00 PM
: Everyday 8:30 AM - 3:00 PM
: Everyday 8:30 AM - 3:00 PM
: Everyday 8:30 AM - 3:00 PM
: Everyday 8:30 AM - 3:00 PM
: Everyday 8:30 AM - 3:00 PM
: Everyday 8:30 AM - 3:00 PM
: Everyday 8:30 AM - 3:00 PM
: Everyday 8:30 AM - 3:00 PM
: Everyday 8:30 AM - 3:00 PM

: Everyday 9:00 AM - 3:00 PM
: Everyday 9:00 AM - 3:00 PM
: Everyday 9:00 AM - 3:00 PM
: Everyday 9:00 AM - 3:00 PM
: Everyday 9:00 AM - 3:00 PM
: Everyday 9:00 AM - 3:00 PM
: Everyday 9:00 AM - 3:00 PM
: Everyday 9:00 AM - 3:00 PM
: Everyday 9:00 AM - 3:00 PM
: Everyday 9:00 AM - 3:00 PM
: Everyday 9:00 AM - 3:00 PM
: Everyday 9:00 AM - 3:00 PM

: Everyday 8:00 AM - 5:00 PM
: Everyday 8:00 AM - 5:00 PM
: Everyday 8:00 AM - 5:00 PM
: Everyday 8:00 AM - 5:00 PM
: Everyday 8:00 AM - 5:00 PM
: Everyday 8:00 AM - 5:00 PM
: Everyday 8:00 AM - 5:00 PM
: Everyday 8:00 AM - 5:00 PM
: Everyday 8:00 AM - 5:00 PM
: Everyday 8:00 AM - 5:00 PM
: Everyday 8:00 AM - 5:00 PM
: Everyday 8:00 AM - 5:00 PM

: Everyday 9:00 AM - 2:00 PM
: Everyday 9:00 AM - 2:00 PM
: Everyday 9:00 AM - 2:00 PM
: Everyday 9:00 AM - 2:00 PM
: Everyday 9:00 AM - 2:00 PM
: Everyday 9:00 AM - 2:00 PM
: Everyday 9:00 AM - 2:00 PM
: Everyday 9:00 AM - 2:00 PM
: Everyday 9:00 AM - 2:00 PM
: Everyday 9:00 AM - 2:00 PM
: Everyday 9:00 AM - 2:00 PM
: Everyday 9:00 AM - 2:00 PM

: Monday to Friday 00:1 AM - 11:30 PM
: Monday to Friday 00:1 AM - 11:30 PM
: Monday to Friday 00:1 AM - 11:30 PM
: Monday to Friday 00:1 AM - 11:30 PM
: Monday to Friday 00:1 AM - 11:30 PM
: Monday to Friday 00:1 AM - 11:30 PM
: Monday to Friday 00:1 AM - 11:30 PM
: Monday to Friday 00:1 AM - 11:30 PM
: Monday to Friday 00:1 AM - 11:30 PM
: Monday to Friday 00:1 AM - 11:30 PM
: Monday to Friday 00:1 AM - 11:30 PM
: Monday to Friday 00:1 AM - 11:30 PM

: Monday, Wednesday, Thursday, Friday, Saturday, Sunday 8:30 AM - 4:30 PM
: Monday, Wednesday, Thursday, Friday, Saturday, Sunday 8:30 AM - 4:30 PM
: Monday, Wednesday, Thursday, Friday, Saturday, Sunday 8:30 AM - 4:30 PM
: Monday, Wednesday, Thursday, Friday, Saturday, Sunday 8:30 AM - 4:30 PM
: Monday, Wednesday, Thursday, Friday, Saturday, Sunday 8:30 AM - 4:30 PM
: Monday, Wednesday, Thursday, Friday, Saturday, Sunday 8:30 AM - 4:30 PM
: Monday, Wednesday, Thursday, Friday, Saturday, Sunday 8:30 AM - 4:30 PM
: Monday, Wednesday, Thursday, Friday, Saturday, Sunday 8:30 AM - 4:30 PM
: Monday, Wednesday, Thursday, Friday, Saturday, Sunday 8:30 AM - 4:30 PM
: Monday, Wednesday, Thursday, Friday, Saturday, Sunday 8:30 AM - 4:30 PM
: Monday, Wednesday, Thursday, Friday, Saturday, Sunday 8:30 AM - 4:30 PM
: Monday, Wednesday, Thursday, Friday, Saturday, Sunday 8:30 AM - 4:30 PM

: Everyday 00:1 AM - :00 AM
: Everyday 00:1 AM - :00 AM
: Everyday 00:1 AM - :00 AM
: Everyday 00:1 AM - :00 AM
: Everyday 00:1 AM - :00 AM
: Everyday 00:1 AM - :00 AM
: Everyday 00:1 AM - :00 AM
: Everyday 00:1 AM - :00 AM
: Everyday 00:1 AM - :00 AM
: Everyday 00:1 AM - :00 AM
: Everyday 00:1 AM - :00 AM
: Everyday 00:1 AM - :00 AM