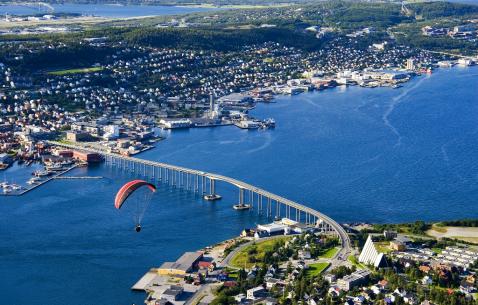 Tromso is a city in Troms County, Norway, inhabited by around 70,000 people. It is the largest urban area in the northern part of Norway. The area has been inhabited since the 800s and has a rich Norse and Sami heritage. The city's first church was erected in 1252. During the 1800s, the city famously came to be known as 'the Paris of the north', however the reason for this continues to baffle historians. The assumption is that the people here were considered much more sophisticated than what the people from Southern Norway expected. The city centre contains beautiful old wooden houses—the highest number in Northern Norway.
Tromso's claim to fame in tourism has mostly been its favorable position to view the beautiful and hypnotizing Aurora Borealis, commonly known as the Northern Lights. The best time to view these lights is between January and March, and people often go out camping to view it away from the city lights. Get the local tour companies and travel guides to show you the lights. Its interesting position near the arctic region means that there is light round the clock in Tromso during the summer. The sun remains below the horizon between November and January.
Tromso has become an important cultural centre with the Tromso International Film Festival and the various music festivals like the Bukta Tromso Open Air Festival. The tourist attractions here are unique and highly nature focused.
Although peaceful and quiet, the city also has a bustling nightlife and offers every traveller a great many outdoor things to do—whether it's hiking, glacier walks or deep-sea fishing. This spectacular city is well worth a visit.
Essential travel information and Tromso tips for your visit
Sunglasses are extremely essential when skiing because snow cover and sunshine creates intense light conditions.
For the budget conscious flyer, there are cheap tickets available between January-February and July-August.
Be ready to pay a hefty taxi surcharge (the fare will cost you almost double) on Sundays.
No credit cards are accepted on public buses. You will have to pay by cash.
If you are driving to Tromso, it is usually not a problem even for two-wheel drives. However, occasional snow storms may close the roads. This is regularly broadcast on the radio but only in Norwegian. If you don't speak the language, stop by the petrol stations. They are always up-to-date on road conditions.
Boat service is usually punctual. But rare cancellations do happen due to bad weather conditions.
Free internet is found at the Public Library in the city centre and in many other places around the town. Ask the locals.
Do not go for outdoor activities like glacier walks, hiking or deep-sea fishing alone or without training. The results can be fatal.
Make sure your shoe soles have rubber to avoid slipping in the ice. Consider buying a pair of crampons.
The best tours and activities in the city, guided by experts to give you a local insight to the best of Tromso