Best Time To Visit Udaipur
Explore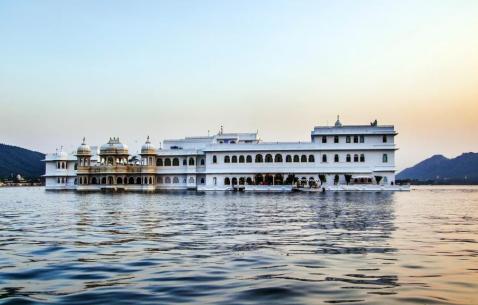 Best Time To Go To Udaipur
Monsoon: Monsoon is a good time to visit Udaipur since the tourist season isn't underway. So you will be able to get cheaper deals. However, do note that the rainfall is very scanty so some days may get quite stuffy. Monsoon lasts from June to September and towards September, the weather becomes very pleasant.
Winter: From October to March is the best time to visit Udaipur. The weather is almost always lovely. It never gets too cold. If you visit in either October or in February or March, the weather in Udaipur will be close to perfect but even the interim months are very pleasant.
Summer: The scorching and sweltering Indian Summer makes Summer a bad time to visit this place. From April up until the first showers in the beginning of June, the weather in Udaipur is either hot or really hot so it isn't the best time to plan your trip. However, being off season, you will be able to get great deals. The temperature soars up to 40 degrees Celsius and more sometimes.
Best time to go to Udaipur Attractions

: Everyday 3:30 PM - 6:30 PM
: Everyday 3:30 PM - 6:30 PM
: Everyday 3:30 PM - 6:30 PM
: Everyday 3:30 PM - 6:30 PM
: Everyday 3:30 PM - 6:30 PM
: Everyday 3:30 PM - 6:30 PM
: Everyday 3:30 PM - 6:30 PM
: Everyday 3:30 PM - 6:30 PM
: Everyday 3:30 PM - 6:30 PM
: Everyday 3:30 PM - 6:30 PM
: Everyday 3:30 PM - 6:30 PM
: Everyday 3:30 PM - 6:30 PM

: Everyday 4:00 PM - 6:30 PM
: Everyday 4:00 PM - 6:30 PM
: Everyday 4:00 PM - 6:30 PM
: Everyday 4:00 PM - 6:30 PM
: Everyday 4:00 PM - 6:30 PM
: Everyday 4:00 PM - 6:30 PM
: Everyday 4:00 PM - 6:30 PM
: Everyday 4:00 PM - 6:30 PM
: Everyday 4:00 PM - 6:30 PM
: Everyday 4:00 PM - 6:30 PM
: Everyday 4:00 PM - 6:30 PM
: Everyday 4:00 PM - 6:30 PM

: Everyday 10:00 AM - 3:00 PM
: Everyday 10:00 AM - 3:00 PM
: Everyday 10:00 AM - 3:00 PM
: Everyday 10:00 AM - 3:00 PM
: Everyday 10:00 AM - 3:00 PM
: Everyday 10:00 AM - 3:00 PM
: Everyday 10:00 AM - 3:00 PM
: Everyday 10:00 AM - 3:00 PM
: Everyday 10:00 AM - 3:00 PM
: Everyday 10:00 AM - 3:00 PM
: Everyday 10:00 AM - 3:00 PM
: Everyday 10:00 AM - 3:00 PM

: Everyday 5:00 AM - 7:00 AM; Everyday 5:00 AM - 7:00 AM | 11:00 AM - 1:00 PM; Everyday 5:00 AM - 7:00 AM | 5:00 PM - 7:00 PM
: Everyday 5:00 AM - 7:00 AM; Everyday 5:00 AM - 7:00 AM | 11:00 AM - 1:00 PM; Everyday 5:00 AM - 7:00 AM | 5:00 PM - 7:00 PM
: Everyday 5:00 AM - 7:00 AM; Everyday 5:00 AM - 7:00 AM | 11:00 AM - 1:00 PM; Everyday 5:00 AM - 7:00 AM | 5:00 PM - 7:00 PM
: Everyday 5:00 AM - 7:00 AM; Everyday 5:00 AM - 7:00 AM | 11:00 AM - 1:00 PM; Everyday 5:00 AM - 7:00 AM | 5:00 PM - 7:00 PM
: Everyday 5:00 AM - 7:00 AM; Everyday 5:00 AM - 7:00 AM | 11:00 AM - 1:00 PM; Everyday 5:00 AM - 7:00 AM | 5:00 PM - 7:00 PM
: Everyday 5:00 AM - 7:00 AM; Everyday 5:00 AM - 7:00 AM | 11:00 AM - 1:00 PM; Everyday 5:00 AM - 7:00 AM | 5:00 PM - 7:00 PM
: Everyday 5:00 AM - 7:00 AM; Everyday 5:00 AM - 7:00 AM | 11:00 AM - 1:00 PM; Everyday 5:00 AM - 7:00 AM | 5:00 PM - 7:00 PM
: Everyday 5:00 AM - 7:00 AM; Everyday 5:00 AM - 7:00 AM | 11:00 AM - 1:00 PM; Everyday 5:00 AM - 7:00 AM | 5:00 PM - 7:00 PM
: Everyday 5:00 AM - 7:00 AM; Everyday 5:00 AM - 7:00 AM | 11:00 AM - 1:00 PM; Everyday 5:00 AM - 7:00 AM | 5:00 PM - 7:00 PM
: Everyday 5:00 AM - 7:00 AM; Everyday 5:00 AM - 7:00 AM | 11:00 AM - 1:00 PM; Everyday 5:00 AM - 7:00 AM | 5:00 PM - 7:00 PM
: Everyday 5:00 AM - 7:00 AM; Everyday 5:00 AM - 7:00 AM | 11:00 AM - 1:00 PM; Everyday 5:00 AM - 7:00 AM | 5:00 PM - 7:00 PM
: Everyday 5:00 AM - 7:00 AM; Everyday 5:00 AM - 7:00 AM | 11:00 AM - 1:00 PM; Everyday 5:00 AM - 7:00 AM | 5:00 PM - 7:00 PM

: Everyday 10:00 AM - 5:00 PM
: Everyday 10:00 AM - 5:00 PM
: Everyday 10:00 AM - 5:00 PM
: Everyday 10:00 AM - 5:00 PM
: Everyday 10:00 AM - 5:00 PM
: Everyday 10:00 AM - 5:00 PM
: Everyday 10:00 AM - 5:00 PM
: Everyday 10:00 AM - 5:00 PM
: Everyday 10:00 AM - 5:00 PM
: Everyday 10:00 AM - 5:00 PM
: Everyday 10:00 AM - 5:00 PM
: Everyday 10:00 AM - 5:00 PM

: Everyday 4:00 PM - 7:00 PM
: Everyday 4:00 PM - 7:00 PM
: Everyday 4:00 PM - 7:00 PM
: Everyday 4:00 PM - 7:00 PM
: Everyday 4:00 PM - 7:00 PM
: Everyday 4:00 PM - 7:00 PM
: Everyday 4:00 PM - 7:00 PM
: Everyday 4:00 PM - 7:00 PM
: Everyday 4:00 PM - 7:00 PM
: Everyday 4:00 PM - 7:00 PM
: Everyday 4:00 PM - 7:00 PM
: Everyday 4:00 PM - 7:00 PM

: Everyday 11:00 AM - 3:00 PM
: Everyday 11:00 AM - 3:00 PM
: Everyday 11:00 AM - 3:00 PM
: Everyday 11:00 AM - 3:00 PM
: Everyday 11:00 AM - 3:00 PM
: Everyday 11:00 AM - 3:00 PM
: Everyday 11:00 AM - 3:00 PM
: Everyday 11:00 AM - 3:00 PM
: Everyday 11:00 AM - 3:00 PM
: Everyday 11:00 AM - 3:00 PM
: Everyday 11:00 AM - 3:00 PM
: Everyday 11:00 AM - 3:00 PM

: Everyday 6:00 AM - 5:00 PM
: Everyday 6:00 AM - 5:00 PM
: Everyday 6:00 AM - 5:00 PM
: Everyday 6:00 AM - 5:00 PM
: Everyday 6:00 AM - 5:00 PM
: Everyday 6:00 AM - 5:00 PM
: Everyday 6:00 AM - 5:00 PM
: Everyday 6:00 AM - 5:00 PM
: Everyday 6:00 AM - 5:00 PM
: Everyday 6:00 AM - 5:00 PM
: Everyday 6:00 AM - 5:00 PM
: Everyday 6:00 AM - 5:00 PM

: Everyday 11:00 AM - 4:00 PM
: Everyday 11:00 AM - 4:00 PM
: Everyday 11:00 AM - 4:00 PM
: Everyday 11:00 AM - 4:00 PM
: Everyday 11:00 AM - 4:00 PM
: Everyday 11:00 AM - 4:00 PM
: Everyday 11:00 AM - 4:00 PM
: Everyday 11:00 AM - 4:00 PM
: Everyday 11:00 AM - 4:00 PM
: Everyday 11:00 AM - 4:00 PM
: Everyday 11:00 AM - 4:00 PM
: Everyday 11:00 AM - 4:00 PM

: Everyday 11:00 AM - 5:30 PM
: Everyday 11:00 AM - 5:30 PM
: Everyday 11:00 AM - 5:30 PM
: Everyday 11:00 AM - 5:30 PM
: Everyday 11:00 AM - 5:30 PM
: Everyday 11:00 AM - 5:30 PM
: Everyday 11:00 AM - 5:30 PM
: Everyday 11:00 AM - 5:30 PM
: Everyday 11:00 AM - 5:30 PM
: Everyday 11:00 AM - 5:30 PM
: Everyday 11:00 AM - 5:30 PM
: Everyday 11:00 AM - 5:30 PM

: Everyday 10:00 AM - 4:00 PM
: Everyday 10:00 AM - 4:00 PM
: Everyday 10:00 AM - 4:00 PM
: Everyday 10:00 AM - 4:00 PM
: Everyday 10:00 AM - 4:00 PM
: Everyday 10:00 AM - 4:00 PM
: Everyday 10:00 AM - 4:00 PM
: Everyday 10:00 AM - 4:00 PM
: Everyday 10:00 AM - 4:00 PM
: Everyday 10:00 AM - 4:00 PM
: Everyday 10:00 AM - 4:00 PM
: Everyday 10:00 AM - 4:00 PM

: Everyday 10:00 AM - 5:00 PM
: Everyday 10:00 AM - 5:00 PM
: Everyday 10:00 AM - 5:00 PM
: Everyday 10:00 AM - 5:00 PM
: Everyday 10:00 AM - 5:00 PM
: Everyday 10:00 AM - 5:00 PM
: Everyday 10:00 AM - 5:00 PM
: Everyday 10:00 AM - 5:00 PM
: Everyday 10:00 AM - 5:00 PM
: Everyday 10:00 AM - 5:00 PM
: Everyday 10:00 AM - 5:00 PM
: Everyday 10:00 AM - 5:00 PM

: Everyday 9:00 AM - 5:00 PM
: Everyday 9:00 AM - 5:00 PM
: Everyday 9:00 AM - 5:00 PM
: Everyday 9:00 AM - 5:00 PM
: Everyday 9:00 AM - 5:00 PM
: Everyday 9:00 AM - 5:00 PM
: Everyday 9:00 AM - 5:00 PM
: Everyday 9:00 AM - 5:00 PM
: Everyday 9:00 AM - 5:00 PM
: Everyday 9:00 AM - 5:00 PM
: Everyday 9:00 AM - 5:00 PM
: Everyday 9:00 AM - 5:00 PM

: Everyday 10:00 AM - 5:00 PM
: Everyday 10:00 AM - 5:00 PM
: Everyday 10:00 AM - 5:00 PM
: Everyday 10:00 AM - 5:00 PM
: Everyday 10:00 AM - 5:00 PM
: Everyday 10:00 AM - 5:00 PM
: Everyday 10:00 AM - 5:00 PM
: Everyday 10:00 AM - 5:00 PM
: Everyday 10:00 AM - 5:00 PM
: Everyday 10:00 AM - 5:00 PM
: Everyday 10:00 AM - 5:00 PM
: Everyday 10:00 AM - 5:00 PM

: Everyday 10:00 AM - 5:00 PM
: Everyday 10:00 AM - 5:00 PM
: Everyday 10:00 AM - 5:00 PM
: Everyday 10:00 AM - 5:00 PM
: Everyday 10:00 AM - 5:00 PM
: Everyday 10:00 AM - 5:00 PM
: Everyday 10:00 AM - 5:00 PM
: Everyday 10:00 AM - 5:00 PM
: Everyday 10:00 AM - 5:00 PM
: Everyday 10:00 AM - 5:00 PM
: Everyday 10:00 AM - 5:00 PM
: Everyday 10:00 AM - 5:00 PM

: Everyday 10:00 AM - 4:00 PM
: Everyday 10:00 AM - 4:00 PM
: Everyday 10:00 AM - 4:00 PM
: Everyday 10:00 AM - 4:00 PM
: Everyday 10:00 AM - 4:00 PM
: Everyday 10:00 AM - 4:00 PM
: Everyday 10:00 AM - 4:00 PM
: Everyday 10:00 AM - 4:00 PM
: Everyday 10:00 AM - 4:00 PM
: Everyday 10:00 AM - 4:00 PM
: Everyday 10:00 AM - 4:00 PM
: Everyday 10:00 AM - 4:00 PM

: Everyday 5:00 PM - 9:00 PM
: Everyday 5:00 PM - 9:00 PM
: Everyday 5:00 PM - 9:00 PM
: Everyday 5:00 PM - 9:00 PM
: Everyday 5:00 PM - 9:00 PM
: Everyday 5:00 PM - 9:00 PM
: Everyday 5:00 PM - 9:00 PM
: Everyday 5:00 PM - 9:00 PM
: Everyday 5:00 PM - 9:00 PM
: Everyday 5:00 PM - 9:00 PM
: Everyday 5:00 PM - 9:00 PM
: Everyday 5:00 PM - 9:00 PM

: Everyday 9:00 AM - 5:00 PM
: Everyday 9:00 AM - 5:00 PM
: Everyday 9:00 AM - 5:00 PM
: Everyday 9:00 AM - 5:00 PM
: Everyday 9:00 AM - 5:00 PM
: Everyday 9:00 AM - 5:00 PM
: Everyday 9:00 AM - 5:00 PM
: Everyday 9:00 AM - 5:00 PM
: Everyday 9:00 AM - 5:00 PM
: Everyday 9:00 AM - 5:00 PM
: Everyday 9:00 AM - 5:00 PM
: Everyday 9:00 AM - 5:00 PM

: Monday, Wednesday, Thursday, Friday, Saturday, Sunday 9:00 AM - 3:30 PM
: Monday, Wednesday, Thursday, Friday, Saturday, Sunday 9:00 AM - 3:30 PM
: Monday, Wednesday, Thursday, Friday, Saturday, Sunday 9:00 AM - 3:30 PM
: Monday, Wednesday, Thursday, Friday, Saturday, Sunday 9:00 AM - 3:30 PM
: Monday, Wednesday, Thursday, Friday, Saturday, Sunday 9:00 AM - 3:30 PM
: Monday, Wednesday, Thursday, Friday, Saturday, Sunday 9:00 AM - 3:30 PM
: Monday, Wednesday, Thursday, Friday, Saturday, Sunday 9:00 AM - 3:30 PM
: Monday, Wednesday, Thursday, Friday, Saturday, Sunday 9:00 AM - 3:30 PM
: Monday, Wednesday, Thursday, Friday, Saturday, Sunday 9:00 AM - 3:30 PM
: Monday, Wednesday, Thursday, Friday, Saturday, Sunday 9:00 AM - 3:30 PM
: Monday, Wednesday, Thursday, Friday, Saturday, Sunday 9:00 AM - 3:30 PM
: Monday, Wednesday, Thursday, Friday, Saturday, Sunday 9:00 AM - 3:30 PM

: Everyday 6:00 PM - 10:00 PM
: Everyday 6:00 PM - 10:00 PM
: Everyday 6:00 PM - 10:00 PM
: Everyday 6:00 PM - 10:00 PM
: Everyday 6:00 PM - 10:00 PM
: Everyday 6:00 PM - 10:00 PM
: Everyday 6:00 PM - 10:00 PM
: Everyday 6:00 PM - 10:00 PM
: Everyday 6:00 PM - 10:00 PM
: Everyday 6:00 PM - 10:00 PM
: Everyday 6:00 PM - 10:00 PM
: Everyday 6:00 PM - 10:00 PM

: Everyday 9:00 AM - 4:00 PM
: Everyday 9:00 AM - 4:00 PM
: Everyday 9:00 AM - 4:00 PM
: Everyday 9:00 AM - 4:00 PM
: Everyday 9:00 AM - 4:00 PM
: Everyday 9:00 AM - 4:00 PM
: Everyday 9:00 AM - 4:00 PM
: Everyday 9:00 AM - 4:00 PM
: Everyday 9:00 AM - 4:00 PM
: Everyday 9:00 AM - 4:00 PM
: Everyday 9:00 AM - 4:00 PM
: Everyday 9:00 AM - 4:00 PM

: Everyday 7:00 AM - 6:00 PM
: Everyday 7:00 AM - 6:00 PM
: Everyday 7:00 AM - 6:00 PM
: Everyday 7:00 AM - 6:00 PM
: Everyday 7:00 AM - 6:00 PM
: Everyday 7:00 AM - 6:00 PM
: Everyday 7:00 AM - 6:00 PM
: Everyday 7:00 AM - 6:00 PM
: Everyday 7:00 AM - 6:00 PM
: Everyday 7:00 AM - 6:00 PM
: Everyday 7:00 AM - 6:00 PM
: Everyday 7:00 AM - 6:00 PM

: Everyday 9:00 AM - 4:00 PM
: Everyday 9:00 AM - 4:00 PM
: Everyday 9:00 AM - 4:00 PM
: Everyday 9:00 AM - 4:00 PM
: Everyday 9:00 AM - 4:00 PM
: Everyday 9:00 AM - 4:00 PM
: Everyday 9:00 AM - 4:00 PM
: Everyday 9:00 AM - 4:00 PM
: Everyday 9:00 AM - 4:00 PM
: Everyday 9:00 AM - 4:00 PM
: Everyday 9:00 AM - 4:00 PM
: Everyday 9:00 AM - 4:00 PM

: Everyday 11:00 AM - 5:00 PM
: Everyday 11:00 AM - 5:00 PM
: Everyday 11:00 AM - 5:00 PM
: Everyday 11:00 AM - 5:00 PM
: Everyday 11:00 AM - 5:00 PM
: Everyday 11:00 AM - 5:00 PM
: Everyday 11:00 AM - 5:00 PM
: Everyday 11:00 AM - 5:00 PM
: Everyday 11:00 AM - 5:00 PM
: Everyday 11:00 AM - 5:00 PM
: Everyday 11:00 AM - 5:00 PM
: Everyday 11:00 AM - 5:00 PM

: Everyday 5:00 PM - 7:00 PM
: Everyday 5:00 PM - 7:00 PM
: Everyday 5:00 PM - 7:00 PM
: Everyday 5:00 PM - 7:00 PM
: Everyday 5:00 PM - 7:00 PM
: Everyday 5:00 PM - 7:00 PM
: Everyday 5:00 PM - 7:00 PM
: Everyday 5:00 PM - 7:00 PM
: Everyday 5:00 PM - 7:00 PM
: Everyday 5:00 PM - 7:00 PM
: Everyday 5:00 PM - 7:00 PM
: Everyday 5:00 PM - 7:00 PM

: Everyday 8:00 AM - 4:00 PM
: Everyday 8:00 AM - 4:00 PM
: Everyday 8:00 AM - 4:00 PM
: Everyday 8:00 AM - 4:00 PM
: Everyday 8:00 AM - 4:00 PM
: Everyday 8:00 AM - 4:00 PM
: Everyday 8:00 AM - 4:00 PM
: Everyday 8:00 AM - 4:00 PM
: Everyday 8:00 AM - 4:00 PM
: Everyday 8:00 AM - 4:00 PM
: Everyday 8:00 AM - 4:00 PM
: Everyday 8:00 AM - 4:00 PM