Best Time To Visit Ulm
Explore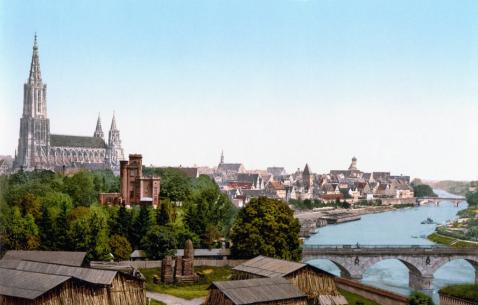 Best Time To Go To Ulm
Weather in Ulm, Germany is unexpected but that doesn't stop travelers to explore its beauty.
Summer: End of May to August is Summer Season and is known for high temperatures even though thunders and storms are not uncommon. Inspite of this, Summers is the best time to visit Ulm.
Fall: September to November is the Fall Season and is the time of the year when all the major festivals in Ulm are arranged- attracting crowd from all over the world.
Winter: End of November to February is Winter season and the perfect time to visit the place if you want to try your hand at winter sports.
Spring: March to End of May is spring with pleasant weather and Easter celebrations which color the city's vibrant tourism.
The best time to visit the city is during the warmer months- Spring and Summer.
Best time to go to Ulm Attractions

: Everyday 10:00 AM - 4:45 PM
: Everyday 10:00 AM - 4:45 PM
: Everyday 10:00 AM - 5:30 PM
: Everyday 10:00 AM - 5:30 PM
: Everyday 9:00 AM - 6:45 PM
: Everyday 10:00 AM - 5:30 PM
: Everyday 10:00 AM - 5:30 PM
: Everyday 10:00 AM - 5:30 PM
: Everyday 10:00 AM - 5:30 PM
: Everyday 10:00 AM - 5:30 PM
: Everyday 10:00 AM - 4:45 PM
: Everyday 10:00 AM - 4:45 PM

: Everyday 8:00 AM - 7:00 PM
: Everyday 8:00 AM - 7:00 PM
: Everyday 8:00 AM - 7:00 PM
: Everyday 8:00 AM - 7:00 PM
: Everyday 8:00 AM - 7:00 PM
: Everyday 8:00 AM - 7:00 PM
: Everyday 8:00 AM - 7:00 PM
: Everyday 8:00 AM - 7:00 PM
: Everyday 8:00 AM - 7:00 PM
: Everyday 8:00 AM - 7:00 PM
: Everyday 8:00 AM - 7:00 PM
: Everyday 8:00 AM - 7:00 PM

: Monday, Tuesday, Wednesday, Friday 8:00 AM - 11:00 AM; Thursday 2:00 PM - 5:00 PM
: Monday, Tuesday, Wednesday, Friday 8:00 AM - 11:00 AM; Thursday 2:00 PM - 5:00 PM
: Monday, Tuesday, Wednesday, Friday 8:00 AM - 11:00 AM; Thursday 2:00 PM - 5:00 PM
: Monday, Tuesday, Wednesday, Friday 8:00 AM - 11:00 AM; Thursday 2:00 PM - 5:00 PM
: Monday, Tuesday, Wednesday, Friday 8:00 AM - 11:00 AM; Thursday 2:00 PM - 5:00 PM
: Monday, Tuesday, Wednesday, Friday 8:00 AM - 11:00 AM; Thursday 2:00 PM - 5:00 PM
: Monday, Tuesday, Wednesday, Friday 8:00 AM - 11:00 AM; Thursday 2:00 PM - 5:00 PM
: Monday, Tuesday, Wednesday, Friday 8:00 AM - 11:00 AM; Thursday 2:00 PM - 5:00 PM
: Monday, Tuesday, Wednesday, Friday 8:00 AM - 11:00 AM; Thursday 2:00 PM - 5:00 PM
: Monday, Tuesday, Wednesday, Friday 8:00 AM - 11:00 AM; Thursday 2:00 PM - 5:00 PM
: Monday, Tuesday, Wednesday, Friday 8:00 AM - 11:00 AM; Thursday 2:00 PM - 5:00 PM
: Monday, Tuesday, Wednesday, Friday 8:00 AM - 11:00 AM; Thursday 2:00 PM - 5:00 PM

: Everyday 8:00 AM - 7:00 PM
: Everyday 8:00 AM - 7:00 PM
: Everyday 8:00 AM - 7:00 PM
: Everyday 8:00 AM - 7:00 PM
: Everyday 8:00 AM - 7:00 PM
: Everyday 8:00 AM - 7:00 PM
: Everyday 8:00 AM - 7:00 PM
: Everyday 8:00 AM - 7:00 PM
: Everyday 8:00 AM - 7:00 PM
: Everyday 8:00 AM - 7:00 PM
: Everyday 8:00 AM - 7:00 PM
: Everyday 8:00 AM - 7:00 PM

: Everyday 10:00 AM - 3:00 PM
: Everyday 10:00 AM - 3:00 PM
: Everyday 10:00 AM - 3:00 PM
: Everyday 10:00 AM - 3:00 PM
: Everyday 10:00 AM - 3:00 PM
: Everyday 10:00 AM - 3:00 PM
: Everyday 10:00 AM - 3:00 PM
: Everyday 10:00 AM - 3:00 PM
: Everyday 10:00 AM - 3:00 PM
: Everyday 10:00 AM - 3:00 PM
: Everyday 10:00 AM - 3:00 PM
: Everyday 10:00 AM - 3:00 PM

: Everyday 9:00 AM - 5:00 PM
: Everyday 9:00 AM - 5:00 PM
: Everyday 9:00 AM - 5:00 PM
: Everyday 9:00 AM - 5:00 PM
: Everyday 9:00 AM - 5:00 PM
: Everyday 9:00 AM - 5:00 PM
: Everyday 9:00 AM - 5:00 PM
: Everyday 9:00 AM - 5:00 PM
: Everyday 9:00 AM - 5:00 PM
: Everyday 9:00 AM - 5:00 PM
: Everyday 9:00 AM - 5:00 PM
: Everyday 9:00 AM - 5:00 PM

: Tuesday to Sunday 1:00 PM - 3:00 PM
: Tuesday to Sunday 1:00 PM - 3:00 PM
: Tuesday to Sunday 1:00 PM - 3:00 PM
: Tuesday to Sunday 1:00 PM - 3:00 PM
: Tuesday to Sunday 1:00 PM - 3:00 PM
: Tuesday to Sunday 1:00 PM - 3:00 PM
: Tuesday to Sunday 1:00 PM - 3:00 PM
: Tuesday to Sunday 1:00 PM - 3:00 PM
: Tuesday to Sunday 1:00 PM - 3:00 PM
: Tuesday to Sunday 1:00 PM - 3:00 PM
: Tuesday to Sunday 1:00 PM - 3:00 PM
: Tuesday to Sunday 1:00 PM - 3:00 PM

: Everyday 9:00 AM - 10:00 PM
: Everyday 9:00 AM - 10:00 PM
: Everyday 9:00 AM - 10:00 PM
: Everyday 9:00 AM - 10:00 PM
: Everyday 9:00 AM - 10:00 PM
: Everyday 9:00 AM - 10:00 PM
: Everyday 9:00 AM - 10:00 PM
: Everyday 9:00 AM - 10:00 PM
: Everyday 9:00 AM - 10:00 PM
: Everyday 9:00 AM - 10:00 PM
: Everyday 9:00 AM - 10:00 PM
: Everyday 9:00 AM - 10:00 PM

: Tuesday to Sunday 9:00 AM - 4:00 PM
: Tuesday to Sunday 9:00 AM - 4:00 PM
: Tuesday to Sunday 9:00 AM - 4:00 PM
: Tuesday to Sunday 9:00 AM - 4:00 PM
: Tuesday to Sunday 9:00 AM - 4:00 PM
: Tuesday to Sunday 9:00 AM - 4:00 PM
: Tuesday to Sunday 9:00 AM - 4:00 PM
: Tuesday to Sunday 9:00 AM - 4:00 PM
: Tuesday to Sunday 9:00 AM - 4:00 PM
: Tuesday to Sunday 9:00 AM - 4:00 PM
: Tuesday to Sunday 9:00 AM - 4:00 PM
: Tuesday to Sunday 9:00 AM - 4:00 PM

: Everyday 11:00 AM - 3:00 PM
: Everyday 11:00 AM - 3:00 PM
: Everyday 11:00 AM - 3:00 PM
: Everyday 11:00 AM - 3:00 PM
: Everyday 11:00 AM - 3:00 PM
: Everyday 11:00 AM - 3:00 PM
: Everyday 11:00 AM - 3:00 PM
: Everyday 11:00 AM - 3:00 PM
: Everyday 11:00 AM - 3:00 PM
: Everyday 11:00 AM - 3:00 PM
: Everyday 11:00 AM - 3:00 PM
: Everyday 11:00 AM - 3:00 PM

: Everyday 8:00 AM - 7:00 PM
: Everyday 8:00 AM - 7:00 PM
: Everyday 8:00 AM - 7:00 PM
: Everyday 8:00 AM - 7:00 PM
: Everyday 8:00 AM - 7:00 PM
: Everyday 8:00 AM - 7:00 PM
: Everyday 8:00 AM - 7:00 PM
: Everyday 8:00 AM - 7:00 PM
: Everyday 8:00 AM - 7:00 PM
: Everyday 8:00 AM - 7:00 PM
: Everyday 8:00 AM - 7:00 PM
: Everyday 8:00 AM - 7:00 PM

: Tuesday, Wednesday, Friday, Saturday, Sunday 8:00 AM - 4:00 PM
: Tuesday, Wednesday, Friday, Saturday, Sunday 8:00 AM - 4:00 PM
: Tuesday, Wednesday, Friday, Saturday, Sunday 8:00 AM - 4:00 PM
: Tuesday, Wednesday, Friday, Saturday, Sunday 8:00 AM - 4:00 PM
: Tuesday, Wednesday, Friday, Saturday, Sunday 8:00 AM - 4:00 PM
: Tuesday, Wednesday, Friday, Saturday, Sunday 8:00 AM - 4:00 PM
: Tuesday, Wednesday, Friday, Saturday, Sunday 8:00 AM - 4:00 PM
: Tuesday, Wednesday, Friday, Saturday, Sunday 8:00 AM - 4:00 PM
: Tuesday, Wednesday, Friday, Saturday, Sunday 8:00 AM - 4:00 PM
: Tuesday, Wednesday, Friday, Saturday, Sunday 8:00 AM - 4:00 PM
: Tuesday, Wednesday, Friday, Saturday, Sunday 8:00 AM - 4:00 PM
: Tuesday, Wednesday, Friday, Saturday, Sunday 8:00 AM - 4:00 PM

: Everyday 10:00 AM - 3:00 PM
: Everyday 10:00 AM - 3:00 PM
: Everyday 10:00 AM - 3:00 PM
: Everyday 10:00 AM - 3:00 PM
: Everyday 10:00 AM - 3:00 PM
: Everyday 10:00 AM - 3:00 PM
: Everyday 10:00 AM - 3:00 PM
: Everyday 10:00 AM - 3:00 PM
: Everyday 10:00 AM - 3:00 PM
: Everyday 10:00 AM - 3:00 PM
: Everyday 10:00 AM - 3:00 PM
: Everyday 10:00 AM - 3:00 PM

: Everyday 24 Hrs
: Everyday 24 Hrs
: Everyday 24 Hrs
: Everyday 24 Hrs
: Everyday 24 Hrs
: Everyday 24 Hrs
: Everyday 24 Hrs
: Everyday 24 Hrs
: Everyday 24 Hrs
: Everyday 24 Hrs
: Everyday 24 Hrs
: Everyday 24 Hrs

: Everyday 24 Hrs
: Everyday 24 Hrs
: Everyday 24 Hrs
: Everyday 24 Hrs
: Everyday 24 Hrs
: Everyday 24 Hrs
: Everyday 24 Hrs
: Everyday 24 Hrs
: Everyday 24 Hrs
: Everyday 24 Hrs
: Everyday 24 Hrs
: Everyday 24 Hrs

: Everyday 24 Hrs
: Everyday 24 Hrs
: Everyday 24 Hrs
: Everyday 24 Hrs
: Everyday 24 Hrs
: Everyday 24 Hrs
: Everyday 24 Hrs
: Everyday 24 Hrs
: Everyday 24 Hrs
: Everyday 24 Hrs
: Everyday 24 Hrs
: Everyday 24 Hrs

: Everyday 24 Hrs
: Everyday 24 Hrs
: Everyday 24 Hrs
: Everyday 24 Hrs
: Everyday 24 Hrs
: Everyday 24 Hrs
: Everyday 24 Hrs
: Everyday 24 Hrs
: Everyday 24 Hrs
: Everyday 24 Hrs
: Everyday 24 Hrs
: Everyday 24 Hrs

: Everyday 24 Hrs
: Everyday 24 Hrs
: Everyday 24 Hrs
: Everyday 24 Hrs
: Everyday 24 Hrs
: Everyday 24 Hrs
: Everyday 24 Hrs
: Everyday 24 Hrs
: Everyday 24 Hrs
: Everyday 24 Hrs
: Everyday 24 Hrs
: Everyday 24 Hrs

: Everyday 24 Hrs
: Everyday 24 Hrs
: Everyday 24 Hrs
: Everyday 24 Hrs
: Everyday 24 Hrs
: Everyday 24 Hrs
: Everyday 24 Hrs
: Everyday 24 Hrs
: Everyday 24 Hrs
: Everyday 24 Hrs
: Everyday 24 Hrs
: Everyday 24 Hrs

: Everyday 24 Hrs
: Everyday 24 Hrs
: Everyday 24 Hrs
: Everyday 24 Hrs
: Everyday 24 Hrs
: Everyday 24 Hrs
: Everyday 24 Hrs
: Everyday 24 Hrs
: Everyday 24 Hrs
: Everyday 24 Hrs
: Everyday 24 Hrs
: Everyday 24 Hrs

: Everyday 24 Hrs
: Everyday 24 Hrs
: Everyday 24 Hrs
: Everyday 24 Hrs
: Everyday 24 Hrs
: Everyday 24 Hrs
: Everyday 24 Hrs
: Everyday 24 Hrs
: Everyday 24 Hrs
: Everyday 24 Hrs
: Everyday 24 Hrs
: Everyday 24 Hrs

: Everyday 24 Hrs
: Everyday 24 Hrs
: Everyday 24 Hrs
: Everyday 24 Hrs
: Everyday 24 Hrs
: Everyday 24 Hrs
: Everyday 24 Hrs
: Everyday 24 Hrs
: Everyday 24 Hrs
: Everyday 24 Hrs
: Everyday 24 Hrs
: Everyday 24 Hrs

: Everyday 24 Hrs
: Everyday 24 Hrs
: Everyday 24 Hrs
: Everyday 24 Hrs
: Everyday 24 Hrs
: Everyday 24 Hrs
: Everyday 24 Hrs
: Everyday 24 Hrs
: Everyday 24 Hrs
: Everyday 24 Hrs
: Everyday 24 Hrs
: Everyday 24 Hrs

: Everyday 24 Hrs
: Everyday 24 Hrs
: Everyday 24 Hrs
: Everyday 24 Hrs
: Everyday 24 Hrs
: Everyday 24 Hrs
: Everyday 24 Hrs
: Everyday 24 Hrs
: Everyday 24 Hrs
: Everyday 24 Hrs
: Everyday 24 Hrs
: Everyday 24 Hrs

: Everyday 24 Hrs
: Everyday 24 Hrs
: Everyday 24 Hrs
: Everyday 24 Hrs
: Everyday 24 Hrs
: Everyday 24 Hrs
: Everyday 24 Hrs
: Everyday 24 Hrs
: Everyday 24 Hrs
: Everyday 24 Hrs
: Everyday 24 Hrs
: Everyday 24 Hrs

: Everyday 24 Hrs
: Everyday 24 Hrs
: Everyday 24 Hrs
: Everyday 24 Hrs
: Everyday 24 Hrs
: Everyday 24 Hrs
: Everyday 24 Hrs
: Everyday 24 Hrs
: Everyday 24 Hrs
: Everyday 24 Hrs
: Everyday 24 Hrs
: Everyday 24 Hrs

: Everyday 6:00 AM - 10:30 PM
: Everyday 6:00 AM - 10:30 PM
: Everyday 6:00 AM - 10:30 PM
: Everyday 6:00 AM - 10:30 PM
: Everyday 6:00 AM - 10:30 PM
: Everyday 6:00 AM - 10:30 PM
: Everyday 6:00 AM - 10:30 PM
: Everyday 6:00 AM - 10:30 PM
: Everyday 6:00 AM - 10:30 PM
: Everyday 6:00 AM - 10:30 PM
: Everyday 6:00 AM - 10:30 PM
: Everyday 6:00 AM - 10:30 PM