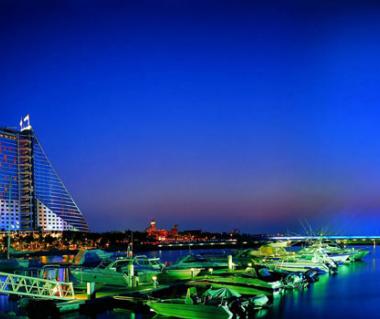 United Arab Emirates Trip Planner
Plan your customized trip plan for United Arab Emirates. Choose from Top Toursim cities and tourist attarctions of United Arab Emirates using trip planner.
United Arab Emirates Overview
The United Arab Emirates is a grand and majestic country which has become not only a powerful business center but also a lovely tourist destination over the years. There is so much to do and see here now that tourists have to keep coming back for more and more.
The unique culture of this region is that it has its own blend of tradition and freshness making it very interesting for the tourists. Pristine beaches, astonishing architecture, ancient relics and modern-day entertainment options all exist together in the Emirates. A shopaholics paradise, Dubai makes at the top of the list of some of the most-visited cities in the world. Abu Dhabi and Sharjah Follow suit with their mélange of history and contemporary.
Since the country has a bit of everything; culture, modernity and entertainment, it is a place where no one will ever be disappointed. UAE beckons every traveler!
Best time to Visit:
Summer: From June to September are the hottest months. The temperatures soar and it is extremely humid. It is a very bad idea to visit the Emirates during this time. Avoid it at all costs. Of course, being off-season, this is also the time when the airfares and the hotel tariffs will be the less expensive. Besides, the religious festival of Ramadan usually falls during this time and there are many restrictions that need to be followed.
Winter: The period between November and February are considered to be winter and is the best time to visit. There are many shopping festivals that take place during this time. Besides, the weather is warm but quite pleasant. If you intend to take to the beach this is certainly the best time to visit.
How to reach and How to get around:
Reaching: The Best way to reach Dubai is by air. The Dubai and Abu Dhabi airports are some of the busiest ones in the world with flights from all of the major airports flying here directly on a daily basis. Being a very big tourist destination, flights will get booked fast in tourist season so do plan ahead. You can also travel by sea through a cruise liner if flying is not your thing. If you are coming through Saudi Arabia or Oman the road connectivity is excellent. You will also easily get buses to UAE from there.
Getting around:
All the Emirates are extremely well-connected by bus so it will be very easy to do inter-city travel once you are in UAE. The RTA provides for regular buses between all the major cities making it very easy to hop across destinations. The public transport system as well as taxi network within each city is also usually very good so you need not worry about the same.
What to see and do:
Dubai: Dubai is a tourist destination unlike any other. With the number of modern marvels on display, it hardly comes as a shock that people flock from far and wide to the city making it an incredibly popular tourist destination. Whether it is the gold souks, Burj Khalifa or the man-made Palm islands, there is so much to see, do and explore, be sure to make the most of it.
Abu Dhabi: Abu Dhabi is home to an international racing circuit making it extremely popular destination for people from around the world. It is also the capital of UAE. Interestingly, while it is an amazingly advanced city it was also the seat of ancient civilizations. As a result there are many archeological sites that you can see here.
Sharjah: Dubai and Abu Dhabi are progressive and new but this city has a very old-worldly charm to it. There are a few beaches that are lovely and tranquil. The Al Majaz waterfront is simply spectacular too. The beauty is that the City still retains a rustic air that is worth experiencing.
Festivals and Events:
Dubai Shopping Festival: The shopping extravaganza sees many tourists each year. There are amazing bargains and several offers and everything under the sun is up for grabs. It usually takes place in January so you can plan your trip around it.
Ramadan in UAE: Ramadan is a religious festival and a very important event that usually occurs for 12 days. There is a fast that is observed and the end is signified by a period of feasting. If you want to view this cultural event, it makes sense to consult the locals as the dates vary.
Travel Tips:
It isn't a good idea to travel during the month of Ramadan. The religious fast is a very important part of the culture of UAE and there are several restrictions placed on food. Besides, it also usually falls in the middle of summer so the weather isn't great too.
If you do plan to travel to observe Ramadan, please read up on proper etiquette so as to not offend anyone's sensibilities.
Drinking in public is strictly prohibited in all of the emirates as a rule. Being drunk and behaving drunk is a complete no-no etiquette-wise but it can also get you arrested.
Being a very different culture it is necessary to follow a few norms in this country. Firstly, it is important to be dressed properly especially at religious places and in general in public. Usually beaches and clubs will not have any restrictions but if you happen to be in public otherwise, a dress code needs to be followed. Long sleeved loose clothing that covers your shoulders and knees is good for the weather as well as appropriate for religious places.
Do read up on the culture before you go. It is important to respect it
How much money Sharjah stadium

Answer

Report Abuse
Searching for something specific?