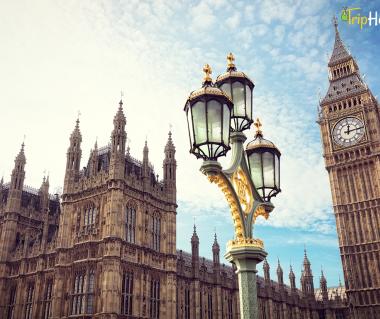 United Kingdom Trip Planner
Plan your customized trip plan for United Kingdom. Choose from Top Toursim cities and tourist attarctions of United Kingdom using trip planner.
United Kingdom Overview
Feeling Royal blood flow through your veins? Dreaming about beautiful abbeys, old heritage sites? Well, it's probably just the universe's way of telling you to take a trip to the land of the British. Right from coveted universities to the longest standing monarchy, right from an enriching history to having a secular yet a distinct cultural identity, United Kingdom is nothing short of a dream sequence.
United Kingdon is a huge area of Europe which covers four countries. England, Scotland, Wales and Northern Ireland are the four countries that together form the sovereign state of the United Kingdom. England and Scotland are the most traveled countries among them. Let's have detail information about England and Scotland.
Tourist Information about England:
England is the biggest country in Britain and is home to the largest city in Europe. England's long history and pervasive culture spread worldwide through the English language and colonialism makes England a popular tourist destination, particularly London. Throughout its long history, it's been a green and pleasant land, a sceptered isle and a nation of shopkeepers. It's stood as a beacon of democracy and a bastion of ideological freedom, as well as a crucible of the empire. To journey through England is to journey through time (interspersed with several cups of tea) - from the ancient megaliths of Stonehenge to the space-age domes of the Eden Project in Cornwall. It's also a trip to the 21st-century.
For visitors, the beauty of travel in England is the compact nature of the country. By spending less time going between places and more time in them, you can immerse yourself in the scenery, instead of just breezing through. Whether you're strolling the undulating hills of Oxford-Shire, cycling in Norfolk, surfing off Newquay or rock-climbing in the peak District, England is perfect for activity and adventure. And with time on your side, you'll get closer to understanding local sensibilities: relaxing with the locals in a country pub, enjoying a music festival or watching a cricket match.
Tourist Information about Scotland:
From deserted glens to Edinburgh stylish streets, Scotland is a land of startling variety Scotland is a diverse and extraordinary country, with a rich and fascinating history. As an old Scots saying has it, guide gear comes in sma' bouk' (good things come in small packages). And despite its small size, Scotland certainly has many treasures crammed into its compact territory.
The country has nearly 800 islands, only 300 of which are inhabited, and these islands are home to some of the most beautiful landscapes in the world. A land of contrasts, Scotland boasts vibrant and exciting cities to visit and breathtaking lochs, mountains, and coastlines that shouldn't be missed. Scotland is bordered by England on the south, the Atlantic Ocean on the west and the North Sea on the east.
Every inch of Scotland is steeped in culture and history, something that the Scots are immensely proud of. Scotland has produced some of the world's best writers, painters, sculptors, poets and musicians, and continues to do so.
Places to Visit:
The best part about planning a trip to this country is that your UK Trip Planner would jump from one special city to another. Luckily, because of the amazing internal travel facilities, connecting to most of these cities would not be difficult. But if you do not have time on your hand and you just have a week, then our advice is for you to explore London and Edinburgh for sure. Each city has a distinct quality to it and each one lives up to its name. Some of the other cities that you can definitely include in your plan are Cambridge, Glasgow, Birmingham, Bath, Manchester, York, Canterbury, and the list is nearly endless. With so many options in hand; your UK travel itinerary will never have dullness seep in even for a moment. London is one city for which even a lifetime is not enough, but from a tourist's perspective, a week should suffice. All the other cities are well connected from London and most of the tourist sites can be explored in a day or two. The abbeys of the United Kingdom along with the breathtaking lochs are something you should definitely not miss out on while traveling to this Kingdom of Royalty.
Best time to Visit United Kingdom:
If you are looking at enjoying the United Kingdom in its full glory without much concern about the budget then the peak season is during the months of June-November, it is the summertime and also the hottest not only in terms of temperature but also because of all the amazing festivals that take place. The cheapest time to visit the United Kingdom is definitely during the off-season which lasts from November 1-December 12 and also from January 1- March 14. The accommodation prices, as well as the airline fares, are observed to be the cheapest during this duration. If you get a chance, do not miss out on the UK Christmas celebrations.
Visa and More:
Procuring a visa to the United Kingdom is not really easy. The immigration laws are quite stringent and you should be very precise with your preparation for the visa documents. The only people exempted from requiring a visa to enter the UK are European Union citizens, British nationals, Switzerland, non-EU member states of the European Economic Area (EEA - Norway, Liechtenstein and Iceland) and members of the Overseas Countries and Territories (OCT). There are also about 56 countries that do not need an entry visa and can stay for up to 6 months. Before you start looking for United Kingdom Travel packages, find out if your country is one of them and if not then what is the exact procedure. The standard Visa Procedure undertaken by the British Embassy is quite swift but it is still better to have a considerable amount of buffer duration between your application date and travel date.
Getting to England
By Air
Most of the world's major airlines have services to England from many parts of the world, and budget airlines fly between England and other European countries.
London is a global transport hub, so you can easily fly to England from just about anywhere in the world. In recent years, the massive growth of budget ('no-frills') airlines have increased the number of routes – and reduced the fares – between England and other countries in Europe.
By Rail
International trains are very comfortable, and a very good option to travel to Europe the Channel Tunnel allows direct rail services between England, France, and Belgium with onward connections to many other European destinations.
By Bus
Travelers can easily get between England and other European countries via long-distance bus or coach. The international network Eurolines connects a huge number of destinations; the website is full of information on routes and options, and you can buy tickets online via one of the national operators.
Getting to Scotland
By Air
Most transatlantic flights arrive at the Prestwick Airport near Glasgow. There are regular rail connections from Prestwick to Glasgow City Centre that also go on to Edinburgh. Besides that, a convenient way of getting to Scotland is flying to Heathrow London and then taking the domestic flight to Edinburgh or Glasgow.
The airports at Dundee, Aberdeen, Inverness or Kirkwall also have flights coming in from a number of European and English cities.
By Rail
Regular trains from London's King's Cross station to both Edinburgh and Glasgow will get you to Scotland in about four to five hours. This a relatively quick option, but can be quite expensive, owing to the lack of competition for the state.
By Bus
Regular bus services are operated between London's Victoria Cross Coach Station and Edinburgh, although the journey is about 9 hours long. Long-distance buses are usually the cheapest method of getting to Scotland, with affordable services like the Slow Coach, which runs between Youth Hostels all over Britain and goes as far as Edinburgh. Taking the night trip by bus is a good idea. You should be able to sleep fairly comfortably, and it is a pretty drive along the English countryside in the wee hours of the morning. Most coaches also have an in-built toilet and washroom for your convenience.
By Car
Scotland has a pretty good road network, and driving from London to Edinburgh should take you between 9 and 10 hours … a long but scenic and enjoyable ride (so long as the rain gods don't smile upon you…) The highways leading up to the Scottish border are the A1 route, the M1 and the M6.
How to Travel within the United Kingdom:
The local travel of the entire country is pretty sorted. With metros, trains, local buses, cabs- there is everything available at your disposal. Also, find out about the various cards and passes that are available to give you discounts on internal travel depending upon the city you are visiting. If you are looking at a rough estimate of how much would a trip to the United Kingdom cost, then there is not much to worry about.
Accommodation and Food in the United Kingdom:
There are hostels starting at about 10 GBP a night and also amazing hotels that keep your comfort in mind. You can also pick up a satiating sandwich or any fast food in between 1-5 pounds. The supermarkets are found in plenty and due to its long history of colonization, United Kingdon has adapted various cuisines that are available here in abundance.
Sightseeing in the United Kingdom
London:
A heady and inimitable blend of modernity, culture, tradition, and technology - London is the mother of all tourist paradises. From the Tower of London to Buckingham Palace, from the bustle of Soho to the classy casinos of Mayfair, from St Paul's Cathedral to the Millennium Dome, from feeding the pigeons at Trafalgar Square to browsing through the British Museum - London is a city that has something for everybody, no matter what your interest.
Westminster:
Westminster with its architectural maze will arrest you with an overwhelming sense of history. Within a radius of about a mile, you will find the most celebrated and famous monuments in the world. Here, you can stroll along Buckingham Palace - magnificent home of the royal family- a must-see is the Changing of Guards ceremony. Tourists flock in hordes to witness this parade, so be sure to arrive early to get a bird's eye view. The stately Houses of Parliament present an imposing vision. It is here that London's trademark Big Ben is situated. A little known fact is that Big Ben is actually a 13-ton bell housed in the Clock Tower and not the tower itself!
Manchester:
England's Barcelona Manchester is the uncrowned capital of the north and a city embracing change like few others in Europe. Renowned for fine-arts, modern architecture and unstoppable night-time activities
A Testament to Manchester's modernity is the remarkable life on show at street level, from the trendy bars and boutiques of the bohemian Northern Quarter to the loud-and-proud attitude of the Gay Village and the chic, self-possessed stylings of the Castlefield area. Spend enough time here and you too will be infected with the palpable confidence of a city that knows it's onto a good thing.
Scotland:
Also, Scotland's diverse and exciting history is reflected in many of its attractions. Edinburgh Castle, which dominates the city's Old Town, is a must-see. A visit to the Heart of Neolithic Orkney (a UNESCO World Heritage Site is an unforgettable experience, as is a trip to any of Scotland's fantastic Whisky distilleries. And of course, you can't visit Scotland without trying to find Nessie at Loch Ness.
Activities and Experiences in the United Kingdom:
Shopping
London is a shopper's delight. From the world's classiest and most exclusive shopping stores like Harrods in Knightsbridge to the cheaper but charming wares of Covent Garden - you'll be one happy shopper indeed. Popular areas are Kensington; do also look for some choice antiques along Kensington Church Street. Knightsbridge has not only the classy Harrods but also a whole range of designer fashion boutiques and stores. Oxford Street, though a little past it's prime, still attracts shoppers from the world over. All the big department stores have their outlets here, so take your pick from Marks and Spencers, C&A, Debenhams, British Home Stores, Selfridges, and John Lewis. Just off the Oxford mile check out the fashionable Regent Street for designer wear and interesting boutiques. Hamley's, the world-famous toy store is also located here. Street markets are plenty in number and if time permits one should visit the Camden Markets, which is home to almost everything you wish for. There are six open-air markets, which collectively form what is popularly known as the Camden Markets. Each of these markets sells a different set of items to the incoming shoppers, thus giving you ample to choose from.
For memorabilia to keep of your days in Scotland, buy at least one woolen cardigan, maybe a scarf with a tartan print and of course, some scotch whiskey so you can feel Scottish 'warmth' even when you're far away from the highland. Apart from these traditional treats, major cities like Glasgow and Edinburgh have upscale departmental stores, popular chains such as Marks and Spencer and several shopping districts and open-air markets selling everything from miniature bagpipes for your mantelpiece to exquisite jewelry made of Scottish silver. It can't be called an inexpensive country, but the Christmas or Easter sale as well as some good shopping sixth sense ought to get you some worthwhile loot.
Events
Sports fans generally flock the country between May-July, when the FA Soccer and the Wimbledon Tennis Championships happen. The Chelsea Flower Show which takes place in the month of May shouldn't be missed either. For those of us who prefer action at a slower pace, the Trooping of the Colour pageantry on the Queen's birthday in London takes place in mid-June. In September, you can be a part of 'Open House London', when you can venture inside any of the 700-odd buildings in the city without spending a penny and admire their fantastic architecture. If, however, you can brave the crowd and the heat, July and August are dotted with ample events for a playful tourist.
Scotland is home to a number of events and festivals that happen all around the year. Visitors from all over the world are attracted to attend many of the famous events that celebrate arts, literature, theatre, film, and music along with food and drinks and dance. Edinburgh is well known for its events especially that happen around the month of August. The Edinburgh International Festival, Jazz festival, Film festival, Book festival are only a few events to name. The World festival, Glasgow Art Fair, T in the Park, Canadian food and wine festival, Glasgay, Folk festival, and many more events to add to the list. There is no shortage of events in Scotland throughout the year. The festival season keeps your energy charged up during your trip to Scotland
Nightlife
In Scotland, you'll never be far from a traditional pub playing great live music, gig venues, and music attractions. And if you're around for events such as St Andrew's Day (30 November) and Burn's Night (25 January), you'll hear a lot more of it. If you want to party the night away at a nightclub, you won't be short of choices in Glasgow, which has over 150 pubs, clubs, and bars.
Searching for something specific?