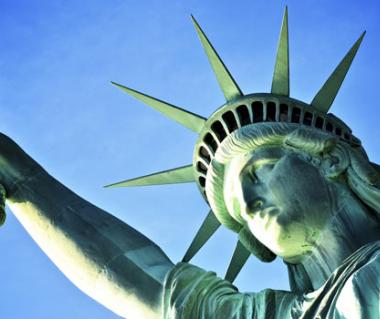 United States Trip Planner
Plan your customized trip plan for United States. Choose from Top Toursim cities and tourist attarctions of United States using trip planner.
United States Overview
Plan your trip to the United States. Dynamic, Enormous, exciting, fast-paced, wealthy, paradoxical staggeringly diverse, America harbors an astounding collection of magnificent natural attractions and amazing man-made attractions, from teeming city streets to mountains, plains, and forests covering vast swaths of the continent. From the sheer beauty of a New England fall to the great expanse of the prairies, from the rugged grandeur of the Rockies to the majestic Redwood Forests of California - the US is guaranteed to leave you breathless.
The USA has a long and rich heritage, with an abundance of places of interest to visit that include Washington DC - the nation's capital and home to the president, the White House and numerous places of interest; Boston, MA - a very tourist-friendly city; Chicago, IL - featuring a wealth of tourist attractions; Las Vegas, NV - home to the casinos, enormous hotels, wedding chapels, and an exciting nightlife; Miami, FL - famous for its beautiful beaches; New York City, NY - the Big Apple, offering world-famous landmarks and attractions; and San Francisco, CA - with wonderful beaches, major attractions and cable cars. Have a wonderful visit here with the help of this United States travel itinerary building tool.
Best Time to Visit the United States
You can go to the USA any time of the year -the tremendous spread of the country means a great deal of variety in climate and seasonal events throughout the year! The best time to visit really depends on where in the USA you are going. Generally, the peak season for tourist travel runs from May to September, though Spring and Fall are the prettiest months on the east and west coast of the country.
How to Travel in and around the United States
By Air:
The USA has more than 400 domestic airports, and a baker's dozen is the main international gateways. Many other airports are called 'international' but most have only a few flights from other countries – typically Mexico or Canada Even travel to an international gateway sometimes requires a connection in another gateway city. For example, many of the London–Los Angeles flights involve a transfer connection in Chicago.
By Road:
You can drive into the USA from either Canada or Mexico by crossing the border. A valid driver's license or an international driving license is required. Driving is on the right-hand side. Arm yourself with a good road map, buckle up and remember to keep within speed limits. Driving is a very pleasurable experience as the roads are good and well marked. Frequent bus services run between towns in Canada and the US. Some bus companies offer reasonably priced passes to travel within the States and Canada.
Places to Visit in the United States
Sightseeing:
Big and beautiful, multi-faceted US is a sightseeing paradise. A nation blessed with many natural wonders and always on the move, it has plenty to offer to visitors. In the ever-evolving mega-cities, you can spend days looking up the historic homes, the excellent museums and enjoy yourself at the various amusement and entertainment arcades.
In the national forests and parks, you can lose yourself in the beauty of your natural surroundings. Wild-life watching can fill your days in the National Park -the thrill of sighting the animals in their habitat is exciting, to say the least!
Eating Out In the USA:
The cuisine is another way of illuminating the American experience as eating out is a national pastime in the USA and with tourism such an important industry, it comes as no surprise to see the plethora of eating-places in the city. From fancy, up-market restaurants run by celebrity chefs serving fusion cuisine to roadside shacks dishing up local specialties, from stereotypical fast-food joints to inimitable ethnic eateries, USA has them all. The variety and number may vary from place to place, with a preponderance of restaurants in bigger cities but the ubiquitous diners along the highways and in small towns mean that you were never far from food!
Road Trips:
This is a country of road trips and great open skies, where four million miles of highways lead past red-rock deserts, below towering mountain peaks, and across fertile wheat fields that roll off toward the horizon. The sun-bleached hillsides of the Great Plains, the lush rain forests of the Pacific Northwest and the scenic country lanes of New England are a few fine starting points for the great American road trip. Explore more and plan your trip to the USA.
Best Things to Experience in the United States
Entertainment & Night Life:
Entertainment is the life force of American society - the American need to be entertained and amused is paramount. Gigantic, fun-filled theme parks are products of this country and several music genres such as jazz, ragtime, blues and many more were born here. Film making metamorphosed into the mega-billion industry it is today in US and Hollywood films are seen by worldwide audiences. As a visitor in the USA, you will be spoiled for choice between the vibrant classic and contemporary performing arts, movies, spectator sports, and television programs.
Nightclubs and bars are an eclectic lot, many done up around a theme and boasting of a fine collection of beers and spirits. Music is the mainstay at most bars, with regular live performances by local and touring bands. So, if you are in the mood to get to the nearest watering -hole, just follow your ears!
Shopping:
Shop till you drop. Consumer paradise. Marketing Mecca. Shopping mall and department store-filled USA has redefined shopping with its glitzy, glamorous high-rise towers and vast lots filled with shops and even more shops! Visiting a shopping mall is an experience in itself -you can spend the whole day checking out the varied merchandise on display, eat at the tantalizing restaurants, catch the latest movie and even go bowling -- shopping is the icing on the cake here! You can pick up all kinds of products in the USA -from the latest in computers and electronics to clothing and souvenirs. Shops open from 10 or 11 AM to 6 or 7 PM. Shopping malls, the temples of commerce in the country remain open throughout the week and till late at night, every day of the week except Sundays. There are some stores like Wal-Mart and others lining the major highways that stay open all day and night.
Events:
It's quite likely that you won't find yourself far from the festive fanfare at the US that has a large number of fairly good events dotting its calendar. Skies lit by fireworks, stages set by concerts, streets lost in processions and crowds bursting with joy it's all here at the most celebrated events of the United States. Popular events are Thanks Giving, Super Bowl Sunday, President's Day & Independence Day.
Need to get to Nampa idaho from Las vegas

Answer

Report Abuse

What are must see sights in Greensboro, North Carolina?

Answer

Report Abuse

visiting nashville for a week from 9/20 - 10/1

Answer

Report Abuse

As you are visiting Nashville for a week, you will get plenty of time to visit the famous tourist attractions in the city. You can consider visiting -

Grand Ole Opry
The Parthenon
Country Music Hall of Fame and Museum
Centennial Park
Belle Meade Plantation
Nashville Zoo at Grassmere
Tennessee State Museum

You can plan a trip to Nashville online and create a detailed itinerary.

Report Abuse
Searching for something specific?